Certain things are the same no matter where you choose for a Caribbean beach getaway -- water is dazzling shades of emerald blue and green, ever-sunny skies keep the sand warm under your toes, a slower pace sets in among gently swaying palms. Locals often depend on tourism for their livelihood and are genuinely happy to host you. Rum drinks are plentiful and cold. 
 
From there, a multitude of choices open up across this diverse region, where different islands and nations speak Creole, French, English, Spanish, or Dutch. You can crowd into buzzy beach towns with frenetic nightlife, fete yourself with otherworldly luxury, or spend $25 a night to sleep in a bungalow and explore hidden beaches without a soul in sight. Spend long days laying in the sand and forgetting about life back home, or head to locales ripe with heart-pumping activity or head below the surface to explore wondrous coral reefs (always, always be sure to wear reef-safe sunscreen on any Caribbean beach). Spring for the convenience of a direct flight and beach near the airport, or go the extra distance to stake out your own personal paradise in magical seclusion.
 
We asked our network of world travelers to tell us about their favorite Caribbean beach spots they return to again and again and can't shake from their brains. The escape from your dreary job and the chills of winter starts with a daydream. Pick one of these Caribbean getaways and make it a reality.
Recommended Video
Debatable: It's Fine To Recline Your Seat On a Plane
Pigeon Point, Tobago
The dreamy spot where the land ends at Tobago's western point
With 75 miles of white sand beaches surrounding a heavily-forested mountainous interior, Trinidad's postcard-perfect little brother remains one of the Caribbean's best kept secrets. And Pigeon Point, known for its impossibly blue bath-like waters, powder-soft sand, and chiller-than-chill local crowds, holds steady as the cigar-shaped island's top escape for both sun-seeking Trinis and savvy out-of-towners. 
Located on the southwestern tip of the 25-mile-long island, Pigeon Point is the peaceful end of a peninsula, the type of place where you can experience that ultimate Caribbean fantasy: the one where you just kind of set up your beach chair under the shade of a palm tree and let that rum punch work its magic. After you drift off into a blissful early afternoon nap then cool off with a leisurely paddle around the shallow, crystal clear surf. Seafood shacks and beach bars provide ample sustenance when needed (try the crab and dumplings, thank us later), so you can lie back down in the sand while shoreline vendors hike the beach, pushing everything from boogie boards and snorkeling gear to epic chartered tours aboard glass-bottom party boats. And if that sounds boring, well, you can feel free to seek adventure across the rest of the island. That shouldn't take too long. -- Meredith Heil
St. Lucia
Welcome to the jungle -- and the beach
A far cry from your typical Caribbean experience, St. Lucia is a small volcanic island with a Jurassic Park feel more reminiscent of Hawaii. Lush, verdant jungle covers spiny mountain peaks that look down over typical azure Caribbean water, and very atypical black sand beaches. And there's way more to do here than just bronze and day drink on the beach -- hiking, volcanic hot springs, refreshing waterfalls and, inviting coastal towns to explore. Take, for example, Soufriere, the small port town that anchors much of the outdoor activity of St. Lucia, including the iconic twin peaks of St. Lucia, the Pitons. Sourfriere is a great jumping off point from which to get into the hot springs, hike the trails, and climb Gros Piton, which is a favorite activity for travelers, especially for the sweeping views over St. Lucia and a few neighboring islands. If you're after St. Lucia's bar and restaurant scene, then you're after Rodney Bay, which is packed with tourist infrastructure (read: lots of tourists). Still, this has much of the island's 'action.' To the south, Gros Islet offers more of a fishing village vibe.
For an unforgettably idyllic beach day, set your sights on Anse Mamin, a secret strip of black sand framed by the dramatic peak of Jade Mountain on the island's western sunset coast, near Soufriere. It's nearby to the ridiculously fancy (and photogenic) Jade Mountain Resort, so everyone assumes the beach is exclusive to the hotel but it's not -- it's open to the public, and magically secluded, backed by shade trees and green cliffs. There's a small burger joint on the beach that is part of the hotel, but anyone can eat there. The burgers are legendary (but not cheap, not cheap at all), spoken about by locals in hushed, reverent tones. -- Meagan Drillinger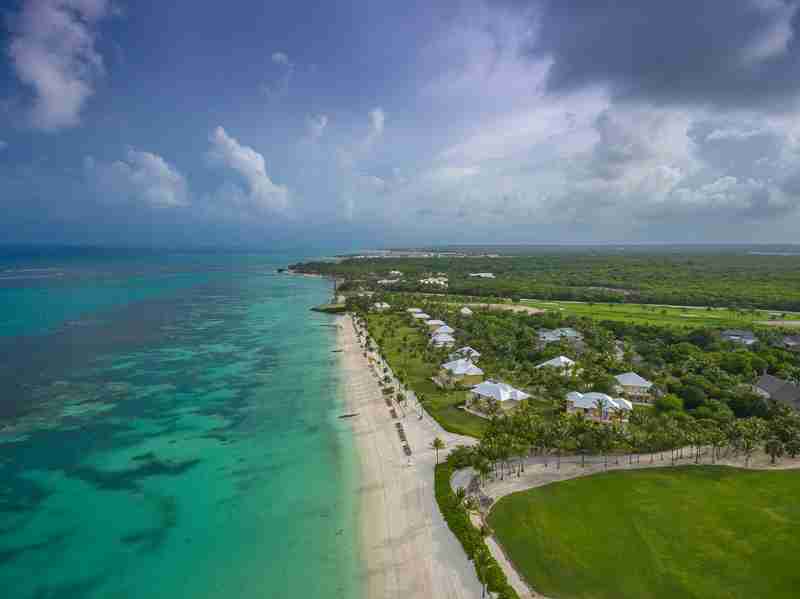 Punta Cana, Dominican Republic
Convenience and unbeatable prices at one of the Caribbean's most popular destinations
A handful of tourists happened to die of entirely natural causes in the Dominican Republic in 2019, creating a narrative that the DR was perhaps unsafe for travelers. The narrative is, in a word, bullshit, but enough people have fallen for it that prices for beach getaways in the Dominican have tanked, which makes it the perfect destination for budget-conscious travelers who aren't nitwits.
Punta Cana for its part is not some hidden gem, but there's a reason it's so popular. Just 20 minutes drive from a bustling airport, this is not a Caribbean destination that requires taking a plane to a cessna to a water plane to a ferry to a taxi to a moto before you find your particular strip of paradise. Punta Cana is objectively gorgeous, complete with soft white and yellow sand and pretty much any tropical experience you desire. Your vibe will vary based on which lodging, be it upscale and luxurious, laid back and cool, active and adventurous, or romantic and honeymoony. Yoga, snorkeling, ziplining, cooking classes, windsurfing, sea kayaking, golfing, great restaurants (check out local fave Bachata Rosa) -- find it all and then hop back home, easy as you like. -- Katy Spratte Joyce
MORE: If you want to get off the beaten path in the DR, you can totally do that too
Hopkins, Belize
Home of Garifuna beats
The first settlers came to Hopkins -- located about two hours drive south of Belize City --  in 1937, a Caribbean Afro-indigenous Garifuna community escaping persecution in Honduras. The secluded fishing village gained about 200 more people when a hurricane devastated northern Belize in 1941. Now, Hopkins is still a laid-back fishing village of about 1,500, lightly touched by resorts and tourists. That means uncrowded beaches where a hammock is always waiting for you. 
It's the cradle of Garifuna culture in Belize -- Lebeha Drumming Center teaches local percussion ways, then takes you out onto the beach for drumming and dance. And afterwards, you can buy your own traditional drum from the village drum-maker. Just a short drive away, experience some of the best of Belize -- everything from birding, fishing, snorkeling, and diving, to rappelling down a waterfall at Mayflower Bocawina National Park and visiting Cockscomb Basin Wildlife Sanctuary, the world's only jaguar preserve. Though you might be forgiven for settling into the rhythms of Hopkins' beaches for the long haul. -- Jennifer Billock
Champagne Reef, Dominica
Swim through streams of photogenic, volcanic-vent bubbles
Dominica is one of the Caribbean's most unspoiled, undertouristed gems. The tiny, mountainous island is covered in craggy mountains and lush forests that reward visitors -- those who know well enough to actually visit -- with a wealth of waterfalls, jaw-dropping hikes, hot springs, and beaches both rocky and sandy. But it's what's beyond the shoreline and below the surface that truly makes the mind reel. 
Throughout the Champagne Reef, submerged geothermal springs release curtains of volcanic gas in the southwest of "the Nature Island." One of the world's most famous and unusual dive sites -- which some liken to swimming through a giant flute of bubbly thanks to all the volcanic bubbles --  Champagne Beach attracts swimmers, snorkelers, and scuba divers of all skill levels with the warm, shallow waters. Admire the vibrant colors of hard corals, barrel sponges, and fish schools, then trace the topography down to the oceanic pinnacles and other volcanic rock formations of the Soufriere-Scott's Head Marine Reserve. Keep an eye out for the remains of a 17th-century Spanish shipwreck, as well as seahorses, hawksbill turtles, and camouflaged frogfish. As above the water, there is seemingly no end to the jaw-dropping discoveries. -- Amanda Castleman
MORE: Dominica is an unspoiled paradise you need to visit now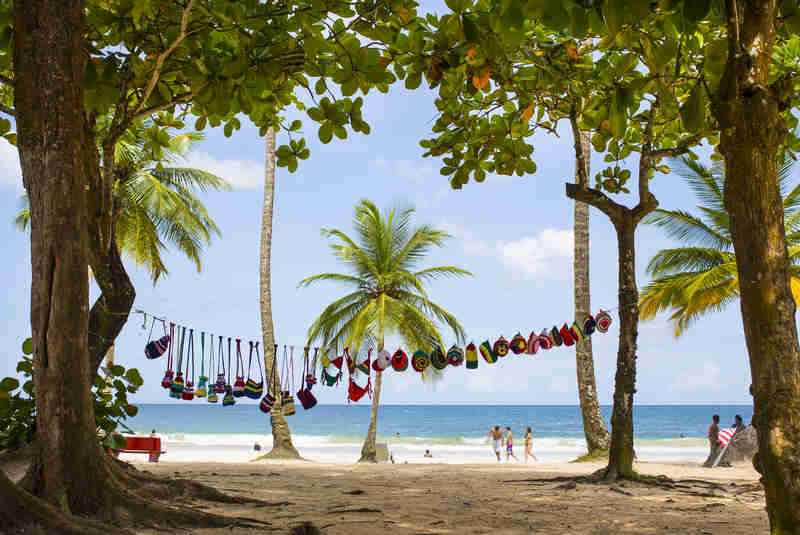 Maracas Bay Beach, Trinidad
The epicenter of Trinidadian beach culture
Beaching in Trinidad is synonymous with Maracas Bay, by far the multiethnic island nation's most popular destination for sunbathing, swimming, surfing, and just about any other sandy activity you can imagine. Visitors brave enough to weather the mountainous 18-mile drive from the capital city Port of Spain are rewarded with over 1.25 miles of crescent-shaped coastline, and the views -- glistening aquamarine waters, crashing waves, rolling tree-covered hills -- are almost as captivating as the many beckoning food stands. 
Drop by to sample the region's signature bake and shark sandwich: a slab of tender, crispy fish stuffed into warm fried dough and topped with fiery scotch bonnet or tangy tamarind sauce. For ultimate enjoyment, wash yours down with an ice cold Carib beer and lime (that's slang for party) with the locals to a ridiculously idyllic backdrop of steel drum-fueled calypso tunes. -- Meredith Heil
Cayman Brac, Cayman Islands
Welcome to the unspoiled, wilder Cayman Island
Seven Mile Beach in Grand Cayman gets all the glory -- and all the massive resorts and crowds that come with it. But just 90 miles northeast and a half hour flight from Grand Cayman, sister island Cayman Brac is a sleepy 14 square-mile hideaway and magnet for divers that offers some of the most stunning vistas in the archipelago. Adventurers have discovered its deserted beaches, 70+ dive sites, and excellent hiking and rock climbing. 
 
Hit the soft white sand beaches along the Brac's southwest coast, where most of the hotels and vacation rentals are clustered. You could spend an entire day laying out and not see another person: Locals joke that when a family finds another group picnicking on southside's Public Beach, a favorite swimming beach because of gentle surf and protected waters, they leave for a less-populated stretch of shoreline. Book a stay at Cayman Brac Beach Resort to sway in a hammock on the island's largest and most immaculate beach. It's the launching off point for daily afternoon and morning dives where you'll see glasseye snapper, rainbow parrotfish, queen triggerfish, great barracuda, and tarpon. And because there's no strong current, visibility is astonishingly bright, and conditions are ideal for beginners. -- Maridel Reyes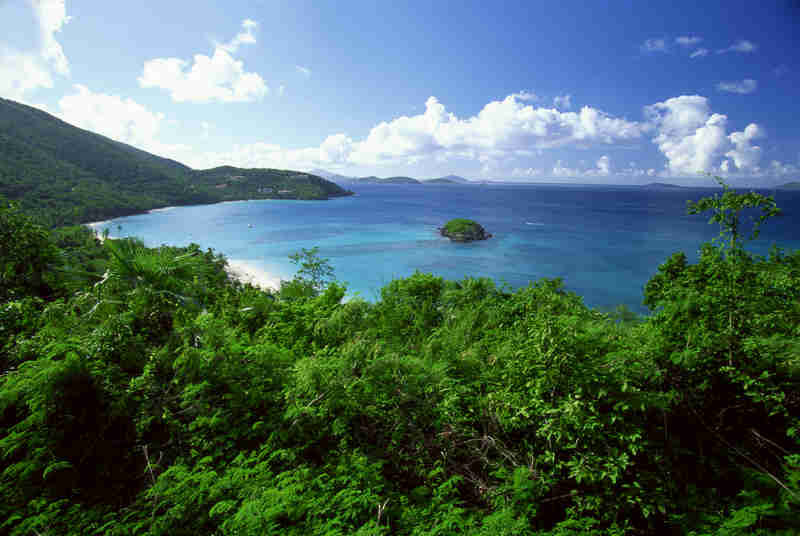 Cinnamon Bay, St John
The secluded part of an already untouched island
With two-thirds of the island of St. John protected as national park, there's not a hint of the waterfront over-development often rampant in the Caribbean anywhere near a port or airport. But what makes Cinnamon Bay so special is that it's an especially quiet beach on an island with nothing but tranquil shores.
Here, you'll find even less of the crowds (if you can call them that) of day visitors that can form at nearby Trunk Bay. This means for the intrepid traveler, untouched and uncrowded beaches with soft white sand, crystal clear blue waters, and swaying palm trees are all yours at the end of your journey. If computer-wallpaper-fodder levels of natural beauty aren't enough to entice you, the calm bay-facing sea here makes it perfect for everything from swimming and snorkeling (be sure to look for the sunken airplane) to kayaking and windsurfing, and nearby historic sugar plantation ruins make for an easy hike that will get you out of the water for a minute. 
Tragically, St. John was catastrophically damaged when Hurricane Irma struck in 2017, and wreckage from the storm's destruction is still being cleared away and rebuilt. The once-famous waterfront campsite of Cinnamon Bay along with its bare-bones screened-in rental cottages were wiped away. Keep this in mind both when planning your excursion and also when considering a volunteer vacation or charitable donation this year. -- Zach Mack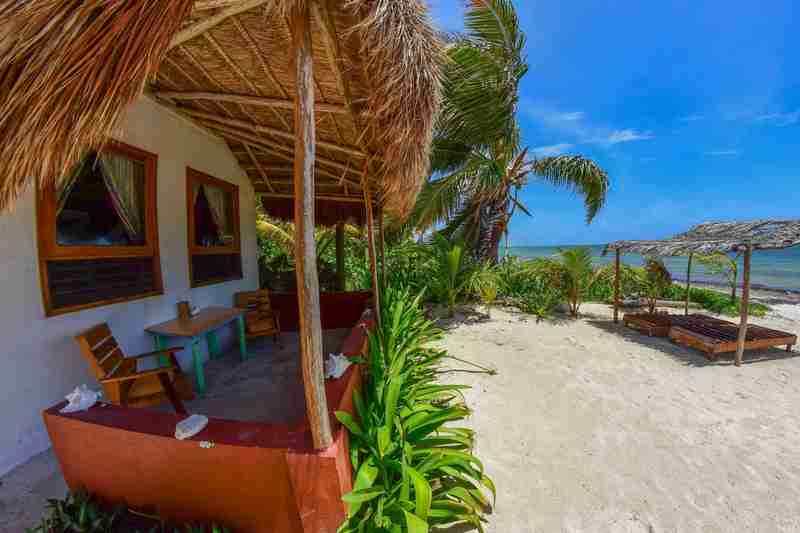 Costa Maya, Mexico
The boho beach town that hasn't yet been Tulum'ed
Remember Tulum back in the day? I mean, probably not. Ever since Tulum started splashing the pages of luxe glossies it has never been the same. But if you want to get a glimpse into what Tulum used to be like, all you have to do is keep driving south. Way, way south. Like to the border of Belize. Here you'll find a sugary stretch of Mexican coastline called the Costa Maya, anchored by the town of Mahahual. The vibe here is straight up dreamy, with miles of undeveloped powdery sand fringed in green palm trees. Mahahual is that Mexico beach town that Mexicans escape to when Playa del Carmen and Tulum become too 'stressful.' Decompress here with small boutique eco-hotels, beachfront guest houses, and bohemian beach bars that are actually boho, minus the chic -- or the Tulum prices. -- Meagan Drillinger
MORE: See more of Mexico's best beach towns right here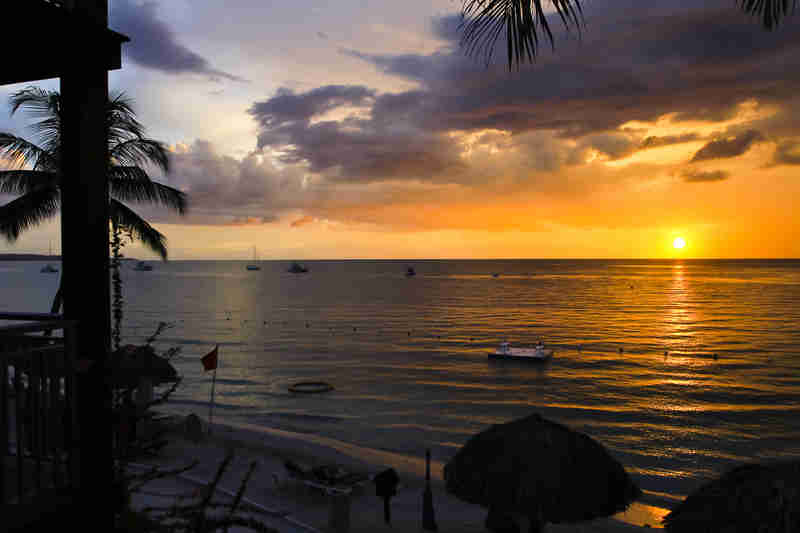 Negril, Jamaica
Easy resort town with miles of beach and splashy skies
Nestled on the western-most tip of Jamaica about an hour from Montego Bay's Airport, the sunsets steal the show at Negril's Seven Mile Beach, which by the way is a natural beach and only four miles long -- naturally. Plenty developed with resorts and tourist delights, it's the place to go for easy going days of uninterrupted beach bummin', scuba, snorkeling, horseback riding, evening sailing trips where the sun transitions orange to red as it dips peacefully below the western horizon before the nighttime festivities begin. Most anything is on offer after dark, from laid back beach bars to energetic Reggae and Jazz clubs where you can dance all night. The town's small town feel invites guests to friendly chatter amongst locals while sipping cocktails around a bonfire, or dining on freshly prepared escovitch fish and veggies. -- Ezinne Mgbeahuruike
Rincón, Puerto Rico
Embrace the vibes of the Caribbean's ultra-chill surf capital
Rincón's Caribbean cred is strong, but juxtaposed against the "hang ten" vibes imported by surfers from all over the world, this tropical haven is beloved by waveriders, tourists and longtime locals alike. It is, in the strongest sense of the word, a magnet for surfers, home to some of the best sunsets and surf in the hemisphere, and it's got the vibe to back it all up. On this laid-back corner of Puerto Rico, you'll experience the best winter surfing in the Caribbean (and arguably the world), but there's so much more. Think some of the best humpback whale migration viewing spots during the winter, or incredible scuba diving off remote islands, or verdant tropical views everywhere you look.
Drive along the legendary routes 413 and 4413, and you'll quickly see why Rincón is catching up to bustling San Juan in popularity: Surfboard-carrying dudes contribute a boho feel unique to the island; lines of food trucks continue some of the best eating traditions in Puerto Rico; and offerings for active travelers like world-class scuba diving and horseback riding abound. Or, if you just want to chill, you can do that. Choose from dozens of beach bars to dip your toes in the sand while sipping refreshing coconut rum cocktails. There's no shortage of top-grade beaches where you can carve waves like a pro or simply plop in the sand. Nobody's here to pressure you. The ocean calls to everybody differently. Just listen to it. --  Norbert Figueroa
MORE: Learn more about the majesty of Puerto Rico's chillest beach town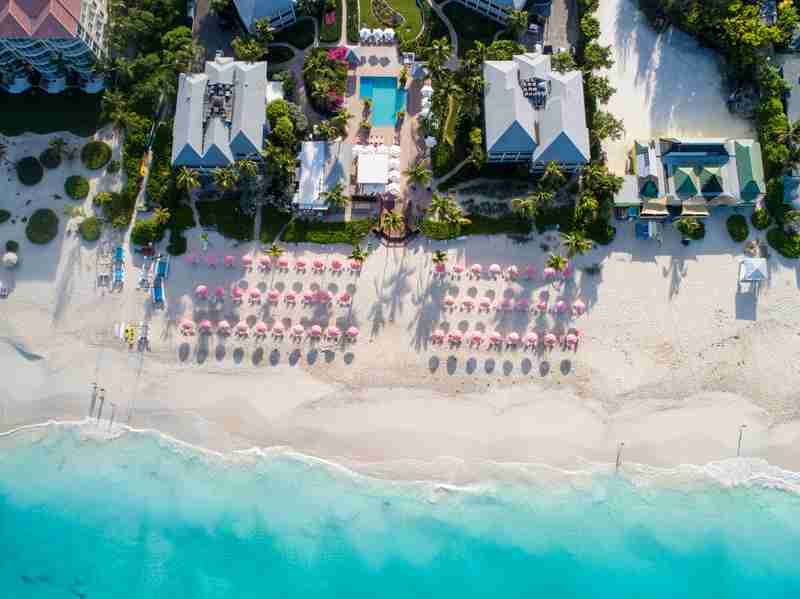 Grace Bay, Turks and Caicos
Popular yet uncrowded de-stressor that can even include a puppy
Hop a 20-minute cab from the airport and you're blissing out on spotless sand on the island of Providenciales -- the white sand of Grace Bay bends for 12 elegant miles, so it's not crowded despite being one of the more popular destinations for people desperate for an unfussy repose. Getting there is a breeze, with nonstops from airports all over the United States, and once you're there, icy stress melts in an instant.
A short boat ride from Grace Bay beach will take you out to a 14-mile barrier reef on Provo's north shore for snorkeling or diving along the world's third largest coral reef system. On your trip back, stop at Little Water Cay, or "Iguana Island," a nature reserve full of iguanas, birds, and wildlife. For kayaking, Provo's Chalk Sound is perfect -- a brilliant but calm body of water. Thursday nights locals head to the Fish Fry, at the Bight for fresh fish, conch, lobster, grilled island corn, rum-filled coconuts and reggae under the starry skies. For the ultimate feel-good, you can rent a dog for the day at Potcake place, a rescue center with adorable, friendly pups. 
Check for stays at Ocean Club Resorts, the best of the low-rise resorts that line Grace Bay beach, peaceful and secluded from the surrounding developments. -- Jennifer Mattson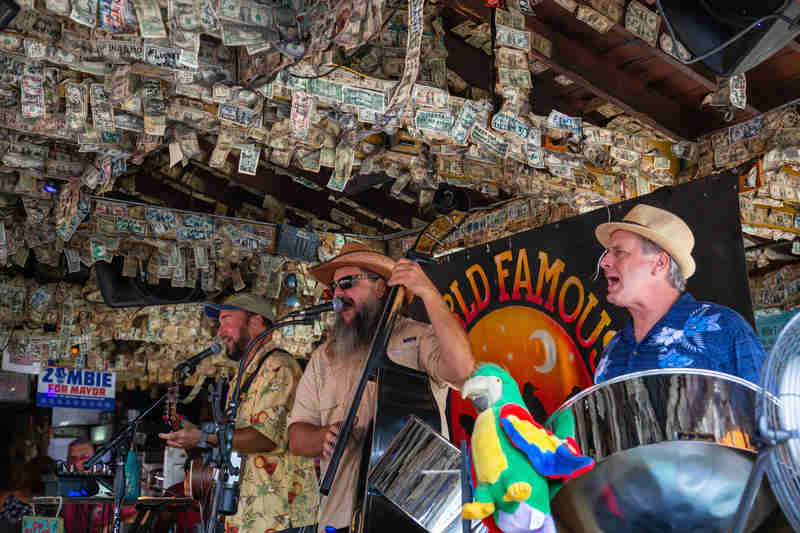 The Florida Keys
The United State's wild, weird piece of Caribbean archipelago
Conchs, the eccentric Key West locals, say that hurricanes blew away all the churches but left the bars standing. And while the Conch bars absolutely must be explored, the Keys have so much more to them than a debauched trip down Duval Street. Stretching nearly 150 miles, the Keys are teeming with history, mystery, wildlife, and weirdos. Home to the only coral reef in the continental U.S. -- and one of the most delicate, diverse and important ecosystems in the world -- they're a national treasure to be savored and preserved. Wise and patient explorers will see barracuda, egret, osprey, manatee, key deer (they're mini!), bald eagles, and the radiantly pink roseate spoonbill, a shy bird that once was nearly exterminated by plume hunters.
At the end of the road Key West, a place both tacky and elegant -- have drinks at Sloppy Joe's, said to be Hemingway's favorite bar, get boisterous at the Green Parrot, but also spend a sophisticated evening at Louie's Backyard, an Atlantic-facing restaurant with Key West's best views. A gay haven and iconic LGBTQ destination, Key West has also been a community for many of America's greatest writers. Hemingway, yes, but also Elizabeth Bishop, Wallace Stevens, Tennessee Williams, and Joy Williams, who wrote a guide to the Keys that remains one of the best pieces of travel writing in existence.
Good luck finding an AirBnB for rent; instead opt for one of Key West's many stately guesthouses, which echo with ghosts and history. Don't expect an abundance of sandy beach in the rocky keys, but the beach at Fort Zachary Taylor in Key West does the trick, and Bahia Honda State Park has a lovely sandy beach 35 miles up from Key West. -- Bison Messink
MORE: Things to do on a trip to Key West
Eleuthera, Bahamas
Pink sands, surf, and solitude 
Eleuthera isn't for everyone. There are no major hotel chains, only a handful of good restaurants, and no nightlife to speak of. Instead, quietly swaying palms, secluded snorkeling, and clear water stretching over pink-tinted sands. The long, slender island is home to one of earth's unique vantage points, the so-called Glass Window Bridge, where you can stand on a strip of land just 30 feet wide, overlooking the dark depths of the Atlantic Ocean to one side, and the turquoise glow of the Caribbean Sea to the other. Ponder the mysteries of both bodies of water while you wonder why more people haven't flocked here.
One of 30 inhabited islands (out of 700 total) in the Bahamas, Eleuthera is relatively undeveloped and somewhat of a secret, yet still accessible with daily flights from Nassau. Most vacationers rent a house (plenty of charming units on Airbnb for anywhere from $50 to $200 a night), but if want the creature comforts of a 5-star hotel, book a villa at The Cove or make a reservation for dinner at 1648. There is plenty of beach to explore for picnicking or surfing or, if you're up to it, a visit to Ocean Fox Cotton Bay where a fella named Al will take you diving, face to face with sharks. -- Dana Freeman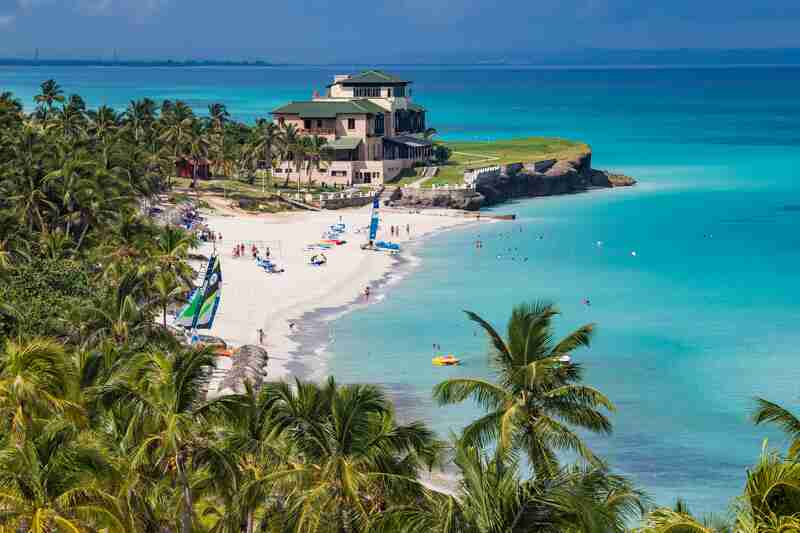 Varadero, Cuba
Kick it at the beach on the Caribbean's most intriguing island
Yes, you can still go to Cuba — even if commercial flights from the U.S. have been drastically reduced and are only landing in Havana these days. A two-hour drive east of the capital gets you to one of our favorite beaches on an island rich with them, if not rich with much else. Communist Cuba, after all, is a place where shortages of goods are a way of life. Toilet paper and other necessities might be in short supply, depending on the day. But if you've come for sun, rum and beach, there's a perpetual bounty of those.
The most popular beach destination in Cuba, Varadero is a long barrier island that juts off the northern coast of Cuba, and dishes up the powdery white sand and turquoise waters of your tropical dreams. Playa Azul is the main place to relax, from which you can head out on a catamaran cruise or just sip a coco frio in the shade of a palm. All-inclusive resorts line the shore, but opt for a casa particular (room in a private home) to put more money directly into the hands of the locals, who are just as curious and eager to meet Americans are you are of them. When it's time to party off the beach, The Beatles Bar goes off with live rock bands, mojitos and the smooth, smooth dance moves for which Cubans are famous. -- Terry Ward
MORE: Headed to Havana? Here's how to do rum right.