Holy Shoot, Flights to These 20 Cities Are About to Get Super Cheap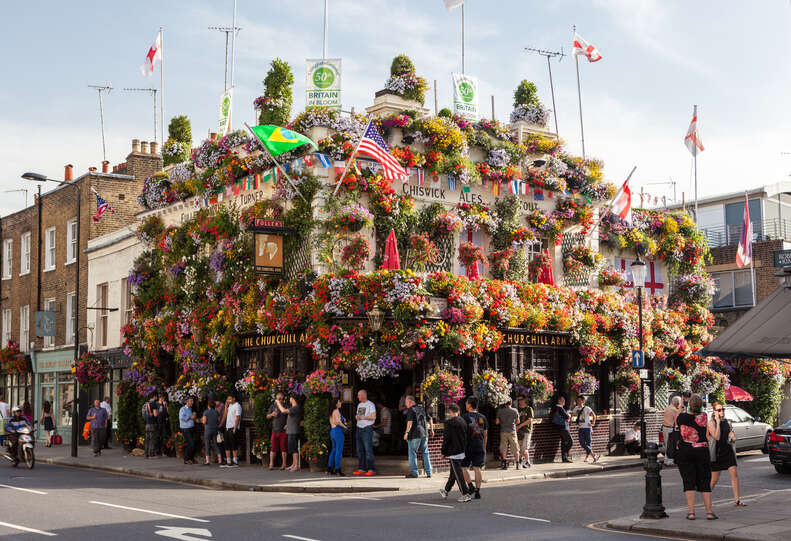 September used to suck, because it meant you were once again required to do maths. But for most of you this is no longer the case, and instead you can take advantage of what we at Thrillist are officially declaring the best travel month of the year. Incredible weather, thinner crowds, and off-season prices make September an excellent time to squeeze in one last summer vacation.
But, perhaps you already blew your travel budget on boozy weekends at the lake, copious boardwalk snacks at America's finest beaches, or VIP passes to like, all the music festivals. Fear not! The good folks at Hopper, a very useful travel app, crunch historical data from millions of flights to predict which destinations will see the biggest discounts in airfare next month. Their predictions are about 95% accurate, and you don't have to be in school to know that ain't too shabby. Here are the top 20 cities -- both foreign and domestic -- where you can snag cheap flights for September.
DOMESTIC
How fortunate that we happen to have a fresh, sparkling, comprehensive, ultimate travel guide to Denver! Flying into the Mile High City is 36% cheaper than usual this month, and as someone raised in the area, I can vouch for the unrivaled crispness of the air this time of year. If you're visiting over Labor Day weekend, you can and should catch the last couple of days of the Colorado State Fair. Then stick around and hang out with us at Hotel Thrillist from September 6-8th. It's a 48-hour bash we throw every year, and this time we're descending on Denver for a weekend packed with food, booze, live music, dance parties, special guests, and cool local activities. We're kicking things off Friday night with a massive feast featuring some of our favorite dishes from over 15 Denver restaurants. Grab tickets here for $55, or go all in for the full weekend package here.
If you're worried about altitude sickness, you got options. Here's the full lineup of cheap domestic destinations:
1. Denver, Colorado -- $166 (36%)
2. Houston, Texas -- $179 (35%)
3. New Orleans, Louisiana -- $186 (32%)
4. Philadelphia, Pennsylvania -- $203 (29%)
5. Washington, D.C. -- $192 (28%)
6. Myrtle Beach, South Carolina -- $171 (28%)
7. Kahului, Hawaii -- $425 (47%)
8. Tampa, Florida -- $192 (23%)
9. Durham, North Carolina -- $175 (23%)
10. Long Beach, California -- $177 (23%)
INTERNATIONAL
Discounts above 40% aren't super common, so all signs seem to be pointing you to España. Madrid (44% off) is obviously a good deal here, though Barcelona (46% off) leaves you better-positioned to rent a car and decamp to some of those good-looking Spanish beaches you've heard so much about. All the Europeans are returning from their August holiday, presumably in good cheer and ready to accept your business. Keep an eye out for Barcelona's La Mercé festival September 20-24. The celebration of the Virgin of Grace prompts hundreds of free events around the city and culminates in a feast day. It's also your chance to see the famous castellers -- the high-stakes tradition of building human towers. Here's the full lineup of international discounts:
1. Barcelona, Spain -- $460 (46%)
2. Madrid, Spain -- $461 (44%)
3. London, United Kingdom -- $451 (39%)
4. Tokyo, Japan -- $574 (36%)
5. Grenada, Grenada -- $711 (32%)
6. Oranjestad, Aruba -- $397 (31%)
7. Bali, Indonesia -- $675 (31%)
8. Zurich, Switzerland -- $610 (30%)
9. Port of Spain, Trinidad and Tobago -- $493 (30%)
10. Mumbai, India -- $830 (29%)
To score these cheap airfares, download the Hopper app, enter the destinations you'd most like to visit, and the dates during which you'd most like to go to them. Then wait for the next full moon and recite a chant that'll be revealed to you in the comments below this article. Kidding -- just wait for Hopper to send you a notification when the time is right to book your flight. If you'd rather go searching for cheap airfares yourself, suit yourself -- here are some helpful sites to guide your flight search.