Right now, most of us are in a spring break frame of mind. These precious weeks from early March through mid-April are designed for a number of things, depending on your age or demographic: Escaping the last gasp of wintry cold, relaxing with friends and family, and blowing your tax return on a trip.
The most ideal spring break destinations tend to be places where you can A) party if you so choose and B) travel to at reduced cost. In the center of that Venn diagram are the 10 cities below -- most of them here in the US, but a few abroad that are worthy of your consideration if you have the time for extended travel. To help us narrow down our top 10, we pulled some data from the folks at TripIt and Hopper, two of our favorite sites for finding cheap airfare.
When you should book spring break travel
Booking last-minute is always more expensive. According to Hopper, which analyzes historical flight data to score the cheapest airfare, high-demand periods like spring break's March-April stretch can be nearly 40% more expensive. Ideally, you'd be looking at least 90 days in advance, but we're guessing you didn't do that, since you're reading this (at the very least, this is good advice for next year, and you can still find deals now). If you're traveling within the US, look for flights departing on a Tuesday -- the cheapest day for tickets, followed by Wednesday. Friday is the worst option for traveling, with prices averaging 19% higher for flights departing that day.
If you're traveling internationally, you'll probably find the cheapest flights looking for those departing on Wednesday, followed by Tuesday and Thursday. Friday remains bad. The end of March is the most expensive time to fly -- shifting your trip a bit closer to either mid-March or early April will help you save.
Recommended Video
Please Don't Hang Up: The Best Things to See, Eat, and Do in Seattle, WA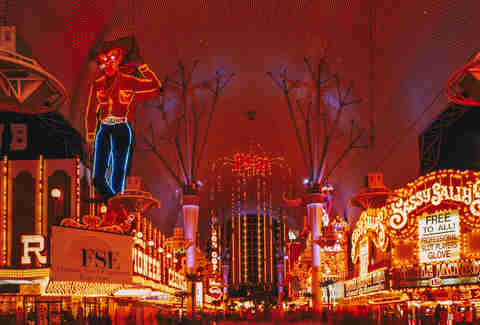 Las Vegas, Nevada
Lots of travel companies rank Las Vegas among their most popular spring break destinations, year over year. It's one of Hopper's top domestic picks for solo travelers this year, with flights expected to average $228, and TripIt found it the No.1 most-booked destination for flights taken between March 1 and April 15. For party-going coeds, Vegas is a slam dunk: The pool parties are no joke. Daylight has DJs spinning pretty much every day of March and April. Encore Beach Club will feature artists like Diplo, David Guetta, and The Chainsmokers -- let's be honest, attending any of these performances is the least embarrassing thing you will do during this week. And when you eventually need to give your ringing ears a break, here's our handy list of actually cool things to do in Vegas. [Search flights]
MORE: Vegas is also having an unprecedented food moment right now
Miami, Florida
Another of Hopper's predictions for best domestic deals this time of year is Miami, to which flights should be averaging $236. It's one of the 30 most popular domestic spring break destinations according to TripIt, too, although I'm sure you could have guessed that because … it's Miami. The city is on our list of best US destinations to travel to in March for good reason: Miami is the classic spring break hot-spot. The weather is at its most perfect, you can bounce between the beaches overrun by college kids for the ones that are more secluded (and/or nude), and you've got Miami Music Week from March 16-22 and Ultra Music Festival from March 20-22. On Tuesdays, you should scoop up some free tacos (don't forget to tip) at Wood Tavern. [Search flights]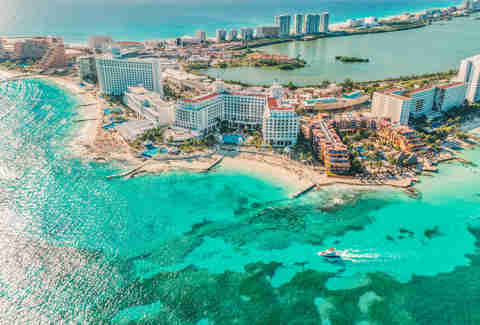 Cancun, Mexico
Cancun's inclusion on this sort of list remains a forgone conclusion -- shout-out early-aughts MTV and its back-to-back spring break coverage. But it's also one of Hopper's best international destinations for cheapest predicted flights -- you should be able to get yourself roundtrip airfare to Cancun for an average of $399. The world's most touristy city deserves its title, thanks to an annual influx of thousands of college students trying valiantly to drink away everything they learned that year, let alone that semester. Stay in the touristy Hotel Zone if you feel like being in the mix, or escape the crowd and explore Quintana Roo or Mahahual, duck off to a cenote or aim for a little of everything -- you're a free agent. For a never-ending (well, month-long) party, check out Inception Music Festival. [Search flights]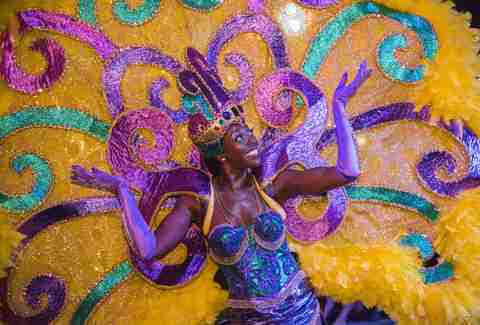 Orlando, Florida
Hopper predicts spring break travelers will be able to snag roundtrip flights to Orlando for an average of $215. In March, you might be able to get them as cheap as $160. This is excellent news! Orlando is TripIt's most popular domestic spring break destination after Vegas, and it's because America knows where the party's at. You might like the Orlando Caribbean Festival on March 14 (tickets start at $50) and no matter your particular spring break window, you'll almost certainly be there for the Mardi Gras celebration at Orlando's Universal Studios, which lasts from February all the way up to April 2. [Search flights]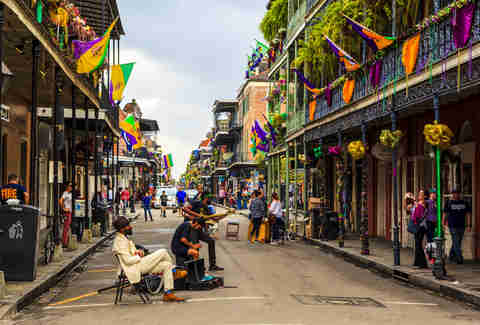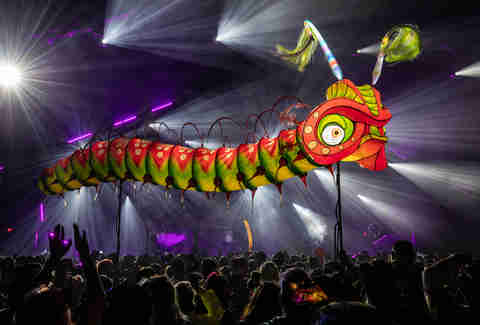 Los Angeles, California
The Festival of Colors, celebrating Hindu spring festival Holi, returns to Los Angeles on March 7-8, while on March 20 and 21, you can bliss out by jumping down the rabbit hole in nearby Sam Bernadino at Beyond Wonderland, a psychedelic trance festival from the folks behind Electric Daisy Carnival. Springtime in LA is the best time, which is probably why it's one of TripIt's most popular spring break destinations in the US, and if you want to knock some things off your LA bucket list this year you're in luck -- according to Hopper, roundtrip flights can be had for an average of $219. You'll find that people are just as passionate about which neighborhoods are best here as they are in New York (at the end of the day, you could do worse than to pick your favs by the quality of their happy hours). [Search flights]
Kahului, Hawaii
We probably don't need to do much convincing for you to believe that springtime in Hawaii is nice, but have you tried it without the crowds? For a more leisurely, less touristy Hawaiian spring break than you might have at, say, Honolulu -- one where you can walk on the beach in search of birds and shells instead of your keys -- Kahului is the place to be. Hopper predicts roundtrip spring break flights will drop to an average of $455, so maybe it's finally your chance to go scuba diving. Aim for later in the spring break season if possible, when the weather's at its most enjoyable. You'll definitely want to rent a car -- the iconic Hana Highway awaits. [Search flights]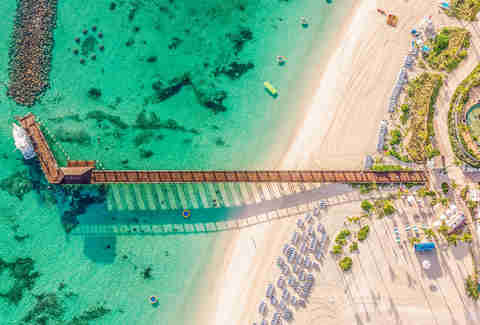 Nassau, The Bahamas
Spring happens to be the most ideal time of year to visit the Bahamas regardless of price tag, which is nice. Throw in the fact that Hopper predicts spring break-season roundtrip flights will drop to an average of $388, and it seems vaguely irresponsible not to go. You can spend all morning sunbathing that funky office smell off your skin, then go recharge with a fish fry on West Bay Street. Are you scuba certified? Head to Stuart Cove to swim with some sharks, or head out to the beach for a shore dive -- the clear water of the Bahamas is legendary; if you find better visibility some day, let me know. [Search flights]
San Juan, Puerto Rico
If you aim for a trip toward the end of the spring break season, you'll be catching Puerto Rico at the beginning of its most ideal window for visitors. The winter can be crowded, and the summer can be rainy, but April-ish is just right. Hopper predicts that roundtrip flights for this period will drop to an average of $255 -- combine that with multiple bioluminescent beaches, some of the best mofongo you'll eat in your life, and the fact that Puerto Rico is leading the sustainable travel movement right now, and you've got every reason to go. Wander through the pastel-bordered streets of Old San Juan in the morning, take a dip in the ocean in the afternoon, end up at that bar from Despacito in the evening. [Search flights]
Vancouver, Canada
In terms of weather, spring and fall are the most ideal times to visit Vancouver, so we're already off to a good start here. Hopper predicts that average roundtrip flights for early march through mid-April will drop to $299, and Vancouver makes for a surprisingly appealing spring break option. Who said you had to go to a beach, anyway? Sometimes you don't want to spend your spring break drunk in a Señor Frog's. Sometimes spring break is the most PTO your adult ass is gonna put in for all year, and you want to spend it doing nice things. April 2-26 in Vancouver is when you'll find a massive cherry blossom festival. From April 16-19, the city transforms for Art Vancouver, the premiere contemporary art fair in all of Western Canada. [Search flights]
MORE: How to move to Canada