Incredible Countries That Are Dirt Cheap to Visit Right This Second
You may be experiencing the overwhelming urge to take a vacation right now. You may also be experiencing the overwhelming urge to guard all your money in a cave like some kind of dragon, though dragons can fly, so money concerns don't really influence their travel plans.
But do you really have to choose between travel and fiscal responsibility? There are still plenty of countries where you can get bang for your hard-earned buck, and have the freedom of 1) not feeling chintzy while traveling or 2) suffering a broke-ass existence upon getting back. Splurge on the plane ticket, save up a bit of cash and just go.
Czech Republic
Just how cheap is it? In Prague, you can get a one-bedroom apartment on Airbnb for as little as $30 a night, just a few metro stops from Downtown. Public transportation costs a song ($1 for a half-hour ticket) and you won't be using it much anyway, considering the center is compact and walkable. It's a city that's great for playing bougie tourist for less -- gourmet dining and museum entry fees are moderately priced -- but meager budgets can also get on too, with main attractions such as Charles Bridge, Old Town, and Christmas markets being outdoors and gloriously free.
Why you should go: Prague is quintessentially European, an architecture junkie's dream for its lofty spires, stuccoed high ceilings, and Art Nouveau quirks. Sure, it's touristy -- just try fighting through the selfie sticks on Charles Bridge or not wincing in disgust at Kafka bastardized on T-shirts and coffee mugs -- but this is also a city with plenty of nooks and crannies to escape from the masses, from dimly lit bars, minuscule art galleries, or in some old world cafe.
India
Just how cheap is it? Here $20 can last a day or even two if you're feeling tapped. Your dream beach vacay awaits for lunch-money prices: In Goa, comfy waterfront bungalows go for around $30, but if you forgo housekeeping and some space, basic huts can be had for $15 (often, with breakfast). If you don't mind skewing rustic, the beach town Gokarna, a two-hour train ride away, is even more budget-friendly. Rooms go for around $5 (a little run-down but clean), and you can shop flowy pants, dresses, and trinkets for $3 a pop, assuming your haggling is on-point.
Why you should go: Goa's coastal-scapes are sumptuous, wrangling the perfect balance of untouched beauty and clean, cared-for strands. Tourist creature comforts abound: jungle parties, seafood feasts, drop-in yoga on the beach. But you'll get the gratification of skipping off the beaten track too. Spending another $18 a day will get you a motorbike and unlimited access to backwoods lagoons and hidden beaches, where it'll be just you and the sea turtles bathing.
Zimbabwe
Just how cheap is it? The food and accommodation aren't fabulous bargains -- but, oh, the shopping is. In the tourist town of Victoria Falls, a hostel bed or a hired tent will cost you $15 to $20 per night, but I scored a carved stone necklace from a street vendor for the sandals I was wearing. Bartering is common at flea markets and on the streets, where second-hand clothes -- shoes, baseball caps, and sportswear (think basketball or soccer shirts) -- have real buying power. Fill your suitcase with gently used gear and exchange it for jewelry, handmade crafts, and souvenirs like devalued trillion dollar notes.
Why you should go: Because nature and mild danger make you feel alive. Victoria Falls has a bungee jump, one of the world's most high-octane whitewater runs, and the Devil's Pool, a natural rock pool at the literal edge of the falls. Forget TLC's admonitions: Inching your body out over the precipice and looking down into one of the seven natural wonders of the world is one of the most unforgettable things you'll ever do. - Sarah Theeboom, Thrillist contributor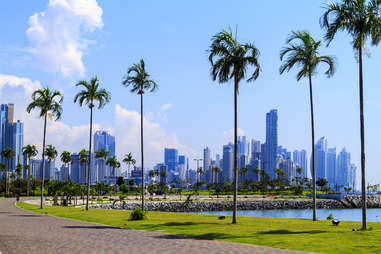 Panama
How cheap is it? Very. Its largest city -- helpfully named Panama City -- is the world's third-cheapest major city. And it is major! Panama has the fastest growing economy in Latin America, with abundant new restaurants and luxury hotels; it's pretty much the most (and arguably only) truly global/metropolitan city in the region. And still a bunk in a cheap but well-reviewed and centrally located hostel will set you back only $14 per night, while those seeking luxury accommodations can stay at the damn Waldorf Astoria for $149 per. Which is stupid cheap, all things being relative. A public bus ride in the city is just 25 cents. You can eat on the cheap for under $20/day for all three squares if you hit up cafés for breakfast, the beach fish markets for lunch, and restaurants without English menus for dinner. Beers will cost you anywhere from $1.25 to $3 a pop. All in all, you're getting huge bang for your buck -- oh also literally your buck, as US currency is interchangeable with the Panamanian balboa.
Why you should go: Not only is it arguably the greatest swinging-around-a-stage-in-purple-sequined-zebra-print-pants anthem of David Lee Roth-era Van Halen, it's a slinky, skinny swatch of land with the Caribbean Sea on one side and the Pacific on the other. Smaller than South Carolina, it boasts 1,800 miles of ocean coastline and 5 million acres of national parks on the inside. For those who enjoy stylishly restored ruins, Panama City's old quarter, Casco Viejo, is a UNESCO World Heritage Site that dates back to the 1600s and is now filled with hipstery shit, because of course it is. This cobblestoned city center is surrounded by the ultra-sleek, modern, quasi-futuristic skyscrapers of Panama City, which kind of looks like Rio without the smog and soon-to-be decaying Olympic infrastructure. - Nicole Rupersburg, Thrillist contributor
The United Kingdom
How cheap is it? The UK saying "laters" to the EU may be bad news for Brits, but it's proving to be great news for travelers. Brexit tied a brick to the already-sinking pound; overall it's down 30 percent against the dollar since summer of 2014. Airfares, too, have dropped. And the UK is, for the next couple of years at least, formally in Europe -- so super cheap air and train fares that currently operate between the UK and the continent still run post-Brexit, pre-exit. You can be in Paris in 2.5 hours by train. Boom! Take that European trip you've been dreaming about since your student days, as it may never be cheaper.
Why you should go: London is always a winner, but venture north to the Yorkshire Dales to experience the majestic, windswept hills of the Brontë sisters, or take a train south west to the Jurassic cliffs of seaside town West Bay, Dorset (you may recognize them from Broadchurch). Both of these options, much more budget friendly than the capital, offer England at its most beautiful. - Ruthie Darling, Thrillist contributor
Bolivia
Just how cheap is it? Dirtbag backpackers can get by on less than $30 per day, easy. Dorms in La Paz, the sprawling capital, are as low as $5 a night. Lunches cost $3, and including rice, a main (usually meat), and soup. Buy some llama print sweaters to take home at $10 each, and spend $20 to cram onto a bus to the next city. A three-day tour in the damn Amazon jungle will set you back just $200 (bring a headlamp and expect to lounge in hammocks next to baby tarantulas).
Why you should go: The landlocked country has a rich indigenous culture (por ejemplo: you can buy dried llama fetuses from colorfully dressed mamitas in the markets of La Paz), and a stunning range of landscapes, from rust-colored desert where dinosaurs once trekked to lush pampas and jungles to the otherworldly expanse of the Salar de Uyuni, where the horizon disappears between ground and sky. Adventurous spirits can find some of the cheapest paragliding in the world in Cochabamba, while mountaineers can tackle the 21,000ft high Nevado Sajama. The rest of us can wander around charming cities like Sucre, or take in the mesmerizing sunsets of Lake Titicaca, as beautiful to behold as it is fun to say. - Laura Yan, Thrillist contributor
Bulgaria
Just how cheap is it? Bulgaria's capital Sofia is the girls' getaway paradise you never knew existed, where full-body waxes run about $20 and the full-meal deal of manis, pedis, and haircuts are much cheaper (because Bulgarian women like looking on fleek). A three-course dinner plus vino also shouldn't cost more than $20 (and the local cuisine here is known to be hearty). Despite its post-Communist exterior, Sofia is also incredibly modern, and you'll be able to find international bites from tapas to sushi.
Why you should go: Sofia is one of Europe's coolest overlooked capitals, with ancient ruins and salmagundi architecture in Ottoman mosques and Red Army monuments. In the past few years, its streets have proliferated with graffiti art, skateboarder girls, and shabby-chic bars where you can while away days and evenings. A city trip is easily paired with a few more days at the Black Sea on the Bulgarian Riviera. You'll find a gorgeous seaside that rivals plenty of more-lauded Mediterranean stretches -- again but for a sweet fraction of the cost.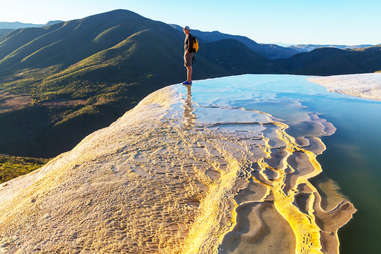 Mexico
How cheap is it? Mexico's huge, it's right next door, and each of its 31 states has something to offer. You're gonna take your best cheap shot? Aim for the mezcal and gastronomy capital: Oaxaca, in the south. In the capital, Oaxaca de Juarez, feast on the regional specialty: tlayudas, an oversized crisp tortilla heated on a grill, topped with lard, beans, veggies, salsa, and meat, (think combination of pizza and taco in the best possible way). It is to be eaten from a street vendor in the early hours after a night of drinking, and will set you back all of $4. For daytime noshing the markets are stacked with small vendors who serve sublime homemade moles that cost around $8 for a full portion including rice and soup. Lodging is cheaper than a movie ticket in the States; Hostel Don Nino alongside Parque Llano charges $14 per night, which includes Wi-Fi, a computer station, filtered water, clean showers, and breakfast. For free activities, there are plenty of colorful markets to stroll and art galleries to wander. The ruins of Monte Albán and the ancient Tule Tree cost around $20 for round-trip transportation plus entrance.
Why you should go: For all the greedy reasons: Its landscape varies from world-famous Pacific surf beaches to strikingly beautiful inland mountains, you'll eat the best Mexican food you'll ever have, the city is packed with pure magic. And for a selfless one: After a brutal past year of political rhetoric in the States, now is a great time to show our neighbors to the south some love. Whatever scant bucks you spend will boost their economy and help preserve the many indigenous cultures that call Oaxaca home. - Tess Rose Lampert, Thrillist contributor
Greece
Just how cheap is it? The aftershock of the debt crisis can still be felt at plenty of Greece's tavernas, restaurants, and supermarkets (though not so much in touristy areas). On a popular island such as Mykonos, you're likely to spend at least €25 or more on a lush evening meal -- but you can also get a bottle of godly nectar and cook at your Airbnb or hotel kitchenette for a sliver of that. On smaller, less touristy islands and in some parts of Athens you'll feel less of a wallet pinch, especially when it comes to accommodation.
Why you should go: With some 6,000 islands, Greece is the Mediterranean's powerhouse beach destination. While only 200-some are inhabited, an island-trotting adventure for everyone here, whether you're looking for wildlife adventures, historic discoveries, or quite frankly, drinking ouzo and boogying. Athens makes an energetic springboard into the Aegean, with its own archaeological ruins, hipster cafés, and hangouts ranging from dynamic industrial to retro chic.
Colombia
Just how cheap is it? If you get yourself to Isla Grande -- part of the Islas del Rosario just off the country's north coast -- it's a tropical paradise for as cheap as you care to make it. Although there are fancier resorts available, at eco-hotels such as La Cocotera, Las Palmeras, or El Hamaquero, you can sleep in a beachside hammock for just $10 a night. For $20, you'll also get you three meals, including a freshly caught and grilled fish dinner. Or, pro tip: A local can bring you freshly caught lobsters on request from anywhere between $10 to $30 a day. Sneak into the upmarket Hotel Majagua and grab a piña colada for $5, or go to the inland village for cut-price cervezas. (If you want more privacy, lodging starts at around $30 per room, and goes up to between $90 to $250.)
Why you should go: Don't let the name fool you; Isla Grande is an intimate, gorgeous Caribbean island just a 45-minute boat ride from Cartagena, full of exceedingly friendly locals and all the hallmarks of a tiny paradise. You've got your idyllic beaches, your lagoons of bioluminescent plankton that turn the water bright blue, your fresh seafood and multiple options for diving and canoeing. The chance to visit such a place is probably why you bother to earn money in the first place. - Daniel Cole, Thrillist contributor
Poland
Just how cheap is it? Poland's economy is swinging upward, but the price of traveling here is still indulgently cheap compared to other EU countries (that could change, though, so don't dally). In its bigger cities -- Warsaw, Kraków, Wrocław -- you can get a centrally located, one bedroom Airbnb for $30 all to your lonesome. Polish food is notoriously cheap and filling, especially if you're dining on pierogi and goulash in no-frills milk bars (cafeteria-like relics of Communist times). In Warsaw, you could ball out on craft cocktails at bijou bars (or just drink $1 Polish beers and vodka shots for that matter). Or treat yourself to a two Michelin star meal at Atelier Amaro, where the six-course meal is a reasonable $70.
Why you should go: Too few Eurotrips include Poland, despite its sharing borders with Germany and the Czech Republic. Warsaw is a hotbed of glamor and flash, while Kraków is the epitome of charming hipster enclaves, but the truth is that both of these cities are of crucial historical importance -- and what happened here should never be forgotten. Millions of Poles died or fled during the Nazi invasion. Warsaw was basically burned to the ground. The country's long history is rich and fascinating, set in what is today a peaceful and beautifully scenic land.
Sign up here for our daily Thrillist email, and get your fix of the best in food/drink/fun.