Lunar New Year is a sacred time for many Asian cultures. This year is the Year of the Pig, the last animal in the Chinese zodiac and marking completion of a 12-year cycle. The new year -- falling on February 5 -- brings with it good fortune, as we sweep away the dregs of the past and make room for future prosperity. From joyful gifts of red envelopes, energetic traditional dances and meals symbolizing good luck -- pork dishes, dumplings, heaving bowls of sticky rice -- there's no one way to celebrate the Lunar New Year. If you want to get in on the fun, here's a smattering of domestic celebrations ushering in a year of good will and fortune.
Recommended Video
Spoil Your Pup at The Dodo's Best Dog Day Ever Event
Seattle
Seattle's diverse and rapidly growing Asian-American population means an embarrassment of cultural riches this time of year. Saturday, February 2, is the Lunar New Year Fair at the Wing-Luke Museum in Chinatown -- rather than just watching the festivities, you can participate in them yourself by making handicrafts with local artists (tickets are $17). Or hit up the Lunar New Year Family Festival at the Seattle Art Museum that same day. On February 9, Chinatown will hold its (free!) Lunar New Year Celebration, and the $3 Asian Food Walk will get you all the dumplings and sticky rice snacks you crave at participating restaurants.
Los Angeles
If you will be in Los Angeles on Saturday, February 9, you will want to be at the legendary Golden Dragon Parade. Thousands of Angelenos pour onto North Broadway in Chinatown to for everything from marching bands and colorful floats to kung fu demonstrations and face-painting. The parade has now been going strong for 120 years. February 9 also means you can try your hand at dragon boat rowing at the one-day-only Street Festival in the heart of the Chinese community in Alhambra. But don't worry if you miss them; the Chinese New Year Festival & Parade on February 17 will bring local artisans, craft beer, live music, and -- obviously -- food trucks.
New Orleans
From February 8-10 in New Orleans, the place to be is the Mary Queen of Vietnam Church for Tet Fest -- the city's free celebration of the Vietnamese New Year. Between the lion dances and the live music and the acrobatic stunts and the raffles, you can fill up on classics like sticky rice cakes, banh mi, and pho. At dusk on Friday and Saturday night, close out your celebrations of Vietnam's biggest holiday with the firework show and dragon dance. The Year of the Pig is a lucky one, and you're in for a joyful (and delicious) time.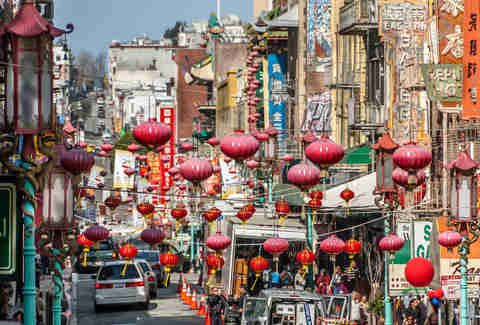 San Francisco
Chinese Lunar New Year celebrations in San Francisco go strong all month. From the Flower Market Fair on Grant Avenue February 2-3 through the holiday itself on February 5 right up through the city's official Chinese New Year Parade on February 23 -- one of the biggest, most iconic illuminated nighttime parades in the country and the largest Lunar New Year celebration in the Western world, about half a million people joining the festivities downtown. On top of the firecrackers, pageants and vibrantly colored, painstakingly ornate dancing lions, you can chow down on Chinese food from the city that made Americans fall in love with it in the first place.
Philadelphia
The City of Brotherly love goes all out for the Lunar New Year, with an impressive showing of cultural activities around town. Just in time for the holiday, the Philadelphia Museum of Art is reopening it Galleries of Chinese Art after some renovations -- take in more that 7,000 items from furniture and costumes to jade and sculpture. On February 5, the Free Library of Philadelphia's South Philadelphia location offers family-friendly crafting, treats and storytelling. At the International House Philadelphia, ring in the Lunar New Year with traditional Chinese music, martial arts, dance and film, followed by cuisine from Sang Kee Noodle House.
New York City
Lunar New Year in New York City and its five boroughs has the distinct honor of boasting not just one Chinatown, but several. Travelers and tourists can easily access Manhattan's Chinatown, where the Firecracker Ceremony and Cultural Festival lights up the night on February 5. Over in buzzing Flushing, Queens, learn how to make traditional lanterns, snack on holiday foods (dumplings and Asian baked goods, anyone?) and take in performances like a dragon parade at the Chinese New Year Temple Bazaar on February 17. And in Brooklyn's Sunset Park, a festival and parade on February 10 will feature music, dancing and more. Crowds and parades not your thing? Carnegie Hall once again hosts its popular Chinese New Year Spectacular, featuring pianist Jie Chen, and Shanghai soprano Quan Chen, tenor Dr. William Weimin Cai and American violinist Deni Bonet (February 15).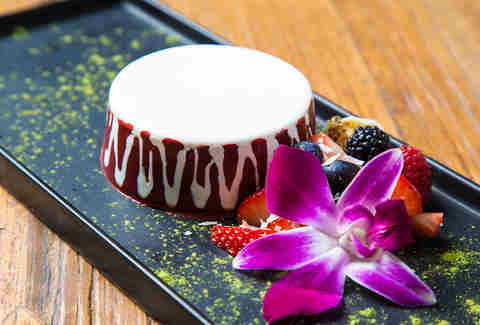 Chicago
Celebrate the Year of the Pig with the Chinatown parade on February 10, a procession of lion dances, colorful floats and music. While there, hit up traditional dim sum spots and bakeries for treats like like crab dumplings at Cai or buns at Chi Quon Bakery, the oldest in Chinatown. For contemporary interpretations of traditional fare, celeb chef Stephanie Izard's Duck Duck Goat will be serving "reasonably authentic" dinner specials and red envelopes, which symbolize good fortune and well wishes. At Sunda, expect a New Year menu of char siu barbecue, longevity noodles and even a five spice cake fashioned to mimic the look of a tanggu drum. Crack it open, and goodies tumble out.
San Jose, California
In San Jose, the family-friendly Lunar New Year-Tet Festival activities February 8-10 include carnival rides, fireworks, student talent contests, the ever-popular lion dance, lots of traditional red envelopes full of cash, and -- for the very first time -- a 3D photo theme park. The Vietnamese community in San Jose is among the largest in the country, and tens of thousands of people are expected to show out for this year's festivities. Hit the food booths at Eastridge mall for everything from sugary Vietnamese coffee to green tea waffles.
Las Vegas
It should surprise no one that the pageantry, spectacle and general sensory overload of the Lunar New Year has found a thriving home in Las Vegas. To celebrate 2019's Year of the Pig, the Bellagio Conservatory & Botanical Gardens (free to visit!) filled its entire 14,000-square-foot space with flowers and a coup-de-grace centerpiece in the form of a 3,000lb, 16-foot-tall golden pig. On February 5, you'll also want to be there for the traditional Fan Dance. On February 9, catch the Lion Dance down at the Tropicana. Of course, don't sleep on the lavishly decorated, over-the-top, food-and-drink-filled four-day-long party at The LINQ Promenade.
Washington, D.C.
The beloved free performances at Washington DC's Kennedy Center really shine come Lunar New Year: On February 7, catch live Chinese folk music from the Guangdong National Orchestra Ensemble at the Kennedy Center. On February 8, dancing and acrobatic feats from the Guangdong Arts Troupe. On February 9, the Chinese New Year Family Day -- lantern-making, face-painting, live Cantonese music, and a photo booth for which you can wear the clothing of the Cantonese Opera. And February 10 brings the Lunar New Year Parade to Chinatown -- this year's is set to be the biggest the city's ever seen. Head to 7th and H streets at 1pm to get a jump on the festivities at the pre-parade dance party.
Boston
Boston is home to the country's third largest Chinatown, and it shows. On February 17, get out and enjoy vibrant lion dances and performances while eating some of the best food the city. For a bit more hands-on culture, don't miss the free programming at the Museum of Fine Arts. Here, exhibits open up to all celebrations of Lunar New Year -- think Chinese and Vietnamese martial arts, interactive demonstrations of Saebae, a Korean New Year ceremony, and even a traditional Chinese tea ceremony.
Raleigh, North Carolina
Tet is the most important holiday in Vietnam, coinciding with other Asian Lunar New Year festivities. In Raleigh, the Vietnamese American Association of Raleigh hosts its own Tet celebrations, ringing in the Year of the Pig, which symbolizes generosity and prosperity. Try any number of food vendors serving bang chung, steamed squares of glutinous rice and pork, or xoi, another sticky rice dish central to the holiday. As in other traditions, music, dance and martial arts demos keep things lively.
Houston
Houston turns out for Lunar New Year. Over two days (February 9 and 10), the city's various Asian American groups converge to celebrate a new year of openness with this free, family-friendly event. Boasting demos of Korean and Vietnamese folk dances, to lion dances and martial arts performances, and vendors serving everything from baked goods to bubble tea, Houston's gathering was years in the making, after many starts and stops due to local politics. But with almost a decade to its name -- with as many as 80 lion and dragon performers, nearly a million red firecrackers, and 40,000 annual attendees -- this event is not one to miss.