America's 12 Greatest Music Cities, Ranked
Since you pretty much never go anywhere anymore without headphones blasting music into your ear holes, a city's music scene ranks pretty close to its restaurants and bars in terms of cultural goings-on. Some cities birth entire musical genres and hordes of artists, while others act like magnets that bring in eclectic acts from across the nation. Which is why we factored in local acts, historic venues, and explosive festivals to produce this indisputable ranking of the top 12 American cities for music.
Did your hometown make the cut?
12. Minneapolis, MN
The glory days of the Minneapolis sound (pioneered by Prince and his disciples) may be in the past, but the Twin Cities area is still a major Midwestern hub for hip hop and indie rock acts thanks to large venues like the Target Center and Northrop Auditorium. Even better, though, are the smaller rooms at First Avenue and 7th St Entry, Varsity Theater, Triple Rock, and Cabooze, whose intimate settings attract national talents, as well as local artists like Brother Ali and Doomtree. And we haven't even talked about the major concerts and festivals like Rock the Garden, Basilica Block Party, Mill City Live, and the Dakota Jazz Club Festival. But now we're talking about them. And they're excellent. Minnesota's quirks seep into every corner of its music scene.
11. Memphis, TN
If all you know about the home of the blues is Elvis Presley, or (god forbid) that awful "Walking in Memphis" song, consider this your crash course in "What Makes Memphis Musically Relevant 101." Yes, the King is Memphis' favorite son, but this town has also produced such notable acts as Justin "Derrrty Pop" Timberlake, the former lead singer of Saliva, Josey "Oh, that dude?" Scott, and Aretha Franklin, who needs no nickname.
Beale Street's the big musical draw here for visitors with even half a clue, and while it's certainly worth checking out BB King's Blues Club, the locals forego Beale's neon, touristy splendor for smaller venues like Hi-Tone Cafe and Young Avenue Deli, or larger national acts performing at Minglewood Hall, FedExForum, or the Bartlett Performing Arts Center.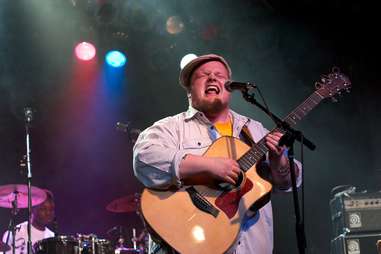 10. Asheville, NC
On top of being one of our favorite small cities for beer and food, Asheville's also a sleeper hit when it comes to live music. Venues run the gamut from smaller stages like The Grey Eagle, The Mothlight, and The Odditorium, to the nationally renowned Orange Peel, which has hosted performances by everyone from Bob Dylan to Skrillex. Speaking of Skrillex, Asheville's also the home of Moogfest: a biennial celebration of the inventor of the Moog synthesizer and patron saint of electronic music, Bob Moog, who lived right here in town.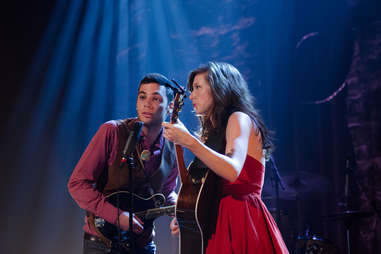 9. Athens, GA
As one of the greatest college towns in the nation, it should come as no surprise that Athens also packs one of the strongest music scenes in the nation, pound-for-pound. Is it numerically overmatched by the country's larger cities? Sure, but with iconic venues like the 40 Watt Club and Georgia Theater, and legendary bands like REM, the B-52s, and Widespread Panic calling this place home, Athens definitely punches above its weight class (more boxing metaphors, please!). And that's not even counting those affable weirdos in The Elephant 6 Recording Company, a local Athens musical collective that includes indie bands like Neutral Milk Hotel and The Apples in stereo, groups you've been told you should listen to but probably still don't entirely "get."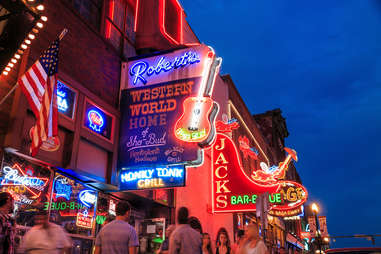 8. Nashville, TN
Music City's synonymous with the "Nashville sound" developed by musical luminaries like Chet Atkins and Owen Bradley, and while much of it's obviously still dominated by artists like Blake Shelton and institutions like the Grand Ole Opry, there's more to Nashville's music scene than strictly country. This town's home to acts like The Black Keys, Paramore, Kings of Leon, and Jack White, with the latter opening Third Man Records: a combination record label/music store/venue that hosts live shows in its Blue Room performance space. The indie scene's pretty strong over the river in East Nashville, too, although you can still catch national acts (from Meat Loaf to the Shins) at the Ryman Auditorium, the Opry's former home.
Oh, and you can literally get a taste of the city's music scene as soon as you arrive: Nashville International Airport has hosted a live music series since 1981, and sees between 80 and 100 local bands perform on four stages in the terminal every year.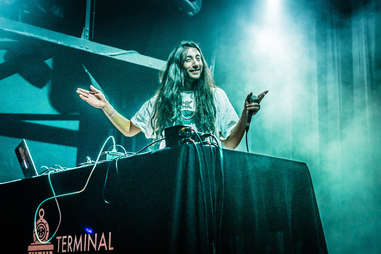 7. Atlanta, GA
In addition to the comically long list of rappers who hail from the ATL (T.I., Ludacris, Nelly, etc.), this Southern capital also boasts an eclectic mix of genre-spanning musical acts that include the decidedly country Zac Brown Band, the metal-as-f**k Mastodon, and the virtuoso guitar god Kaki King. Oh, and the grammy-winning Atlanta Symphony Orchestra too. Rooms like The Masquerade cater more to the smaller rock crowd, while The Tabernacle hosts mid-sized shows for just about every genre, and massive venues like the Philips Arena are the go-to for your Mötley Crües, your Fleetwood Macs, and your Lady Gagas.
In the immortal words of hip hop mogul/oddly sized human Jermaine Dupri, "Welcome to Atlanta where the playas play..."
6. New Orleans, LA
Being eclectic is all well and good, but there's something to be said for a city dominated by one or two styles of music; NOLA is that city. The germ of Dixieland jazz that eventually spread to other major US metros first incubated here, and jazz and the blues are inextricably interwoven throughout the life of the city. How interwoven? Well, the idea of the "jazz funeral" was born here, where procession members celebrate the life of the departed through song and dance, and the brass band tradition born in neighborhoods like Tremé is still very much alive these days.
Modern jazz greats like Wynton Marsalis and Kermit Ruffins hail from the Crescent City, and the famous Preservation Hall keeps the tradition alive through riveting nightly performances by locals, touring musicians, and the Preservation Hall Jazz Band. Still, you can hit up venues like Tipitina's and Siberia for live performances outside of NOLA's iconic jazz scene.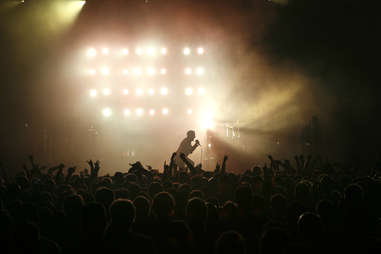 5. Seattle, WA
Historically, Seattle's got as strong a musical pedigree as any city: it was the epicenter of the grunge movement of the '90s, and before that, it served as the birthplace and jump-off point of one Jimi Hendrix. But all that stuff's in the past, right? Isn't Seattle long beyond relevance these days?
No, and no. Apart from generating huge modern acts like Death Cab for Cutie, Fleet Foxes, and yes, even Macklemore, Seattle acts like a lightning rod for bands from throughout the region (like Modest Mouse) who perform in venues ranging from the KeyArena to The Crocodile. If festivals are more your speed, Seattle's got plenty of those as well, with the largest and most notable being Bumbershoot: a sprawling outdoor event that attracts talent from the Northwest and beyond over Labor Day weekend.
4. Los Angeles, CA
There's a reason that this sprawling metropolis is heralded as the center of the West Coast music scene. From massive arenas like the Staples Center, to mid-size venues like the El Rey, to smaller rooms like Hotel Cafe, there's no shortage of quality spots to catch a performance by a touring national headliner.
Even putting aside its plentiful venues and massive recording industry presence, LA's integral role in the creation of modern hip hop (Dr. Dre? Tupac? Snoop?!) is undeniable. It's also produced a whole rogues gallery of killer rock bands who started in town and went on to slay audiences around the world -- we're talking about LA Guns, obviously.
3. Chicago, IL
Beginning with the Great Migration and the rise of distinct versions of the blues and jazz of the south, Chicago's history has been interwoven with its music. While blues and jazz are still very much alive and well in venues like Kingston Mines and The Green Mill, Chicago's developed a mélange of musical scenes that have seen the rise of such rock and hip hop gods as Fall Out Boy, Kanye West, Disturbed, The Smashing Pumpkins, and, of course, the Peter Cetera-falsetto-led Chicago.
And then there's a little music festival called Lollapalooza, which attracts hundreds of thousands of attendees for three days of performances from just about every metal band/rapper you've ever heard of.
2. New York, NY
When it comes to cities full of venues that musicians dream of headlining a gig at, New York's tough to beat. From the Bowery Ballroom, to Arlene's Grocery, to Webster Hall, to Madison Square-freaking-Garden, there isn't a single national act that isn't including New York in its tour schedule one way or another. And when it comes to homegrown talent, groups like the Beastie Boys, Talking Heads, Simon and Garfunkel, KISS, Sonic Youth, The Velvet Underground, Wu-Tang Clan, and about a thousand other incredible musical acts are the stuff of legend.
1. Austin, TX
You don't get a nickname like "Live Music Capital of the World" by being second-rate, and with big-name festivals like SxSW, Fun Fun Fun Fest, and ACL (to name only a few), Austin's got the rest of the country beat handily as far as outdoor shows go. Even when there isn't a festival running, though, you can stop in at any of the myriad bars and restaurants that serve up quality live performances in addition to their standard fare, from Stubb's BBQ and Emo's to Donn's Depot and the Mean Eyed Cat. It also doesn't hurt that the place produces amazing talent, too, with bands as varied as Explosions in the Sky and Jamestown Revival -- not to mention deceased legends Stevie Ray Vaughn and Janis Joplin -- calling Texas' capital city home.