We're as guilty of it as anyone: trotting out every ridiculously cheap flight from New York or Boston or Atlanta to some cool-ass European capital or coast and saying, eyes wide and spittle spraying, "Now's the time! Get to Europe!"
There's only one catch, and it's a big one. Even with the euro and the British pound scraping against historical lows vs. the US dollar (gyaaah! Seriously! Get to Europe!!) you still have to pay London prices once you touch down at Heathrow or Reykjavik prices when you pop by Iceland. And clearly if you were in the mood to scrape along like a peasant, you'd just apply to grad school.
But what if we told you -- which, yes, we're literally telling you now -- that you can hit truly world-class destinations that are cheap even when their currency isn't on markdown. That you can enjoy the finest Catalan food, the most calendar-worthy Mediterranean beaches, the time-worn castles and platinum lagers and free-wheeling Croats who make Europe a beloved destination for the world's travelers. And once you cover airfare, you can do it all for less than you'd blow on a normal weekend road trip.
We know, because we asked our stable of cost-conscious writers to pick their favorite spots to hit on the cheap. Here are the 16 European cities they recommend to anyone who'd rather pocket a euro than spend it.
Porto, Portugal
Port wine and just-caught seafood rule in Western Europe's favorite bargain city.
Why it's so cheap: The dollar and euro are nearly dead even right now and holding steady. Add Portugal's perennial status as Western Europe's top bargain to the equation, and you won't find any bloated price tags along this Atlantic shoreline. Lodging, chow, and booze typically wipe out a holiday budget, but you'll be styling in affordable mode at two- or three-star hotels near the city's medieval/romantic Old Town.
Why you should go: Clean and classy Porto is the heart and soul of Northern Portugal, a World Heritage City where even the McDonald's has chandeliers. Olden, narrow lanes offer unofficial landmarks like squeaky-floor bookshops, indoor-outdoor cafes where patrons converse sans iPhones, and alluring courtyard squares hiding behind every façade. Portugal's pristine coastline and fondness for organic agriculture ensure that no traveler leaves blasé about its food, wine, or truffle butter.
Did we mention it's cheap? Imagine what you'd throw down at TGI Fridays for lunch, but instead you're sipping wine at a white-tablecloth riverside restaurant beside a fishing port, eating seafood so fresh it practically jumped out of the ocean like that. When you leave a tip here, you're a hero, and no one's expecting you to understand Portuguese. The gotta-do granddaddy of charms is Taylor's Port Wine Cellars. Founded in 1692 by a British trader, and family-owned since, it's the dank-but-swank dwelling where you'll finally find out what the hell "tawny" means. -- Bruce Northam, American Detour
Berlin, Germany
An ever-changing cultural mecca perpetually at low prices
Why it's so cheap: The capital city of Germany is arguably the cheapest in Western Europe. Finding affordable accommodation is as easy as finding a great club, and that is really easy. You can rent an Airbnb close to the CBD for as little as $30 a day. Plus, after a night of partying you can stumble to any street corner and get a traditional German currywurst for $3 with a pint for the same price. Berlin is definitely a museum city; so don't forget to bring your student ID for discounted entrance fees. There're also dozens of monuments, famous street art, beautiful parks, and attractions you can visit for absolutely nothing.
Why you should go: Berlin is one of the more progressive and laid-back cities in Western Europe; it's an indescribable mix of old-school Europe and youthful hipster energy. If you see a line outside some grungy warehouse building, join it, especially if it's the infamous Berghain. Your night will be filled with dancing, drinking, back-room mischief, and some of the best DJs in the world. -- Katie Lockhart, Thrillist contributor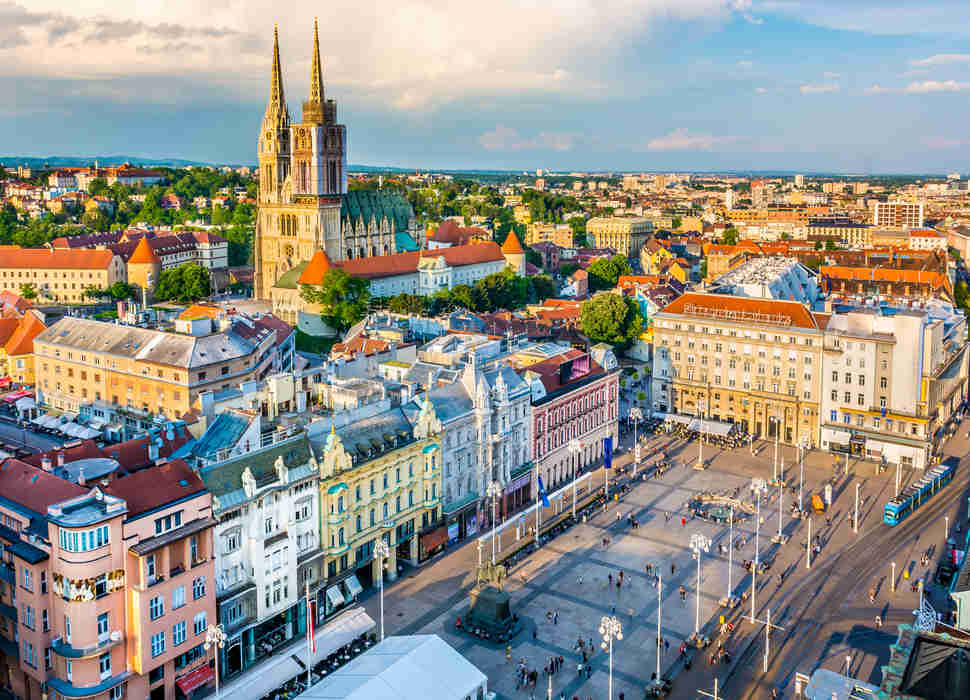 Zagreb, Croatia
A lively and quirky capital
Why it's so cheap: The word might be out on Dubrovnik thanks to Game of Thrones, but Croatia's capital hasn't been completely overrun with tourists and tourist prices (yet). You can find a good Airbnb near the city center for as low as $35 or stay at the popular Swanky Mint Hostel for less than $15. The best way to get around is the tram -- a day pass is $7 -- or rent a bike through the nextbike system. The first 30 minutes are free and each hour after is just $1.
 
Why you should go: There's a lot more to do here than just wander cobbled streets and photograph old architecture. Zagreb has more museums per capita than any other city in the world -- the Museum of Broken Relationships is a weirdie but a goodie. Also not to be missed is the Grič Tunnel, which runs directly through the heart of the city and opened to the public less than a year ago. If you're there on a weekend, wear your coolest outfit and take part in špica (pronounced "shpitza") where locals get coffee and run errands on Saturday and Sunday mornings for the sole purpose of being seen.
Stop by A Most Unusual Garden, a cafe and bar that's also a treehouse, but set your sights on Mundoaka Street Food when you're ready to tuck into the traditional Croatian cuisine. Zagreb also throws one hell of a late-night party. Head to Opera for the best of the club scene (just don't show up before 1am). But be warned, the locals are likely to drink you under the table and may offer you flaming B-52 shots. -- Hannah Freedman, Thrillist contributor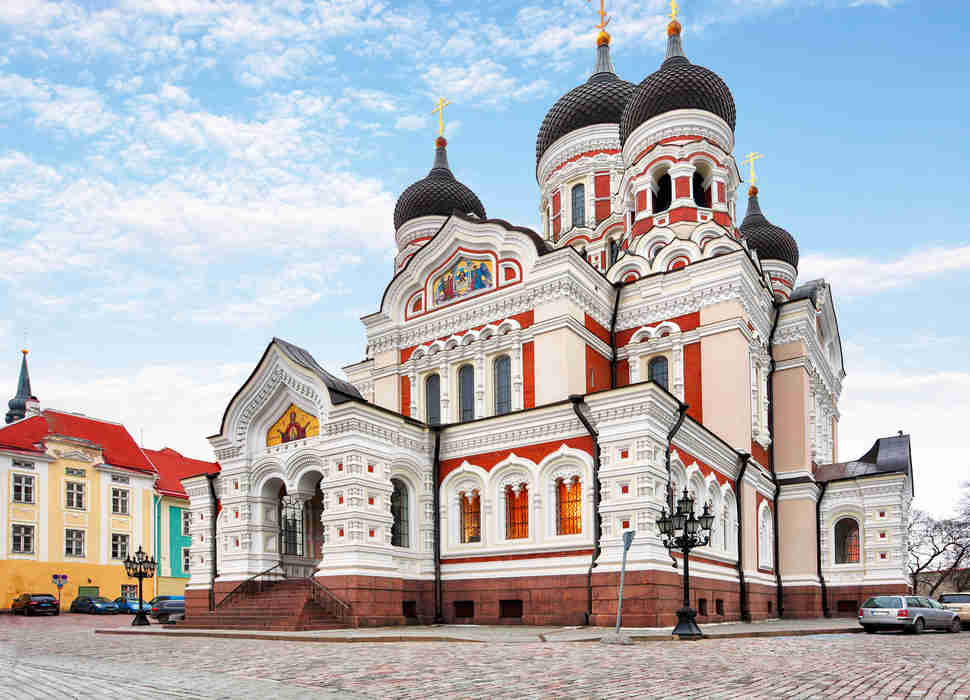 Tallinn, Estonia
A modern city famous for public singing and medieval architecture
Why it's so cheap: It's still shaking off the post-Communism blues. The first ex-Soviet state to adopt the euro is so much cheaper than neighboring Finland that Fins routinely ferry across the Baltic Sea just to buy cigarettes. Slightly larger than Switzerland, this small country (1.5 million people) has a big outlook while the people have even bigger hearts. And you'll feel like a big shot buying them cheap rounds.
Why you should go: Estonia's architecturally brilliant capital city is one of the best-kept medieval towns on our planet. Tallinn's Old Town -- an obvious UNESCO World Heritage Site -- is also a renowned Hanseatic city, now with wireless. (The Hanseatic League was a medieval Northern Europe merchant alliance resembling an early European Union.) Encouraged by the collapse of the Iron Curtain, Estonia metaphorically waved bye-bye to the USSR in 1989 when 2 million Baltic citizens launched into a nations-wide (Estonia, Latvia, Lithuania) jam-band choir known as the Singing Revolution (a Baltic Woodstock). Today, merry outdoor festival-going still overshadows sport fandom as a national pastime. Song festival fairgrounds and their signature bandshell arches are everywhere. Despite the difficulties they've endured for hundreds of years, cultural traditions have kept Estonians together: Folk dancing, art, hearty cuisine, and storytelling over a few brews top the list. -- Bruce Northam, American Detour
Prague, Czech Republic
A literary town with a giant fairytale castle
Why it's so cheap: The secret is out on Prague, so prices have been slowly increasing along with the crowds of tourists. But despite its popularity, it still won't break your budget. For just $40 a night you can rent an Airbnb near the Old Town center. The city is small so you don't have to worry about paying for transportation; you can see basically everything on foot -- unless you've had a little too much beer, which I won't fault you for because it bangs out some of the best drafts in Europe for under $2.
Why you should go: Walk through the early morning fog on the Charles Bridge (emphasis on early morning, before the hordes arrive) and you'll feel like you're the star of your own spy movie. Prague is almost ineffably stunning, with winding cobblestone alleys, ornate Gothic and Baroque churches, and a fascinating mix of medieval and Communist history (the Museum of Communism, comically located next to a McDonald's, is an absolute must). It has the largest castle complex in the world, replete with torture chambers, as well as some of the oldest pubs and beer halls in all of Europe. Wandering off the tourist track will reward you here. Explore Malá Strana and take in the full glorious view of the city from the top of Petřín Hill. Make sure you order some late-night smažený sýr (breaded fried cheese) off a food cart. If you're looking for a unique and admittedly creepy place to have a pint, visit Bunkr Parukarka and drink inside a nuclear fallout shelter. Kafka would've bugged out for it. -- Katie Lockhart, Thrillist contributor
Brussels, Belgium
All the chocowafflemusselbeerfries you can handle
Why it's so cheap: Even if Brussels doesn't crack the top of your European vacation list, you're gonna need to check it out at least once in your life. Why not now? Brussels is the venerable Second Continental City of the Eurostar, reachable by train from London for as little as $59. Once you get there, you'll find it's a more cost-effective alternative to Paris with tons of Airbnbs and hotels for less than a Benjamin a night. If you want to head straight to Chocolate Town, airfares from all over the States this spring can be had for just over $400.
Why you should go: The city's main square, the Grand Place, is so breathtaking that it'd be well worth the day trip alone. What might make you want to stay a little longer? The gastronomic delights of Belgium. Chocolatiers are ubiquitous: Skip the overly expensive and touristy Godiva and Neuhaus to head for locally favored (and much cheaper) Leonidas. Buy a waffle on the street. And fries, too: served in a cone so piping-hot they double as an economic stimulus at the local burn units. A bowl of mussels is a must and can be had everywhere from Michelin-starred restaurants to fast-food purveyors alike. And, yep, the beer is the best in the world. Drink as much as will make you mimic the Manneken-Pis for the foreseeable future. Guilty on the gorge? Head to the Magritte Museum for works from the Belgian surrealist in an altered state. -- Colin St. John, Thrillist contributor
Girona, Spain
The "other" Barcelona, for when you're going to Barcelona
Why it's so cheap: Picture the location of Barcelona (well, an hour and a half up the road) and all its Catalan charms, minus the price tag and the crowds. A fancy hotel in Girona will cost you anywhere from $85 to $250 on any given Saturday night, and the city's airport is well-served by low-cost airlines bringing visitors from all parts of Europe on flights that cost less than $100, one way. It's the discount-hunter's best first stop on the way to Barcelona.
Why you should go: Those looking for "old Europe" will find it in Girona. Medieval architecture rules the old city center, with a stunning cathedral and winding, stone-lined alleyways. It's also at the heart of Catalonia's world-renowned culinary tradition: El Celler de Can Roca, currently the "best restaurant in the world," is here, and while dining here will certainly set you back a few euros, it pales in comparison to what a similar meal would cost in Paris or the States. But even the not-famous restaurants pull from a storied cooking pedigree and the nearby Mediterranean sea, as well as the Catalan farms that ring the city. A mere 20 minutes away is the Costa Brava, delivering prime beaches and more medieval towns where you can chow down on inexpensive, fresh seafood till your heart's content. -- Jackie Bryant, Thrillist contributor
Krakow, Poland
Shabby-chic charm and meaningful history
Why it's so cheap: Poland's Communist history has kept it catching up in the capitalist market, which means today even the thriftiest bugger can still, quite literally, ball out in even its most touristed city. A slick, artsy Airbnb in Krakow's historic Kazimierz won't set you back more than $50 a night, taxis are affordable (and even better, meter prices are usually trustworthy), and central Old Town is conveniently walkable. Be prepared to spend nominally, but gain a lot -- of pleasant experiences, yes, but also pounds, from gluttonizing on $2 pints, $2 grilled kielbasa, and entree platters bulging with meat, dough, and cabbage medleys starting for as low as $4 a pop.
Why you should go: Krakow is the ultimate hipster-historic darling, and Kazimierz, or the former Jewish district, is undoubtedly one of Europe's coolest neighborhoods. Afternoons are for winding around synagogues and graffiti art, spotting Jewish school groups wearing kippahs, nibbling kosher delicacies, and boutique shopping. Evenings are spent on the city's chain gang of dive bars boasting fairytale charm, from candlelit Alchemia to trashy-chic La Habana and the absinthe lair Absynt Cafe.
Krakow's badass, but it's also sobering as one of the main stages of the Holocaust. Painful memories are still scarred on these streets, from the Ghetto Heroes Monument, to an unsuspecting pharmacy that once secretly provided medicine to persecuted Jews, to the nearby concentration camp Auschwitz. Much of this history is wrenching to hear and think about, but you'll know in your heart that it must never, ever be forgotten. -- Barbara Woolsey, Thrillist contributor
Athens, Greece
Where simplicity is the ultimate extravagance
Why it's so cheap: Greece is a financial hot mess at the moment, teetering on the brink of Grexit and stumbling over debt repayments. For you, that means a heck of a deal on a badass summer holiday. In Athens, you'll find all the typical tourist-gouging around the Acropolis and surrounding area, but put some distance between yourself and the Parthenon and you'll be treated with some very reasonable prices. You'll find that you can eat very well in the Greek capital on a budget, save for splurging on a seafood dinner or two. Some of the cuisine's best are cheap, simple pleasures made on the fly -- there's souvlaki, pastries such as spanakopita and tiropita, fresh-squeezed orange juice, and everyone's favorite foamy coffee, frappé.
Why you should go: Athens' ancient history will lead you to believe it's old-fashioned, but it's actually gloriously dualistic, with modern industrial venues and hipstery vintage-cloaked cafes. It's actually home to Europe's most creative, happening bar scenes at the moment, with the kitschy haunts of neighborhoods Exarcheia and funky Psiri, which was a very rough area up until the '90s. Besides legendary bars such as The Clumsies and Brettos, one of Europe's oldest bars with its own distillery making liqueurs, there are underground jazz bars and, of course, traditional taverns. Along with all the shopping at the flea market Monastiraki and upscale Kifisia, you'll likely be boozed- and browsed-out before even hitting the islands. -- Barbara Woolsey, Thrillist contributor
Glasgow, Scotland
William Wallace died for your 15-pint sub crawl
Why it's so cheap: From the East Coast you can fly to Glasgow for under $500 -- it's also just a train ride away from London, Edinburgh, or pretty much any major UK city. (The Virgin rail from London leaves every 40 minutes, takes less than five hours and can be had for less than $40.) Hotels -- including major US standard bearers like Hilton -- can be snatched up for under $100 a night, and an all-day subway pass is about $3. You're going to need to that, by the way.
Why you should go: The largest city in Scotland is often overlooked for its capital sister to the east. And while Edinburgh boasts gorgeous castles and hilly historical charm, Glasgow's got grit, baby. Glasgow's industrial core drips with authenticity; there's no mistaking its independent ruggedness. But she's a cosmopolitan place, too, with far more to offer than haggis and Scotch whisky (you should try both, though, and stick with multifarious options of the latter throughout your stay).
Glasgow has great museums, parks, churches, blah blah: If you're hunting for a truly unique experience, do what droves of idiot collegiate American students abroad have done for years: The Glasgow Subway is a loop. Hop on and, then, hop off at each station, heading to the first pub you spy. Once there, have a drink, chat up the locals, and repeat. There are 15 stations (and, therefore, drinks) in the "sub crawl" and, from experience, a couple of them are in dodgy areas. So, be careful but, ya know, go nuts and see the city -- if through blurry lenses by the end of the affair. -- Colin St. John, Thrillist contributor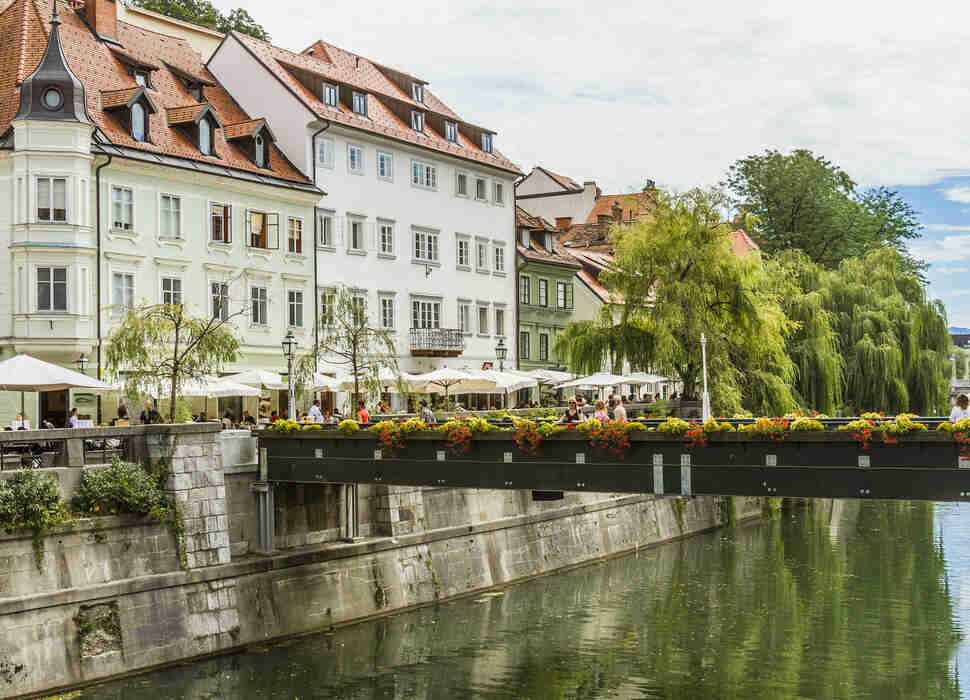 Ljubljana, Slovenia
A friendly, mountainous jewel at post-Yugoslavian prices
Why it's so cheap: Slovenia adopted the euro in 2007 and those euros go a looong way. It's easy to bounce over here on Rail Europe after fretting over your budget in neighboring Austria. Relish the easy stroll from the rail station into the heart of Ljubljana (pronounced "youb-blee-ahna") along curvy, cobbled medieval lanes lined with ultra-bargain cafes, shops, and open-air watering holes.
Why you should go: Vastly photogenic, this mountain-encircled Baroque city is a remarkable crossroads of Germanic, Latin, and Slavic history. These are stalwart, hard-working mountain folks who enjoy socializing, hanging outdoors, and outdoing Croatia. The architecture, scenery, and humanity in this proud capital city do not disappoint -- majestic Ljubljana Castle looms over the antique hamlet, and water melting from the ice-encrusted Alps flows from the taps. Not far off from Ljubljana are the gorgeous mountain-lake towns of Bled and Bohinj. You'll find this northwestern corner of the Western Balkans is more Euro than Slavic, so they vibe well with Americans and most people speak excellent English. -- Bruce Northam, American Detour
San Sebastián, Spain
Eat to your heart's content in Basque Country's gastronomical capital
Why it's so cheap: The bars and restaurants in this beachside resort serve small nibbles (called pintxos) that can add-up to big savings on a culinary crawl. Don't miss Bar Nestor, where tortilla de patata goes for $2 per slice. Or head to Pollitena, where a three-course menu of the day is $14 and comes with a glass of wine and bread. Save room for dessert because across the street is Pastelería Oiartzun. Ask for a table outside as you sip coffee and sample one of their specialty pastries -- tejas de tolosa -- a cheap, delightful almond bread.
Why you should go: San Sebastian is a food lover's capital. It's a great place to stuff yourself silly with Basque pintxos, bacalao (cod-fish stew), or jamon iberico. While you can easily burn through $400-$500 on a meal that you'll literally never forget at one of their many Michelin-starred restaurants (see: Akelarre, Arzak, or Mugaritz), the old section of the city is notorious for cheap eats, and it's also where these two- and three-starred chefs tend to hang out after hours. The equation is pretty simple here: Eat. Hit the beach. Repeat. -- Tim Ebner, Thrillist contributor
Agrigento, Italy
Mediterranean island luxury doesn't get any more chill
Why it's so cheap: Yes, you have to get there first. But! But! This southern Sicilian city has never been more accessible to Americans, as far as language, transportation, and price are concerned. Flights to Palermo are around $600 these days and Agrigento is accessible by train or bus for around $10. (You may want to rent a car to see the coastline -- nab one in Palermo in the $50/day zone.) Then stay, for a song. Luxurious and palatial properties can be booked for about $60 per night. The restaurants won't break the bank, and you came here for some of the freshest, most delicious fish on the planet, so eat the fish. Eat it all.
Why you should go: The town center of Agrigento happens to be located a stone's -- ahem -- throw from some of the most beautiful Greek ruins anywhere, like the Temple of Concordia and the Temple of Juno Lacinia. (They're why this area is known as the Valley of the Temples, after all.) Agrigento is also an hour's drive from the picturesque village of Sciacca, which rests on the Mediterranean and is only 20 minutes to the white cliffs known as the Stair of the Turks. But, really, Agrigento is about chilling. Sicily moves at half-speed, and it's that Mediterranean vibe -- along with plenty of fish and olive oil -- that keeps contentedness higher than you're likely to experience at home. -- Colin St. John, Thrillist contributor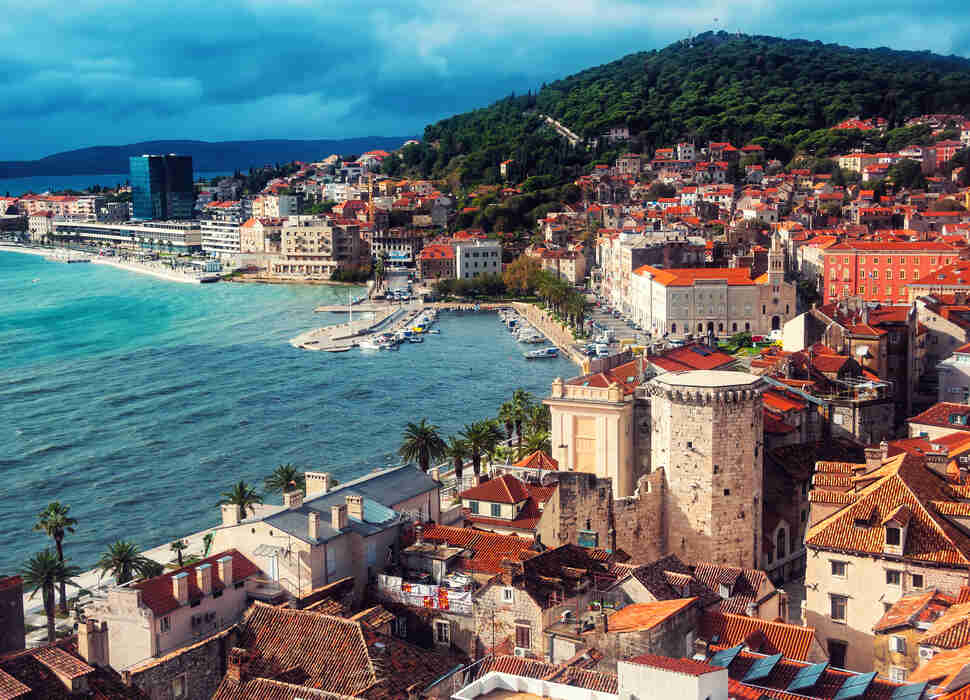 Split, Croatia
A discounted paradise on the Adriatic has everything except sand
Why it's so cheap: Having ventured to Split and its surroundings every year for the past decade, I still find the Croatian paradise brimming with giddy wonders. Go for a week with a good book and a pocket full of change and you will leave with a tan, a full belly, and a face aching from smiles. Return flights are just under $100 from most European international hubs. Ten bucks will get you a plate of freshly caught fish and a glass of local wine next to the turquoise blue Adriatic. A $5 ferry will take you to a lush island retreat just under an hour away from the mainland, where you'll be blessed with miles of beaches, remote hideaways, natural parks, and some of Europe's friendliest people.
Why you should go: That Croatia is not mobbed by thousands of tourists every year is both a blessing and a scandal. This idyllic, James Bond-esque port city has the feel of a rustic, 19th-century harbor -- albeit one with Wi-Fi and yachts. But it still holds to its wistful culture and prices that all seem to be missing a zero. Delight in the lush Mediterranean climate and journey to the beaches on the city's edge (just know that they're stone beaches, unfortunately; the one drawback). Hire a boat, explore old Roman ruins, and embellish your gluttonous desires with Dalmatian ham, olives, and whatever else you can gorge upon. -- Dan Cole, Thrillist contributor
Budapest, Hungary
Your historic spa capital for finding love (and chess) on the Danube
Why it's so cheap: Budapest is home to some of the best heated spas in Europe, with day-pass entrances starting at $15. Airbnbs can be found for around $10 a night, and those Eastern European dinners of slow-cooked meats and unforgiving heavy beers won't exactly break the bank. A well-connected train service links the Renaissance city to Istanbul, Vienna, Berlin and beyond.
Why you should go: Budapest is my go-to date spot. The romantic city is full of old-time rigor, a mish-mash of communist, Turkish, and Roman architecture with an excessive amount of cultural landmarks. Sitting atop a natural bed of thermal energy on the Danube, its real charm lies in the multitude of spas that line the banks. Channel your inner Roman and luxuriate in the heated mineral baths and saunas -- ideally with someone you like -- or challenge a more-than-willing local to a game of chess at the renowned Széchenyi Bath. -- Dan Cole, Thrillist contributor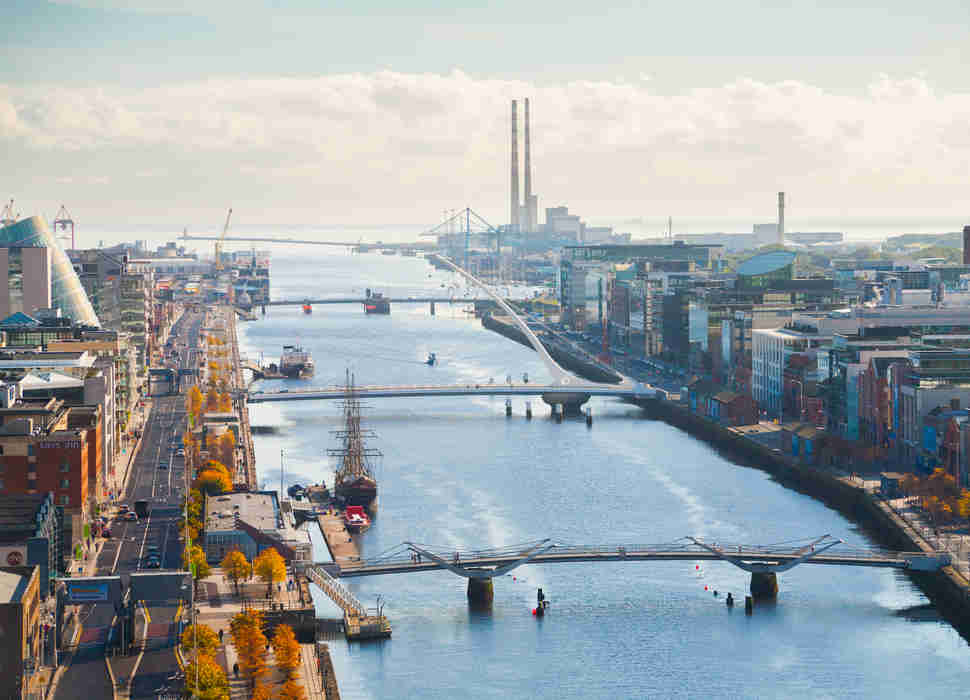 Dublin, Ireland
Flights to England's quainter, prettier cousin are silly cheap right now
Why it's so cheap: In what may be the craziest flight deal of the decade, Norwegian Air will now fly you from various East Coast airports to Dublin for as little as $65 one way. It may be from an airport you've never heard of, but for those prices, you're basically obligated to book a ticket. Once there, hotels are affordable and a good private hostel within the compact city center run about $40-$80 a night. You'll want to tour the famous Jameson and Guinness factories, which will cost you a few clams. But there are ways to avoid the expensive admission fees like buying the Dublin Pass, which will give you entrance into any attraction except Trinity College for a more affordable daily flat rate.
Why you should go: It's perfect for a weekend jaunt across the pond! Dublin is one of the friendliest European cities; nearly everyone feels like your sweet, old grandma. Its famous pubs like Temple Bar, its impressive Hogwarts-esque library inside Trinity College and the cutest tea parlors like the Cake Café are not to be missed. Plus, Ireland is so small it's easy to do day trips to the breathtaking Cliffs of Moher and Blarney Castle. Just, one tip: Don't kiss the Blarney Stone. Locals like to pour something on it, and it ain't beer. -- Katie Lockhart, Thrillist contributor
Sign up here for our daily Thrillist email, and get your fix of the best in food/drink/fun.