France's Most Underrated Cities to Visit, After You Hit Paris
Paris is an exquisite place. I once lived in the Shakespeare and Company bookstore for five weeks, right across the Seine from the Notre Dame. I went to the Louvre and faced down thousands of selfie stick-wielding aspiring Influencers to be able to squint at the "Mona Lisa" (it is small) and drank lattes so incredible that people charged me 5 euros and I just let them.
Paris is great, and if you have the time and means I extremely recommend that you go. Paris is not, however, the only great place in France. You know this; you just don't necessarily know what those other great places are, aside from Marseilles or maybe some beaches along the French Riviera you stumbled across whilst Instagram-stalking famous people through Cannes.
If you're still on the fence about going all the way to France without seeing Paris, it may help to learn that accommodations in places that are not Paris tend to be around 25% to 40% cheaper than accommodations in places that are Paris. There are a lot of university towns, a lot of young energy and good nightlife, and somewhere to the East, just before the Swiss border, there is a pizza vending machine where I once got exceptionally bad pizza. That stop might not be one that's worth your time, but here are a few of the ones that absolutely are.
Arles
Population: 50,000
Distance from Paris: 4 hours south by train
I'll begin my account of Arles by saying that I am not an Art Person, much in the way that I am not, say, a Wine Person, or a Running-As-A-Form-Of-Stress-Relief Person. Arles is celebrated as a place that inspired some of history's most famous artists, including Picasso and especially Van Gogh, who spent his most disturbingly creative spree here during 1888 and 1889, firing off nearly 200 paintings, pausing only to slice off an ear.
Today, Arles is outfitted with cute little signposts in various spots where Van Gogh and other artists painted their better-known works. No need to pay for a tour guide -- you can take yourself on a leisurely walking tour for zero monies by following this route. It's like a treasure hunt around the town, and when you find everything you can go get drinks, and if you decide at any point to give up you can also go get drinks. A friend and I picked up olives and artichokes and good French bread (you will always be able to find a perfect crusty baguette for a euro or less, it is the law) and settled in on a spot overlooking the Rhone where Van Gogh had worked on "Starry Night," and you don't have to be an Art Person to get on board with that.
If it's hot out, you can retreat underground to the Cryptoporticus, the network of ancient Greek tunnels underneath the forum. Or take a jeep safari in the Camargue -- marshlands where you can spot wild horses, bulls, and, because why not, flamingos. If it's summertime and you're getting across this part of the country by car, which you should be, try to swing through Sault (a little under two hours away) for what we may confidently argue are the world's best lavender fields. There's also a famous parfumerie a little farther east where you can make your own signature scent. Mine came out horribly, but perhaps you will do better.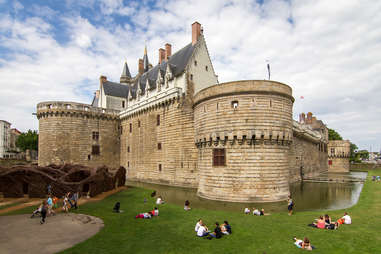 Nantes
Population: 284,970
Distance from Paris: 2.5 hours west by train
I have long been bummed that I'll probably never in good conscience be able to ride an elephant, what with the horrific abuse that characterizes the elephant-riding tourism industry (do not despair, elephant-lovers, you still got options). In no way did I expect that some solace for this very tiny-violin complaint would be provided by a historical port city in the Brittany region of France. Nantes is a lively college town. It is a white-wine capital. It is the birthplace of the Surrealism movement. It is home to a 39-foot-tall walking mechanical elephant, which you can ride around the city from lofty terraces built into its back as it sprays delighted/terrified/befuddled tourists with water from its giant mechanical trunk. You nerds think I'm joking; I am not joking.
The Grand Elephant was upgraded this year to be a hybrid vehicle, so you may now address it as Eco-friendly Grand Elephant. Is this a luxury for only the very rich, you might ask? A ride aboard the Eco-Friendly Grand Elephant will run you less than $10. The elephant is actually just one component (though certainly the most imposing) of a project that's filled Nantes with interactive steampunk art. You might enjoy the 80-foot-tall carousel straight out of the most disturbing parts of Twenty-Thousand Leagues Under the Sea. Plan your visit for the summer, when the city fully transforms into essentially one large art exhibit. Don't worry about missing the best spots; all you have to do is follow the green line already laid out at your feet. As previously mentioned, if you're jumping from town to town you should consider driving, but for the equivalent of around $10 you can also catch a three-ish-hour train ride to: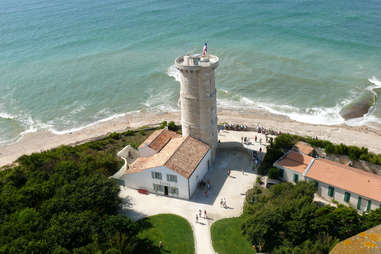 La Rochelle
Population: 50,000
Distance from Paris: 4 hours southwest by train
La Rochelle is another port city that doubles as a young, happening university town, but it's also an unusually good place for just kind of... falling off the map for a bit. La Rochelle has one of the best aquariums you'll find anywhere, which can be an especially fun draw if you're packing kids on your trip. If you're a history buff, don't miss Tour de la Lanterne, the last surviving medieval lighthouse along the entire Atlantic coast. But if you are like me and neither children nor architectural history are particularly appealing you'll love La Rochelle for its just-right blend of stimulating and relaxing, which isn't as easy a thing to pull off as bloggers and travel agents would have you believe.
Amble through the magnificent old harbor, known as Vieux Port, where you'll see colorful little fishing boats bobbing placidly in the docks. La Rochelle was the first French city to create a pedestrian-only section in its historic center, so this is really a place to come when you want time to slow down. Spend your mornings at a food market (generally speaking, most food markets around the world are best in the mornings) and then head to the Tourism Information Office and pick up one of their signature yellow bicycles (it costs just a few euro per hour). Ride that bicycle right over a long bridge that takes you to the island Ile-de-Re, where you'll find the sort of little white houses with blue-green shutters almost reminiscent of Greek islands. Lots of French nationals vacation here, but word of mouth hasn't quite made the jump across the Atlantic. Ile-de-Re is an excellent place to camp, both because it's cheaper (especially in the summertime, when the island gets more crowded) and because, again, this is your time to get back to a slower, calmer, generally chiller way of life. And yet, like La Rochelle, there's a duality about it where you can be ~fancy~ if you like here, too. Go right from a morning of bodysurfing to an afternoon of sampling artisanal ice cream in flavors like oyster, caviar, Thai sorbet, and Momentarily Forgetting About the 2016 Election.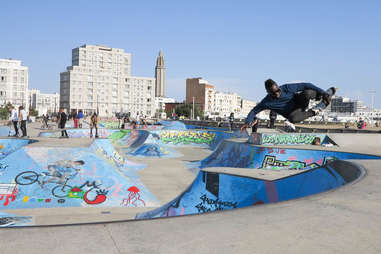 Le Havre
Population: 175,497
Distance from Paris: 2.5 hours north by train
Americans have a pretty good idea of what they think quintessential European towns look like. If you'd like to be shaken from that kind of assumption, you should go to Le Havre. After bombs eviscerated it during World War II, this Normandy town -- not far from the landing beaches of D-Day -- was eventually rebuilt almost entirely out of reinforced concrete. It is different. Don't get it twisted; this is still French enough for you -- Le Havre has a world-class modern art museum containing the country's second-largest collection of impressionist paintings, for those who still need a little Monet to feel like you're really doing France. And though initially dismissed as ugly, Le Havre has in recent years begun to work its uniqueness to its advantage, blossoming into a marvel of modern architecture. Look at the museum-worthy design of Les Bains des Docks, a behemoth pool complex modeled after the Roman baths where you can swim indoors, outdoors, under skylights and waterfalls:
Nearby are the white cliffs of Etretat, whose fantastical shapes inspired multiple impressionist painters and look like some shit out of a children's book where the protagonists are fairies or gnomes. Again, if you're driving (are you driving by now?) there are some great neighboring towns in the region you might work into your route, such as Amiens (if you're just passing through, aim for one of the restaurant along the Somme River) and Lille, a big ol' beer town. Maybe you shouldn't actually be driving if you're not staying overnight here; blessedly, Lille is also just an hour from Paris by train. If you have the good fortune to find yourself there in early September, please send the Thrillist offices a postcard from Lille's truly colossal annual flea market, which has been running since literally medieval times.
Want to go to the Cannes Film Festival but find yourself still neither rich nor famous? September also sees the nearby resort city of Deauville host the American Film Festival. The screenings are open to the public, and -- because there aren't really paparazzi here the way there are in the States -- your odds of casually bumping into A-listers around Deauville are infinitely better than they probably are at home.
Versailles
Population: 86,477
Distance from Paris: 45 minutes southwest by train
Correct, yes, you have indeed heard of Versailles. No one said this was a list of places you'd never ever heard of. But have you been or even really considered going to Versailles? Have your most privileged and irritating friends spammed your social feeds with photos of delicate pastel-colored pastries from Versailles? Have you heard anyone discuss Versailles in a context more recent than your 10th grade European History class? I submit that Versailles hasn't really gotten its due from American tourists. The city sits about 45 minutes from Paris by subway, but everything's so much cheaper you'd think it was at least ... an hour away (it is actually faster to get there from Paris by subway than by other rail-bound means, so keep that in mind before you run off and buy tickets).
The Palace of Versailles (where that treaty you remember was signed) really is one of the most striking in Europe. Expanded from what was once a hunting lodge (albeit one hell of a lodge) it's the largest palace in the world, and you've probably seen it featured in between 1 to 2 million movies so you probably owe it to yourself to take a stroll through the gardens while you're there (it behooves you to go at the opening time of 9am, before every other human in the world arrives). I know nothing of golf, but I hear from Golf People that you can putt on the championship course L'Albatros. And you must, of course, pay a visit here to one of the region's largest (and best) food markets -- the Marche Notre Dame, which you might find to be covered or open-air depending on the day. This is your destination for fruit, cheese, olives, and pretty much whatever else you might like for a picnic (the city has a number of other delightful markets where you can pick up flowers or produce, too; this one's just the main draw).
Bonus Round: French Overseas Regions
Guadeloupe
Population: 405,739
Distance from Miami: 3.5-hour flight southeast
Surprise, bish. Not all the best French travel destinations are in France. All you self-described foodies out there may be salivating over Instagrams of macarons or whathave in Paris, but it's quite possible you've been seriously sleeping on the Creole food of Guadeloupe, a five-island archipelago in the southern Caribbean Sea. Here you'll find all the beloved flaky pastries you associate with France alongside the fruits, seafood, and seasonings that pull you toward the Caribbean. Despite my best efforts, I've disliked plantains since I was a child, but I will eat them in ratatouille until I die. Spicy cod fritters are also your friend here, and you'll especially want to make sure you get a few of the flaky-on-the-outside, gooey-on-the-inside pastries known as tourment d'amours. These combine the best features of tarts and cakes, and more people should know about them.
Most of the activities (and people) are on either Grand Terre or Basse-Terre, islands where once again you can and should rent a bicycle to get around (French overseas regions still use the euro). If you've no fear or heights or death perhaps you'd care to rappel down some waterfalls or hike up a nearby active volcano? To unwind from all that vacationing, set aside an afternoon for at least one of Guadeloupe's many natural sulfur baths. And if you want to explore further, under Guadeloupe's purview is the even smaller, more off-the-grid archipelago of Les Saintes (accessible by ferry) where you can zoom around via solar-powered scooter.
Martinique
Population: 386,486
Distance from Miami: 3.5-hour flight southeast
Like Guadeloupe, Martinique had a close brush with hurricanes Irma and Maria but ultimately came away unscathed. It looks like the platonic ideal of what people tend to imagine a Caribbean island to look like -- tropical forests, unspoiled beaches. It's big in the cruise industry, and becoming increasingly visible on social media due to celebrities hitting up Carnival. But the island's not so much on the radar of younger or more independent or budget-minded travelers, and it should be. It's been crowned the Caribbean's safest destination on more than one occasion, plus a whole mess of airlines have recently introduced new non-stop flights into Martinique, including Norwegian Air (from Providence, New York City, and Fort Lauderdale), Air France (from Atlanta), American Airlines (from Miami), and Air Antilles (from San Juan).
Do you know what the rum capital of the world is? Probably, given the format of this article, but anyway it's Martinique. This island, about 117 miles south of Guadeloupe, is where you'll find the Saint-James Distillery and its world-famous extra-potent sugarcane rum. There's a rum museum here too if you care to brush up on your rum-related history, but if you're more into the tasting side of things aim to visit between March and June, when the distillery is open for guided tours. March is also when you can watch pro surfers competing in a qualifying series for the World Surf League (oh right, Martinique has some of the world's best surfing spots, too). But you could also pick February, for Carnival. Or December, for the annual Rum Festival. Or whenever, for Grand Marche Couvert, the covered food market dating back to the 1800s where you can get you some fruit, spices, and obviously rum.
Sign up here for our daily Thrillist email and subscribe here for our YouTube channel to get your fix of the best in food/drink/fun.