Skip Venice: Italy's Most Underrated Destinations to Visit This Summer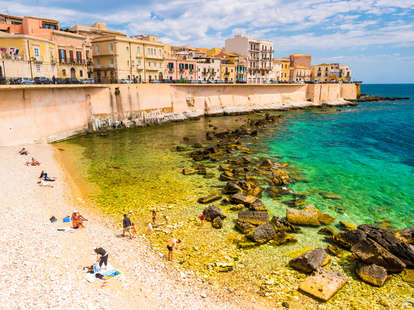 Romas_Photo/Shutterstock
Romas_Photo/Shutterstock
Hate to break it to you, but you aren't the only one who's noticed that flights to Italy are almost cheaper than flights across the US right now. Don't not go -- go! -- but understand that top dogs like Rome, Venice, and Florence will be even more zoo-like than in years past. Bucket list cities the lot of them, but Italy's unforgettable food, favorable climate, and historical badassery span across the boot.
So book that cheap-ass flight to Rome, throw your coin in the Trevi Fountain, then get the heck out of Dodge. These oft-overlooked locales are all worthwhile destinations in their own rights, and won't be teeming with quite so many, yugh, people.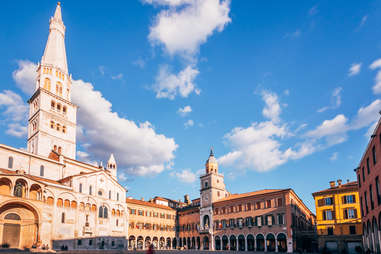 Modena
The hub of Italian automaking also boasts the best restaurant in Europe.
France be damned, the most delicious and innovative food on the planet hails from Italy. The city of Modena currently boasts the best restaurant in Europe -- and No. 2 in The World's 50 Best Restaurants ranking: the elegant Osteria Francescana, helmed by international powerhouse Massimo Bottura. If the three-figure prices are a deal-breaker, you can still hit Bottura's more affordable, equally delicious offshoot, Franceschetta58.
You'll find Modena near the top of the boot, about 90 miles north of Florence. These lively cobblestone streets were home to both Luciano Pavarotti and Enzo Ferrari. Fans of the black prancing horse can ogle shiny cars and tour the house where Enzo was born at Museo Casa Enzo Ferrari, or catch the historic classic car rally, the Modena Cento Ore, every June. You'll also get an eyeful of incredible architecture, including a number of UNESCO World Heritage Sitess: the Duomo, Piazza Grande, and Ghirlandina Tower, where mourners gathered after Pavarotti's passing.
Ravello
A romantic cliffside alternative on the Amalfi Coast
Perched high in the hills atop the glamorous Amalfi Coast, Ravello offers stupid-beautiful views of the Mediterranean, but its dramatic cliffside location keeps crowds at bay (the windy, narrow road up will make even the most confident driver's palms sweat). It's been a bohemian getaway for celebs since the days of Greta Garbo, a town of colorful little houses and fragrant terraced gardens interspersed with quaint cafes, shops, and cooking schools. To entertain yourself, the Villa Rufolo has an annual chamber music concert that, when combined with the setting and fine wine, feels like the classiest thing you'll ever do. Or you can take a steep pathway down to the coast in Minori to get a closer look at the water.
Ascoli Piceno
A tiny town best known for its idyllic social plazas
At the confluence of the Tronto and Castellano Rivers, in the Eastern Le Marche region, you'll find the provincial capital of Ascoli Piceno, a town of 50,000 with some absolutely stunning architecture and history. The coolest feature of this village is its abundance of public squares, which seem inexplicably filled with every local resident at all hours of the day, weather permitting. Among the most notable and sociable are the Piazza del Popolo -- home to Caffè Meletti, an iconic Art Nouveau bar that was a favorite haunt of Hemingway and Jean-Paul Sartre -- and the Piazza Arringo, which houses the Baroque Cattedrale di Sant'Emidio and archeological museum. The squares make the city a paradise for pedestrians, and despite its size, Ascoli has a remarkable skyline, with about 50 narrow towers shooting up over the streets.
Siracusa (Syracuse)
An archeological wonderland in Sicily
Siracusa occupies a dramatic bit of coastline in Sicily. With sheer-cliff beaches and mountains in the distance, it's hauntingly atmospheric and layered with history -- no, seriously, this place is effing old. Settlements at Siracusa date back as far as 734 BC, and it was once the largest city in the ancient world. Best known for its ancient Greek ruins, you can check out structures that date back more than 2,000 years -- like an impressive 5th-century Greek amphitheater where tragedies by Aeschylus and Euripides were staged. At the heart of it all is the island of Ortigia, a short jaunt from the mainland. Stroll through narrow medieval streets, peek at romantically crumbling Baroque churches and abandoned overgrown palazzi, and see the show-stopping Duomo cathedral (once the Greek Temple of Athena). Oh yeah, and eat. Surprise surprise, the food is amazing.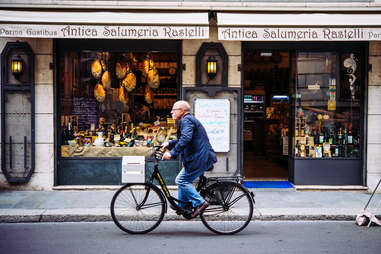 Parma
The birthplace of all your favorite foods
So, going back to Italian food for a second. The city of Parma is renowned for its savory Parma ham and Parmesan cheese; if you like eating either of those things more than a little bit, it's worth the trip alone to experience both in their absolute finest form. But that's just scratching the surface of Parma's inventive food culture. You don't become the first city in Italy to win UNESCO's Creative City of Gastronomy for nothing.
Don't fret: It's easy to work off all the wine and cheese by bike or on foot. This compact riverside city is all but devoid of cars and crowds, with plenty to explore at your leisure, like ornate, well-preserved monasteries and churches, a famous opera house, and glamorous cafes. Art lovers will get some exercise in at the National Gallery, examining Renaissance masterpieces by Correggio, Parmigianino, Leonardo da Vinci, and El Greco. And it's only a short bus ride out to a countryside stacked with Renaissance-era castles and fortresses.
Matera
An ancient cinematic city carved into a canyon
In the 1950s Matera might have been the saddest place in Italy: a slum city of stone dwellings with no electricity, no running water, and squalid conditions. But this cliffside town, one of the oldest still-inhabited places on Earth, has radically rebounded into one of the most fascinating and exotic places to visit. Awash in gray limestone and rock, the caves (called sassi) are dug along steep sides of the Gravina ravine, interconnected with carved stone stairways, arches, and courtyards. Many have been converted into bars, cafes, clubs, and restaurants, or sleek contemporary hotels with Wi-Fi. The whole scene feels haunted and biblical (Passion of the Christ was filmed here).
Padua
An authentic college town low on crowds and big on nightlife
While the hordes of tourists are dodging each other in Venice, just an hour away are the scenic canals, medieval markets, and good-time vibes of Padua. The biggest tourist draw is the Scrovegni Chapel and its incredible 14th-century Giotto frescoes; the only other spot that's even mildly crowded is Il Santo, formally the Basilica of St. Anthony of Padua. Other than that, the historic statue-lined streets are mostly full of students, not tourists. The home of Italy's second-oldest university, Padua gives off an approachable, youthful glow that's been compared to a warmer Oxford. And like any true college town, it boasts a highly active, highly affordable nightlife scene, plus cozy authentic restaurants where you can rub elbows with locals over incredible Venetian seafood.
Trieste
A distinctive cultural crossroads unlike anywhere else in Italy
This Adriatic port city is geographically isolated from the rest of the boot, surrounded almost entirely by Slovenia. Once a prosperous center of commerce and trade in the Austro-Hungarian Empire, Trieste has been a melting pot of Italian, Latin, Germanic, Jewish, and Slavic people for centuries, and was a seaside salon for writers and intellectuals like James Joyce and Freud in the early 20th century. Today, Trieste is the oddball of Italy -- for gosh sakes, it's packed with Viennese coffee houses and Slavic restaurants. The architecture here alternates from building to building, from Renaissance to brutalist to Roman, with a hearty dose of Austro-Hungarian. Many burst with color when the sun hits them as it lowers over the Adriatic, making this one of the most vibrant-looking historic cities in Italy. Even if it doesn't feel very Italian at all.
Sign up here for our daily Thrillist email, and get your fix of the best in food/drink/fun.
Matt Meltzer is a contributing writer to Thrillist who is thirsty for an Ichnusa. Follow him on Instagram @meltrez1.