Sure, Barcelona and Madrid have stuff like airports, world-class museums, famous sports teams, and restaurants that will serve you food before 9pm. But Spain's a big country, and there's plenty to see outside those two metropoles -- even if most of it's closed all afternoon for siesta.
From the white towns of Andalucia to the sandy shores of the Costa Brava, here are the most beautiful overlooked places in Spain, all worthwhile destinations in their own right.
Segovia
Castile and Leon
Segovia boasts a beautiful cathedral and historic Roman aqueducts. Seriously, can you imagine your water pipes working 2,000 years from now? Well, that's the aqueduct in Segovia. Also, the city's castle is one of the most beautiful in all of Spain, and even served as inspiration for Cinderella's castle in the Disney film. For a bit of nourishment after your castle-exploration, try the local specialty, cochinillo asado, or roast suckling pig; it's one of the most delicious things you'll ever taste.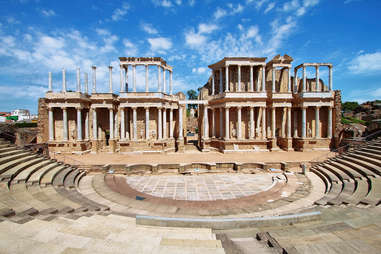 Mérida
Extremadura
This former Roman colony has some of the most well-preserved Roman ruins in Europe, including a Roman theater, coliseum, and an entire museum full of artifacts. All that without the pesky tourists you'd find yourself bumping into in, ya know, actual Rome. Amazingly, the 2,000-year-old theater is in such good condition that it still hosts concerts and plays.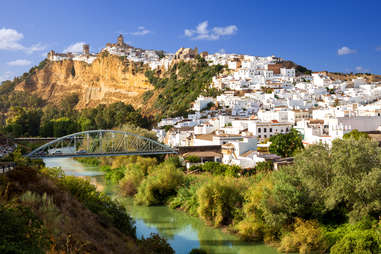 Arcos de la Frontera
Andalucia
Cave men, Romans, Moors, Christians... all of them have enjoyed the spectacular views from what is now known as Arcos de la Frontera. Built at the edge of a large plateau, with a river surrounding it on three sides, the views are second to none. There's no better way to enjoy the city than by simply wandering the narrow, winding streets. It's the epicenter of the whitewashed hill towns that dot the arid landscape of southern Spain. Enjoy the slow pace of life, and watch the birds flying beneath you.
Setenil de las Bodegas
Andalucia
You know that saying, "Have you been living under a rock?" Well, the good people of Setenil de las Bodegas can say, "Sí," because their small village is literally carved into a cliffside. So technically, they'd be living under, in, and around a rock. Though in some parts it appears like any ordinary Andalusian town, Setenil de las Bodegas' unique architecture isn't like any other place you've been. And the terrific pork products and pastries produced here are enough to make you stick around to do more than just gawk at people's weird cliff homes.
Burgos
Castile and Leon
Burgos sits just about halfway between Madrid and the northern Spanish cities like Santander, Bilbao, and San Sebastián. The city's cathedral is the only one in Spain that's independently recognized as a World Heritage Site, and the Gothic-style building stands 288 feet at its highest point. It also contains the tomb of El Cid, Spain's national hero, who was cool enough to have peak Charlton Heston play him in 1961. You'll find El Cid himself (his statue, that is) along the Paseo de Marceliano Santa María, a leafty, riverfront walk frequented by locals and visitors alike. Then tuck into some morcilla, or blood sausage -- Burgos has a reputation for producing the best in the country.
Salamanca
Castile and Leon
Everybody loves a college town, and Salamanca is basically the OG. The University of Salamanca was founded in 1134 and is the fourth-oldest in Western civilization -- and it's had college nightlife for about as long. Sure, the city sparkles at night, especially the Plaza Mayor, and the cathedral and historic buildings are worth a visit. But the city really shines because of its student atmosphere, wealth of bars and discos, and its cheap prices. For the raging doll enthusiasts among you, visit the vast porcelain doll collection at the Museum of Art Nouveau and Art Deco Casa Lis.
San Sebastian
Basque Country
When most Americans think of Spanish beaches, they envision Mediterranean waves along the Costa del Sol or the sands of Barcelona. But they're leaving out the best beaches in the country, which are actually on the Bay of Biscay in the northern reaches of beautiful Basque Country. Travelers flock to postcard-like San Sebastian's La Concha beach for the 'Grammable backdrop. But the temperate climate makes for green scenery around the city, and the pintxos and txakoli that you'll find in nearly every bar will fill you up and keep you busy, even when it's not sunbathing weather.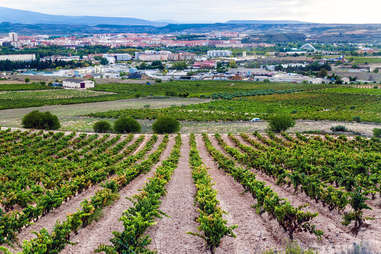 Logroño
La Rioja
Maybe you've heard of La Rioja wine -- well, this is the capital of Spain's La Rioja province, smack dab in the middle of one of the best wine countries in the world. If you're into strolling around, drinking amazing wine, and then stumbling around a quaint town, the incredible scenery and beverages of Logroño are right up your alley. Just don't drink wine in an alley.
Ronda
Andalucia
Beach Boys jokes aside, Ronda is one of the most spectacularly beautiful small towns in the world. It's built on a cliff, giving you a majestic view of the Tajo canyon. Settled in the sixth century, Ronda has Roman bridges and the idyllic laid-back, Andalusian aesthetic many travelers seek. Sure, you'll get a good sense of Andalusia in, say Córdoba or Seville, but poking around the smaller cities and towns will give you a great sense of what the slow south is all about.
Ourense
Galicia
Galicia as a whole will surprise many visitors; while distinctly Spanish, it's a lot greener than most would think. Climate-wise, it's similar to the Pacific Northwest of the US. It's also a key point of Galician Celtic culture, so you'll get whiffs of Ireland, bagpipes and all. A main tourist draw here are the hot springs, as Ourense claims some of the largest pools of geothermal water in Europe. And famous fashion brand Adolfo Domínguez calls the town home, so there's plenty of cultural flair to be found.
Mahon
Menorca
Just off of Spain's Mediterranean coast, the island of Menorca is seen as the lesser of the Balearic Islands (its name literally means "minor"). But instead of the size and well-worn holiday-makers of neighboring Mallorca (major) and the pulse-pounding hangover-inducing clubs of Ibiza, the capital city of Mahon is a peaceful getaway in a beautiful, elegant city. There's a lingering influence of the British in the architecture and the refreshing local drink, pomada, a mix of gin and cloudy lemonade. Enjoy the impressive views over one of the largest natural ports in the world and outdoor cafes in every square.
Cáceres
Extremadura
Extremadura is definitely the least appreciated of all of Spain's provinces, since it's not in the mountains and isn't flanked by the sea. But don't let being landlocked keep you away. The city hosts some of the finest restaurants in the entire south of Spain, as well as a top-notch modern art gallery in the Centro de Artes Visuales Fundación Helga de Alvear. Cáceres is surrounded by medieval walls and filled with Arabic-built towers, which makes it feel as though the entire city is inside a castle. There are worse fates than being inside a castle, unless you're Rapunzel or something. In that case, let your hair down and have some fun.
Zaragoza
Aragon
Zaragoza is mostly famous for an epically botched restoration of a painting of Jesus Christ (lovingly known as "Monkey Christ"), but there's actually a lot on offer in this impressive Spanish town. Start off with the Pilar Basilica, a majestic, onion-domed baroque building that's come to be known as the enduring symbol of the city. Artist Francisco Goya called the place home in his day, and his work can be seen in many locations throughout the city. After viewing the work of a master, go ahead and make a visit to the Santuario de la Misericordia to visit the primate savior himself.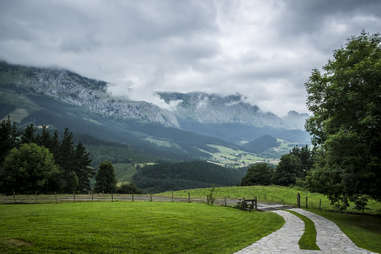 Durango
Basque Country
A short drive from Bilbao, nestled at the foot of the incredible Urkiola Natural Park, is a prime example of Basque Country at its best. With a baroque cathedral and a quaint city center, Durango boasts an ever-changing bar scene. These top-notch watering holes are made for hopping -- a drink, a nibble, and you're off to the next spot. With any luck, after three or four stops you'll find yourself wolfing down some late-night chorizo and discussing rugby and Basque politics with some friendly locals.
Sign up here for our daily Thrillist email and subscribe here for our YouTube channel to get your fix of the best in food/drink/fun.

Kate Peregrina is a writer and English teacher living in Spain. Follow her on twitter @kateperegrina.