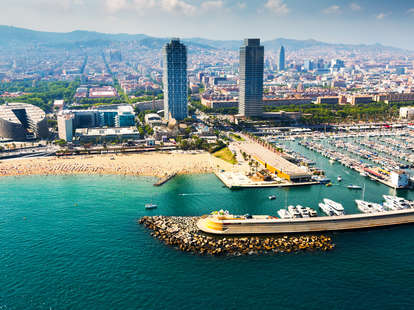 Barcelona, Spain

| Iakov Filimonov/Shutterstock
Barcelona, Spain

| Iakov Filimonov/Shutterstock
15 Unforgettable Cities to Visit Before You Turn 30
If you're the sort who really travels -- who lives and dies by cheap flight deals, who sleeps like a baby on hard airport carpet and on bumpy bus rides, who has learned to unsubtly-yet-tastefully mime the phrase "where's the bathroom?" -- then you know what a slog it can be. The beauty of traveling when you're older is you get to pay for luxuries like hotel beds with top sheets and meals that come with utensils (basic dignity, you'll start calling it soon). Yet the beauty of traveling when you're young can't be topped: You may be broke, but you're as close to invincible as you're ever going to be. Make use of those spry knees, spend energy in place of money, and you'll create memories that last for decades.
Where to go, then, when you're young and the whole world calls? We put that question to a group of hardcore travelers, and they replied with dozens of suggestions. They told tales of adventures high, low, and truly grimy; of nights that stretch into the next day and weeks that feel like a year; of making friends across languages -- and making mistakes they'd go ahead and make again, given the chance.
We whittled their picks to this choice list. You probably won't get to all of these places before you hit 30. But trust us, one day old-ass you will look back with pride if you try.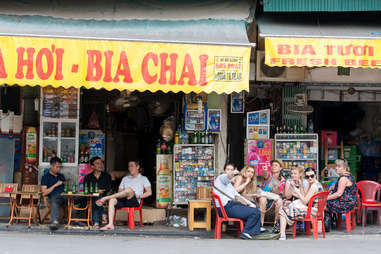 Hanoi, Vietnam
A thrumming city built in Paris' likeness, topped with illicit adventure
Backpackers in southeast Asia often skip Hanoi in favor of bigger Ho Chi Minh City (also known as Saigon). This is a huge mistake. Still 1 million people strong and boasting a distinct, frenetic buzz, Vietnam's capital city is extraordinary to visit, a haven for expats and backpackers alike. Many bars keep clandestine hours, staying open well past the government mandated midnight closing time -- they'll shut the lights and board up and everyone has to hush until government control passes by. After-hours, nightclubs on river barges just outside city limits thump until sunrise, inevitably depositing partiers at some kind of food cart -- pho, banh mi (add an egg), you name it.
Getting home usually includes a middle-of-the night motorbike ride through this ancient-yet-modern city, twisting and turning down wide boulevards lined with French colonial homes and down dark alleys in the old quarter. To nurse your hangover, head to the local "Bia Hoi," storefronts that sell dollar beers of home brew served communally on little plastic stools on the sidewalks of busy streets. Recover, recoup, and then get ready to do this grungy free-for-all again come nightfall. -- Jackie Bryant, Thrillist contributor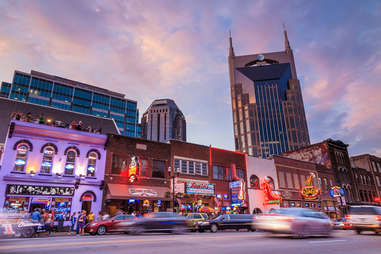 Nashville, Tennessee
The debauchery of Las Vegas, but amid young people who actually have talent
Music City is known for, well, just that -- live music is its pulse, and there's always some rockin' event or festival going on. Nashville also boasts off-the-beaten-path art crawls, great vintage shopping, and some really cool historical sites, like Andrew Jackson's Hermitage mansion and Printers Alley, a bar district that peaked in the '40s. The city's used to tourists, so go ahead and sling back Bud Lights and bar-hop Downtown till you find the right fit... just watch for pedaling bachelorette party bikes when you're crossing Broadway.
To get weird with the locals, leave SoBro and head to Midtown or East Nashville for a live show at Mercy Lounge, Motown Mondays at The 5 Spot. You're way more likely to hook up with a rising musician who's also roommates with Blake Shelton's back-up guitarist or get invited for a toke on the Zac Brown Band's tour bus. Don't get so hung over that you can't brunch: A crepe and bloody mary at Tavern or Marché goes great with rehashing last night's line-dancing phone footage. -- Brooke Sager, contributing writer
Lagos, Portugal
People come from all over the world with one goal: to be the life of the party
A three-hour drive south from Lisbon, to Portugal's warm southern tip, you'll find seemingly quaint and unassuming beach town of about 30,000. Don't be fooled: Lagos may very well be Europe's largest mashup of international youths -- and home to the most fun you'll ever have in a bar the size of a bathroom.
Take for instance Three Monkeys, the town's busiest watering hole: 2.50 euro shots served aflame, happy hours that'll get you two-for-one cocktails (until midnight!), body shots by a charming Swedish bartender -- come ready, if you're not up to splaying on the bar, move out of the way, there's a line of people itching to have a go. Bring loose buddies to Lagos or just strike up conversations with other travelers. The crack of dawn is the best time to make friends and before you know it, you'll have a couch to sleep on in every country in Western Europe, and some in Asia too -- that's just the crowd Lagos attracts. -- Shylie Rimmer, Thrillist contributor
Havana, Cuba
See it before your parents think to vacation there
Go to Havana before the tourists ruin it, they say. Hell: Just go to Havana any time if you want to glimpse a city of the future that you can still afford. A mere $300 will cover a weekend's expenses (but bring it all in cash; ATMs don't read American bank cards yet). Your dollars will go even further if you exchange money on the grey market at local merchants for a better exchange rate than at the banks. Then go out on adventures, in comfortable shoes.
Delicious meals and drinks await you in this city -- if you're willing to hunt a bit. The best restaurants and bars live down sketchy alleys and back roads. Take La Guarida, where you enter an abandoned-looking building spattered with graffiti. Up a couple flights of stairs, a mind-blowing restaurant and trendy rooftop bar await. During the day, wander around Old Havana and tuck into one of the numerous art galleries and workshops, or stroll along the Malecón at sunset for the finest in people watching. Finish the night dancing at King Bar (its entrance looks like any other house on the street). To get a ride anywhere for $2, go to a main road and point your thumb in the direction you're going while shouting the area you're trying to get to before cramming into a car maybe going somewhat near your final destination. Or, if you're feeling rich and have $5 to blow, wait on any corner pointing your thumb at yourself and hop in the first car that stops for you. -- Hannah Freedman, Thrillist contributor
Vang Vieng, Laos
The world capital of bar-hopping from inner tubes
Perched on the Nam Song River in Laos, Vang Vieng is surrounded by enchanting limestone mountains and Tanqueray-green lagoons. But, let's be honest, that's not the reason anyone under 30 heads to this Southeast Asian town. Internationally known for "tubing," Vang Vieng has become the hub for 20-somethings (and younger) who'd really like to test their ability to hold their liquor. Rent a tractor tire from town (this'll be your mode of transportation between the bars), catch a ride to the river, hop into that tube butt-first, and let your day begin.
The aim of the game: make it to the most bars. Out of the 10, the average number of bars visited hovers at around four -- I made it to three. This is, believe it or not, a respectable number. Not only do the bars sell "buckets" (i.e., drinks mixed in pails) for as little as a dollar, you can also catch a bit of adrenaline, dropping into the river from a giant slide, zip line, or rope. Just be sure to test the water depth, because we all know how that story ends. -- Shylie Rimmer, Thrillist contributor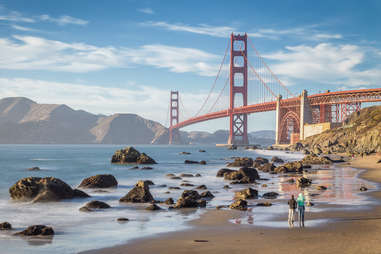 San Francisco, California
A kaleidoscopic utopia where freaks and geek still reign
The tech invasion has muffled SF's be-who-you-really-are buzz, but don't be deterred. The city by the Bay remains a playground for innovative minds from all over the globe. Lush parks, comely beaches, swirly topography, and Easter egg-hued Victorians can make a casual stroll to grab coffee feel a tumble down the rabbit hole.
Start your adventure outdoors. A Tartine pastry, six-pack, and picnic blanket are all you need to join the day party at Dolores Park: top-shelf people-watching, pot truffles hawked from copper bowls, and easy access to the city's best bars and restaurants in the Mission. SF has some of the nation's finest restaurants, but ignore them. Instead, gorge on an arm-sized burrito and walk it off in Golden Gate Park. Come nighttime, find yourself at a bonfire on Ocean Beach, a drag show in the Castro, live music in the Haight, or a dive-y bar in Bernal Heights. In a city where the dominant culture is now working yourself to death in front of a glowing screen, the counter-culture thrives by reminding everyone to slow down a sec and really live, for once. -- Andrea Kasprzak, Thrillist contributor
Koh Phangan, Thailand
Every age and taste will find a proper throw-down in Thailand's party capital
Koh Phangan's illustrious party scene ranges from downright sloppy to gourmand, so whether you're in your early or late 20s, the island's antics have you covered. Its shores are most famous for the monthly Full Moon Party, where the beach erupts in a flurry of neon tank tops, body paint, and flaring id, fueled by mushroom shakes and plastic buckets of hard-tippled energy drinks. Obviously, things here can get really raunchy. Consider it a rite of passage.
But for those that have evolved past losing flip-flops and embarrassing hookups, there's a whole realm of amazing parties on the outskirts of Full Moon that the locals keep gloriously underground. Guys Bar and Eden are the stuff of techno dreams, stunning cliffside locations where the world's best DJs drop in; the intimate crowds welcome hardcore hippies and European electronic beat worshippers alike. Or simply visit Koh Phangan outside of Full Moon's ravenous hours, for smaller regular parties such as Half Moon or Shiva Moon, religiously attended by locals, who appreciate less messiness and even more furious dancing. -- Barbara Woolsey, Thrillist contributor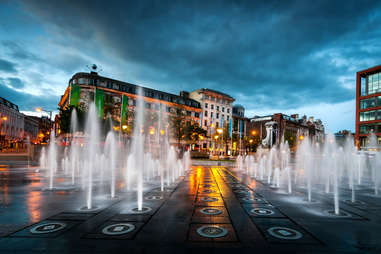 Manchester, England
The cheaper, louder, merrier alternative to London
Always known as a tough town, just being from here was once enough of a resume to score bouncer jobs throughout Britain. But tough also means real, which guarantees that you'll truly connect with down-to-earth "Mancunian," likely the moment you enter your first pub. UK's second-largest city is musical, affordable, and sporty -- plus, they love Americans who rock, whether it be pop, classic, hard, or punk. Our Civil War was their cotton famine, which is why our 16th president is a local hero memorialized by a huge statue in Lincoln Square. You're in!
The world's first industrialized city is an encyclopedia of glorious architecture: An endless sea of converted, deep-red factories grace the skyline. Part charm and part utility, many of the buildings have ornate facades and functional rears -- a mink coat up front and no knickers on the behind, as they say. All over, you'll find pubs: fun, ageism-free/you'll-probably-hook-up pubs where the prettiest gal might sport either a royal hair-pin or a few tats. The smoke and fog have cleared over this metropolitan mischief-maker that invented its own brand of wild. Your primers: watching 24 Hour Party People, going on a guided music tour, and checking out It All Starts In Manchester. -- Bruce Northam, American Detour
Prague, Czech Republic
A fanciful town with sinister undercurrents means anything is possible
It's a well-worn cliche to call Prague a "fairytale," yet all other words fail. Centuries-old bridges funnel into narrow cobblestoned streets, coalescing into squares where market stalls tempt with mulled wine and sausages. An ancient Gothic castle overlooks the Vltava river on a hill; within its bowels, medieval torture devices and the tombs of Bohemian kings. The language is pleasantly puzzling, almost mythical (Dobry den for hello, Na zdraví for cheers). But spend enough time in Franz Kafka's hometown and you'll start to sense that the fairytale is much more Grimm than Disney. Spend an afternoon at the Museum of Communism. Go see the bullet holes in the columns of the National Museum left by Soviet tanks during the 1968 Prague Spring. Appreciate the remarkable resilience of the Czech people -- whom you may find stand-offish and disdainful of loud-talking Americans. (If you're looking to get down with the locals, consider Spain.)
Then line your stomach with a hearty bowl of goulash and party your face off. My most "that was epic" night began on the dance floor at Lucerna for '80s night and spiraled underground at the cavernous, low-lit U Sudu, every flight of stairs revealing a new smoke-filled room (it's one of the most 420-friendly joints in town) or a DJ spinning a different genre. Around 5am we bought Champagne at a 24-hour potraviny and wandered to the river, where we met four rollicking Slovakian dudes. We watched the sun rise on Charles Bridge -- still too early for the tourists and vendors, it was just us, flanked by the baroque statues of saints and a grinning unkempt local named Jan, whose only passable english was "Michael Jordan," "Barack Obama," and "Fuck Stalin." I awoke hours later in the damp grass in Letna Park, redolent with lilac, my head earthquaking, and a brilliant orange-striped monarch butterfly resting on my arm. Really, even your shitshowiest nights in Prague are Kafka punctuated by Mother Goose. -- Keller Powell, Thrillist travel editor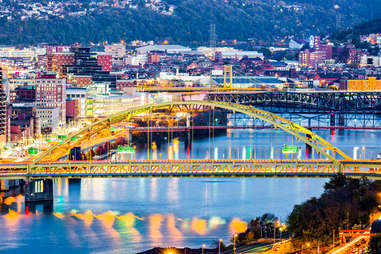 Pittsburgh, Pennsylvania
America's greatest concentration of bars, cheap beers, and champion drinking culture
In Pittsburgh, a few measly bucks will buy you the best night of your year. Start out in the South Side, a neighborhood known for being oversaturated with watering holes, including many that are prime for making bad decisions. Go hog wild at Bar 11, the self-proclaimed "releaser of your inner deviant." This is Pittsburgh's only bar that serves shots alongside free candy and toys, a fog machine, glitter guns, and of course lots and lots of foam. Need something slightly more chill? Head to the tropical paradise that is Hidden Harbor in Squirrel Hill, a neighborhood that's decidedly unhip, but also home to one of the best tiki bars in the country. Suck down their infamous Jaguar Shark, a cocktail for two served from the mouth of a great white shark, or order up a classic daiquiri made with Pittsburgh's own, Maggie's Farm rum. The best part about Steel City is that pretty much any visit will include a good, stiff drink, whether that's an Iron City served at one of the city's legendary dive bars, or an outstanding $7 house cocktail served in the beaux-arts beauty of the Ace Hotel. Because you, like Pittsburgh, are classy that way. -- Tim Ebner, Thrillist Travel Contributor
Cape Town, South Africa
A city made for party-hopping, from the oceanfront to the African outback
This is city that will, at every turn, reward your youthful strength and endurance. Hard-drinking South Africans and impressive sundowners are the local delights of Cape Town, a city jammed with beachfront bars and whimsically themed watering holes. Plentiful Uber rides makes location-scouting easy, and Downtown is fairly compact -- but if you are brave enough to venture out, that's where the party sprees start to get cheeky.
Head out to the Cape Winelands for an epic day of wine and Champers tastings in the sunshine, or check out Mzoli's, a Sunday party where Capetonians congregate in the township of Gugulethu to indulge in amazing barbecue and top DJs in an open-air shack. One step further is Cape Town's infamous trance party scene, where glow-in-the-dark soirees become a blur outside the city in the African wilderness. Sleep in a tent to the distant boom of hard bass drops (advisable: a pair of good earplugs and a stock of toilet paper and wet wipes), talk kak with the locals (what Afrikaners call shooting the breeze/shit), and dance like a maniac. If you fall in love with the scene here, do it over six days at AfrikaBurn, the world's largest Burning Man tribute on the desert banks of Tankwa Karoo National Park. -- Barbara Woolsey, Thrillist contributor
Denver, Colorado
The American West's new boom town retains the charm of its youth.
Denver stayed funky through the urban renewal phases that turned so many American cities into cookie-cutter wherevers. Now, this town of red brick and stone -- architecture both historic Victorian and ballsy industrial, with streets broad enough to allow a team of six horses and a carriage to make a U-turn -- is blowing up as a new mountain melting pot. Emphasis, perhaps, on the pot. The marijuana explosion is pulling in perhaps 1,000 transplants a week from all over the world and the West, and the city is, amazingly, keeping up with demand for new amenities. The new 30-minute train link from Denver Airport to the center of Downtown's Neoclassical Denver Union Station -- with 100ft ceilings and a reputation as Denver's living room -- flaunts the collision of old and new.
Free shuttles along the 16th St mall will take you between dispensaries sitting beside the likes of French-Vietnamese fusion restaurants, or you can skip up to RiNo (River North, as in north of the river), an emerging neighborhood (note, cranes) where the art and food scenes are industrial and daring. You're in a modern Old West boom town, m'boy. If you want to soak it all in? Kick back at The Matchbox, a classic dog-friendly dive bar that cranks guitar-driven favorites and rocks front and back patios. There may be no better place to watch -- or join -- the affable circus of new arrivals melding. -- Bruce Northam, American Detour
Ios, Greece
An island paradise fueled by liquor, sunshine, and hilariously bad decisions
An island surrounded by glistening blue water and filled with bars open through the night tends to earn a reputation as a youngsters party spot. Ios boasts deliciously cheap street food (gyros are the Greek classic) and even cheaper drinks ($10 will get you far here).
But it's Slammer Bar, the token disco bar, whose drink deal has youths questionably racing through the doors. For five euro you get an unknown shot followed by a hit over the head with an unknown object. It could be a chair, a skateboard, a hammer, a fire extinguisher, or maybe just a good swift kick -- those geniuses will surprise you every time. You're given a helmet for protection, all while your friends film you, knowing they're next.
Next, take an island booze cruise. The ultimate combo of sea, sunshine, liquor, and potentially high cliff jumps will leave you wanting to do it all over again tomorrow. Which indeed you can, because this sort of carpe diem shenanigans is the whole show in Ios. -- Shylie Rimmer, Thrillist contributor
Slab City, California
A year-round (or lifelong) Burning Man for those tired of the grid
Whatever appeal Burning Man might hold for you -- the communal spirit, the art, the feeling of truly being in the middle of nowhere, the perpetually altered state of mind of so many visitors -- you can find it year-round in Slab City. The communal squatters camp lies about 200 miles from Los Angeles, east of the infamous Salton Sea, in the deep desert of California.
Full-time Slabbers, or "snowbirds," flock to the area in the winter months. Some stay in RVs; many live in self-made, found-object shacks. They live truly off the grid, with no electricity, water, or sewage system. Residents are said to give themselves their own addresses, as none formally exist. What snowbirds lack in modern comforts, they more than make up for in social freedom and overall incomparable life experience. (Perhaps the most famous visitor of recent years: the late Chris McCandless, the doomed wanderer extraordinaire of Into the Wild.) The camp features solar power, a community library, social clubs (complete with an annual prom), a golf club, and an abundance of art. The abandoned, converted WWII-era artillery range overflows with graffiti and sculpture gardens.
Visit when you're young, unless you plan to live there when you're old. To keep up with the Slabbers, even for a weekend visit, requires major energy, plus an uniquely open mind. -- Vivian Kane, Thrillist contributor
Barcelona, Spain
Where you'll stay out past sunrise every night of the week
If New York is the city that never sleeps, Barcelona is the city that doesn't even know what sleep is. Dinner here starts at 10pm. You won't hit your first bar until around midnight. The clubs fill up around 3am. The city offers culture and stunning architecture like Gaudí's Park Güell and the Sagrada Familia, but it also promises one hell of a party.
On a warm day, head to tiny and always-packed Can Paixano, or La Xampanyeria, as it's better known (in Catalan, pronounce those X's as "sh"). You'll find cava and tapas starting at just one euro; once you stumble out you're mere blocks from the beach and its numerous summer pop-up bars. For groups, stop in at Ovella Negra's Poblenou location. Set up in a beer hall-esque space, it's full of 20-somethings enjoying enormous (and cheap!) pitchers of sangria or beer (5 liters -- the equivalent of 2.5 pitchers -- will run you just 25 euros). Afterward, walk to the club Razzmatazz for techno or indie rock, depending on the dance floor you choose. Once you shut down the club, keep your buzz going at one of the (illegal) "after clubs" that usually reluctantly wind down around 9 or 10am. -- Hannah Freedman, Thrillist contributor
Sign up here for our daily Thrillist email and subscribe here for our YouTube channel to get your fix of the best in food/drink/fun.