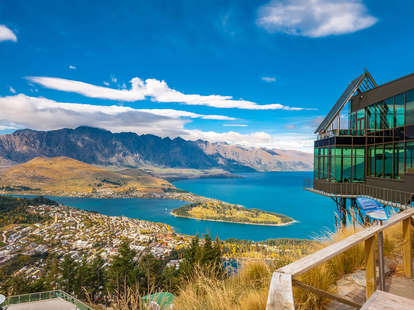 Queenstown, New Zealand

| NaughtyNut/Shutterstock
Queenstown, New Zealand

| NaughtyNut/Shutterstock
Skip Europe: The World's Greatest Destination Cities Americans Overlook
The toughest question in the English language, other than "Who's texting you at this hour?", is the old saw: Where do you want to go? The world is vast, weird, and with the dollar so robust, a relative bargain almost anywhere. So in a year like this, when your money spends big and everyone could use a quick timeout from our fellow Americans, are you still daydreaming of the same old spots? Even if you haven't done London and Paris yet, it's worth asking whether they're really on your must-hit list... or if it's a list you've inherited from past travelers.
This year, do travel. Be the change you want to see in the world -- by going out and seeing the world. But don't get stuck looking only as far as the old standbys. If you find yourself in Rome, or Prague, or Madrid, you'll also find gobs of tourists. We've asked our far-flung writers for suggestions on ace destinations in five continents other than Europe. In any of these cities, if you do go, you'll wonder why more Americans don't make the trip.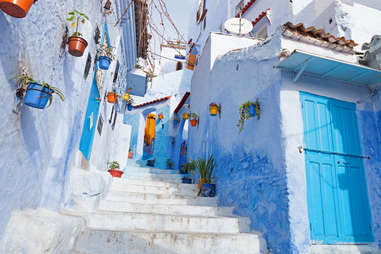 Chefchaouen, Morocco
A blue gem tucked away in the rugged Mountains
One look at Chefchaouen (or just Chaouen, if you want to fit in with the locals) and it's clear how it got its nickname as Morocco's "blue city." Blue doors, blue walls, blue buildings, and blue trash bins mingle with the colorful pops of potted plants dotting the staircases. Wander the markets and barter for leather goods, high-quality woven carpets, and the must-have goat cheese (but you'll want to do so in Spanish, not the French or Arabic that rules the rest of Morocco). This is an endlessly Instagrammable city.
Less touristy than Marrakech or Fes, and steeped in centuries of Spanish and Jewish influence, Chefchaouen defies easy definition -- or easy reach. The only way to get there is by (an admittedly long) car or bus ride. The city's name literally means "look at the horns," referring to twin, goat horn-shaped peaks that are part of the Rif Mountains and visible from just about anywhere in the town -- a good orientation point. Another helpful landmark is the Spanish mosque (white! high-contrast!) with great views atop a short but steep mule-track trek to its top.
If you have the time, don't miss an often-overlooked day hike to the Akchour waterfalls. The natural pools and views are well worth it, and you can even stop at small tea shops along the way if you need a break. Fair warning, the tea is cavity-inducingly sweet. -- Hannah Freedman, Thrillist contributor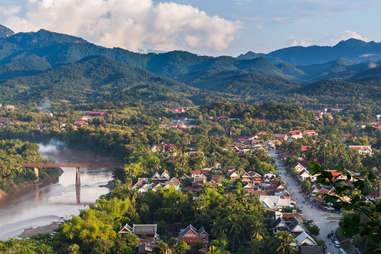 Luang Prabang, Laos
Home to immaculate temples and epic DIY cuisine
The few Americans who do make it to Laos might skip this quaint city for its bigger, busier sister, Vientiane, the capital. With about 60,000 inhabitants, the city slows pleasantly, allowing you to steep in the infinitely-detailed Buddhist temples and the smattering of Parisian architecture.
Situated on the Mekong River, the city puts on some dreamy sunset shows, so grab yourself a table at a riverside restaurant and enjoy. While you're there, order the local dish of steamed fish in banana leaf: tender, lemongrass-infused fish with a side of sticky rice and veg. When you decide to learn the ropes yourself, hit up Tamarind Cooking School. Starting with a tour at Phosi Market -- Luang Prabang's largest marketplace -- you'll gather your ingredients and head to an open-air kitchen to begin the class. Four hours later you'll leave with an appreciation of the local food, a full belly, and seven written recipes. -- Shylie Rimmer, Thrillist contributor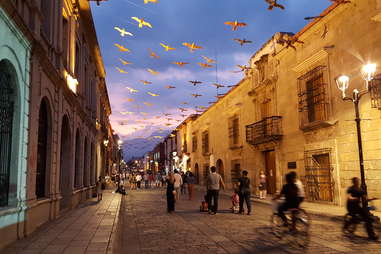 Oaxaca City
This colorful city boasts Mexico's best eats
Set in a valley ringed by green mountains, Oaxaca's cobblestoned streets are lined with kaleidoscopically colored buildings, punctuated by some of the best street food vendors you'll find in the Western Hemisphere. It's more laid-back than the vast megalopolis that is Mexico City, but doesn't skimp on the eats, and has more than its fair share of excellent museums, galleries, and cultural centers.
On street corners and in bustling covered markets like the lively Mercado 20 de Noviembre, complex dishes such as Oaxaca's famous mole negro stew reach their apex. Enthusiastic eaters shouldn't neglect vendors' more humble offerings, either: Regional street foods such as the tlayuda (a crisp tortilla "pizza" spread with black beans and topped with milky Oaxacan string cheese) and tetelas (triangles of corn masa stuffed with tangy Mexican crema and more) are delicious bargains at perhaps $1 for a filling meal. Drinkers won't be disappointed in Oaxaca, as the region produces some 90% of Mexico's mezcal. You'll find it poured by passionate, knowledgeable barkeeps at excellent mezcalerias such as Mezcaloteca, Archivo Maguey, and In Situ. -- Lauren Rothman, Thrillist contributor
Queenstown, New Zealand
A Peter Jackson-ready backdrop for thrill-seekers
Everywhere you look in Queenstown, you feel as though you've been transported into a hobbit-free cut of a Lord of the Rings movie. The idyllic snow-capped mountains look like the backdrop of a painting against the clear waters of Lake Wakatipu. This serenely stunning town, located in the South Island of New Zealand, boomed in an 1860s gold rush and has since been a destination for film crews, wine lovers, and travelers who like vertical drops.
It's known as the birthplace of bungee jumping and jet boating, but you can also downshift with mere white water rafting, sky diving, skiing, ziplining, and just about anything that will make your heart beat straight out of your chest. Jumping off bridges works up an appetite, so don't leave without trying a "big-as-your-head gourmet burger" from the town institution, Fergburger.
It's not only for adrenaline junkies. Queenstown is also known for its rejuvenating spas, gorgeous mountain lodges, and quite possibly the freshest air you'll ever breathe. Treat yourself to Onsen Hot Pools for a soak in natural spring while you sip on some local wine and revel in the sprawling views. -- Katie Lockhart, Thrillist contributor
Amman, Jordan
An ancient paradise of antiquities leads with its hospitality
A 10-hour flight from New York City, and you're in Amman, at the doorstep of world wonders: The stupefying ancient metropolis of Petra, and the multi-hued Wadi Rum, one of the earth's most scenic deserts. But the city itself is nearly as timeless, and in its peaceful blend of cultures, surprisingly reassuring. I vividly remember gazing up at the dazzling interior of Amman's massive King Abdullah Mosque while hearing the neighboring catholic church bells ring. It bears saying, for a country that shares 233 miles of border with Syria: Your US passport is most welcome here.
The affable King's image (Abdullah II, born 1962 as a 43rd-generation direct descendant of Muhammad) is ubiquitous in this sunny, Indiana-sized kingdom where English is spoken as the second language. Walk around and you'll also catch the smell of meat grilling everywhere. Several fresh and organic restaurants feature 12-string oud and tabla jam bands cranking out Arabic space-jams. Amman is also a great place for non-boozers to feel at home partying, with the option to groove with a coed crew puffing Hookahs while sipping ultra-sweet tea. Or find your way to the new Jordan Museum and pay homage to some of the Dead Sea Scrolls.
You can escape from the good clean fun at any one of the international hotel bars. Semi-nomadic Bedouin culture has made its way into Amman and shares the ancient desert code of survival: No traveler is turned away and should be provided food and water, and possibly exotic smoke and naughtier beverages. -- Bruce Northam, American Detour
Buenos Aires, Argentina
The so-called Paris of South America parties even harder than that
One trip down Buenos Aires' cobblestone streets, taking in the art-nouveau apartment buildings and Italian Renaissance-style palaces, you'll feel like you've stumbled into an electric Old World party, and that everyone showed up. So grab a power nap and hydrate.
A city of night owls, true porteños, as the city's residents are known, grab ice cream at midnight with their grandmothers, show up to the nightclub when most American bars are announcing last call, and never eat dinner before 10pm. Tango is just the tip. The leafy, tree-lined barrio of Palermo Hollywood ensures a night out that will rival that of the world's best party cities: outdoor bars, swanky lounges, and intimate venues. Every night here is lit. Crowds spill onto the street. Even a gritty, graffiti-covered burger joint feels like the hottest spot in town.
BA is all about the secret addresses -- speakeasy staples like Frank's, closed-door dinner parties, and members-only 24-hour club pool parties at spots like Mansion Boreo or The Clubhouse. Once you've properly lost track of time, you'll find yourself topping off the night with helado (a cross between hard frozen ice cream and gelato). More than 2,000 heladarias (ice cream parlors) dot the city -- the only way anyone here knows how to cool down for even a moment. -- Andrea Kasprzak, Thrillist contributor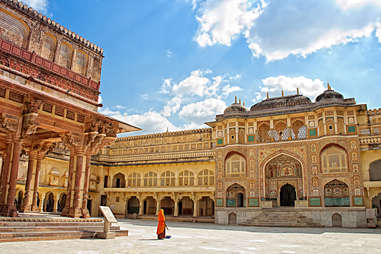 Jaipur, India
Play king for a day, in India's flamboyant capital of Rhajas, rickshaws and curries
When heading to India, the only part of New Delhi you should see is the airport when internally connecting for Jaipur, the capital's laid-back little brother. Otherwise known as the Pink City, owing to a centuries-old tradition of painting the center's facades to give it a welcoming and romantic hue, Jaipur is an oasis of sterling architecture and wonder in the desert region just south of New Delhi.
For those on a budget, the Rajasthan capital is a backpacker's treasure trove. On as little as $10 a day you can stay in the ancient city, eat like a Maharaja, go fast/furious in a tuk-tuk and visit India's most majestic temples and forts. (The Peacock Rooftop Restaurant, in particular, has great curries and cold beer at fair prices.) The setting feels like an Indian fantasy movie, with tastes, smells, and sounds as real and intense as only India does. -- Dan Cole, Thrillist contributor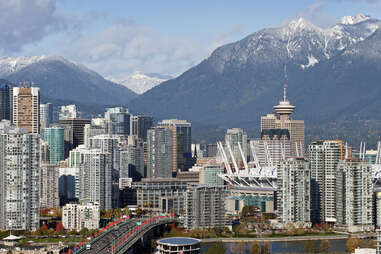 Vancouver, British Columbia
The Pacific jewel that's almost criminally close by
Vancouver has the sexy name brand -- and the upgraded roads and trains since the 2010 Winter Olympics -- but somehow the three-hour drive from Seattle seems like a step too far when you already feel you've edged out to the rim of civilization. So just remember this: Nowhere on the continent brings as many beautiful amenities in a tighter space than Van, with its glass towers literally steps away from calm ocean beaches, huge urban forests, Olympic ski venue mountains a half-hour from town, and a cultural scene that benefits from deep Asian and First Nations influences. It's a place distinct not just from the American PacNW, but from anywhere else on the planet.
Start outdoors. Take a brisk morning run along the spindle of ocean water called False Creek, a watery playground for longboat races and paddleboarding in the middle of town. Or make the quick trip up to the port city of Squamish to hike the grand but accessible Mount Habrich, with its views of the Coastal Mountain fjords below. Then hit the city in style. Menswear shops like Roden Gray and the denim-obsessed duties on hand with Herschel Supply and Hublot locations opening soon, it's a good spot to take advantage of the sagging Canadian dollar and come out looking, and feeling, like a million greenbacks. -- Mikelle Street, Thrillist contributor
Tunis, Tunisia
The birthplace of the Arab Spring has cooled to a state of easy camaraderie
Africa's northernmost city is an idiosyncratic melting pot of Arab, French, and progressive Muslim influences. It's not uncommon to see Tunisians walking around in soccer jerseys, carrying loaves of French bread, singing in English.
Get lost in Medina (Old Town) and its snaking labyrinth of market-teeming alleyways, then scale the encircling high wall for reorientation. Outside these walls, the Ville Nouvelle (New Town) hurls you into the lavish belle époque architecture where chic French cafés invite a caffeine buzz. Outside the city center, find the evocative ruins of ancient Carthage. They prove once again that the Romans knew the value of real estate, as the Mediterranean views won't disappoint.
If you want to mingle, the higher-end hotel bars and restaurants are where boys and girls play together. But in bargain mode, there are many ultra-casual local restaurants where you can tote fish or meat you bought in a market, and for a small fee, it will be cooked for you in what amounts to a public barbecue. Boys' nights out often mean sitting around a rickety plastic-table café with 26 other guys -- all slugging orange sodas while charbroiling their lungs with cigarettes and discussing soccer. Stay up late enough, you'll be presented a Mediterranean sunrise paired with a mesmerizing Muslim call to prayer. -- Bruce Northam, American Detour
Hobart, Tasmania
Australia's overlooked all-in-one city
If you want to work up an appetite in Tasmania's capital, look to the 3,000ft Mount Wellington. Not as if you can miss it: Even amid the city's lakes, wine valleys, epic drives, and Michelin-starred restaurants, you'll want to tackle the enchanting backdrop of it all. A half-hour's drive (or full-day hike) from the city, the panoramic views from the mountain -- where winds can top 108mph -- are well worth it, even if you have to hold on to the nearest traveller to keep your ground. You'll gaze out over Hobart and out to Bruny Island, despite possible warm-season snow flurries at the peak.
The mountain now conquered, the hungry city of 220,000 beckons. Australians consider Tasmania the country's seafood capital. Stop by Barilla Bay Oyster Farm -- a five-minute drive from Hobart International Airport -- for some of the freshest oysters you'll ever have, as well as the most delicious Blood Mary oyster shooters in the Southern Hemisphere. A million people a year visit this city, but few Americans. Tell the folks back in Oklahoma where you went, and you'll sound terribly exotic. You don't need to tell them it was so cheerfully comfortable. -- Shylie Rimmer, Thrillist contributor
Guadalajara, Mexico
A right-at-hand second city with first-rate everything
This quietly rebellious mile-high metropolis of 1.5 million stokes its rich history while reaching for the future. Guadalajara is known as "Mexico's Silicon Valley," a status gained largely by generous subsidies from the government and the large student population choosing to stay put in what's known to be a relatively affordable city despite the boom. Too often a stopover city, it's worth an entire trip.
Art lovers will also feel right at home. A visit to Tlaquepaque or Tonalá, both just outside of Downtown, will turn up a wealth of artisan crafts. Instituto Cultural Cabañas is a former orphanage turned UNESCO heritage site covered in murals by Jose Clemente Orozco. The city at large offers "a slow, creative burn," in the words of former visual artist and book collector Carlos Ranc, who runs a rare books store out of his home, called Elegante Vagancia.
Those looking for a slice of "old" Mexico won't be disappointed: Jalisco's regional cuisine is well-represented in Guadalajara, Aztec ruins abound just outside city limits and bars and restaurants overflow with tequila and mariachi, both of which originated here. Also, you can't leave without first trying a torta ahogada, the classic Guadalajaran street dish: a roasted pork sandwich doused in searingly hot tomato salsa. For breakfast. -- Jackie Bryant, Thrillist contributor
Yangon, Myanmar
Newly opened to visitors, the locals know only to welcome you for tea
This poor country is still emerging from 40 years of self-imposed isolation, so visitors are treated to a glimpse of timeless Asia. Before "opening up," the country catered to visitors who were part of predictable package tours, so the outfitters and the people are still learning how to accommodate independent travelers.
A key starting point in Yangon is the basic but inviting Friendship Restaurant (across the street from the Business Alliance Hotel) where ingrained expat teachers and day-off diplomat types drink 75-cent drafts side-by-side with mellow locals. The city's centerpiece is Shwedagon Pagoda, the country's most sacred site and home to eight sacred locks of Buddha's hair. A radiant hilltop campus of Buddhist shrines surrounds a 300ft-tall golden dome visible from virtually anywhere in town.
As a flight hub Yangon collects culinary and cultural influence from all over the region: Bangladesh, China, India, Laos, and Thailand. But because British rule lasted until 1947, Yangon's also a swell place for tea time. On nearly every street, people huddle in establishments or on sidewalks, perched atop 10in stools around mini-tables supporting a teapot. And you can converse in the shade, as Yangon remembered to save the towering trees planted by the Brits. -- Bruce Northam, American Detour
Cape Town, South Africa
Electrifying landscapes, charming accents and lots of good wine
In the Mother City, as it's known, travelers can drink up any sort of wanderlust -- sophisticated city living, foodie and cultural expeditions, coastal playtime, or an intoxicating cocktail of it all. Some districts vibe almost European; others are distinctly African in spirit. If you're into the finer things, there's designer shopping on Waterfront, and ample beach clubs and restaurants full of beautiful people with amiable Afrikaans drawls. Or get closer to locals' lives and find delicious home-cookery, African goddesses with invincible grill skills and the pastel houses and call to prayers of the famous Muslim-Malay neighborhood known as Bo-Kaap.
Spaces also feel infinite, whether scaling up Table Mountain or rambling around sprawled out Wineland estates with a buzz (fair warning: impulsively shipping a case of red home only to be slapped with a stiff duty later is no urban myth). Cape Town's known for being sunny year-round, but right now's the best time to go -- February and March extend into low season, and while the rest of us are shovelling snow, South Africans are still baking out on the beach. -- Barbara Woolsey, Thrillist contributor
Tainan, Taiwan
An overlooked second city and a history buff's dream
Think of Tainan as Taiwan's version of Kyoto: an ancient city with its own unique culture, thriving in the shadow of a more renown metropolis. Arriving by the country's high-speed rail (seemingly one of the few things modern day has touched) you'll find a charming, lively city so dominated by old temples and monasteries that anything less than century old looks almost tacky by comparison.
Yet from the past you can bring yourself firmly into the present. To view ornate, beautifully preserved buildings, head to Tainan Confucius Temple, Chikan Tower, and Grand Queen of Heaven Temple. Meandering through Hai'an Rd and Shennong St is a trip through hip cafes, bars, and art venues. At night, it's thronged by live bands and a spectrum of locals, packed into small shops that serve traditional and modern twists on Tainan delicacies.
Speaking of food, blogs tend to praise foods in Taipei, Taiwan's better-known destination, but those in the know go to Tainan for its rich, delicious array of traditional Taiwanese snacks: oyster omelets, fried shrimp rolls, milkfish, danzai ("peddler's") noodles, a deep-fried bread stuffed with chowder called "coffin" bread, and tofu pudding. In Tainan, seafood dishes are king. Here good eats are hastily whipped up by small streetside vendors and makeshift kitchens, without care to how they look or are presented. Unlike so much in Tainan, they'll disappear soon enough. -- Stephanie Lee, Thrillist contributor
Sign up here for our daily Thrillist email, and get your fix of the best in food/drink/fun.