Right now, you're shivering at your desk, the office thermostat set full blast on "Arctic tundra." Somewhere nearby, the gurgling Keurig machine manages to drool out a weak cup of coffee, then another. You're staring at one of 100 interchangeable Excel spreadsheets and it dawns on you… Couldn't I be doing this from a beach in Bali?
The answer, dear reader currently zipping up a hoodie, is yes. Yes, you could. What the boss doesn't want you to know is that it's never been easier to work remotely -- or ditch the desk entirely, start your startup, and #LiveYourBestLife. Using the minds of our intrepid world-travelin' contributors, we've nailed down the most convenient cities for digital nomads to stay plugged in with relatively fast internet speeds (at least 15mpbs), and in many cities, cheap-to-free working spaces and free Wi-Fi flowing like wine.
While you'll find some damn fine internet in, say, Copenhagen, making it there on any kind of a budget ain't gonna happen. Reasonable living in these cities won't run more than $3,000 a month, they're all deemed generally safe for women, and they have high marks for racial tolerance, regional stability, and friendliness to foreigners. Look to any of these for a week of working vacation -- or for that open-ended stint of earning and wandering that you keep promising you'll take one day.
Recommended Video
Please Don't Hang Up: The Best Things to See, Eat, and Do in Seattle, WA
Canggu, Bali, Indonesia
Stoked on young people, Instagrammable food, good surf -- the Brooklyn of Bali, for better or worse.
Why you'd want to work there: There's nothing more inspiring than a morning commute in Canggu, across pristine tiny beaches and labyrinthine rice paddies with glimmering ocean views. In Bali's youthful hipster enclave, an office day might mean posting up at a dapper coworking space with surf and beach breaks, fueled by a steady diet of smoothie bowls, raw desserts, and cold drip coffee. The cost of living is wonderfully low, with two-bedroom villa priced well under $1,00 a month. Rates at coworking staple Dojo Bali range from $78 a week to $206 a month for unlimited access, and your facilities include Skype booths and a pool. No wonder Canggu is home to a thriving colony of bespoke bikini and jewelry designers, startup gurus, and full-time Instagrammers.
Why you'd want to live there: This is where people segue from work straight into play, with laid-back vibes strewn across a variety of beginner surf swells, perky beach bars, and yoga studios. You'll find a distinctly youthful spirit in each unique dwelling here, from Deus Ex Machina, a motorcycle-cum-surf shop, to Pretty Poison, a bar with a skate park hosting regular music gigs. Parties and events pepper the week: Check out "Dirty Ol' Wednesdays" at Old Man's Bar, practically your rite of passage. -- Barbara Woolsey, Thrillist contributor
MORE:  Feast your eyes on the most gorgeous places in Southeast Asia
Vancouver, Canada
A shimmering natural paradise 30 miles from the US border
Why you'd want to work there: This tightly bunched nest of glass high-rises and trim bungalows truly feels like the edge of the world, where Canada (the world's 16th largest economy) plugs into the Pacific Rim. The tech scene caps the Cascadia belt of information workers that reaches through Seattle and Portland and Silicon Valley; the sheer quantity of TV and film made here has earned it the nickname "Hollywood North." You can West Coast it: Knock off work at 5, when New York offices are dark, and go savor a sunset from above the clouds on a 4,000-foot mountain. Or night ski with birdlike views of the ships anchored in English Bay. Cost of living isn't the lowest, but earning US dollars will take you far: The exchange rate gets you a 25% discount on any price tags you see.
Why you'd want to live there: If you're the type who likes to work hard and play hard, who's given to slacklining and beach yoga and trail-running, you'll love it here in the mild North. In winter you can stand on a clear urban beach and watch fresh powder falling on Olympic-venue ski mountains just a 30-minute drive from town. The warm summers, with 16 daylight hours at the equinox, are lit at clothing-optional Wreck Beach, where locals lap up every minute of sun before sparking up the inevitable driftwood bonfires. Your passport is license to play both sides of the border, after all. Vancouver plops you decidedly in another country, yet Seattle Mariners games and the cheap groceries at Bellingham, Washington's Trader Joe's are short drives away. -- Sam Eifling, Thrillist Travel editor emeritus
MORE: Interested in moving to Canada? Here's how to do it
Munich, Germany
Come for the mountains, stay for the beer.
Why you'd want to work there: Whether you're zipping between cafes and co-working spaces on your bike, cozying into a multinational firm, or just using the city as a freelance gateway to the Alps, Munich will make you feel part of an ever-widening international happening. You'll have quick train connections to pretty much anywhere in Central Europe at your disposal; access to huge European firms; and some of the most reliable internet in the region. The attitude of Munich is work and connectivity during the week, then on the weekend everyone unplugs and comes out to play.
Why you'd want to live there: Put aside the outstanding art, museums, and concerts. Munich truly excels in two key departments: mountains and beer. The most exquisite woodlands, lakes, and mountain peaks will convert a cubicle-dweller to an outdoors person faster than you can say beer garden. There's also this little thing called Oktoberfest once a year. You may have heard of it. Its reputation feeds a certain expectation here, but the locals will surpass even your most hopeful stereotypes by grilling sausages pretty much every day of the week. -- Daniel Cole, Thrillist contributor
MORE: Dope German towns you should check out (that aren't Berlin)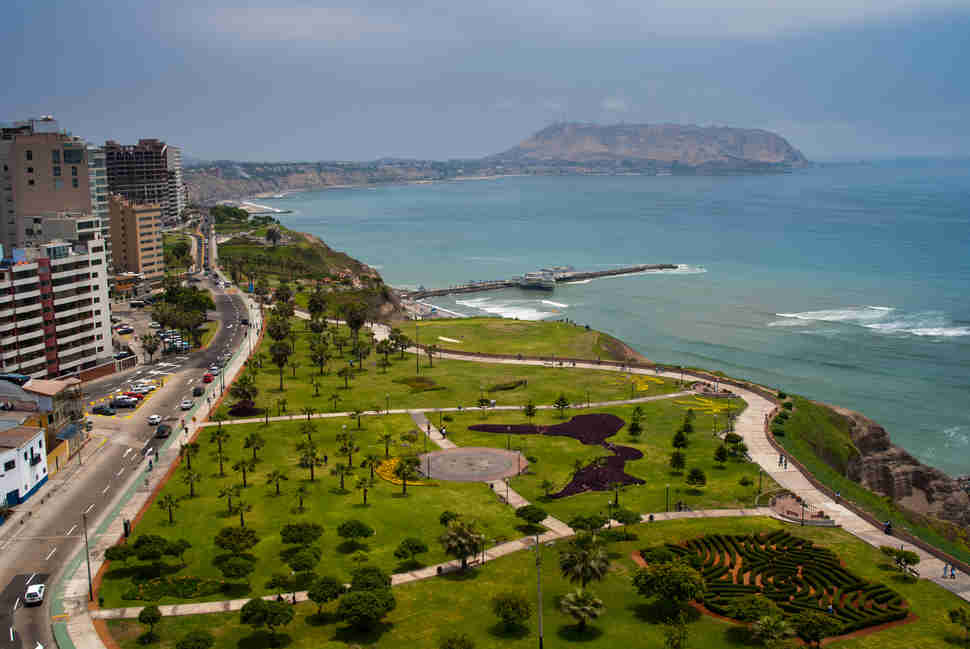 Lima, Peru
A young, thriving coworking community thrives in the city that powers Peru
Why you'd want to work there: Nomad List puts Lima's internet speed at 9mbps, which is neither the best nor the worst; it'll be enough to get by, meaning you'll be able to work without becoming furious. But if you're still understandably hesitant, worry not -- Lima's real working-abroad strength is in its vibrant cafe culture -- and, these days, coworking space culture -- where free Wifi abounds; you'll probably want to join a coworking space regardless of the state of your internet at home or at your favorite cafe. And Lima is effectively in Eastern Time in the summer and Central Time in the winter, making it an ideal choice if you're corresponding in real time with co-workers back in the states. 
Why you'd want to live there: For starters, it's a coastal city where a 1-bedroom apartment can be rented for as little as $350 per month. The largest city in Peru, the National University of San Marcos makes Lima an academic hub, too -- the city knows how to work hard and play hard, which you'll realize your first night dancing and downing Pisco Sours in Barranco, or if you knock off and surf any of the nearby beaches. The food? Holy shit. Lima has for some time now been recognized as one of the world's great culinary capitals, and ceviche is only the beginning. You could spend your entire stay working your way through every picarones-hawking street cart in town, and eat well for just a couple of bucks a day. If you've been to Cusco and enjoyed the many stray dogs (or maybe not), you might be intrigued by Kennedy Park, an elegantly manicured lawn where around 100 cats are awaiting your arrival, ready to play. And if you're looking to escape a rainy hometown, be at ease -- Lima is one of the driest cities in the world. -- Kastalia Medrano, Thrillist Travel Writer
MORE: The best way to hike Machu Picchu is not the Inca Trail
Seoul, South Korea
A high-tech megacity that doubles as a working-abroad playground
Why you'd want to work there: For a modern, eclectic burg with amenities and population on par with NYC's, Seoul boasts a cost of living where the dollar goes far. Expect rent on a furnished studio to go for about $500 a month (not including the deposit, aka key money, which can run several thousand bucks extra; employers are known to sometimes pick up that tab). A hearty Korean meal goes for about $8. The strong coffeehouse culture has free and fast Wi-Fi standard. Wireless internet is so ubiquitous here, you can hop on a perfectly strong network on the subway. Filing taxes as an American is surprisingly simple; if you're a public school teacher, you're exempt from filing US taxes for two years.
Why you'd want to live there: There's a reason Americans are everywhere here. Aside from Seoul's big-city trappings, you're also a short hop from beaches, mountains, peaceful countryside, and the warm-weather offshoot of Jeju Island. All of it's a breeze to get to, thanks to mass transit that blankets the peninsula. And South Koreans go big on festivals of the food, beer, Comic Con, and even mud variety. The robust drinking culture has made these folks pros at hearty partying. -- Farah Fleurima, Thrillist contributor
MORE: Take the plunge and go teach English abroad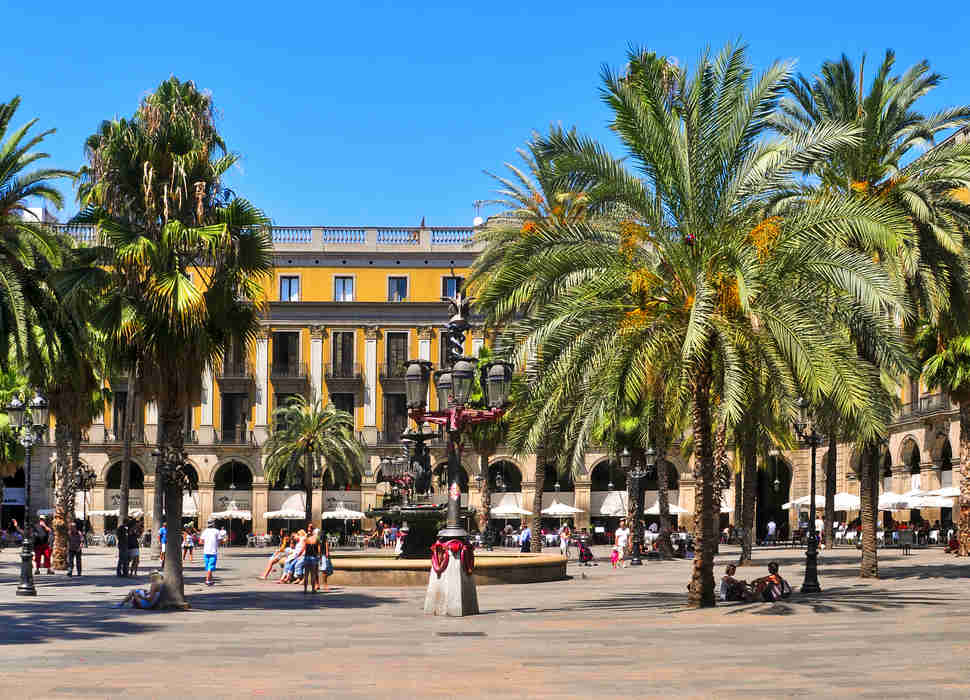 Barcelona, Spain
Where tech and fashion blend with timeless Mediterranean chill
Why you'd want to work there: Picture the design and tech talent of Northern California, minus the starry-eyed, cult-of-Elon-Musk bull. In Barcelona, you can get your Mediterranean climate and your nerdy thrills amid a top European biotech and fashion capital. And you're most definitely in Spain, where 9am is truly just a suggested start to the day. Which is good for you, because when your late nights of drinking comically cheap Spanish wine (think $5-$7 for a decent rioja) start translating into late-morning exits from your apartment (or your $700/month share of one), you're going to want this leniency. Don't speak Spanish yet? You'll get by just fine in this international travel hub, where a good portion of locals are so bent on separating from Spain they speak Catalan anyway.
Why you'd want to live there: The most common knock against Spain is that it has done a miserable job of adapting to the demands of 21st-century life, preferring its sleepy, walled towns to cosmopolitan centers. Barcelona challenges and conforms to that stereotype, and that's why it's nearly the perfect place to live. If you want your skyscrapers and your glossy, 24-hour mega-stores, have at it. If you prefer to take a step back from this century -- or maybe even the two or three preceding it -- an afternoon in the Gothic quarter and the sweeping, tree-lined promenade known as Las Ramblas, munching on cheap manchego and chorizo, will remind you that life could be pretty peachy before the days of on-demand everything. -- Savannah Cox, Thrillist contributor
MORE: What to know before your first trip to Europe
Phuket, Thailand
Friendliness, frolicking, and fish on the Andaman Sea
Why you'd want to work there: The dollar goes a marvelously long way on this lush tropical island. Behold the tipsy foreigners stumbling beachwards down the teeming macadam of Soi Sansabai -- they're hollering nonsense; they're swaggering groundlessly; they look like somebody just crowned them kings of the world. Really, they're high on the power of a nonsensical exchange rate. While tourists stay in boutique hotels and Airbnbs for well under $50/night, you'll be renting for under $200/month (though Thailand is a difficult country in which to buy property outright). As in any country with natural splendor, fast internet (at least 20mbps), copious amenities, and a low cost of living, there are trade-offs. Police here are alert to offenses both real and imagined, and their alarm over the latter can often be salved only with a small cash gift. (Do not get caught in actual crimes. Bribes will do you no good.)
Why you'd want to live there: Patong, on the peninsula's southwestern coast, is one of Southeast Asia's great nightlife capitals, with clubs of all kinds within a few blocks of Patong Beach and a happening gay scene in the area around Soi Paradise. There's world-class scuba diving off either coast, and off the east coast, the thousand breathtaking islands of Phang Nga Bay are a quick boat ride away. (Many of these islands are "hongs," with kayak-accessible lagoons deep in their interiors, which have been hollowed out by millennia of rainfall on soft limestone rock.)
You can get the freshest, cheapest, and very often spiciest seafood of your life in any one of the towns around Phuket, but the freshest/cheapest/spiciest might be in the nameless little front-yard restaurants of Thai people, in neighborhoods where tourists seldom go. Stop by one of them -- perhaps in one of the neighborhoods you pass en route to the Big Buddha, high above the southern town of Karon. The proprietors will make you feel welcome immediately, because Phuket is one of the friendliest places in the world. -- Brandon Thorp, Thrillist contributor
MORE: How to choose the Southeast Asian country that's right for you
Riga, Latvia
The romantic parts of the Middle Ages live amid modern tech savvy
Why you'd want to work there: Since shaking free of the Soviet full-nelson in 1989, Latvians are humble -- everyone's parents here went through some real rough times -- but still leaning into the next century. You'll discover a vibrant city defined by its robust investments in tech infrastructure and by a post-Communist society standing firm against democratic overpricing. The result is simply an incredible value for your money Reasonable cost of living won't exceed $1,600 a month and a bottle of choice vino sipped in a fine restaurant will set you back what you'd pay for a draft IPA in New York.
Why you'd want to live there: Nightlife in the largest city and economic center of the Baltic states ranges from chatting over smoked fish with Art Nouveau aficionados to getting sweaty in a rock club. You're in a small country with a big soul. Only about half of Riga's 638,000 residents are native Latvians, so you'll also be mixing it up with Russians, Belarusians, and the other folks who read this article. When you need a break from all that, Scandinavia, Russia, and Eastern and Western Europe are all within easy striking distance. Pop over to neighboring Tallinn, Estonia, to find another classic European city reaching to become a high-tech superstar. -- Bruce Northam, Thrillist contributor
MORE: Eastern European cities you're missing out on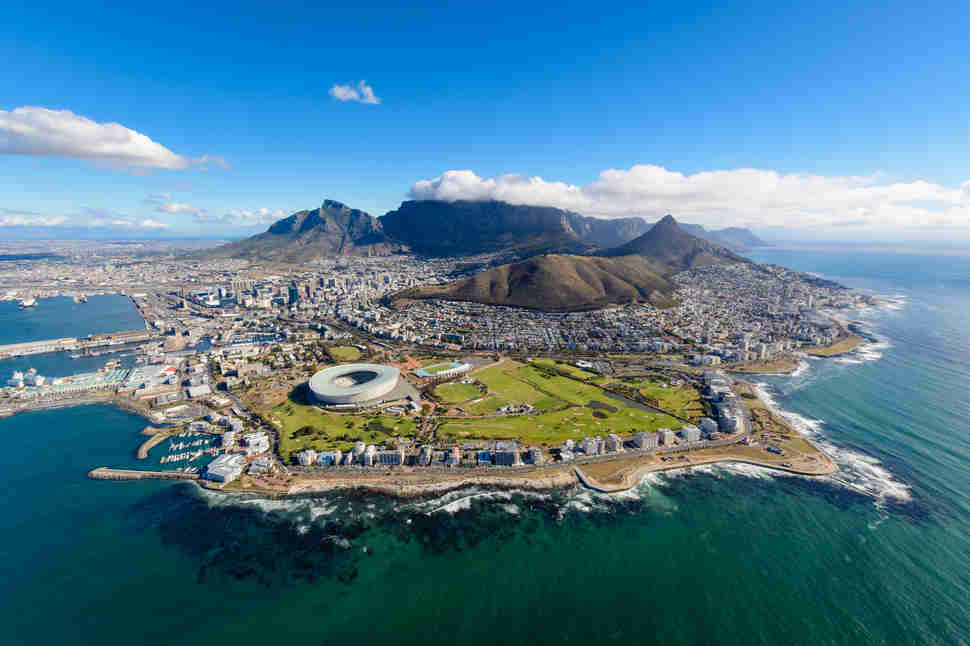 Cape Town, South Africa
A hardworking coastal town with a beating heart for adventure -- so long as you know where to look
Why you'd want to work there: Here again you'll want to join a coworking space, where membership might cost around $130 a month. Download speeds off Wifi are … there, but not great, but there's loads of free Wifi sprinkled conveniently around the city. English is widely spoken in Cape Town, too, so even if you only speak just the one language there won't be too much of a learning curve. Wander outside the central business district and you'll find hip neighborhoods like Woodstock, where you can find your fav charmingly yuppie coffee shop from which to Slack your employer.
Why you'd want to live there: Cost of living is very much in your favor -- a centrally located 1-bedroom can be had for less than $700 a month, which anyone in Brooklyn will tell you is a steal for something not all the way out in the boonies. Cape Town is also the heart of South Africa's burgeoning craft gin scene. Wine country is just a quick drive away from town. You can while away your Saturdays at the beloved local craft market Neighbourgoods. And, lest we forget, there is Table Mountain -- a relatively easy climb from the city, one look from the summit at the fog rolling over the Cape Town skyline and any second thoughts about why you left a perfectly good sublet to move halfway around the world will be gone. Folks who prefer the outdoors over the nightlife will find themselves at home here, as things tend to close early -- until, of course, you make the right friends. -- Kastalia Medrano, Thrillist Travel Writer
MORE: The ultimate South African gin tour
Budapest, Hungary
Duke it up on the banks of the Danube.
Why you'd want to work there: You're going to have the advantages of European city living while stashing the lion's share of your paycheck. Fancy your own 900-square foot apartment within walking distance of the Danube for $500 a month? Want your own space near the Opera? Then allow me to introduce you to a low-overhead European capital where you'll dine out on goulash and opulent East European wines, with money left over for a taxi home afterwards. Add on the extremely low utility costs and affordable health care, and you have yourself arguably the most underrated work-away-from home destination in Europe.
Why you'd want to live there: Try getting bored in Budapest. I dare you. Americans have been flocking here for the nightlife and the easy excursions outside the city and, once you get tired of the hectic pace of life, you can meander between the museums and cafes, the rich facades and neoclassical architecture available in the inner city. You'd have to go to Vienna to surpass the density of history and design in modern Central Europe -- but then, of course, you'd have to pay Viennese prices. -- Daniel Cole, Thrillist contributor
MORE: These are the Budapest pastries you must try
Auckland, New Zealand
A Cali vibe with unique flavors and Middle-Earthly environs
Why you'd want to work there: Auckland is privy to year-round gorgeous weather, with warm summers and mild, dry winters. The natural delights recall the US West Coast -- the emerald-watered Waiheke Island, rainforests and thermal springs all fed by ocean air. Hiking, surfing, and snowboarding are at your disposal. Auckland skimps a little on free Wi-Fi, but the internet is blazin' fast and the exchange rate is in your favor: live well for a little over two grand a month.
Why you'd want to live there: New Zealand's most populous city is the spitting image of cosmopolitanism. Auckland's also home to thriving arts and food scenes, so live music gigs, decadent seafood feasts, and cool street murals abound. Plus it's just a conspicuously safe and tolerant city.  -- Barbara Woolsey, Thrillist contributor
MORE: It's actually surprisingly easy to move to New Zealand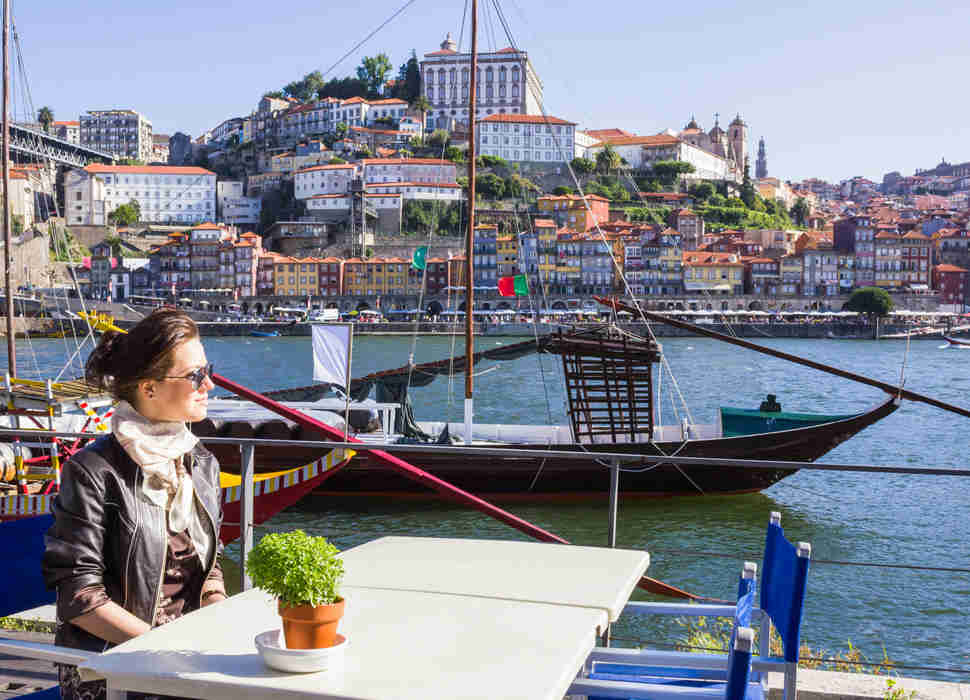 Porto, Portugal
Where Western Europe decided to legalize human nature
Why you'd want to work there: Do Southern Europeans ever seem like they're working? One day of doing your hyper-American work-ethic, no-napping thang, and you'll top what the local competition will accomplish in a week. But in all seriousness, dollars buy a lot of euros these days, leaving you time and cash for you to dive into what really makes this World Heritage City tick: chill, fit people enjoying -- not rushing through -- life. You don't even need an office space here, as cafe culture has always been the way. And you won't need a car, as Porto was established (as most ancient cities were) as a walker's wonderland (updated to include a steady wireless signal).
Why you'd want to live there: Strive to be a frontline worker in the battle against shitty workplaces. The Portuguese like Americans, and you won't get the Parisian-style thumbs-down for not speaking the native tongue. Plus you'll be in good international company, you'll have organic food and wine without the US-style price hike, and -- slingshot distance from the Atlantic -- you'll have mind-blowingly fresh, delicious, and affordable seafood. Across the river from the old town, the Yeatman Hotel may be steep, but it's worth a happy hour visit to Dick's Bar, where you might catch a sexy Euro royal at leisure (then kiss that day job tchau). The 83-room, 30,000-bottle-strong wine hotel clings to a landscaped hillside and its halls double as a museum -- the Yeatmans have been a trading family since 1692 and their collection includes a wineglass-sampling anthology dating to 800 BC. Take your time, and truly relax for a change. -- Bruce Northam, Thrillist contributor
MORE: What to know before visiting Porto
Bangkok, Thailand
The ultimate adult wonderland, where the living is easy on overseas income
Why you'd want to work there: Thailand is an illustrious base for bloggers, techies, and other self-employed folk for good reason: those idyllic tropical surroundings and living costs stretched far on Western currency. No wonder Bangkok's coworking scene has exploded in the last couple years. A desk amid stylish interiors with a barista delivering edibles right to your seat might run you less than $8 a day, or roughly $105 a month. You can also just as easily set up at home, with a decent connectivity of 35mbps costing around $17 a month.
Why you'd want to live there: It's possible to live large on even a mid-range foreign salary. Apartments and shopping are cheap, and you'll find reasonably priced fine dining alongside sophisticated bars, speakeasies, storybook steampunk nooks, and spectacular rooftops. Hard work days can be fueled by Bangkok's famous street eats, plus every kind of delivery you could ever imagine. Late-night munchies are easily conquered with gourmet burgers and tacos (even McDonald's delivery is 24 hours, so prepare to hate your sloshed self). Beach detoxing is just a budget AirAsia flight away -- and if that fails, high-standard privatized medical care is available at various mega-hospitals, for much cheaper than back home. -- Barbara Woolsey, Thrillist contributor
MORE: Beaches worth traveling halfway around the world for