Want to Work Remotely Abroad? Try These 12 Cities for Digital Nomads
Try the digital nomad life on for size.
Photos: Unsplash and Getty Images
If there's one silver lining to the colossal garbage explosion that was 2020, it's that many of us learned—and, more crucially, our bosses learned—we can work from just about anywhere.

Maybe it's from a swanky Airbnb for a week in a different city. Maybe it's rollin' in your rental RV with a Wi-Fi hotspot. Or maybe it's in the cerulean-hued paradise of the Caribbean, where islands are beckoning visitors with "workcation" packages and special tourist visas that let you hang out for months.

Craving even more freedom? Join up with an international community of expats and remote workers who've been living the nomad life for years. Cities across the globe let you stay plugged in with fast internet and free Wi-Fi flowing like wine (and just as often, fantastic wine flowing like wine).

While many countries remain off-limits due to the pandemic, others are accepting Americans, like, right now. Reasonable living in these cities won't run more than $3,000 a month, they're all deemed generally safe for women, and they have high marks for racial tolerance and friendliness to foreigners. (If you're interested, Nomadlist is a solid resource for digital nomads). Look to any of these cities for a month of working vacation—or, for that open-ended stint of earning and wandering.
Photos: Free To Use Sounds/Unsplash, Alex Ware/Unsplash
Chiang Mai, Thailand
Thailand, with its natural splendor and nonsensical exchange rate, is one of the most well-established hubs for digital nomads. And it's never been easier to temporarily relocate: Special tourist visas now allow non-residents to stay anywhere from 30 to 270 days (just under nine months).

Once you get past the mandatory quarantine period, opportunities for networking in Chiang Mai are everywhere, from Facebook groups to vegan cafe meetups to cool new coworking spaces like Punspace and Hub 53 (which average around $90 a month). Those expenses balance out mighty quick when you're only paying $2 for a mouth-watering bowl of khao soi on your lunch break.

Compared to busy Bangkok, Chiang Mai's slow pace of life makes it hard to leave—except during the burning season (January to April), when poor air quality drives many people south to the capital, or to Koh Samui or Koh Lanta for some tropical beach action. —Katie Lockhart
Keep up with current travel restrictions here.

Photos: Alev Takil/Unsplash, Click&Boo/ Getty Images
The Canary Islands, Spain
Spain's self-employment work visa is ideal for freelancers and entrepreneurs who want to work from this dreamy archipelago off Africa's northwest coast (once the border fully re-opens and it's feasible to do so).

In Las Palmas, the capital of Gran Canaria, stylish coworking spaces like The House, repeople, and Soppa de Azul pair high-speed internet with near-instant access to soft, golden beaches. A lively nomad scene makes it easy to meet fellow international creative types who've rejected ye olde nine-to-five.

When you sign off, there are secret coves, lush forests, volcanic craters, and trippy moonscapes to explore—even in winter, when temperatures don't stray far below 65 degrees. Cheap public transit makes it easy to bike, bus, or ferry around the seven islands. Drinking and dining is also super affordable, and tasty local delicacies at the farmers markets don't require much elbow grease in the kitchen. —Barbara Woolsey
Keep up with current travel restrictions here.
Photos: Guillaume Lebelt/Unsplash, tobiasjo/Getty Images
Wellington, New Zealand
There are no less than 22,050 free Wi-Fi hotspots in Wellington, and seemingly endless cafes in which to get very, very caffeined. You'll bang your work out with remarkable efficiency and spend the rest of the day high on life because, dude, you live in New Zealand.

The bustling capital city is a welcoming home base for 18- to 30-year-olds taking advantage of New Zealand's Working Holiday Visa program. Unfortunately, New Zealand's locked up like a fortress right now, but plan ahead and you'll be living out your Lord of the Rings fantasies in no time.

With a population of laidback Kiwis, indigenous Māori, and backpackers from all over the world, you'll live and work alongside a diverse group of people with the green hills of Mount Victoria as your backdrop. Cheaper than Auckland, a one-bedroom here won't set you back more than $1,300 a month. And while the occasional earthquake may keep you on your toes, Wellington is safe, walkable, and worldly. —Kaeli Conforti
Keep up with current travel restrictions here.
Photos: Melisa Hildt/Unsplash, Fabian Schmiedlechner / EyeEm/Getty Images
Buenos Aires, Argentina
OK, so you're not moving to Buenos Aires for the internet speed. But at 20mbps, on average, it gets the job done. A recent surge in well-appointed coworking spaces means a chill office environment can be had for about $100 a month. There's an ever-growing start-up sector here, supported by government-backed accelerators, and many work-away programs such as Remote Year and Unsettled have added Buenos Aires to their core cities list. Plus, Baires (as the locals call it) is only an hour ahead of the East Coast, meaning no Zoom calls at odd hours.

The best reason to move here? The US dollar is absolutely killing it against the Argentine peso, and has been for years. If you earn $1,500 a month you can afford to rent a swanky furnished apartment in a hip neighborhood, lease a coworking space, frequent speakeasies and steakhouses, and still have money left over to hop on the ferry for a weekend in nearby Uruguay. You can also plan easy getaways to bucket-list destinations like Mendoza for wine, Patagonia for hiking or skiing, or Iguazu to see some of the most spectacular waterfalls on the planet. —Cathy Brown
Keep up with current travel restrictions here.
Photos: Julia Solonina/Unsplash, Claudio Schwarz/Unsplash
Berlin, Germany
Berlin's residence permit is like a golden ticket for the self-employed—especially artists, academics, and freelancers who just want to relocate and make cool shit for a while. While travel to Germany is closed to most Americans at the moment, use this time to get a headstart on your paperwork. (There's a lot, 'cause Germany.)

Berlin's booming start-up culture lures ambitious young professionals, while its inclusive creative spirit embraces alternative types. Sehr cool if you speak German, but those who don't needn't worry, as it's easy to get by with English.

You'll find history on almost every street corner, with around 170 museums, public parks by the thousands, and dozens of beautiful lakes just a quick train or bike ride away. And despite its legendary coolness, Berlin remains remarkably affordable compared to other capitals in Western Europe. —Cindy Brzostowski
Keep up with current travel restrictions here.
Photos: Andreas Selter/Unsplash, Fadzai Saungweme/Unsplash
Cape Town, South Africa
Artists, designers, winemakers, and gastronomes have fallen in love with this multicultural city on the coast. Cost of living is in your favor—a centrally located one-bedroom can be had for about $700 a month. Internet speeds are just okay, but distinctive neighborhoods like Woodstock are full of cafes with free WiFi. The sheer volume of things to do in town (think art galleries, vintage shops, craft breweries, and seriously good restaurants) might make it hard to get work done.

Those who prefer outdoor adventure over nightlife will find themselves at home here, as things tend to close early and crime is prevalent in certain areas after dark. But with year-round sunshine, a quick drive to wine country, and natural wonders at every turn, Cape Town is pure heaven for hikers, day-drinkers, and beach bums alike. Hit hard by the coronavirus, though, it may be awhile before South Africa reopens its doors to Americans. —Kastalia Medrano/Barbara Woolsey
Keep up with current travel restrictions here.
Photos: Dan Freeman/Unsplash, Alexander Spatari/ Unsplash
Hanoi, Vietnam
Vietnam's capital is popular with expats and remote workers who want to nail that low cost, high quality of life sweet spot. You'll make fast friends in the Tay Ho neighborhood, packed with expats and digital nomads who trade contact info at organized beer crawls, in cheap coworking spaces like Toong Embassy, and over coconut coffees in the city's many hidden cafes.

Damn good food, interesting architecture, kind locals, and ultra-affordable accommodations more than make up for the near-constant din of honking motorbikes. Seriously, the square footage of a $400-a-month apartment in Hanoi will cause an audible gasp. Your kitchen won't have an oven, but honestly, with meaty, comforting dishes like bún chả (grilled pork with noodles), chả cá (grilled fish with noodles), and phở cuốn (beef pho in spring roll form) everywhere, you won't care. But you'll have to wait until 2021, as only citizens and skilled workers with permits are allowed entry for the foreseeable future. —Katie Lockhart
Keep up with current travel restrictions here.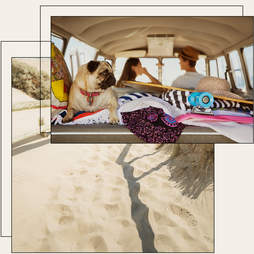 Photos: Prasit photo/Getty Images, Kristina Lindberg/Unsplash
Perth, Australia
The most remote city in Australia is pretty far off the beaten path, but therein lies the key to its greatness. You'll soak up unvarying sunshine alongside good-humored locals and an international crowd taking advantage of Perth's laidback, beach-town vibe and big-city comforts.

The food is excellent, largely due to its blend of cultures, so get your fill at one of the weekly sunset markets. Nomads under 30 with a Working Holiday Visa will appreciate the variety of tourism and hospitality jobs available here, as well as its proximity to farms and wineries for anyone interested in agricultural work.

The exchange rate is in your favor, and since you're paying less than $1,000 in rent, you can put your spare change toward road trips to Western Australia's best national parks, and cheap flights to Bali or Bangkok. But Australia's borders are closed right now, so put this dream on the back burner for a little while longer. —Kaeli Conforti
Keep up with current travel restrictions here.
Photos: Rod Long/Unsplash, Pille-Riin Priske/Unsplash
Tallinn, Estonia
Tech types and the otherwise permanently employed might be tempted by the recently launched Digital Nomad Visa, which not only lets you stay in Estonia up to 12 months, but grants you travel access to the entire EU Schengen zone. Your calendar will fill up fast with long weekends in Helsinki, Stockholm, Copenhagen, and Berlin.

Do plant a few roots in Tallinn, though. The seaside capital has made huge strides in the creative/cool department lately, with impressive new cultural institutions, avant-garde restaurants, and a ridiculous number of breweries. Just outside the gothic Old Town, Telliskivi Creative City packs art galleries, design showrooms, vintage boutiques, and chic cafes into revamped warehouses. And while it's not the most affordable city on this list, it's still a bargain by Scandinavian standards. Also Christopher Nolan filmed Tenet here, so there's that. —Daniel Cole
Keep up with current travel restrictions here.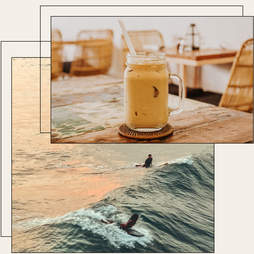 Photos: Kaspars Upmanis/Unsplash, Sonnie Hiles/Unsplash
Canggu, Bali, Indonesia
In Bali's youthful hipster enclave—the "Brooklyn of Bali," for better or worse—a day at the office might mean posting up at a dapper coworking space with surf and beach breaks, fueled by a steady diet of smoothie bowls, raw desserts, and cold drip coffee. Rates at coworking staple Dojo Bali start at $75 a week, and your facilities include an onsite cafe and pool. Your two-bedroom villa will also clock in well under $1,000 a month.

This is a colony of bespoke bikini and jewelry designers, startup gurus, and full-time Instagrammers whiling away the days at perky beach bars and yoga studios. There's Deus Ex Machina, a motorcycle-cum-surf shop that's more like an entertainment compound with food; there's Pretty Poison, a bar with a skate park hosting regular music gigs. You get the idea. Bali's closed for now, so maybe use this downtime to work on your personal brand—you're gonna need it. —Barbara Woolsey
Keep up with current travel restrictions here.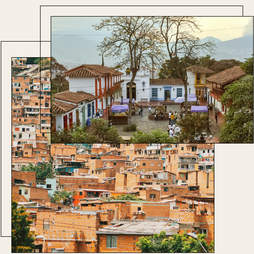 Photos: Kobby Mendez/Unsplash, Smartshots International/Getty Images
Medellín, Colombia
Gone are the days of Narcos and the tyranny of Pablo Escobar. Not only is it safer than you think, the mountainous city of Medellín is pretty much the perfect Latin American city to post up in. There's no special paperwork for a 90-day stay, and it's a small fee for a 6-month tourist visa. The Wi-Fi is perfectly adequate at 14mbps, with plenty of coffee shops serving some of the world's best beans and lick-drips-off-the-cup juices.

The low cost of living (about $400 a month for a studio) and gorgeous weather (like, 77 degrees every day, all the time) has already drawn a fair number of expats, which is helpful for networking and making friends. Assuming your Spanish is strong enough, you'll find locals ridiculously welcoming—they'll feed you, buy you shots of aguardiente, take you to fútbol games (vamos Nacional!), and spin you around the dance floor in a sweaty salsa mess. And there's endless beauty to explore in Colombia, from coffee plantations to beaches to gorgeous tropical parks. —Joel Balsam
Keep up with current travel restrictions here.
Photos: joe daniel price/Getty Images, Alexandre Deslongchamps/Getty Images
Vancouver, Canada
This tightly bunched nest of glass high-rises and trim bungalows feels like the edge of the world, where Canada plugs into the Pacific Rim. The tech scene caps a belt of information workers that reaches through Seattle and Portland and Silicon Valley; the sheer quantity of TV and film made here has earned it the nickname "Hollywood North."
If you're the type who likes to work hard and play hard, who's given to slacklining and beach yoga and trail-running, you'll love it here in the mild North. Knock off work at 5 when New York offices are dark, and go savor the sunset from above the clouds on a 4,000-foot mountain, or night ski with birdlike views of the ships anchored in English Bay.
Cost of living isn't the lowest, but earning US dollars will take you far, and your passport is license to play both sides of the border. And while that border remains closed for now, it probably hasn't stopped you from Googling "how to move to Canada" more than just a few times lately. —Sam Eifling
Keep up with current travel restrictions here.