College football season is winding down, which means: 1) ESPN analysts are busy trying to explain how two Big 12 teams got shut out of the four-team playoff (Hint: everybody loves Urban Meyer), and 2) Every other school starts turning its attention to basketball. And while March Madness is still the major draw in college hoops, the regular season is fun to watch if for no other reason than to appreciate the history and traditions in the field houses and modern arenas across the country.
And should you find yourself in a college hoops hotbed this winter -- or even in San Diego -- there are a few arenas you absolutely must visit. So here, for your reading and arguing pleasure, we ranked the top 25 venues in college basketball.
25. Pauley Pavilion -- UCLA
Opened: 1965
Seats: 13,800
It's great only because of the history involved. Coach Wooden didn't believe in home court advantages and designed an arena with seats far from the court, which, even after a 2011 renovation, leaves the best part of this arena as the banners in the rafters and Leo DiCaprio on the sidelines.
24. Crisler Center -- Michigan
Opened: 1967
Capacity: 13,751
"The house that Cazzie built" eventually needed renovations, and in 2012 it got 'em, going from a pretty average and unmemorable college hoops venue to a modern arena with bright concourses and better food, but maintaining the history that's made Big Blue a basketball perennial.
23. Gampel Pavillion -- UConn
Opened: 1990
Capacity: 10,167
One might ask why this spot made our list, since the UConn men only play half -- or fewer -- of their home games in the iconic on-campus dome. But remember, there's also that UConn women's team that plays there, and draws the same always-noisy, high-energy crowd as the guys, making this a great atmosphere to watch either team.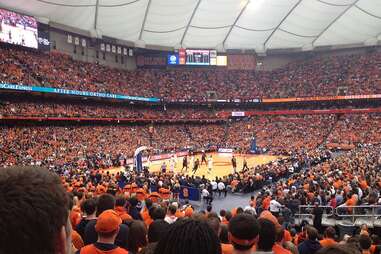 22. Carrier Dome -- Syracuse
Opened: 1980
Capacity (for basketball): 34,616
Yeah, its a giant air-supported dome that can pack in a quarter of the population of Syracuse for a basketball game. Which is pretty awesome, but it's still watching basketball in a football stadium, which isn't even fun if you're watching the Final Four, much less a February home game against Florida State.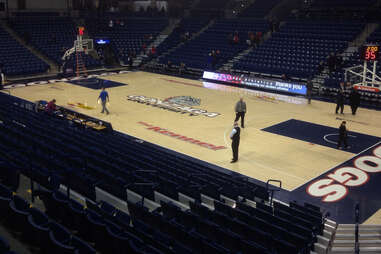 21. McCarthey Athletic Center -- Gonzaga
Opened: 2004
Capacity: 6,000
After shedding the "underdog" label, the Zags built a new facility in 2004 that still keeps the small, loud, intense college hoops atmosphere expected of a school with an enrollment of 7,700, but boasts modern amenities like comfortable seats and concession stands with panini sandwiches and Japanese rice bowls.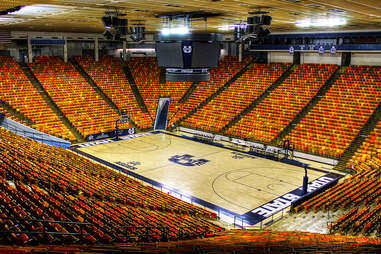 20. Smith Spectrum -- Utah State
Opened: 1970
Capacity: 10,270
That "I Believe" chant the US soccer team kept using during the World Cup? It started here. Yep, in the cavernous Smith Spectrum, filled with seats clearly designed in the 1970s that fill up with Aggie fans yelling that chant, and making this one of the loudest mid-major venues in America.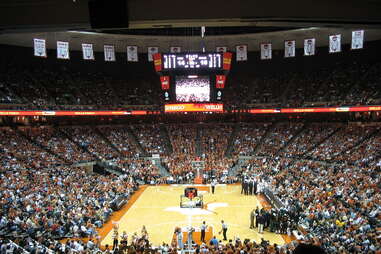 19. Frank Erwin Special Events Center -- Texas
Opened: 1977
Capacity: 16,400
"The Drum", as it's known in Austin, harkens back to NBA arenas built in the '70s and '80s, with a tall, round seating arrangement that makes for fantastic large-venue sight lines. The 2004 renovations added a few modern touches, but the sheer size and great views from the cheap seats are what put this on the list.
18. Maples Pavillion -- Stanford
Opened: 1969
Capacity: 7,392
The home of the Stanford Cardinal is probably the only venue in college sports named after a guy called Roscoe, which is pretty badass in and of itself. But add in the outdoor concourse that's perfect for sunny California afternoons, split-level vertical seating and CPK for a halftime snack, and you'll see why this is one of the best venues in the Pac-347.
17. Kohl Center -- Wisconsin
Opened: 1998
Capacity: 17,230
If we were ranking college hockey arenas, well, 14 people would read this article. But the no. 1 spot on the list would DEFINITELY belong to the Kohl Center, the modern, pro-size arena Badger basketball shares with the hockey team. When it's packed, the noise of the 17,000+ fans makes for one of the nation's most intimidating venues for opposing players.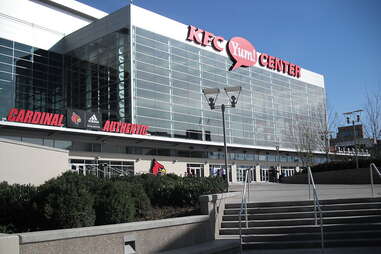 16. KFC Yum! Center -- Louisville
Opened: 2010
Capacity: 22,090
Combine this with Papa John's Stadium, and Lousiville could pretty much rename its sports facilities "The Atherosclerosis Athletic Complex". But aside from possibly the worst arena name in all of sports, this state-of-the-art facility is also the fifth-largest in college basketball, with NBA-level amenities like an underground parking garage, 72 luxury suites, and all the Kentucky bourbon you could want at the concession stands.
15. Marriott Center -- BYU
Opened: 1971
Capacity: 22,700
The largest single-bowl venue in college basketball is a truly energizing experience if you head to Provo for a big game. Which is the only kind of energizing you're getting, since the concession stands sell only caffeine-free soft drinks. Yep, BYU is America's largest LDS university, so beer... also out of the question.
14. Pinnacle Bank Arena -- Nebraska
Opened: 2013
Capacity: 14,970
Outdoing Louisville in the modern arena category is this brand-spanking-new facility in Lincoln, where the Cornhuskers play ball in about as intimate a setting as you can make with 15,000 seats. The vertical seating -- including three opera-house-style upper decks -- helped it win the Facility Madness challenge and an award from Athleticbusiness.com as 2014's best arena in college basketball. Because nothing says "legit" like awards from Athleticbusiness.com.
13. Memorial Gym -- Vanderbilt
Opened: 1952
Capacity: 14,168
In addition to having a three-tiered gym with seats right on top of each other, at Vandy, you can actually sit UNDER the floor. Like, the first row of seats puts your head right at floor level, and you could take a nap on that thing. Though for what those seats cost, it would be kind of a waste.
12. Assembly Hall -- Indiana
Opened: 1972
Capacity: 17,472
Back when Bobby Knight was throwing 7-year-old-like tantrums and tossing chairs across the court, there wasn't a bad seat in this 17,000-seat palace to witness it. And though there's considerably less chair-tossing now, the tradition-soaked Assembly Hall and its steep stairways of seating still create an intimidating backdrop for visitors, and a great view from almost anywhere.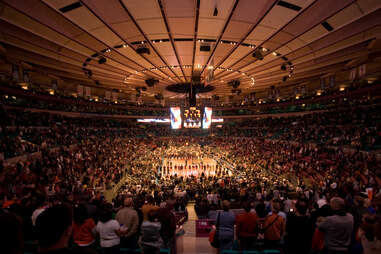 11. Madison Square Garden -- St. John's
Opened: 1968
Capacity: 19,812
Even though the Red Storm split their time between here and the considerably-more-collegey Carnesecca Arena in Queens... it's MADISON FREAKING SQUARE GARDEN. Theres nothing homey or retro about it, but it's the most famous indoor sports venue in the world. It might not be the best place to watch a college basketball game, but just being inside is an experience in itself.
10. Breslin Center -- Michigan State
Opened: 1989
Capacity: 14,759
MSU keeps its giant basketball arena true to the students, with their section making up a large portion of the bowl of seats closest to the court. Which means visiting teams not only get the intimidating feeling of playing under two levels of screaming Spartans, but the nastiest ones get the best vantage points for heckling.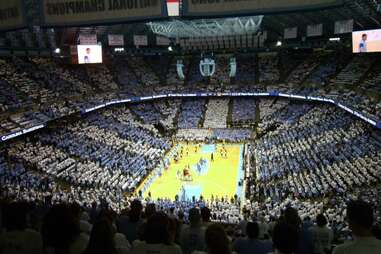 9. Dean Smith Center (Dean Dome) -- UNC
Opened: 1986
Capacity: 21,750
When combining capacity and tradition in North Carolina, nothing beats the Dean Dome in Chapel Hill, named after the legendary Tar Heels coach. And while you share your view of that famous Carolina blue court with 21,000 of your newest friends, you can look at jerseys from guys named Jordan, Worthy and McAdoo, and then remember they played at the Carmichael Auditorium.
8. Gallagher-Iba Arena -- Oklahoma State
Opened: 1938
Capacity: 13,611
So Hank Iba got cheated out of the 1972 gold medal in basketball; he still got half this gem of a basketball venue named after him (the other half after wrestling coach Ed Gallagher), where he coached its first game in 1938. Its right-on-the-court seats and rowdy Cowboy crowd have given it the nickname "The Madison Square Garden of the Plains". Which we assume also means a large soda costs $14.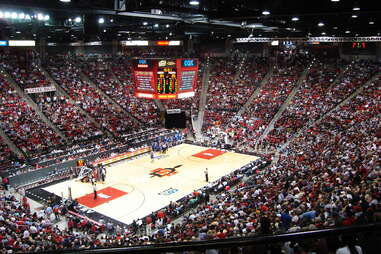 7. Viejas Arena -- San Diego State
Opened: 1997
Capacity: 12,414
Before they played in one of the worst venues in college football, the Aztecs played in the concrete Aztec Bowl, which has since been turned into a parking lot for this arena, which was built into the shell of the old football stadium. That gives it the feel of playing in a closed-off football field like the Carrier Dome, only without the 50,000 empty seats.
6. The Pit -- New Mexico
Opened: 1966
Capacity: 15,411
OK, so the real name is "University Arena", but calling it that would be kinda like referring to Heisenberg as Walter White. And "Pit" is a much better description of how you feel on the steep descent from the stadium's entrance down to the basketball floor. This venue was home to the famous Jim Valvano Final Hour victory, and Sports Illustrated named it one of the 20 best venues in sports in 2009.
5. Cameron Indoor Stadium -- Duke
Opened: 1940
Capacity: 9,314
If you know anything about college basketball, we don't need to explain to you why Cameron is a top five hoops venue -- including that it would have been no. 1 if going there didn't involve sitting next to Duke fans.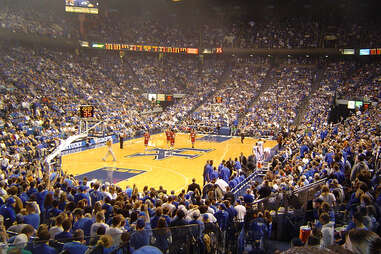 4. Rupp Arena -- Kentucky
Opened: 1976
Capacity: 23,500
If you can top UNC for size and tradition anywhere, you're doing it in Lexington, where they pack 23,000+ fans in regularly to watch the eight-time national champion Wildcats take on the rest of the SEC. It's named after legendary UK coach Adolph Rupp, who retired after 42 years with 876 wins and an .822 winning percentage.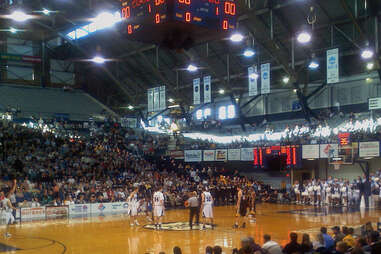 3. Hinkle Fieldhouse -- Butler
Opened: 1928
Capacity: 11,043
This historic arena is known as Indiana's basketball cathedral, which is kinda like being the cathedral of fixed gear bikes in Oregon. The only arena on this list to be a National Historic Landmark, it was also used as the filming locale for the dramatic final games in Hoosiers, since it was also the site of the real-life games the movie was based on. Art imitating life, or something.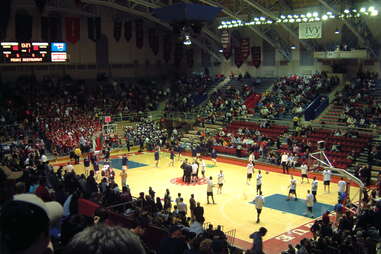 2. The Palestra -- Penn
Opened: 1927
Capacity: 8,722
Easily the most historic facility in college basketball, the Palestra has hosted more games, visiting teams, and NCAA tournament games than any other arena. The "cathedral of college basketball" was the first large arena built without interior supporting pillars, and is also home to the Philadelphia Big 5, where Penn, LaSalle, Temple, Villanova and St. Joe's square off in about half their intra-city games.
1. Allen Fieldhouse -- Kansas
Opened: 1955
Capacity: 16,300
The fieldhouse is called Allen, but the court itself is James Naismith Court -- as in the guy who invented basketball and was KU's first coach. Yeah. That Naismith. The vertical design combines both history and size, creating the loudest, most intensely historic experience in the game -- it's so great that ESPN named this arena the loudest in college basketball, a rare time they used a superlative for something other than the SEC.