America's Best Big Cities for College Students
ESB Professional/Shutterstock
ESB Professional/Shutterstock
Going to school in a legitimate city is a completely different experience than going in a college town. Whereas college-town bars sell you $5 liquor pitchers, in most big cities you'll be lucky to find a bar with $5 water. In college towns you can immerse yourself in the collegiate experience; in cities you can immerse yourself in culture adults worked on for more than a semester. In college towns rents are reasonable. In some cities they're more than your parents' mortgage. You get the idea.
That's not to say one is any better than the other, but if you are one who decided to matriculate in a major metro, some cities offer decidedly better experiences than others. So we took a look at the major US cities, graded them in five categories, and found the 15 best for college.

Methods
Having term-paper flashbacks with that subhead? Good. We took a look at five different categories and assigned each city a grade from "A" to "F," with pluses and minuses factored in. The grades were based on staffers' firsthand knowledge plus hard data from the experts.
Transportation: Determined by how easy a city was to live in without a car, based on SmartAsset.com's survey of public transportation and WalkScore.com's ranking of walkability
Affordability: Based on average price of a one-bedroom apartment
Scene: Based on the cost of going out in each city, its relative options for college students, and loosely on WalletHub's ranking of the most fun cities in America. Since we all know "funnest" isn't a word.
Future prospects: Based on Glassdoor.com and WalletHub rankings of best cities for jobs. If you're actually trying to live in the city where you went to school.
Culture: Based on number of cultural attractions in a city (museums, ballet, theatrical performances, etc.) and Business Insider's ranking of best cities for culture
And as a tiebreaker, we looked at how many average days of sunshine each city has. Because what college kid wouldn't rather spend their time studying in the sunshine?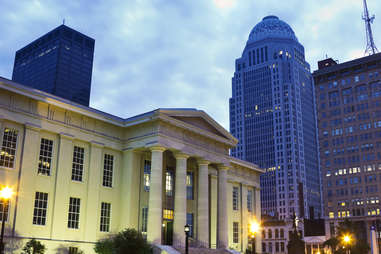 15. Louisville, Kentucky
Transportation: C+
Affordability: A
Scene: B
Future prospects: A
Culture: C
GPA:3.06
Though your educational options in Luh-vuhl won't extend much past a school with venues named after fast-food joints, it's still a helluva a place to go to school. Yes, it's Kentucky, so if you were looking to study classical ballet or modern art this might not be your Valhalla. Though it is home to the Actors Theatre's Humana Festival of New American Plays. It's also the most hippie town in Kentucky, so when you hanker for incense and folk music, Bardstown Rd awaits. It's not the easiest city to get around, but if you can shell out for an Uber the scene at 4th Street Live! is tailor-made for college kids, assuming you're 21. And there's no reason not to have said Uber-fare in a city where a one-bedroom apartment costs you $741. Best of all, Louisville has some real chances for you to make a career, ranked the 18th-best city for jobs by Glassdoor.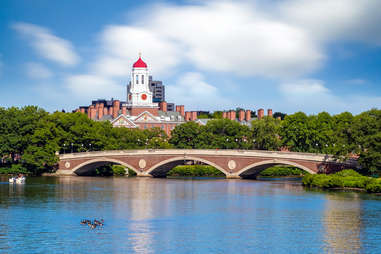 14. Boston, Massachusetts
Transportation: A
Affordability: F
Scene: A
Future prospects: B+
Culture: A
GPA: 3.06
Boasting 54 colleges and universities -- with emphasis on the "boast" -- greater Boston is doing something right. Sure, it's expensive (a one-bedroom averages $2,800) but it's the top-rated city in the nation for public transportation, and many schools are nestled in very walkable smaller towns. During the school year the city's nightlife is overrun with college students, which 20-to-30-somethings might lament, but it makes it the best big city for college nightlife in America. It's got all the culture of its northeastern rivals in New York and DC, and was rated the fourth-best city for jobs by Glassdoor.
13. Las Vegas, Nevada
Transportation: C+
Affordability: A
Scene: A
Future prospects: C
Culture: C
GPA: 3.06
When you tell your parents, "I'm going to college in Las Vegas," what they'll probably hear is, "I'm going to spend all that money you saved on nickel slots and pai gow, and may resort to stripping if things don't work out." But believe it or not, Sin City is a pretty decent place to go to college, even if you can't name anyone other than Larry Johnson who went to UNLV. It's disgustingly cheap to live here, not just because of the abundance of $8.95 AYCE prime rib buffets, but also because the average rent for a one-bedroom is $785 a month. Which means you'll have plenty of money left over to enjoy the best party city in America, the city ranked No. 1 most-fun by WalletHub. And if you came to Vegas to stay healthy, the area's surrounded by hiking, biking, and skiing in the winter. It's still Vegas, so high culture is gonna be tough to find. But if your idea of "culture" involves French-Canadian acrobats and Britney Spears, you've found Paris in more ways than one.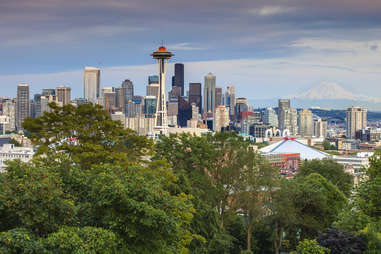 12. Seattle, Washington
Transportation: A-
Affordability: D-
Scene: B
Future prospects: A
Culture: A
GPA: 3.08
The idea of tailgating on a boat with a clear view of Mount Rainier is reason enough to sell anyone on college in Seattle. Soggy weather aside, you won't find a city on the West Coast better suited for students. The Link train just opened a stop at Husky Stadium, and while it won't take you much of anywhere other than Downtown, the Metro bus system is a big part of why Seattle was deemed the sixth-best for public transit. The city was rated tops in culture, with a symphony, ballet, world-class art museum, and the most annual regional theater performances of any city outside of New York. And if you want to work here after graduation, Amazon is hiring roughly 27 million people over the next decade, so you've got plenty of options. The downside? It's expensive AF, a once-affordable city now mentioned in the same breath as Chicago and Miami for cost of living (one-bedrooms average $1,710). But split a five-bedroom house with 12 other people in the U District and you'll probably be OK.
11. Tampa Bay area, Florida
Transportation: D
Affordability: A
Scene: A
Future prospects: A-
Culture: C+
GPA: 3.08
If you applied to a school called "the University of South Florida" you might assume it to be somewhere in Miami or Ft. Lauderdale. Then you'd forget this is Florida, where even the people naming the universities seem to have failed eighth-grade geography. But worry not! USF is actually in a much better city for college students, as the Tampa-St.Pete area has all the great weather of Miami, at less than half the price. It's sprawly and tough to get around, but you'll be able to afford a car with one-bedrooms in Tampa averaging $1,000 per month, $920 in St. Pete. Tampa was ranked the 11th-most-fun city in America, and the scene is largely post-collegiate, especially around one of America's sexiest neighborhoods in SoHo. St. Pete has developed a nightlife scene of its own, with three breweries Downtown and a live-music venue (Jannus Live) literally set in the middle of a block of bars. And though the words "Tampa" and "high culture" are typically only used together by strip club aficionados, St. Petersburg has the nation's preeminent Salvador Dali museum. There are, of course, the beaches (Eckerd College has its own), where you can study for finals and work on your tan at the same time. And if you get sand in your shoes you can probably stick around for a while. Tampa was rated the 22nd-best city for jobs by WalletHub.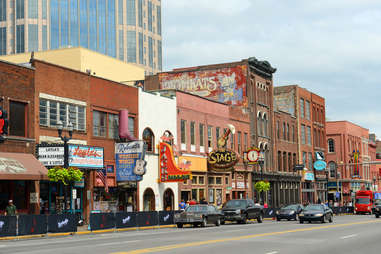 10. Nashville, Tennessee
Transportation: C+
Affordability: B+
Scene: A
Future prospects: C+
Culture: A-
GPA: 3.12
America's best city to spend the weekend is also a decent place to spend the four best years of your life. Never mind the nice weather and the fact that half the country seems to be moving there -- the Music City still stays relatively affordable with one-bedrooms averaging $1,290. Sure, the scene here can run touristy, and occasionally skew hokey, but the prices aren't near what they are in other tourist meccas like Miami and Vegas, and the scene is far more welcoming if you happen to be in college. Vanderbilt's academic rep doesn't hold back the near-campus bars, which would fit with SEC siblings in Knoxville or Tuscaloosa. Surprisingly the city was rated just behind Washington, DC for walkability, meaning no car here is not a social death sentence. The jobs situation isn't great (ranked 57th by WalletHub) but is still more promising than perennial post-grad destinations like DC and Chicago.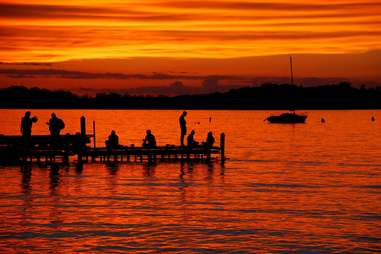 9. Madison, Wisconsin
Transportation: B+
Affordability: A
Scene: A
Future prospects: B
Culture: C-
GPA: 3.2
Madison is known to most Americans as home to the University of Wisconsin, so it's not a huge surprise it's also one of the best cities to go to college. The scene here is undeniably perfect for a college student, and because the campus is among the central features of the city, it's simple to make due without a car. Another benefit to its inherent college-town feel: rent's cheap, at $1,149 for a one-bedroom apartment. Not exactly a bargain, but with the cost of eating and drinking here so low, it's still an "A" for affordability. As the state capital, it also rates highly for job potential, and has more culture than you'd find in a typical college town. But the Florence of the Midwest it is not, so for highbrow thrills you may have to plan long weekenders to Chicago.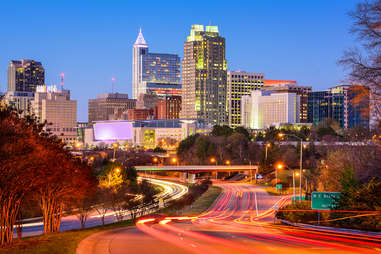 8. Raleigh-Durham-Chapel Hill, North Carolina
Transportation: B
Affordability: A
Scene: B
Future prospects: A
Culture: C
GPA: 3.2
Really the biggest downside with going to school anywhere in the Research Triangle is having to share a city with Duke fans. If you can get past that, the entire area has pleasant weather, three cities with distinct college bar scenes, and great job prospects. The region's rare in that three major universities -- UNC, NC State, and Duke -- all share a metro area of just over a million people. Durham and Chapel Hill are completely manageable without a car, and Raleigh ranks in about the middle of the, ahem, pack in terms of walkability. Rent is college town-like, with one-bedroom apartments averaging $1,050. But the best part about going to school here is that it's consistently rated among the top cities for growth: number eight for jobs by Glassdoor and number 23 by WalletHub. It's not exactly the cultural mecca of the South, but it's getting there. And as the population here booms, life in RDU can only get better.
7. St. Louis, Missouri
Transportation: C+
Affordability: A
Scene: A
Future prospects: B-
Culture: A-
GPA: 3.22
St. Louis, you are overlooked no more. Those accolades hold especially true if you're a college student. The biggest knock on the place is how spread out it is: the train won't take you much of anywhere other than the airport, and you'll need a car to get somewhere every week. However, the upside is that there are great neighborhoods everywhere. Case in point: Washington University, which is a good 15-20 minutes from Downtown, but is bordered by the Delmar Loop and Clayton, so you won't need a car if you want to go out. Rent here is crazy cheap for a city that offers so much, with one-bedrooms averaging $1,000. And you want culture? St. Louis has its own symphony orchestra and not one, but TWO ballet companies in Saint Louis Ballet and the Missouri Ballet Theatre.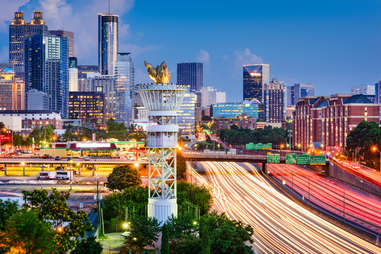 6. Atlanta, Georgia
Transportation: C+
Affordability: B-
Scene: A
Future prospects: B+
Culture: A
GPA: 3.26
The MARTA isn't exactly your average Georgia Tech student's transportation method of choice, and living in the ATL means you're going to need a car. But that's about the biggest flaw of college life here, as it's a relatively affordable city where a college student can rent his own one-bedroom for a reasonable $1,380 a month. The nightlife and restaurants are world-class, and a night out in Buckhead will make your friends at Big State U jealous of your options. Atlanta is the cultural center of the South, which might sound like being the oldest baby in the nursery, but this city is one of the most vibrant and diverse on the planet. Your post-grad prospects aren't bad, either: Atlanta was ranked 24th in America for jobs on Glassdoor.com.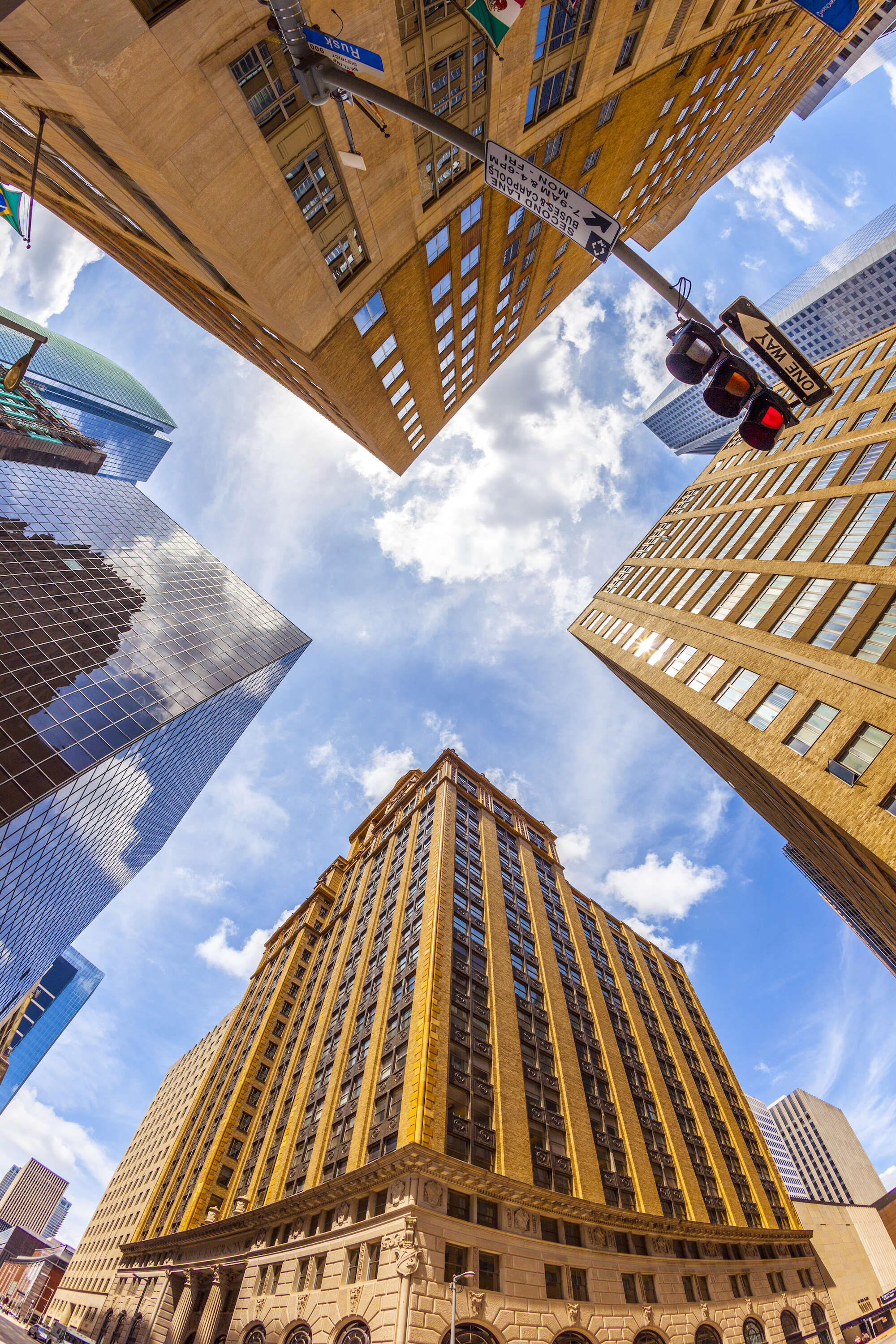 5. Houston, Texas
Transportation: B+
Affordability: A-
Scene: B-
Future prospects: B
Culture: A-
GPA: 3.26
We've said it once and we'll say it again: Houston as a city just does things right. It has the only public transportation system in the Southern United States even rated by SmartAsset (#23), and has a staggering 19 museums in its famous Museum District, most notably the Houston Museum of Fine Arts. It's got pro sports, green space, fantastic food, and best of all is affordable on a college budget. Rent here runs just $1,130 a month for one-bedrooms. And while the oil crash has made jobs harder to come by than a few years ago, it's still rated 25th-best by WalletHub. An added bonus: when the stress of finals gets to be too much, there's even a place where you can go pay $25 to smash TVs and fax machines with a sledgehammer.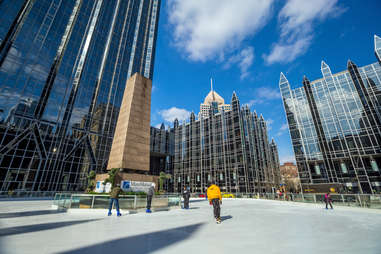 4. Pittsburgh, Pennsylvania
Transportation: B+
Affordability: A-
Scene: B-
Future prospects: B
Culture: A-
GPA: 3.34
Believe it or not, there are even greater things about going to school in Pittsburgh than being able to slam Iron Cities to your heart's content. Da 'Burgh is one of the most underrated cultural cities in America, even if you don't appreciate the cultural advancement that is putting French fries on a sandwich. It's got one of the highest densities of museums and universities per capita in America, and boasts the renowned Pittsburgh Ballet Theatre, the National Aviary, and Andy Warhol's greatest works at the Warhol Museum. Pittsburgh also has the most bars and restaurants per capita of any US city, earning it a fun-ranking of 14th. Drink prices won't make your eyes pop when you pop out, and neither will rents with one-bedrooms averaging $1,090 a month. It's the 19th-best city in America for jobs, and with reasonable real estate prices, if you can handle the cold you can make a pretty nice life for yourself here after graduation.
3. Chicago, Illinois
Transportation: A
Affordability: C
Scene: A-
Future prospects: B
Culture: A
GPA: 3.34
The only member of the big three to crack our honor roll is Chicago, mostly because it's the only one that didn't completely fail cost-of-living. Make no mistake, Chicago is still one of the most expensive cities in America, but Chicagoans do love to brag about how much more they get for their money than New Yorkers. The city has the fourth-ranked public transit system, again making life manageable without a car or a cab. Chicago is also teeming with culture, with perhaps the most diverse collection of architecture of any city in the nation, a world-class ballet, arguably the nation's best theater scene outside of Manhattan, and some of the best comedians on the planet performing nightly. We won't even start in on the food. And despite the bitter-cold winters, going to school here can be a great time, as long as you know how to dress the part.
2. Providence, Rhode Island
Transportation: B
Affordability: A
Scene: A
Future prospects: C
Culture: A-
GPA: 3.34
Providence might just be America's largest college town. With four big schools swarming its core, a trip here in the fall feels more like being in State College than it does being 50 miles from Boston. Downtown is full of breweries, small bars, and funky little restaurants that don't have a big-city feel, despite the tall buildings and bustling streets. Going out costs literally half of what it would in nearby Boston, and rents are gleefully cheap at $934 a month. The culture here is diverse, with one of America's most authentic Italian enclaves in Federal Hill and history on display at museums and historic homes along the Providence River. But much like other college towns, it's a Neverland you might eventually have to leave, as WalletHub rates Providence right between Newark and Modesto for jobs. Still, if you want to spend four years having fun in a college city, and want a perfect warm-up for real, grown-up life, you'll find nowhere in America quite like Providence.
1. Austin, Texas
Transportation: A-
Affordability: A-
Scene: A
Future prospects: A
Culture: C
GPA: 3.68
The lone "A" student who will no doubt be getting a swirly on the way to his next class is Austin, America's perpetual darling and the city of choice for expensive big city dwellers who like to say stuff like, "I need to get out of here... maybe Austin!" Yes, traffic is a nightmare, but because the city was once small, and boasted little more than UT and the capitol, getting from campus to anywhere you'd want to go is actually pretty easy sans auto. Despite the uncomfortable growth, it's still an affordable city with one-bedrooms averaging $1,180 a month. The scene here is fantastic, and even if you don't want to share your college bars with a thousand bachelor/bachelorette parties on E 5th St, the city's got plenty of live-music venues that you'll want to avoid only during SXSW. You want jobs? Austin's got more than any affordable city, ranking sixth on Glassdoor's list and being the only city ranking that highly with rents under $1,500/month. And while it might not be the hubbub of high culture that some older cities are, remember it's new to this whole "big city" thing. In a few years it might be even more of a nerd.
Sign up here for our daily Thrillist email, and get your fix of the best in food/drink/fun.
Matt Meltzer is a staff writer with Thrillist whose most frequent comment received on Rate My Professors was "Grades too hard." Feel free to complain about it in the comments, or on his Instagram @meltrez1.