Everyone thinks their college is the best college. And while no college is outright BAD, some are certainly better than others. And from there, it reasonably follows that one college -- and the town that makes it what it is -- must be the finest of them all.
Over the course of many tireless months working much harder than actual college students, we'll be conducting our noble Search for America's Best College Town. Now keep in mind, we're not really talking about academics at all, and in some ways, even sports are only a small part of the formula. It's the everything else -- the bars, the burgers, the bars, the buildings, the lovable famous weirdos on the streets, the weather, the bars -- that build a college town's case. Get ready to re-enroll.
First up: State College, home of Penn State. Until you've driven through the rolling hills and dairy farms of central Pennsylvania and arrived at the oasis that is Happy Valley, you have NO IDEA what the best looks like. Here are the 16 reasons why it reigns supreme.
We make the country's best ice cream
At the largest university creamery in America, the Berkey Creamery. More than 4.5 million pounds of milk are used each year to make cheese, sherbet, and ice cream so good, even US presidents stop by for a scoop. Also, we trained Ben & Jerry. You're welcome, planet Earth.

... and its best sticky buns
Sorry Cinnabon (actually, we're not), but Ye Olde College Diner's been baking up their insane Grilled Stickies since 1929, and happily ships them to adoring fans across the globe. Don't believe they're that good? Just ask PSU alum/ESPN's Todd Blackledge, who eats his with a scoop of vanilla.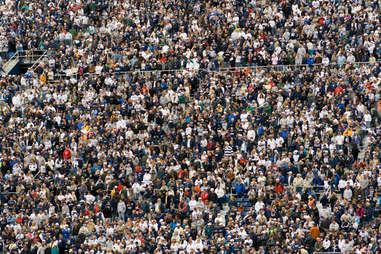 On game day, the party is so big our population triples
State College might be the 12th largest town in the Commonwealth of Pennsylvania (pop. 42,000) during the week, but on football Saturdays, it surges to the fourth-largest city in the entire state -- blowing right past Erie's 101k. Seriously, that's how massive the influx of fans and alumni is.

And speaking of prominent alum... Ty Burrell is one, of course. As is the Incredible Hulk.
Not only did we educate the CEO of Nike, but we've also churned out the co-anchor of Good Morning America, the best character on Modern Family, the first African-American in space, the co-founder of Fischer-Price, the writer of Casablanca, and, as we mentioned, the FREAKING INCREDIBLE HULK.

The local strip club gives you rides
It might not be the flashiest strip joint in America, but The End Zone is the easiest to get to. Just round up at least two buddies, and EZ will send a van to pick you up anywhere in State College. Don't want your girlfriend to see you driving around town in a strip club van? Smart. Customers requiring more discretion can request an unmarked shuttle.
The White Out is the coolest tradition in college football
It's better than a hog call, a rock named Howard, and dotting an "i" with a chubby tuba player, all put together. It's the White Out, and it's what you get when you pack Beaver Stadium (the fourth-largest stadium IN THE WORLD, btw) with 106,000-plus raucous fans dressed in white. It intimidates opposing teams, it's visually stunning, and it's successful in no small part thanks to the best student section in the country. Jump around that, Wisconsin.

And speaking of best traditions, did we mention Table Wars?
Head through the massive wooden door at one of the best college bars in America, The Phyrst, and pick your seat for Table Wars, a boisterous, bar-wide chanting-meets-chugging game that pits tables against one another to see who can yell the loudest and drink the most. Every Saturday night. It's not to be missed.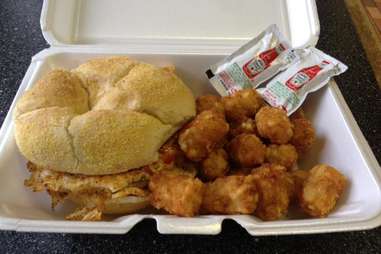 Are U Hungry sandwiches will change your outlook on life (and sandwiches)
Are U Hungry is THE sandwich slinger among sandwich slingers. Home of the "Fat" sammies (like the Fat Bastard with "gyro meat, chicken fingers, mozz sticks, and tzatziki sauce"), it was named one of the best college sandwich shops IN THE NATION by none other than, well, us at Thrillist.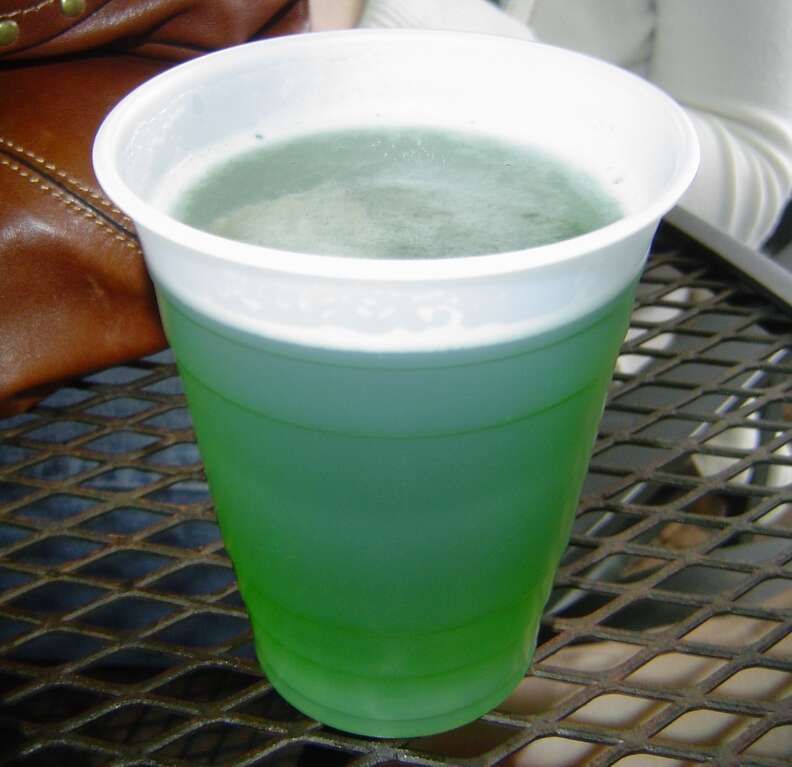 State Patty's Day is the best fake holiday ever
When students found out that St. Patrick's Day fell during Spring Break in 2007, they were distraught. But did they panic? Hell no, just the opposite. They stepped up and created the greatest fake holiday since Festivus: State Patty's Day! And although local officials do their best to curtail imbibing, it remains one of the craziest days of the year with non-stop parties going down all about town.

We churn out pro athletes. And, like, a lot of them.
And we're not even talking about Penn State. No, we're taking about the laundry list of pro athletes who were born and/or raised in State College. A few that come to mind include MLB players Stan Belinda & Myles Thomas; NFLers Chris Bahr, Ron Dickerson, Jr., Larry Johnson, Jonathan Stupar, and Matt Suhey; and even a pro race car driver Butch Leitzinger. There must be something in the wate... ummm, ice cream.
The campus is cutting edge and old-school
The perfect blend of old and new, PSU rocks ultra-modern structures like the Information Sciences and Technology building -- which spans a highway and was designed by renowned architect Rafael Viñoly (Rafael Viñoly!!!) -- alongside classics like the iconic Old Main, built in 1863 and pictured at the top.

$5 Monkey Boy pitchers will kick start your night
The Saloon's signature drink, Monkey Boys are loaded with triple sec, vodka, rum, gin, and schnapps. They come in a bunch of flavors (Pro tip: get the Bong Water), and are served in a pitcher with cherries on top. And if you get them on special, they'll only run you five bucks. Never has $10 got you so... happy. 'Cause we're not named Happy Valley for nothing.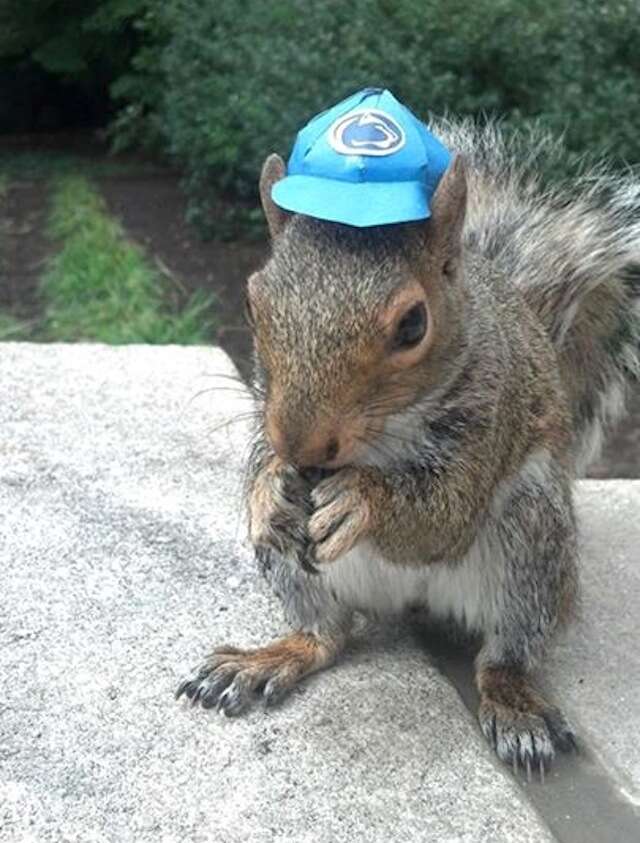 Our squirrels are famous, and wear hats
Okay, so this might be a stretch, but name me another college town that claims a friendly, hat-wearing squirrel with over 30k Facebook Likes as its local mascot. Can't do it, right? Well, we have Sneezy, the best-dressed Eastern Grey Squirrel in America who not only is a viral sensation, but does interviews on NPR.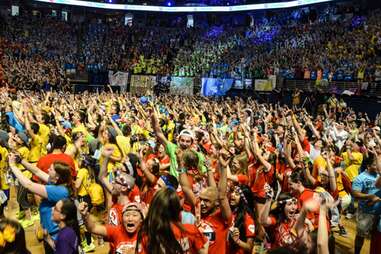 No town in America raises money like us
Assuming your idea of "giving to charity" involves more than just handing her a $20 after your lap dance, then you might've heard of THON, the year-long fundraiser to fight pediatric cancer that culminates in a "46 hour no-sitting, no-sleeping dance marathon". No? Well, in 2014, it raised $13 million. And since its inception in 1977, that number is more like $114 million!!! So tell us: what have you done to fight cancer, every other college town in America?

Our arts festival is actually a drinking festival... with art
Every summer, the Central Pennsylvania Festival of the Arts draws more than 100,000 folks to State College over five days, to celebrate the arts with performances, sidewalk exhibitions, and blah blah blah -- it's actually a "cultured" excuse for a massive summer blowout. Sure, the art is interesting and there's plenty of street food to be consumed, but the real fun happens at the block parties, bars, and frat houses that take advantage of the huge crowds.
Its nickname is "Happy Valley"
Not "Okay Valley". Not "Reasonably Content Valley". Not Columbus, Ohio (thank God). It's "Happy Valley". A nickname reportedly earned during the Great Depression when the town wasn't nearly as hard up economically as other parts of the nation (thanks to the university). Come on, how can you argue against a place that's so happy?
Pete Dombrosky is an Editorial Assistant at Thrillist and he spent the best four years of his life in State College. If you think he's got it all wrong (or right!), let him know on Twitter.