The 11 Best Recreational Dispensaries in Colorado
Five years into legal weed sales, Colorado counts more than 500 retail dispensaries selling marijuana grown by 700+ cultivators. The state has successfully implemented some of the most stringent safety and quality controls in the country -- but that doesn't mean every joint, concentrate and edible is created equal. The dispensary scene in Colorado has evolved in much the same way as food retailers have, with each brand -- whether it be a one-off shop or a vertically integrated chain -- catering to the tastes and values of every type of stoner.
So, whether you smoke flowers, vape, or prefer edibles, it's helpful to think about your pot purchase the same way you think about buying food. Do you grind your own fair-trade coffee beans or fill your cup at the chain on every corner? Do you shop organic at the local farmers' market or buy in bulk from a big box store? Consider your cannabis consumption habits and check out this guide to the top dispensaries in the state from mom-and-pop small-batch grows and cannabis concentrate pioneers to the largest chain in the state.
380 Quivas St
Denver, CO 80223
A grow and dispensary raising the bar for clean cannabis in Colorado
Ever wonder why you can't pick up "organic" flower or concentrates? That US Department of Agriculture organic certification you insist upon for your avocados isn't available to cannabis growers because, well, the plant remains federally illegal. L'Eagle owners Amy and John Andrle have grown cannabis to the same standards as that organic avocado since 2010, and last year they became the first indoor recreational cultivation facility to achieve Clean Green certification. The national third-party certification holds dispensaries to organic standards, which the Ardle's view as vital to securing truly clean cannabis future. It's not just the choice buds, such as house strain L'Eagle Eagle (a fruity cross of Candy Haze and Skunk #6), that are held to the highest standards. Try the house-pressed, solvent-free rosin for a tasty terpene treat or splurge on the caviar: dense nugs hand dipped in that rosin and dusted in kief.
2000 W 32nd Ave,
Denver, CO 80211
Fire small-batch buds from a woman pioneering the charge for legalization and equity.
Set in LoHi, steps from hot bars, restaurants, and boutiques, this dispensary has it all: premium small-batch cannabis, an array of top-shelf concentrates and edibles, and carefully trained budtenders on call to guide connoisseurs and newbies alike. What separates this operation from the rest is its owner Wanda James. The former Navy lieutenant is the first African American to own a cannabis business in Colorado, and prior to opening her operation she was a critical player on Colorado's Amendment 64 Task Force implementing legal, adult-use cannabis sales. Today, she doesn't just keep Simply Pure at the top of the game, she also runs the consulting firm Cannabis Global Initiative and remains a tireless warrior for equity in the industry, work that earned her a spot on High Times' "100 Most Influential People in Cannabis" list.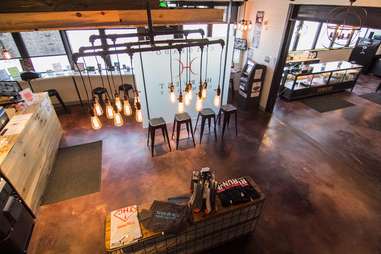 1568 South Broadway
Denver CO 80210
An anchor of Denver's "Green Mile" and arts community
Back in 2009, Colorado Harvest Company CEO Tim Cullen left his job teaching high school biology to cultivate cannabis to treat Crohn's disease. Today, his garden has grown into three dispensaries, the flagship of which sits in the heart of Denver's "Green Mile" a stretch of South Broadway lined with pot shops, bars, music venues, and antique shops. The company strives to reproduce natural conditions in its indoor hydroponic operation growing 70-plus medical and recreational strains such as Colorado Cough (a relaxing cross of Haze and Northern Lights). This dispensary's commitment to its community last year included a donation of more than $100,000 to be a founding sponsor of the nonprofit Levitt Pavilion, an outdoor amphitheater set in Denver's Ruby Hill Park, hosting more than 50 free community concerts every year.
2020 S. Colorado Blvd.
Denver, CO 80222
A Denver dispensary that doubles as a dank science lab
This particular chain (there are three other Denver-area outlets) separates itself from the cannabis chaff with its breakout extraction brand The Lab. It starts with their live resin, extracted through a process first developed in Colorado way back in 2011 wherein the plant is flash frozen at harvest to preserve cannabinoid and terpene profiles. Sample the lauded live resin batter or keep it simple with their strain-specific PAX Era live resin pods. The Clinic also aces corporate-social responsibility with its support for the National MS Society; the company's annual Clinic Charity Golf Tournament; and support for the Walk MS that has raised nearly $400,000 for to help fight the disease.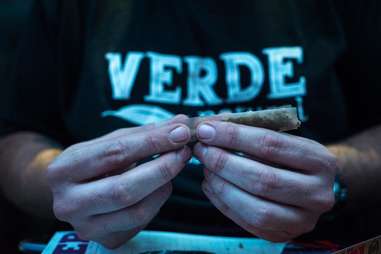 5101 E Colfax Ave
Denver, CO 80220
After eight years of medical sales, a master cultivator opens his genetics to the masses.
Verde Natural dispensary and cultivation founder Chuck Blackton mastered cannabis genetics in the Netherlands in the early 2000s before opening his Colorado medical dispensary in 2009. The acclaimed cultivator stuck to his medical roots until fall 2017, when he opened Verde Natural -- an airy, wood-lined oasis on busy East Colfax -- to the public. The dispensary's commitment to patient care extends to its recreational operation, with budtenders taking the time to learn why each customer uses cannabis in order to connect them with the right small-batch, soil-grown strain. Blackton claims to be the original breeder of uber-popular Lemon Skunk, making it a must-smoke, but don't skip the unique flavors of strains such as Bubble Jack, a relaxing cross of classic Bubblegum and legendary Jack Herer. If you're up in Boulder, be sure to check out Verde Natural's new(ish) Pearl street location, an all-rec spot at the foot of Boulder Canyon.
492 S Colorado Blvd
Glendale, CO 80246
A late-night dispensary offering entrance to a strip club? Only in Glendale.
Business-friendly Glendale packs eight dispensaries into its 365 acres, and the enclave's laissez-faire approach to regulation allows Smokin Gun Apothecary to thrive as one of the state's most audacious cannabis businesses. Owned and operated by power-player Deborah Dunafon, the store is about 100 feet away from strip club Shotgun Willie's … which is also owned by Dunafon. Though you can't consume cannabis in the club -- or in any public space -- customers purchasing flower on Mondays and Wednesdays get free cover charge and the club's go-go dancers are known to entertain in the store Friday nights. Pass between Apothecary's doobie pillars between 8am and midnight to peruse 50-plus flower offerings by growers such as Binske and Veritas Fine Cannabis; a variety of concentrates from the likes of The Lab and Nomad Extracts; and edibles by 1906 Chocolates and Love's Oven. The place doubles as an anti-prohibition exhibit, with pre-rolls stocked in a 1941 jail cell dubbed "The Joint," with purchases made at an 1871 bank counter and a massive mural depicting the victims of the War on Drugs, from Moses Baca to Willie Nelson.
2801 Iris Avenue
Boulder, CO 80301
Craft cannabis perfected in the People's Republic (aka Boulder)
As the name implies, this company is 100-percent focused on growing the finest cannabis in Boulder -- and perhaps Colorado. Head of Cultivation John Billings oversees two 10,000-square-foot facilities growing more than 40 strains through a hybrid hydroponic growing process he calls "craft coco" for its use of a coconut husk-based soil and food-grade mineral fertilizers. Organic pest controls include predator insects -- or " bene bugs" -- to munch up cannabis-killing mites, aphids and gnats, and a single grower tends to the same grow room for the entire 10-week flower cycle. Pick up The Farm's smooth-smoking flowers at their East Boulder dispensary (it's worth the 10-minute drive from Downtown). Stick with stalwart strains such as Super Lemon Haze and Starfighter or try exclusives such as Wild Blue Yonder, a combo of Alpha Blue and Ghost Trainwreck Haze #9 developed in concert with bluegrass royalty Yonder Mountain String Band.
THE MOUNTAIN TOWNS
TGS Outlet
645 Water Street
Silver Plume, CO 80476
Colorado's second-largest cannabis chain targets travelers with two I-70 dispensaries
First-timers to Colorado often get their first whiff of legal cannabis on I-70 as it cuts through industrial East Denver, home to scores of indoor grows. Follow your nose to The Green Solution's Grape Street dispensary, just off the interstate, for a literal window into one of the state's largest cultivation operations. TGS carved a 270-degree viewing room into the dispensary's adjacent facility so that customers can get the indoor grow experience without contaminating the goods. Heading to the High Country? Stay on I-70 west another 53 miles to hit up TGS's Silver Plume spot, which the company calls the "world's first cannabis outlet store." No, they're not pushing excess inventory or damaged goods at discount prices. Instead, this "outlet" sells flower, concentrates, edibles and accessories at prices on par with those charged customers enrolled in the company's industry-leading loyalty program, available at its 16 other Colorado dispensaries.
141 Manitou Ave
Manitou Springs, CO 80829
An oasis of sun-grown cannabis in a quirky mountain town
Turn up the electric version of Dylan's 1965 anthem ("Maggie's Farm") for the drive to this Southern Colorado dispensary celebrated for its sun-grown cannabis. Maggie's Farm was the first Colorado cannabis company to achieve Clean Green certification and this weed is about as natural as it gets. While the quality of the flowers is enhanced by the region's ample sunlight and natural spring water, Maggie's secret sauce may actually be its proprietary "live soil," developed for the Rocky Mountains with beneficial bacteria, fungi, archaea, protozoa, nematodes, arthropods, and worms that break down organic matter to make nutrients available for plant roots. The nature of outdoor growing from seed means that strains are harvested, cured, and stocked seasonally, but expect delicious, trichrome drenched buds such as Jesus OG, a heavenly lemon-kush body high, or Darkstar, a skunky dimension-bending trip. Whatever strain you land on, go ahead and make a day of it in charming Manitou Springs, a walkable, just-weird-enough hamlet wedged between towering Pikes Peak and Garden of the Gods, two of Colorado's top natural attractions.
2730 Downhill Plaza #106
Steamboat Springs, CO 80487
Super dank nugs in the home of Champagne Powder®
Though they've long been havens for cannabis culture, mountain and resort towns have taken divergent approaches to regulating pot businesses. For instance, while Aspen's bowl runneth over (see below), Vail and Beaver Creek are dry. Up in the northwest corner of the state, Steamboat Springs allows retail cannabis sales with controls limiting the number of dispensaries in the city to three, zoning them to the outskirts of town and requiring them to be 70% vertically integrated. That last regulation has forced Yampa Valley shops like Rocky Mountain Remedies, Steamboat's first dispensary, to perfect the art growing, curing, trimming and extracting nug that matches the Yampa Valley's natural beauty. This dispensary not only grows unique strains such as Heavenly Haze, an earthy body-buzzer named after a ski trail with stunning valley views, it also has its own line of vapes and strain-specific extracts dubbed RemPen.
520 E Cooper Ave
Aspen, CO 81611
High-grade, sun-grown bud epitomizing the spirit of the Roaring Fork Valley
With seven pot shops in town and an eighth on the way, Aspen has the highest density of dispensaries of any city in the state, cementing its position as a global cannabis capital. While the retail options range from over-the-top to basic bud, Best Day Ever is the best bet for a true farm-to-bong experience. Aspen local Michael Gurtman opened Best Day Ever back in 2016, filling his shop with heirloom flower grown to organic standards in a 16,500-square-foot Glenwood Springs greenhouse that overlooking the Colorado River. Gurtman's grows have quickly earned a reputation for high yields of potent strains -- for a relaxing après ski treat try the frosty Kosher Kush. The compact, second-story shop is also a go-to for glass art by the likes of Chaka, Joe Peters, Jerry Kelly, Elbo and Pogo.
Colorado-based journalist Alex Pasquariello is the former editor of The Cannabist (RIP). You can find his work in Kitchen Toke, WeedMaps News, Endless Vacation, AFAR, Jetsetter, Conde Nast Traveler, Businessweek, and other national titles. Follow him on Instagram and Twitter at @BeingAlexP.