The Best Countries for Americans to Hit by the End of 2016
Dang, look, half the year is already gone, and where have you been? If your answer is, "Dudes, I've been stuck at my desk, paying bills, clicking around the internet instead of daydreaming, being a grown-up," what we hear is, you've simply been biding your time. There's still a lot of 2016 left for using up those sweet, sweet vacation days. And for once the world has been doing you real favors, setting up a dandy of a summer and fall travel season.
The big move was Britain adding a super-delayed surprise-twist ending to World War II, voting to hand Europe over to Germany after all. Through the haze of the Brexit hangover, those breakaway Brits helped make this an amazing moment for Americans to head across the Atlantic. Meanwhile our airlines have learned to find Cuba on a map. And overall, the dollar's so strong it keeps asking other currencies to punch it in the stomach, go ahead, no, really, harder.
The getting's good, but might not be for long. Scope out these 11 world destinations before December chews through your scant vacay days.
Greece
Why you should go: Greece's postcard-perfect beaches and turquoise waters are what epic holidays are made of. It has some 6,000 (!!) islands sneezed around the Ionian, Aegean, and Mediterranean Seas, but only about 227 are inhabited. That's a ton of coasts to choose from, whether your bag is ouzo-fueled parties, seafood feasts, or adventure sports. What all of the Greek islands do have in common though is being really affordable -- a situation the ongoing Greek debt crisis has made all the more true.
Why you should go right now: The Brits' vote to leave the EU didn't just help make the UK a hot destination -- it made room for you at all of the British's traditional favorite spots. Every year, Greece gets something like 2.5 million British tourists -- and Greek tourism officials speculate that the pound's drop and all that freaky Brexit uncertainty will mean a lot fewer island-hoppers this year. For you, the opportunistic American, this means smaller crowds and potential savings on accommodations, airfares, and the like. Go forth and stake out some empty beachfront, pronto. -- Barbara Woolsey, Thrillist contributor
Sri Lanka
Why you should go: Traveling to Sri Lanka today is like stumbling into the Thailand of 20 years ago, with gloriously untrammeled beaches, lush jungle, and beautiful ancient landmarks. It's been only seven years since Sri Lanka's 26-year civil war ended, but it's now perfectly safe to travel here. The years of conflict kept Sri Lanka from keeping up with other rapid Asian development, and today it's one of the region's last countries to straddle that balance of tourism infrastructure -- just enough to have a smooth holiday while still feeling off the beaten track and away from all the selfie sticks.
Why you should go right now: As one of Asia's last big beachy secrets, Sri Lanka could soon go the way of Bali and Southern Thailand -- over-touristed, with precious natural scenery getting stamped out. With major luxury hotel chains like Hyatt and Shangri-La ready to set up in the capital, Colombo, over the next year or so, there's no denying that Sri Lanka is definitely about to change. Splurge on a ticket now, because if history is any indication, the change shan't be for the better. -- B.W.
Tanzania
Why you should go: You get the Noah's Ark of safari creatures you'd see in next-door Kenya, but minus the lingering memories of recent terrorism. Fly out to its 5,700-square-mile Serengeti National Park, where there is so much wildlife your prop plane might have trouble landing because of all the ostriches camping on the runway -- this actually happens. Fancy new safari camps have popped up around the Serengeti Plains, the Ngorongoro Conservation Area, and Ruaha National Park to give visitors closer, more private encounters with lions, elephants, giraffes, cheetahs, wildebeest, the works.
Why you should go right now: A visit this year to Zanzibar, the offshore archipelago, can be an eye-opening thing: the locals -- affable Muslims, mostly -- are thrilled to welcome American visitors who put aside their preconceptions about visiting sub-equatorial Africa. Get island-hopping to new establishments on Pemba, a diving paradise, and Thanda, a private island with a single luxury villa. If untouched Tanzania is your jam, then definitely get a move on, though. Recently discovered natural gas reserves -- valued well into the billions of dollars -- are driving breakneck investment by energy companies. Money's flowing in, tourists are catching on, the population is growing fast. If you want the best of the country while you can get it, the time to go is now, before the country of clear waters and wild animals is overrun with pasty people rocking high socks and spray-on sunscreen. -- Ashley Harrell, Thrillist contributor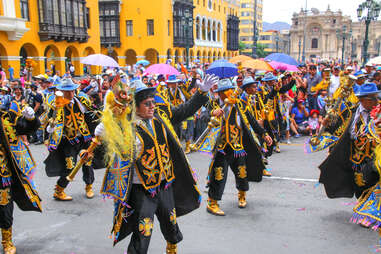 Peru
Why you should go: Jungles, divine beaches, deserts, mountainous retreats, and Incan history -- for an omnivorous traveler, who loves an array of terrains and speeds, it may as well be paradise. Lima has become the gastronomic capital of Latin America, and worth any foodie's visit. From there, it's a 90-minute flight to Cusco, a UNESCO World Heritage Site and the former southern capital of the Inca Empire. Today, Incan fingerprints are still all over Cusco, its people, and its architecture. Cusco also happens to be the jumping-off point to get to Machu Picchu, one of the most spectacular sites in the world that is a must-visit.
Why you should go right now: The country is going through a musical renaissance, with a growing electro-cumbia scene, re-issue movement, and global acknowledgement of the country's contribution to the global music narrative. Acts like the borderline Dadaist Dengue Dengue Dengue and the neo-Afro-Peruvian NOVALIMA are making waves in the European touring circuit, while European acts (namely British dubstep producer Mala) are taking big influences from the Latin state. Visiting Peru and exploring the underground music hive is definitely worth a punt, and one of the most interesting scenes in the world right now. -- Daniel Cole, Thrillist contributor
Canada
Why you should go: There's never a down year to road trip through Canada, frankly: forests to infinity, lakes galore (more than half of the world's supply), sprawling mountain vistas where you see more moose than men. But most of the past decade was rough going in Canada. The previous prime minister, Stephen Harper, was a pro-business sort straight from Canada's oil patch who bet the nation's economy on petroleum prices. And for years, it worked! As Canada mostly ducked the Great Recession, its dollar hit 30-year highs against the US dollar. Great for Canucks, yes, but ghastly for visiting. There was boundless-ass Canada, a land custom-built for marathon drives, mocking us with gas that cost $5.50 (US) a gallon.
Why you should go right now: Because political maps be damned, America's back on top, baby. The US economy rebounded, oil slumped, and the Loonie gave back fully half its value against the greenback over five years. Your buying power peaked this past January, but seeing as how only climate scientists and other masochists winter in Canada, you haven't missed much yet. Now's the time to drive up the fjord-pocked coast of British Columbia, flit up to just-French-enough Montreal for a weekend, or make a firm date with Toronto, the Whopper Jr. version of Chicago. Every summer "The 6" recovers from its wind-whipped winters by hosting a smorgasbord of outdoor art festivals. Two to key in on: North America's biggest Caribbean carnival, which culminates at the end of July, and the Toronto International BuskerFest, wherein street performers take over the city on Labour Day/Labor Day weekend. Flights are reasonable, and Toronto finally got a decent rail connection from its airport to its Downtown just last year. Or just drive -- the city's only about five hours from Detroit, Cleveland, or Pittsburgh. Plus, in 2016, you can even afford to put gas in your tank. -- Sam Eifling, Thrillist Travel editor
Cuba
Why you should go: Umm… because we can? No, but seriously. Because we can, at last. While it's easier than ever now to get to Cuba from the States (six airlines have announced direct US flights to Havana in 2016), there are still some caveats. Travel to Cuba is legal without a license or paperwork so long as the purpose of travel fits into one of 12 categories: education; religious activities; support for the Cuban people; humanitarian projects; research; journalism, et al. If your travel falls into these categories, just organize what is called a "people-to-people" exchange, in which you're meaningfully interacting with locals. This could be visits to art galleries, an educational session with a historian, a city tour. Get creative, confirm an itinerary, print it out, and you'll be on your way.
Why you should go right now: We're still at the front edge of a guaranteed sea change, as Americans start making their weekend jaunts for surfing and cigars. The US hotelier Starwood recently opened a Four Points by Sheraton in Havana. And this is only the beginning. That charming "preserved-in-time" destination we've all heard of is about to get brought up to speed on the 21st century in a hurry. -- Meagan Drillinger, Thrillist contributor
Myanmar
Why you should go: One of the world's greatest gems largely unexplored by tourists, Myanmar has all the beauty, history, and centuries-old temples of its more-visited neighbors Thailand and Cambodia. But for now at least, it still has the feel of a place globalization forgot, visited almost exclusively by the adventurous backpacking crowd. The country's first highlight is hitting street-food stalls to eat the Burmese national dish, mohinga -- a complex, fish-based noodle soup that works for any meal of the day. The main draw -- aside from the rarity and cultural immersion of being there in the first place -- is getting to the rugged, mountainous north, or to the extraordinary archaeological region of Bagan. Home to the world's greatest concentration of 10th- and 11th-century Buddhist temples, Bagan also has the perfect climate for hot-air ballooning. A sunrise or sunset balloon trip over the temples is one of the most spectacular and exhilarating views in the world.
Why you should go right now: Only in the past five years has Myanmar really opened its borders and society to outsiders, as a mostly democratic, mostly civilian government has replaced half a century of military rule. The country has already changed dramatically and the window is closing to see the place in its current under-touristed form. The trappings of easy tourism are still new: reliable Wi-Fi, cell coverage, new cars (and traffic jams), and tourist-oriented menus and markets. A few years ago, with most of the country closed to outsiders, even the major cities gave visitors the sensation of being watched by the government. Today, most of the country is open and welcoming the world, so hurry up and get there before the tour buses arrive. -- Bison Messink, Thrillist deputy editor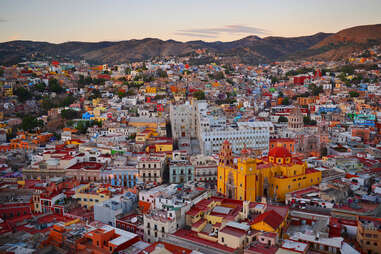 Mexico
Why you should go: American tourists think of Mexico -- one of the world's most diverse countries -- and usually don't get beyond resort towns, Corona-commercial beaches, and sticky tequila drinks. But look further than sprang breaaaaaak and Mexico opens up, with dramatic waterfalls, epic canyons, colonial cities, firefly forests, and huffy volcanoes. Its pre-Columbian history dates back thousands of years, the food scene evolves from state to state, and you always forget about this, but it's literally right across the river from your home country.
Why you should go right now: Even by the standards of Mexico -- Mexico -- this will be a cheap vacation. The dollar is historically strong against the peso (about 18 to the dollar; it was just 12 per in 2013). And the country's getting developed quickly. As hotel chains overtake Cancun, Los Cabos, and Puerto Vallarta, the more off-the-beaten path places are, logically, being encroached upon. Overnight, it seems, Tulum, the walled Mayan city with the dramatic beaches, went from sleepy hideaway to a sensation. Instead, consider the Costalegre, along the Pacific Coast just south of Puerto Vallarta, or the beaches of Huatulco and Puerto Escondido in the state of Oaxaca. Isla Holbox off the coast of Cancun is a Caribbean pearl of an island, with nothing but sugary sand, beach bungalows, and placid blue water. Authentic Mexico is worth the chase. -- M.D.
Iceland
Why you should go: If you've seen Game of Thrones then you've seen scenic chunks of the actual "Land of Fire and Ice" (not even kidding here) playing the Vale and the land beyond the Wall. Folks are so stoked about visiting GoT filming locations that tourism in Iceland has more than doubled since the show premiered in 2011, to 1.2 million visitors annually. But here's the thing: the whole country looks like a GoT filming location. Driving Ring Rd, circling the perimeter of the island, is just one astoundingly, breathtakingly beautiful sight after another and it never stops. Also, the country's a cakewalk for English-only American tourists to navigate -- seriously, parts of Canada feel more foreign than even Iceland's most remote villages -- and you don't even have to convert your cash.
Why you should go right now: Iceland was getting hot even before The Little Island That Could cleaned up in the Euro Cup so nicely. Flights have been expanding thanks to Icelandair, which has been offering extended multi-day layovers in Reykjavik en route to other European countries for a while now, and to WOW air, which has been expanding service in the States like crazy, most recently adding LAX and SFO to its departure airports. (A warning: you get what you pay for with WOW -- it's Europe's answer to Spirit Airlines -- so keep your travel plans flexible and avoid layovers.) The country's getting its beer scene cranked up after a long-held effective prohibition that ended only in 1989; drop by bars like Skuli Craft Bar, Micro Bar, and Mikkeller & Friends, and do get a swig of the local spirit Brennivin.
Do keep in mind that the whole country's still pretty expensive, Reykjavik in particular. Even with a favorable exchange rate, that 39-ISK burger still works out to a $32 lunch, and that's pretty standard. While hotel rooms are also pricey, Airbnbs are abundant and affordable (and great for groups, since two-bedroom apartments are pretty common). Get in on that action quick, though, 'cause it's not going to stay that way for long. -- Nicole Rupersburg, Thrillist contributor
The United Kingdom
Why you should go: You've read enough books and seen enough movies filmed here -- think Harry Potter, Star Wars, James Bond -- to feel like you've been, even if you've never visited. But there's no substitute, no matter how eloquent or well-shot, to replace the feeling of wandering through those accumulated centuries of culture, of Roman historical remains, of football-mad mayhem, of pubs full of eccentrics who are genuinely happy to see you walk in the door.
Why you should go right now: Thanks to the earthquake that was the Brexit referendum, the pound is scraping all-time lows against the dollar. In short, the whole UK is on sale. With United and Virgin offering cross-Atlantic round trips for as little as $400 (let's not even mention WOW air), you're not going to get a better invitation. So make the most of the British summertime to catch an outdoor music festival or some open-air Shakespeare. Britain's beyond the age of "bangers and mash;" the recent few years of considering itself a part of the continent has raised its standards beyond the provincial. So expect all the amenities of a modern European state -- even if it won't be one for much longer. -- D.C.
Brazil
Why you should go: It's unbelievably vast, with plenty of tropical paradise that gets skipped over in favor of mega-cities like Rio and São Paulo. Ever heard of the Bahia coast? It's full of fishing villages, rainforest, and secluded golden beaches that go on for miles. Take Trancoso, which is basically the ultra-secret St. Tropez -- a hippie settlement where the likes of Matt Damon and Leo DiCaprio go on vacation.
Why you should go right now: Well, if you still haven't ruled out hitting the Olympics it's actually proving to be pretty affordable -- plenty of tickets are still available, the government's partnered with Airbnb to ensure bountiful accommodation, and Brazil's new low-cost airline Azul is offering competition on flights from the States. All summer, too, Brazil has waived the visa requirement for Americans -- so there's an upfront $160 discount. By September, it's likely that there will be post-Olympics hangover and some pretty good sales. The lead-up to the Olympics has exposed many of Rio's fault lines (it might be dangerous, it's definitely polluted), but here's the beauty of Brazil: it's a giant country, so much bigger than mere Olympic venues, and always up for a party. -- B.W.
Sign up here for our daily Thrillist email, and get your fix of the best in food/drink/fun.