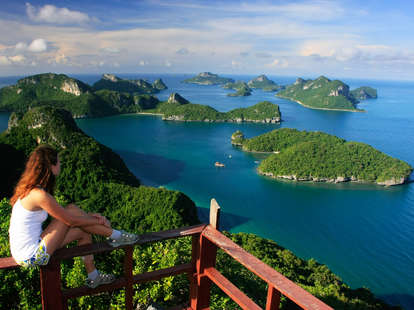 Wua Talab island, Ang Thong National Marine Park, Thailand

| Don Mammoser/Shutterstock
Wua Talab island, Ang Thong National Marine Park, Thailand

| Don Mammoser/Shutterstock
15 Countries You Should Visit Before You Turn 30
The oldest, truest axiom of travel is that you never have both time and money. Before retirement, when your knees will be feta, your best shot at traveling big might be those bumpy early years when the world's a swirl anyway. In your teens and 20s, let's be honest, you're not in charge of squat; you don't have kids; you can get eight solid hours even when origamied in a bus seat; you're gastrointestinally fearless; and virtually nothing can kill you even if it tried.
So stack a bit of cash, drop the dog at mom's, and get going. The world will still be here in a week, a month, a year. Trust us. No one in their 30s or 40s or 90s stops to wish, Gosh, if only I'd traveled less and put in longer hours at the office.
That's the how and the why. For the where, we asked writers who've been around the world twice and lived to tell. Here's what they sent back on how to (mis)spend your youth -- at whatever age you happen to be now.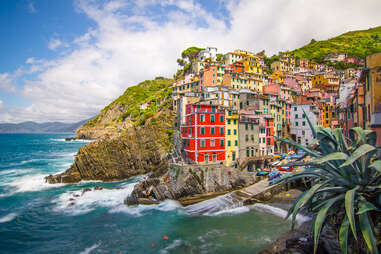 Italy
Why to go when you're young: Italy truly has it all. Art, culture, beaches, mountains, hands-down the best food, friendly people, booze galore. It's also easy to hit several different cities in a matter of days -- and when you're just a pup, you actually have the stamina to do that.
Where to head first: Florence, San Gimignano, and Cinque Terre
When I think that I almost chose to study abroad in London over Italy, it makes me cringe. Nothing against London of course, but after living in Florence during college, backpacking through Western Europe in my 20s, and returning in my 30s, I feel confident saying Italy is a genuine treasure. Returning as a real-life adult I discovered that I didn't just fall in love with it because I was a carefree 20-year-old blowing it out on my parents' dime. Certain activities have changed -- i.e., drinking fewer flaming shooters at Shot Cafe -- but my love and admiration for the country only grows with every visit. That's rooted in the overwhelming sense of culture and community (not to mention just sheer staggering beauty) Italy offers: Locals just want you to eat some damn good food, drink a ton of Chianti, and love their country. Trust me, you will, no matter what age or how many times you've been there. In fact, my last visit to a mountain gazing down at Vernazza (one of the five towns that makes up Cinque Terre) was no less awe-inspiring than the first time I stood in the same spot a decade earlier. Except, the second time, I had the memories to join me. -- Liz Newman, Thrillist contributor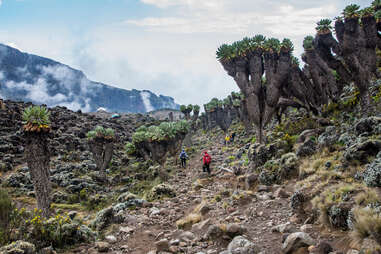 Tanzania
Why to go when you're young: To climb Kilimanjaro, the tallest mountain in Africa, you need a good set of lungs on you.
Where to head first: Kilimanjaro International Airport (JRO). All the tour operators are located in the nearby towns of Arusha, Moshi, and Marangu. Do some research before you choose. You're looking at safety record, summit success rate, and proper treatment of porters and staff.
Unlike Everest or Denali, conquering this summit doesn't require you to buy up half of REI or risk losing your Tinder-swipers to frostbite. You can actually hike all the way to the top of Kilimanjaro, which takes five to nine days depending on the route. Anyone in decent condition can do it, but having the mad physical resilience and stamina of your 20s is a distinct advantage. It also helps not to have developed an "I'm too old for this shit" attitude. Why? Because you can count on walking in the rain, camping in the snow, and getting the runs in a bathroom that consists of a hole cut into a concrete floor. The latter is one of the many wonderful symptoms of altitude sickness, which gets more acute as you go higher.
On "summit day" you do one big push to the top (usually six to eight hours; it took me nine) and then come straight back to base camp (another two or three hours). You embark at midnight, when it's so dark that you can't tell if the specks of light further up are stars or the headlamps of distant climbers. I'm not being poetic -- you're so high that the stars aren't just above you, they're also around you. For the next four or five hours the temperature and your psychological state both plunge below zero. Eventually a gradual lightening in the sky signals you're about to witness something amazing: a sunrise viewed from above the cloudline. It's like you're in a plane, except that you're hiking -- through snow, past glaciers, and eventually to a rickety wooden sign. It congratulates you for reaching the top of the world's highest free-standing mountain and Africa's highest point: 19,341ft above sea level. It feels phenomenal, as do your first shower and beer once you get the fuck back down. -- Sarah Theeboom, Thrillist contributor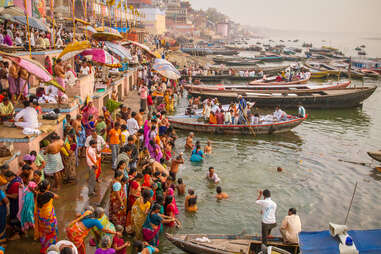 India
Why to go when you're young: Budget travel (constant haggling, sniffing out scams, sleeping in shitholes) can be exhausting once you wave buh-bye to your 20s. Might as well go to mind-bending places where the price of one Manhattan cocktail can finance an entire night out.
Where to head first: Chaotic Old Delhi is a great place to start. Then enjoy the star attractions in neighboring Uttar Pradesh, the fourth-largest of India's 29 states.
India's ethnic, linguistic, and geographical diversity spans from the Himalayas to the tropics, and seeing it all takes years. But focus your first trip on the Ganges, at sunrise. There, your world will shrink to waterfront rituals: prayer, bathing, tooth-brushing, laundry, and outdoor wood-fired cremations. The bodies inside the burning pyres are recycled into the Vedic elements of their origin (earth, ether, fire, water, wind), fueled by logs that arrive by boat stacked into towers; the fire-tending morticians later recover jewelry and gold tooth fillings. Witnessing a cremation makes you realize that your time is short, so find your passions and migrate toward them fearlessly. It's valuable to get this dose of mortal reality when you're still young. It also gives you time to return to India's unforgettable wildness. Once bitten, you'll be back. -- Bruce Northam, American Detour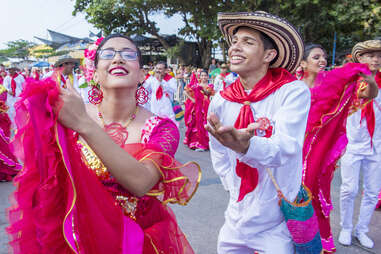 Colombia
Why to go when you're young: It's cheap, yo. Flights are a cinch, and dollars spend big. And it's close: Even from New York, Bogota's a shorter direct flight than London. You'll arrive in the same time zone, sans jet lag, ready dive into jungle adventures.
Where to head first: Medellín, the hot springs of Santa Rosa de Cabal, and Cocora Valley
It's not a coincidence that Gabriel García Márquez was Colombian: The country truly is a land of magical realism, where the past blends with the present and daydreams merge with reality. Where else but at the top of South America do you get the Andes coming right up to meet Caribbean beaches? Or will you dance all-night salsa at clubs in Cali, a town famous just for its dancing?
If you're going for just one moment to capture the whole rigmarole, though, I've got two and a half words for you: Carnaval de Barranquilla. The four-day festival on the north coast is Colombia's Mardis Gras, the final blowout before the heavily Catholic country succumbs to Lent. Each day the entire town, plus several thousand tourists, gather for raucous, technicolor parades that last most of the day. Everyone dresses up, in racy and bizarre fashion. Among the more notorious costumes is la marimonda, which looks like a mosquito but, locals explain, is actually a caricature of male genitalia meant to depict the corruption of local politicians.
At night, the streets become discos as salsa dancers overrun intersections. Vendors roam hawking cheap beers and juice boxes filled with aguardiente, the local anise liquor. The passions rise as time wanders away and strangers trade dance partners as easily as passing a bottle. Just before the sun rises, people stagger home for a few hours' shut-eye. Then they do it all again, as they do every February. Which is coming soon. So book your lodging pronto. -- Ezra Kaplan, Thrillist contributor
Thailand
Why to go when you're young: Because this is the Land of Smiles, and of impossibly cheap adventure. Go during the hot, rainy off-season, when $35/day can still cover backpacker-style food, thatched-roof camping, and whatever party mode you fancy.
Where to head first: Bangkok, for every reason you could imagine, plus some of the greatest cheap food in the world.
Thailand is one of a handful of countries that's never been ruled by an outside power, part of the reason there's no other place like it -- mellow, hospitable, patient. On any main street you'll be able to rock out in a buck-a-beer joint with a posse of new backpacker friends and then, steps away, sample the lemongrass-, lime-, and chili-infused national dish tom yum soup or get a classic Thai massage (they stretch you, too, so you can call it a workout). The front of most massage parlors has several reclining chairs if you only want a foot massage -- a fun outing with your new drinking buddies (BYOB).
From Bangkok, take an overnight bus (which can be a party or a snooze) north to the cooler mountainous terrain (start in Chiang Mai, plan further trekking outreach from there) or head south to the divine beaches on either coastline (start on either Koh Samui island or in Krabi). Once you're clear of city traffic, rent a motorbike. Thailand's so-called progress includes elements of mass tourism: insulated resorts, double pricing for foreigners. But it only takes a short walk in another direction to rediscover wholesomeness. This is what it is to feel invincible, young, and in a land where even a few folding dollars can get you wherever you want to go, borderline rich. -- Bruce Northam, American Detour
Mexico
Why to go when you're young: Mexico offers its best to anyone young and looking for endless summer by day with high-adrenaline beach parties by night.
Where to head first: Depends where you're coming from -- just keep costs low. Flights to Cancun from the US East Coast are significantly cheaper, as are flights to Puerto Vallarta from the West Coast.
Why is Mexico, that spring-break staple and body-shot buffet, an absolute must for your 20s? Because it's a diverse, beautiful, culture-rich, one-in-a-million country near enough to visit by foot from American soil. Your youth is the time to enjoy frosty buckets of beer on the beach, guilt-free, from the shade of a palapa. It's also the time to trace the long arc of history right to your hostel door. Mexico is a melting pot of Europeans and indigenous cultures; still today you can visit Mayan and Aztec communities. Mexico rocks 68 indigenous languages, nearly equal to China and India in regional dialects. The landscape will also blow you away: raging waterfalls, some of the highest peaks in North America, the deepest canyons (yes, deeper than the Grand Canyon). Add to that regional cuisine that extends far beyond tacos al pastor and chilaquiles, and ruins that include some of the largest pyramids in the world (Giza who?). If you make it in your 20s, you don't have to be making bank to see and do it all. Everyone else your age is in Costa Rica. But you know better now. -- Meagan Drillinger, Thrillist contributor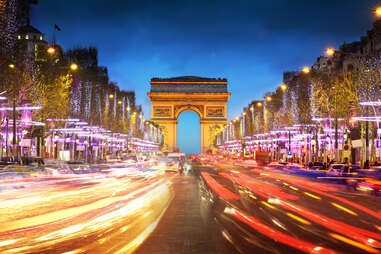 France
Why to go when you're young: The French really have their shit together. Frankly, it's inspiring to be among people who make the most of their leisure time.
Where to head first: You think you want to go for some deep cut, right? Nah. On your first trip, do Paris.
Once you've been to France, you get to play the France card for the rest of your life. Don't be insufferable, of course; do go ahead and mention exhibits you saw and food you ate and wine you drank and mysterious strangers you had fictionalized conversations with at cocktail parties for decades to come. In Paris, you can explore the haunts of young creative thinkers and dreamers from generations past (think Midnight in Paris) and immerse yourself in the diverse cultural scene of each arrondisement, the neighborhoods that make Paris unique and endlessly inspiring. Cross the Eiffel Tower, Notre Dame, and a walk on the Seine off your list and head to Lyon, the second-largest city in France and arguably the culinary capital of the universe. From there, you can head to wine country in Bordeaux, Burgundy, Rhône, Champagne, and beyond, and maybe even make a beach stop on the French Riviera. Not for nothing did past "lost" generations of youth decide it was here they'd find themselves. -- Melissa Kravitz, Thrillist contributor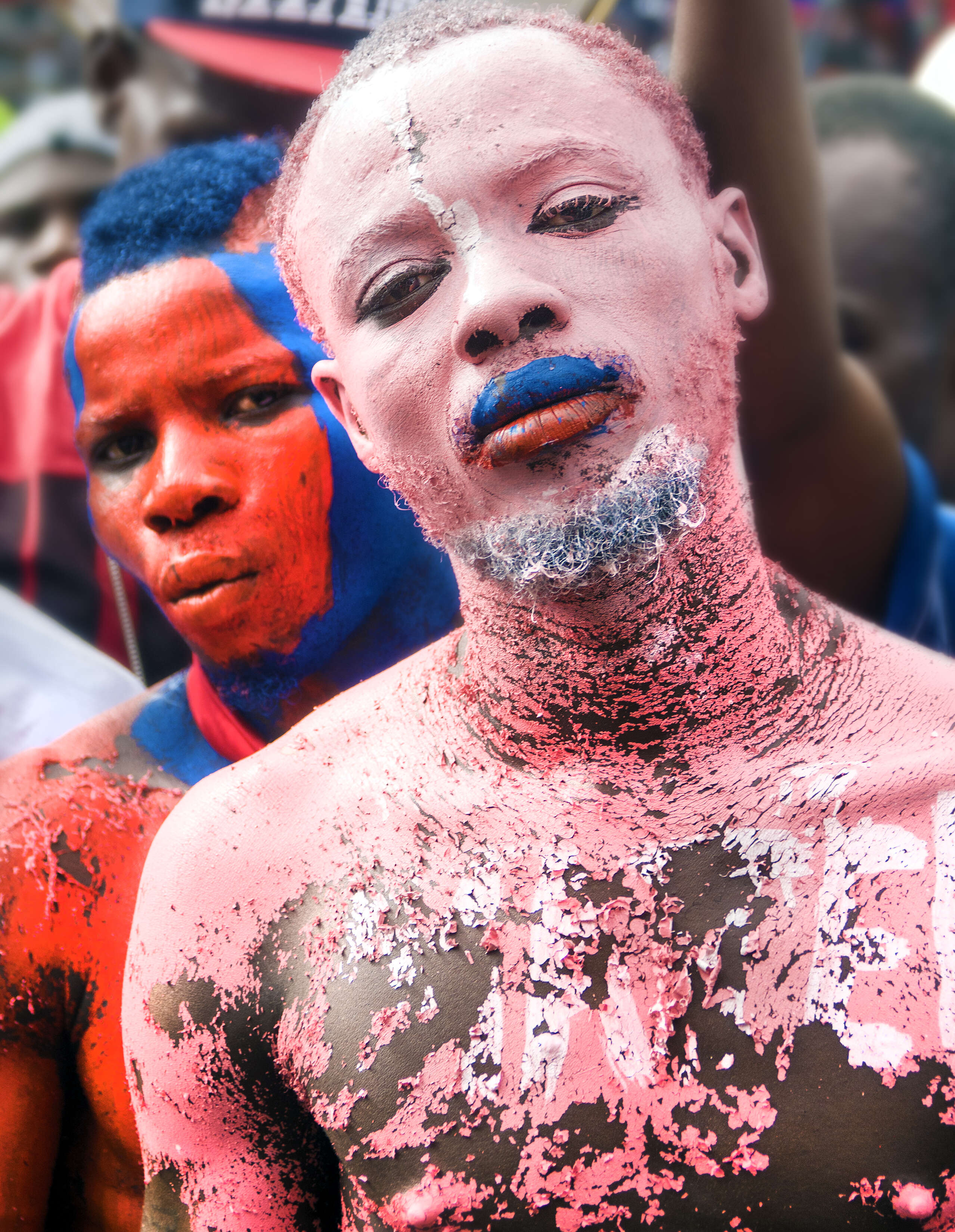 Haiti
Why to go when you're young: Because once you do, you're in the club for life. Anyone you ever meet who's from Haiti, who has lived in Haiti, or is of Haitian descent won't believe you that you've been. Then, they'll admire you for going.
Where to head first: Port-au-Prince, the likely default if you're flying in
The most obvious reasons to visit Haiti are the same as for any Caribbean island: the alluring beaches; the fantastic native rum (Barbancourt -- look for it on US shelves); the rich island foods, like cubed goat with Scotch bonnet peppers that you can't exactly get in any strip mall back home. The less obvious reason to visit Haiti is that you can, and once you do, nothing anywhere else in the world will come as a shock. Not once you've seen the abject urban squalor of the vast Port-au-Prince slum Cité Soleil (note: Don't go unless you're with people who absolutely know their way around) and then zig-zagged uphill to the posh French-Creole restaurants of the suburbs, where men stand guard outside with pump shotguns while you dine on crepes and steaks alongside American and European diplomats and aid workers.
The last time I visited Haiti was five months before the cataclysmic 2010 earthquake. Some of the places I ate and drank and danced in -- the old Hotel Montana, for instance, in Petionville -- collapsed in the quake, full of people. That is the story of Haiti, the common story, in fact: that it is a slow-rolling disaster punctuated by sudden calamities. ("Beyond mountains there are mountains," the local adage goes.) Do not let that be the story you tell yourself. Rather, consider Haiti a place where you can build, or help, or simply visit and get to know what life is like in the Western Hemisphere's poorest country. It's bonkers, yes, but it's still life, and still bright-dark beautiful, and you can absolutely embrace it as part of yours. -- Sam Eifling, Thrillist Travel editor
Peru
Why to go when you're young: Because hiking the Inca Trail to Machu Picchu is damn difficult. Not to say you can't do it when you're older, but with elevations over 13,000ft, the sooner the better.
Where to head first: Even if you're on your way to Machu Picchu, be sure to spend time in Lima, one of the most overlooked food cities in the world.
Machu Picchu can be reached by train; you should go on foot. It's the finest way to explore Peru, an amazing, beautiful, historically important country. I showed up in Cuzco a spry sprout of 21, and signed up for a five-day expedition to Machu Picchu. Thank God I happened to give myself a stopover in town beforehand, because those first couple days I couldn't even walk down the street without feeling like I was going to pass out. Take those two days in the former Incan capital to bone up on your pre-Columbian history and acclimate to breathing the oxygen-poor air at 11,000ft above sea level. You'll need to adjust before trying to climb a flight of stairs, much less rambling through the mountains.
It hadn't occurred to me that the trek itself would be so demanding -- nothing built for tourists ever is. But then, neither Machu Picchu nor the Inca Trail were built for tourists. Before the sun had set on our first day of hiking, I saw more than a few beet-faced baby boomers go belly up on the side of the trail and head back into town, disappointed and dazed. This is why you go to Peru early in life. It's best when you have an open mind, a willing spirit, and strong legs that can lug one foot in front the other, even when you're gasping for air. -- Bison Messink, Thrillist deputy editor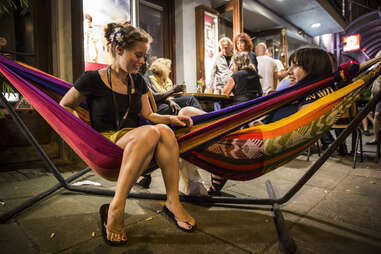 Netherlands
Why to go when you're young: Obviously the museums! But only after you've smoked a lot of weed with your random roommates at arguably the best party hostel on Earth, the Flying Pig.
Where to head first: Amsterdam. Oh, and Amsterdam.
Given its legal prostitution and drug culture, I assumed Amsterdam was going to be a colossal dump. But at 20, I wasn't exactly making this pilgrimage to take in the town's aesthetic offerings. To my surprise, Amsterdam -- and Holland as a whole -- was extremely charming. Now, as an adult, I often think what a truly liveable city it is. Quaint brick roads, canals galore, and nice, English-speaking people surrounded by countryside? It's downright pleasant. But youngins rarely appreciate that, not when they're giddy about being able to actually order pot from a menu and smoke it while eating a giant stack of pancakes. Not to mention the naked people in the red light district windows you're pretending not to stare at when you stroll through. (That's really at every age, though.) Amsterdam isn't the Vegas you may have once believed. Why, just scope its impressive museum district, home to Rijksmuseum, the Van Gogh Museum, and the Anne Frank House. (Spoiler: The Heineken Experience is still fun at every age.) The younger you are, the less guilt you feel about skewing hedonistic. -- Liz Newman, Thrillist contributor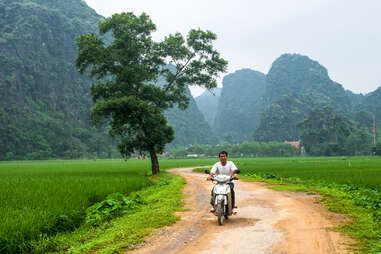 Vietnam
Why to go when you're young: Vietnam's rugged terrain isn't for the delicate -- but no country in Southeast Asia can match its history and enchanting landscape.
Where to head first: Start in Ho Chi Minh City, the enchanting former capital of South Vietnam, and spirit your rented motor scooter past colonial French buildings and colorful food stalls.
A cynic will tell you that Vietnam is loud, chaotic, congested, and full of aggressive touts who will swarm you as soon as they spot you as a tourist. This is all true. What they might not add, though, is this: Vietnam has more to offer than any other Southeast Asian country. Just don't wait until you're too old and creaky to handle the hustle. From Ho Chi Minh City, for instance, an ace day trip is the Cu Chi tunnels, where you can crawl through the claustrophobic spaces where the Viet Cong lived, worked, and fought American soldiers. From Da Lat, a chilled-out hill station town located to the north, you can hook up with a member of the Easy Rider motorcycle gang for an unforgettable trip on two wheels through Vietnam's stunning central highlands.
Need a break from sleeping in tents? Decamp to Hoi An, a coastal village with pristine beaches and an army of tailors able to spin you a suit or dress for a tenth of what you'd pay back home. Finally, hop on board the Reunification Express for the slow train journey to Hanoi, Vietnam's charming capital, where you can conclude your trip with three days of sailing the beautiful Halong Bay, during which you can eat fish on a boat jutting through limestone karst mountains. Years later, you'll reflect on the journey and remember that Thailand and its luxury hotels will always be there -- but your capacity to experience the best of Vietnam may not. -- Matt Schiavenza, Asia Society senior content manager
Israel
Why to go when you're young: Anyone with a Jewish grandparent (or anyone who converts to Judaism) under the age of 27 is eligible for a completely free seven- to 10-day trip to Israel through Birthright.
Where to head first: Start in Jerusalem. There you can tour ancient sites and some of the world's holiest destinations, then enjoy nightlife on Ben Yehuda St and top-notch falafel at the open-air Mahane Yehuda Market.
While Israel's Law of Return is ready and waiting for anyone who wants to immigrate to Israel at any age, try visiting first. No matter where you stand on the Israeli-Palestinian conflict, the best way to understand the region is to immerse yourself in the culture -- and did we mention that you can take a free trip? Even if you're not qualified for Birthright or other similar sponsored pilgrimages, know that there are plenty of English-speaking 20-somethings visiting Israel. After visiting Jerusalem, be sure to hit up liberal party city Tel Aviv (also home to Israel's only major international airport) for a taste of cosmopolitan Israeli life. Take a float in the Dead Sea for the pic you've seen everyone else post (smear yourself with spa-grade mud while you're at it), then hit Eilat in the country's southernmost tip, e.g., the Miami of Israel, where spring break is always on and drinking all day by a pool or on a boat is totally acceptable, if not constantly encouraged. This is a country that will truly convert you. -- Melissa Kravitz, Thrillist contributor
Belize
Why to go when you're young: It's all about bang for your buck and diving (literally) into one of the most beautiful places on Earth.
Where to head first: After you land at Philip S.W. Goldson International Airport in Belize City, make a beeline for the port to take a boat over to Caye Caulker.
The window when backpacker culture seems sexy is smaller than it appears. That time is your 20s. (You could maybe push it into your 30s, but by then you admit that a decent shower no longer has to be a luxury.) In your 20s, sand, sweat, and salt make a heady aphrodisiac, and the island of Caye Caulker is rife with it. The small, skinny island is a haven for backpackers from around the world -- a playground for the young, the aimless, the unwashed. It's also a beautiful convergence of tourists and locals, where Caribbean culture warmly embraces everyone -- something we all could use more of these days.
The island's population is so small that by day two you'll already be a regular, making plans with the locals to meet up later at the beach bars for Panty Rippers and a puff of something potent. By the time the sun goes down the locals usually go home to prepare for an early morning of fishing, and the backpacker bars hum with lobster-faced tourists slamming Belikin beers and chowing down on the local catch. As a popular tourist spot, Caye Caulker tends to run more expensive than local places inland, but with the US dollar worth about two-to-one over the local currency, your money will spend well. Hostel accommodations go as low as $14 a night. Cocktails are about $2.50, local beers a cool $2. Meaningful experiences are a major part of your 20s, but so is having enough money to eat. -- Meagan Drillinger, Thrillist contributor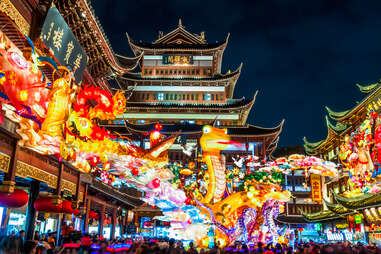 China
Why to go when you're young: Nowhere else in the world rewards energy and grit with the same vast cultural and geographical riches.
Where to head first: Start in Beijing and take in the centuries-old Forbidden City temple complex in the center of town. After a day exploring the Great Wall, hop on a high-speed train bound for Shanghai, China's face to the outer world. Finally, board a flight bound for Yunnan province, where breathtaking scenery, kind people, and excellent food await.
China is not for the faint of heart. Its major cities are beset by air pollution, ear-splitting noise, and enough neon signs to shame Vegas. A population of nearly 1.5 billion means that any place you visit -- national parks included -- will be packed. And despite a major national push to promote English education, the language barrier remains formidable.
So why go? Because for all its flaws, China has enough treasure to stagger an intrepid traveler. There's Tiger Leaping Gorge, perhaps the world's most beautiful two-day hike. There's Shanghai, for centuries one of the world's most cosmopolitan cities. And while it may not actually be visible from the moon (sorry), the Great Wall is truly a stunning architectural marvel. Head past the tourist throngs at Badaling and camp out under the stars. Your youthful back can handle it. The country also offers you deserts, tropical islands, mountains, and incredible ethnic diversity (the features most China travel guides gloss over). Oh, and ban General Tso's chicken from your thoughts: Real Chinese food ranks among the world's finest -- especially if you can handle the Sichuan spice. Which you, youngster, surely can. -- Matt Schiavenza, Asia Society senior content manager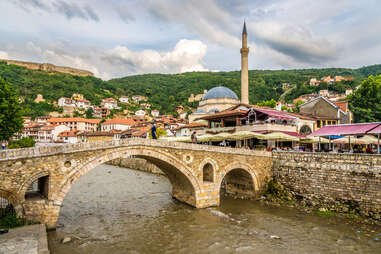 Kosovo
Why to go when you're young: With over half of its population under the age of 25, this fledgling country is the youngest in Europe in more ways than one.
Where to head first: Spend a few days in its chaotic capital, Pristina, before hitting the road to explore the scenic hinterland.
Though the name may still recall images of paratroopers and green-tinged night-vision footage, Kosovo today is a nation eagerly anticipating the future. The somber melancholy that shades its Balkan neighbors seems subdued here, despite their shared history. In its place is a refreshing youthful exuberance that still feels out of place in Southeastern Europe.
Nowhere is this optimism more apparent than in Pristina, the ramshackle capital, where each night crowds of partiers hit the streets with gusto. The surprise? The EU's keen interest in all things Kosovar has prompted adventurous do-gooders from all over the continent to descend on the capital, resulting in a thriving expat scene for such a small country. Yet why wouldn't there be? Local use of the euro removes the uncertainty and math from even the latest-hour drink orders, not that you have much to worry about -- you'll be hard-pressed to pay more than €1.50 (~$1.50) for a beer no matter how fancy you're feeling. That late-night kebab will set you back a whole €1, and even a meal in a nice restaurant is unlikely to range into the double digits.
What really distinguishes the Kosovar people is their enthusiasm for all things American. Thanks to the American intervention in the '90s that resulted in their independence, they adore Yanks. Skeptical? Take a stroll down George Bush St, hang a left on Bill Clinton Blvd, and keep your eyes peeled for the statue of Slick Willie himself: one hand serenely raised, eternally surveying the country he helped bring into existence. -- Conor O'Rourke, Thrillist contributor
Sign up here for our daily Thrillist email, and get your fix of the best in food/drink/fun.