The World's Best Unexpected Places for Couples Vacations
Ah, the couples getaway. Time for snapping a picture of two ice-cold drinks, sweating in the tangerine sunset behind them, and proclaiming to all of Instagram that "We're on vacation TOGETHER! #baecation."
Maybe you don't advertise it on social media, but your couples trip is still a chance to rock the best parts of a honeymoon without having to go through the wedding. And if you can make it through without killing each other, a good trip bodes well for your future as a pair. The stakes are, stealthily, quite high! Choosing the right locale from among the millions of destinations in the world requires luck and planning.
So we looked to Booking.com, a home-sharing service that caters to young couples around the world, to offer insights on spots its customers like best. Then we added some personal picks that we can vouch for, to give you the world's best couples vacation destinations that you've probably never thought of.
Akaroa, New Zealand
This tiny French-English colonial village on the edge of the Banks Peninsula less than 50 miles from Christchurch is a scenic, historic getaway nestled at the base of ancient volcanoes. The town sits on a series of bays, where couples can spend the day with the largest penguin colony in mainland New Zealand, or swimming with small dolphins just off the shore. For the active couple, the peninsula has an extensive system of walking treks to take in the sweeping views of the water and dormant volcanoes. For the less aerobically inclined, the town is chock-full of galleries, waterfront cafes, and bed & breakfasts for relaxing and enjoying the spectacular scenery.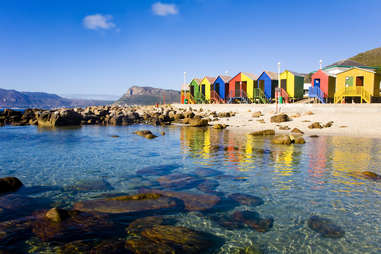 Cape Town, South Africa
Cape Town is packed with great date activities, and is right next to Kruger National Park. But the must-hit couples attraction here is Simon's Town, where you can chill with penguins. (They're adorable, they mate for life -- seriously, see penguins with your significant other, if you get the chance.) There's also shark cage diving, sandboarding, paragliding, exploring the vineyards in Stellenbosch, hiking Table Mountain and Lion's Head (for extra romance do a moonlight hike), taking the ferry to Robben Island, watching a rugby game, picnicking while watching the sunset on Signal Hill, grabbing drinks on Long St (similar to an American college frat row), lounging on any of the jaw-dropping beaches, going to concerts in the Kirstenbosch National Botanical Garden, surviving Mzoli's (a BBQ joint with a MASSIVE following), enjoying tea at Belmond Mount Nelson Hotel, and eating and shopping at Hout Bay's Bay Harbour Market and Old Biscuit Mill on weekends.
Cape Town will never leave you or your date bored. Fair warning: you may fall the love with the city and make your date jealous. Once you get a taste of the lekker (South African slang for "cool") life you may never want to leave. -- Alexandra Seclow, social media coordinator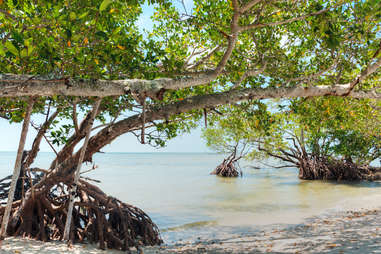 Marco Island, Florida
Florida beaches are pretty well-known as romantic getaways, but few outside the Sunshine State know why Marco Island is so special. It's got all the sailing, shelling, and white sand sunsets as the rest of the Gulf Coast, but this island south of Naples is also the first of the so-called Ten Thousand Islands, and a venerable gateway to the Everglades. Which means once a couple has spent a morning on the beach, they can go and explore one of America's most fabled ecosystems, replete with mangroves, manatees, and rare birds. Jet Ski tours are the best way to traverse this famous swamp, with thrice-daily trips leaving from right in front of the Marco Island Marriott. After, you can enjoy dinner right on the sand at some of Marco's fine beachfront eateries, or enjoy a romantic gourmet meal at Ario, probably the best restaurant in Southwest Florida.
Collioure, France
If you've ever been to the Côte d'Azur, you realize what a truly remarkable place it was before the beautiful people arrived. To see what those seaside villages were like before they blew up, head to Collioure. The town sits at the base of green rolling hills filled with vineyards, where an afternoon of wine tasting can be finished off with an authentic Catalan dinner in the city's old town, just across the channel from the 800-year-old Château Royal. A short hike takes couples up to Fort Saint-Elme, an old castle that's not open to the public but still offers spectacular views of the town and the sea. And no trip here is complete without a walk through the city's pastel-hued neighborhoods.
Barichara, Colombia
This town of 7,000 sits atop a high plateau in the Santander countryside, with panoramic views over lush green hills and an expansive desert. It's about a 45-minute shuttle ride from San Gil, through spectacular desertscapes and into a clean, relaxing Spanish colonial town, equal parts historic and charming. Strolling the stone streets past whitewashed homes brings you past Spanish churches, tiny bars, and fantastic restaurants. And if you wait out the day-trippers who come from San Gil, you'll feel like you have the whole 12-block-by-12-block city to yourself. The people of Barichara are as warm as the sun overhead, and spending time here together -- especially once the tourists leave in the evening -- will have you feeling like you've started a whole new life, if only for a few days.
Death Valley, California
The middle of the Mojave Desert doesn't inherently sound like a place that'll have you and bae feelin' the love. But what is more romantic than camping out under a blanket of stars, in a tent literally dozens of miles from anyone else? For the couple that likes to "rough it" (we mean camping, people) there's no better destination in America. And if you're not into spending your intimate time in a sandbox, there are luxury hotels nearby: the Furnace Creek Resort sits inside the International Dark Sky Park. Which means all the romance, isolation, and stargazing but also stuff like spring-fed pools and, you know, air conditioning.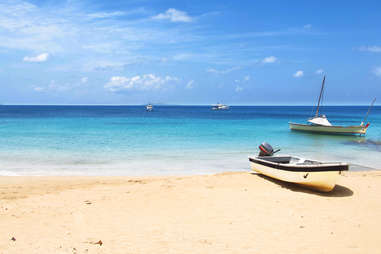 Little Corn Island, Nicaragua
For isolation on tropical beaches, it's hard to top a 1.5-square-mile Caribbean island off the coast of Nicaragua that even some Nicaraguans don't know exists. Getting here isn't easy: you'll need to take a questionable puddle jumper from Managua to Big Corn Island, then ride a small open boat called a panga to Little Corn. But like the best remote destinations, once you're there the stress of the journey melts away. And from the first time you stand alone on a beach staring at the sunset, you'll see why this is one of the most romantic places in the world. Accommodations range from $10/night shacks to $300/night hotels, so you can go as rustic or posh as you like. But no matter where you end up sleeping, you'll feel like you and your special someone have found your own private little corner of paradise.
Palm Cove, Australia
Tropical beaches aren't anything new for couples vacations. But this small town in Queensland hasn't been overrun by tourist traps (yet) and offers a remote stretch of sand in a far-off place, without much of a language or cultural barrier. Couples can obviously take their time lounging on the white sandy beaches, but the Great Barrier Reef isn't far offshore, and the Daintree Rainforest is just a short trip away. Hike the rainforest, then survey it from above via the Skyrail Cableway. It takes you up and over all the lush vegetation, where you and your special someone can cuddle up and enjoy the view.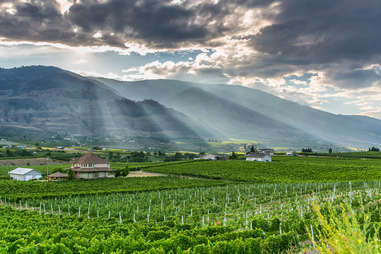 Osoyoos, British Columbia, Canada
If sitting on the side of a mountain, eating a gourmet meal, and looking over a valley of vineyards and a 12-mile lake doesn't scream romance, well, you're into some way different stuff. Assuming that fits your definition, head to this underrated wine region in Southern British Columbia. Here your days can be spent tasting wine, picking fresh cherries, and dining al fresco on a mountainside. But here in "Canada's Florida" (so called for its nice weather; Canada doesn't have Medicare to defraud) is also perfect for active travelers, with water sports galore on Osoyoos Lake and countless hikes through the Okanagan Valley. The exchange rate is favorable to Americans now, and a weekend here can be a first-class wine getaway for a fraction of what you'd spend in California.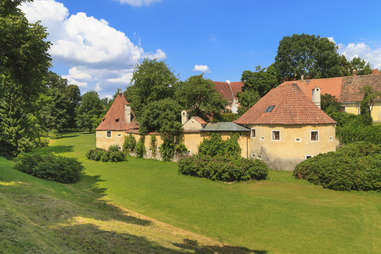 Třeboň, Czech Republic
If love isn't finding someone sexy when they're covered in stinky black peat muck, then nothing is. And nowhere will you better get to test that theory than in Třeboň, a town south of Prague famous for its natural "spa." People have been coming to heal aching joints and injuries for centuries, but there's more to Třeboň than foul-smelling relaxation. The center of town is a renaissance square lined full of pastel houses with Baroque facades, perfect for romantic strolls. The city's landscape, dotted with wetlands and lakes, offers a proper backdrop to the town castle which gives Třeboň a fairytale setting for your romance.
Udaipur, India
Udiapur is often said to be the most romantic city in India. Which sounds about as impressive as being the greenest place in Nevada, but this city would be romantic anywhere. Udaipur is built around Lake Pichola, a man-made lake created for serenity and peace in the middle of a hectic country. Couples can take boat rides across the lake, cruising past women in colorful saris washing clothes on the ghats, the Lake Palace in the middle of the lake, and the City Palace on one side. It's the perfect getaway for the couple who wants to experience Indian culture (and food) in a quieter, more tranquil setting than the larger cities. A place where a rooftop meal over a peaceful lake is the end to every day. And the days can be spent exploring fascinating architecture at places like the Monsoon Palace and the Bagore-ki-Haveli.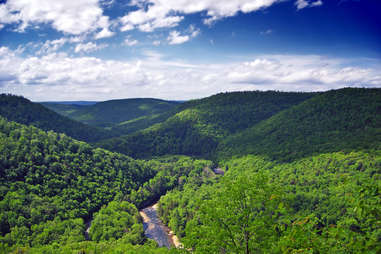 Worlds End State Park, Pennsylvania
Not that this park in Northern Pennsylvania is exactly a secret; it's one of the best fall leaf-viewing destinations in the state and draws tens of thousands of visitors annually. But to take advantage of the spectacular hiking trails and mountain vistas here, rent one of the rustic cabins along the Susquehanna River. Here couples can have a makeshift home on the water while spending the days hiking through the park, and evenings enjoying each other's company. The cabins are also extremely affordable, so a weekend here is a getaway that won't stress a budget.
Sign up here for our daily Thrillist email, and get your fix of the best in food/drink/fun.
Matt Meltzer is a staff writer with Thrillist who will never use the word "Baecation." Follow him on Instagram @meltrez1.