Must-hit NY beercation breweries
Renowned more for its Riesling than its rye, New York's grape-growing Finger Lakes region -- think Western Upstate, between Ithaca, Rochester, and Syracuse -- is actually one of the country's most underrated beer destinations. Home to 36 craft breweries and 19 brewpubs (the largest concentration of beermakers in the state, despite what you might think!), it's the perfect spot for a weekend beercation.
6. Wagner Valley Brewing Company
Saving you a flight to zeee Fatherland, Wagner Valley is an offshoot of one of the region's oldest vineyards, and one of the few brewers in the US that adhere to the Reinheitsgebot, or the German Purity Law of 1516, which regulates beer ingredients.
What's on tap: Roll with the Sled Dog Double Bock, an award-winning 8.5% ABV Bavarian-style lager brewed with imported Munich malts.
5. Crafty Ales and Lagers
Rocking the not-at-all-suggestive slogan "Put some magic in your mouth" (magic is beer, right?), this mystical-themed upstart brewer's annexed the town's oldest building from which to brew beers, many of which boasts fanciful names (like Crooked Wand and Mystic Mild). Suds are soaked in local fruits and maple syrup.
What's on tap: The Crafty Cream Ale goes down smooth, thanks to honey and honey malt from around the corner.
4. Abandon Brewing Company
A potential poster child for back-to-basics, reclaimed eco-consciousness, ABC's housed in a restored 19th century barn. Which is located on a fruit farm. That's powered entirely by geothermal energy. If Portlandia was set in upstate NY, Abandon would be guaranteed a cameo at the very least.
What's on tap: They're currently pouring seven styles, including a Belgian Rye and Abbey Ale. For our money, though, the 7.2% ABV Harvest Porter is the move to make.
3. Rooster Fish Brewing
You know how the water is credited with making New York City pizza taste so good? Well, the same might be said of Seneca Lake, whose 'crisp' agua finds its way into every batch of this 10-barrel brewery's suds.
What's on tap: Oldies are goodies. Try their Original Dark Nut Brown, the first beer they concocted as a homebrew experiment.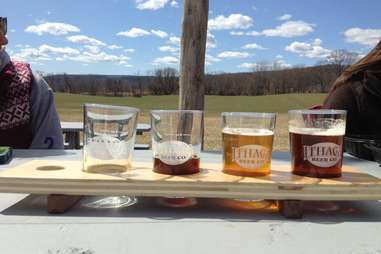 2. Ithaca Beer Company
Quite possibly the area's most lauded (and well known) brewery, IBC's been brewing since '98, and racking up awards in the process -- no doubt because their beer, like Ithaca, is gorges. Sorry, that's terrible. It is delicious though.
What's on tap: While you can't go wrong with the Flower Power or Apricot Wheat when the weather's warm, stick with the Nut Brown for the Fall.
1. Steuben Brewing Company
COMING SOON: This opening-in-March, Keuka Lake farm brewery, from a family of fiercely loyal Empire State enthusiasts, prides itself on using only ingredients grown locally in New York State. No Jersey. No Vermont. Definitely no Connecticut. As if! They'll also debut a Community Supported Beer share program, where local beer lovers that won't even drive through Connecticut can get first crack at fresh brews, and vote on what goes in the hopper next.
What's on tap: Try the Steuben IPA, which's rocking hops and barley from... guess where? Come on, guess!