There are two things I wish someone would have told me before my first cruise. The first -- never, ever wear a skirt on deck. Ever. I earned my sailing stripes on my first go as we pulled away from the dock, and my skirt hit my face in front of the lovely people of Miami (and the Coast Guard). I won't even get into what my stomach did shortly after that farewell sailing party thanks to my lack of sea legs.
The other thing someone should have told me? That I'd come to love cruises because they're forced vacations, people! I don't do downtime. I don't unplug. And yet, for the first time in my life, I was disconnected. My cell service went out about 20 minutes into our journey (yes, I broke out into hives). The Wi-Fi was so ridiculously expensive I could afford only to check my email for 10 minutes per day. No random Facebook pop-ins. No endless Instagram uploads. Nope. I was going to have to relax in a lounge chair and enjoy it whether I wanted to or not. And you know, after the hives cleared up I found I really wanted and needed that time out.
Cruises are no longer the generic, geriatric love boats you grew up watching with your grandma. Ships are getting overhauled to meet your every demand. These days a cruise cabin looks more like a boutique hotel suite than a squashed hamster cage. And the food is closer to Michelin-starred restaurant than a bland, all-inclusive buffet.
Now the big question is, which cruise is right for you? There are a lot of options but we've pulled together a list of cruise companies bringing the experience to a new level just for you. Even if you're experienced on cruises -- the sort who knows to wear shorts on deck, the type who can keep his food moving in one direction only -- you're going to want to scope these, the best of the best.
Recommended Video
HearseCon Is the Biggest Hearse Event of the Year
Best cruise for under $500
Carnival
Price starts at: $349 per person
Where it goes: Bahamas, Caribbean, Mexican Riviera, Alaska, Hawaii, Canada, New England, Pacific Islands, New Zealand, and the Panama Canal
What makes it awesome? Carnival is a staple in the cruise industry and families and friends continue to go back to it over and over again for a reason. The price is right, the food is decent, and the destinations are gorgeous. The launch of the Carnival Vista now means that you can not only see the southern Caribbean, but you can also watch IMAX movies while onboard.
Best cruise for families
Disney Cruise Line
Price starts at: $579 per person
Where it goes: Alaska, Bahamas, California Coast, Caribbean, Europe, Mexico, Panama Canal, and Transatlantic
What makes it awesome? Everyone loves bumping into a pantless Donald Duck running around a cruise ship. The beauty of a Disney cruise for the very tired parent is that everything from the parks is packed into a confined space. Is your kid screaming for a kiss from Mickey? The mouse is outside the restaurant ready to have photos taken as you walk up for dinner. Does your princess just have to meet a princess? Cinderella's probably just kicking it at the kids club.
Moms and dads deserve to have a vacation too, and the cruise is where you get the best of Disney, but with many, many places to ditch your kids. The boat has screening rooms to catch the latest Disney films, live Broadway-style shows, swimming pools with waterslides, and loads of games and activities throughout the day. Naturally that Disney level of service from the parks extends to the boat. But really, let's get back to that kids club. You could leave your kid at the kids club for most of the At Sea day and even on Disney's private island Castaway Cay for a bit to take a nap and get some "alone time" in your cabin. Just sayin'.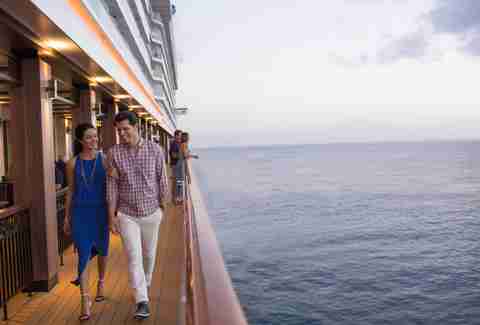 Best cruise for singles
Norwegian Cruise
Price starts at: $599
Where it goes: Caribbean, Alaska, Hawaii, Europe, Australia & New Zealand, Canada, USA, Transatlantic, South America, Mexico, Cuba, Bermuda, and the Panama Canal
What makes it awesome? Norwegian was the first cruise line to build interior studio staterooms just for single cruisers. The Studios Lounge offers TVs and a bar, which are perfect for mingling with other singles onboard. Most sailings have singles meet-ups, and the cruise staff offers a pub crawl around the ship. Dating on the high seas just got a whole lot easier, Tinder-free.
Best cruise for seeing fjords
Costa Cruises
Price starts at: $849 per person
Where it goes: Netherlands, Norway, and Germany
What makes it awesome? Vikings. Need I say more? I mean really, who wouldn't want to gaze at the beauty of the fjords of Norway? And no, you don't have to sing any Frozen songs while you are there. Get up close with glaciers, waterfalls, lakes, cliffs, and fjords as you cruise the coast. Dump the kids with Peppa Pig for a kids party while you enjoy an 11-course dinner by Chef Bruno Barbieri and show off your singing skills on The Voice at Sea.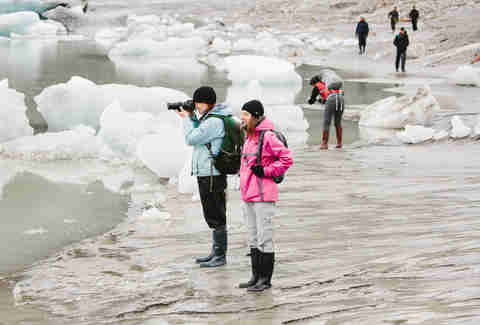 Best cruise for seeing wildlife
UnCruise Adventures
Price starts at: $3,000 per person
Where it goes: Alaska, Hawaiian Islands, Mexico's Sea of Cortés, Columbia & Snake Rivers, coastal Washington, British Columbia, Galápagos Islands, Costa Rica, and Panama
What makes it awesome? Small ships and yachts that carry 22 to 88 passengers at a time mean that you will be getting intimate with the wildlife you set out to see. Fewer ports of call mean that you have time and freedom to explore and watch wildlife at your own pace. Spend your days hiking, kayaking, bushwhacking, snorkeling, and exploring by skiff. Snorkel with turtles in Hawaii. Watch humpback whales from your kayak in Alaska. See gray whales and calves up close in Baja. Basically, if you want an adventure, nature-filled vacation, this is your cruise.
Best luxury cruise
Regent Seven Seas Cruises
Price starts at: Around $6,000 per person (world cruise starts at $57,000)
Where it goes: Africa/India, Alaska, Asia/Pacific, Canada/New England, Caribbean/Panama Canal, Grand Crossings, Mediterranean, Northern Europe, South America, and world cruises
What makes it awesome? When a cruise offers unlimited shore excursions and $20,000 savings, you know you are walking onto something pretty spectacular. Granted, those sorts of discounts only come with the $57,000+ world cruise, but still. Every suite (yes, suite) has a balcony and is decked out like any other fabulous luxury hotel. No more than 750 guests are ever onboard, so you won't feel cramped, and staff to guest ratios are less than 2:1. Bring on the Champagne.  
Best if you love an insane cruise ship
Viking Cruises' Star
Price starts at: $2,400
Where it goes: Europe
What makes it awesome? A small ship (Viking Star carries 930 peeps max), means you can get into smaller ports of call and see more than your mega-ship counterparts (yes, you can laugh as they sail past your dock). Sailing with Viking brings elegance and modern Scandinavian design into every nook and cranny. Every cabin has a veranda, so you can watch the scenery and not get too claustrophobic in your room. Not that space is a problem. There is plenty of cabin room, and if you can swing the price of a junior suite, you won't be sorry. Dining is top-notch, and the sauna and snow room make this a truly Scandinavian experience.
Best Caribbean cruise
Royal Caribbean
Price starts at: $240
Where it goes: Mexico, Haiti, Jamaica, Cuba, Bahamas, Antigua, US Virgin Islands, St. Lucia, St. Kitts, St. Maarten, St. Thomas, Puerto Rico, Barbados, Martinique, Aruba, Bonaire, Curacao, Grand Cayman, Honduras, Belize, Grenada, Dominica
What makes it awesome? If you want a taste of the islands, and even Mexico and Central America, Royal Caribbean can get you there. They offer short escapes (three to five days) on up to two-week vacations. Cruises leave from up and down the East Coast as well as Puerto Rico if you want to tack on a little extra beach time or book a land-and-sea vacation with Universal Orlando Resort. The Harmony of the Seas introduced "neighborhoods" so guests don't get lost and they also know where to find the most fun, whether they are traveling solo, with friends, as a couple or with kids in tow.
Best Mediterranean cruise
Windstar Cruises
Price starts at: $6,000
Where it goes: Alaska, Arabia, Asia, Canada and New England, Caribbean, Costa Rica and the Panama Canal, Italy, Mediterranean, Greece, Northern Europe, Tahiti, and Ocean Crossings
What makes it awesome? Hop aboard a yacht. Yes, a yacht. If you really want to dive into the small ports across the Mediterranean with fewer than 300 guests onboard, you hop on a yacht. All cabins offer ocean views or balconies, so you never miss a thing as you sail into a new destination. A new partnership with the James Beard Foundation means guest chefs climb on board to offer cooking demonstrations and some of the best meals you will ever eat on or off the high seas. Treat this as your own private yacht. Order a few people around. Ask if they know who you are. Ask if they know who your dad is.
Best river cruise
AmaWaterways
Price starts at: $1,800
Where it goes: Europe, Vietnam & Cambodia, Africa
What makes it awesome? When a cruise company is actually managed by the founders, you are sure to see a different level of service. Guests are treated better than family with AmaWaterways. The chef sources food and wine locally along the journey (yes, you can go to the market with him), and AmaWaterways was the first river cruise line inducted into La Chaîne des Rôtisseurs, one of the world's most prestigious culinary organizations. While most people are familiar with the river cruises of Europe, AmaWaterways takes you on incredible adventures in Africa and Asia with the same level of service on their European tours, and in-depth experiences using local guides.
Sign up here for our daily Thrillist email and subscribe here for our YouTube channel to get your fix of the best in food/drink/fun.