There are two things I wish someone had told me before my first cruise. The first -- never, ever wear a skirt on deck. Ever. The other is that, despite my lack of sea legs and extreme resistance to "unplugging," I'd come to love cruises. My cell service went out about 20 minutes into our journey and the Wi-Fi was so ridiculously expensive I could barely afford to check email. I was going to have to relax in a lounge chair whether I liked it or not -- and you know, after the hives cleared up, I found I really wanted and needed that time off.
These days a cruise cabin looks more like a boutique hotel suite than a squashed hamster cage. Just take a look at the newly launched Amawaterways AmaMagna and the Windstar Star-Class -- cruise ships that were basically cut in half and renovated for even more space for passengers. The food leans more towards Michelin-starred restaurant than all-inclusive buffet, and there's enough entertainment onboard to distract a kid for months. Or not. Some ships have a strict no-kid policy. Some ditch size and luxury altogether to facilitate far-flung adventures in the world's hardest to reach locales.
Today, we're seeing cruise ships make leaps and bounds in eco-friendly design and sustainable travel practices. Hurtigruten just launched its first hybrid electric-powered cruise ship, the MS Roald Amundsen, and they are testing biofuels (basically fueling the ship with organic waste) and Liquified Natural Gas. There are a lot of options out there, but here are some of our favorite cruises so you can find the right one for you.
Best cruise for under $500
Carnival
Price starts at: $159 per person
Where it goes: Bahamas, Bermuda, Caribbean, Mexican Riviera, Alaska, Hawaii, Canada, New England, Europe, Pacific Islands, New Zealand, and the Panama Canal
What makes it awesome? Carnival is a return favorite for families and friends in the cruise industry; the price is right, the food is decent, and the destinations are gorgeous. The launch of the Carnival Vista brought IMAX movies to the Caribbean. The Carnival Panorama, which is due to launch in December 2019 out of Long Beach, California, will see the first Sky Zone Indoor Trampoline Park and Challenge Zone hit the high seas. We have to wonder though, will passengers get off at the Mexican Riviera ports, or be too busy bouncing between Decks 7 and 8?
MORE: 7 destinations that are best seen from a cruise
Best cruise for families
Disney Cruise Line
Price starts at: $579 per person
Where it goes: Alaska, Bahamas, Bermuda, Canada, Caribbean, Europe, Hawaii, Mexico, Pacific Coast, Panama Canal and Transatlantic
What makes it awesome? Nothing's weirder than a pantless Donald Duck running around a cruise ship… but just go with it. For the very tired parent, the beauty of a Disney cruise is that everything good about the parks is conveniently packed into one confined space. Is your kid screaming for a kiss from Mickey? The mouse is waiting outside the restaurant, ready for photos before dinner. Does your princess just have to meet a princess? Cinderella's probably kicking it over at the kids club.
The kids club is just one of many, many places where you can ditch your kids. You might even leave 'em on Disney's private island, Castaway Cay, while you sneak in a nap. The boat has screening rooms to catch the latest Disney films, live Broadway-style shows, swimming pools with waterslides, and loads of games and activities throughout the day. Book a cruise with a Star Wars or Marvel Day at Sea (available on select cruises), and you may find you have a new galactic superhero in the family.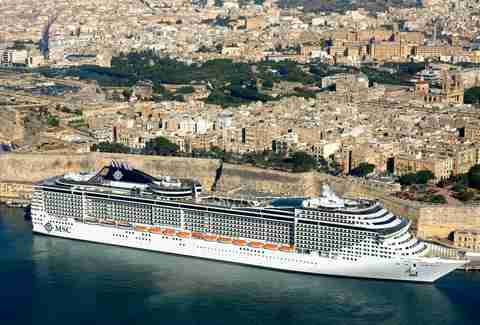 Best eco-friendly cruise
MSC Cruises
Price starts at: $509 per person
Where it goes: Asia, Caribbean, Dubai, Abu Dhabi & India, Mediterranean, Northern Europe, South Africa, South America, United States & Canada, Ocean Cay MSC Marine Reserve (private island), and MSC World Cruises
What makes it awesome? Many cruise lines are making strides to be more eco-friendly, but MSC Cruises is really putting their money where their mouth is. MSC will become the first carbon-neutral cruise line by January 1, 2020 -- which they'll achieve through carbon offsets (buying credits to fund projects that reduce greenhouse gas emissions). Specifically, they're developing a portfolio of blue carbon projects, focused on preserving coastal habitats. 
MSC ships have been designed with energy efficiency in mind -- think LED and fluorescent lights, as well as onboard recycling programs. Eleven out of 17 ships are currently equipped with hybrid Exhaust Gas Cleaning Systems (EGCS), which remove 98 percent of sulphur dioxide from a ship's exhaust. The latest ship launch, the MSC Grandiosa, also utilizes smart HVAC -- which re-distributes heat and AC from the laundry room and machinery spaces to heat the pools and other parts of the ship. 
Future plans include all ships running on liquefied natural gas (LNG) power, which means clean ships and cleaner exhaust. The MSC Europa, which just went into production, is the first of five LNG-powered MSC Cruises' ships on order. We can't wait to see these beauties in action.
Best luxury cruise
Regent Seven Seas Cruises
Price starts at: $5,199 per couple (World Cruise starts at $63,499 per couple)
Where it goes: Africa, Alaska, Asia, South Pacific, Canada/New England, Caribbean, Bermuda, Panama Canal, Mediterranean, Northern Europe, South America/Amazon, Transatlantic crossings and World Cruises
What makes it awesome? When a cruise offers unlimited shore excursions and $6,000 savings, you know you are walking onto something pretty spectacular. Granted… those sorts of discounts only come with the $63,000+ World Cruise, but still! Every suite (yes, suite) has a balcony and is decked out like a fabulous luxury hotel. No more than 750 guests are ever onboard, so you won't feel cramped, and staff to guest ratios are around 2:1. Bring on those champagne wishes and caviar dreams.
The staff will cater to your every plant-based craving with even more vegetarian options onboard than before, as well as a new series of cooking classes. Culinary Arts Kitchen classes are being introduced aboard the 2020 sailing of the Seven Seas Splendor to the Caribbean and the Mediterranean. Classes will include Island Fusion, Farmstand Fabulous, Treasures of the Aegean, Batter Up, The Nourished Kitchen: Plant-Based Comforts, Sensuous Spain and World of Flavor: Street Food, creating a variety of options, no matter your palate (or carnivorous) preference.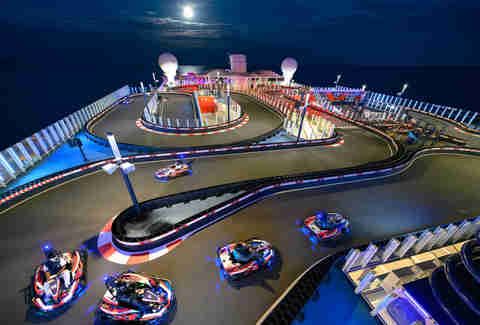 Best cruise for singles
Norwegian Cruise Line
Price starts at: $549
Where it goes: Caribbean, Alaska, Hawaii, Baltic Sea, Mediterranean Sea, Canada & New England, Pacific Coastal, Transatlantic, Mexican Riviera, Bahamas, Bermuda, and the Panama Canal (also sailing to Australia & New Zealand, Asia, and South America, without studio staterooms)
What makes it awesome? Norwegian was the first cruise line to build interior studio staterooms just for single cruisers. The Studios Lounge offers TVs and a bar, which are perfect for mingling with other singles onboard. Most sailings have singles meet-ups, and nightly events in the main Studio Lounge, dinners out where singles get grouped at tables together, and even a few dance parties onboard.
The latest ship in the fleet, the Norwegian Encore, will be one of the most innovative ships with a race track that extends 13 feet over the side of the ship.  There is also a 10,000-square-foot, open-air laser tag arena where players can tag passing electric go-karts on the track for an extra boost. If that doesn't get your motor running, we don't know what will.
Best cruise for live entertainment
MSC Cruises
Price starts at: $509 per person
Where it goes: Asia, Caribbean, Dubai, Abu Dhabi & India, Mediterranean, Northern Europe, South Africa, South America, United States & Canada, Ocean Cay MSC Marine Reserve (private island), and MSC World Cruises
What makes it awesome? Book a cruise on the MSC Meraviglia and you're in for a treat: the first ever Cirque du Soleil at Sea. See VIAGGIO, the story of a passionate, eccentric artist who hears the call of his Faceless Muse (it's Cirque, just go with it). Or see SONOR, an auditory adventure with dancers and acrobats all moving to a rhythm. If you missed your tickets on the Meraviglia, don't despair -- sister ships, MSC Bellissima, launched in March 2019, and MSC Grandiosa, the first of the enhanced Meraviglia-Plus class ships, launched in November 2019, also have these megashows. 
Not enough for you? MSC Divina has the largest theater at sea with 1,600 seats. MSC Seaside has BeerProv, the Canadian-based improv troupe that brings improv, games, and fun scenarios via audience participation to the high seas. Events across MSC ships include dance classes, wine tasting, and theme nights.
Best cruise for seeing fjords
Hurtigruten Cruises
Price starts at: $1,100 per person
Where it goes: Norway, Svalbard, Antarctica, Iceland, Northwest Passage, Alaska, South America, North America, Europe, Caribbean and Central America, Greenland
What makes it awesome? Vikings. Need I say more? I mean who wouldn't want to gaze upon the beauty of the fjords of Norway? Get up close with glaciers, waterfalls, lakes, cliffs, fjords, historic cities, and cozy towns as you cruise the coast under the northern lights in winter, or the midnight sun in summer. You don't have to sing any Frozen songs, but feel free to sing Frozen songs.
Visit Hammerfest, the northernmost town in the world, with more than 10,000 people. Take an Arctic dip, go on a snowmobile ride across the Arctic, and pass 2500-foot cliffs and waterfalls as you explore Geirangerfjorden, a UNESCO World Heritage Site.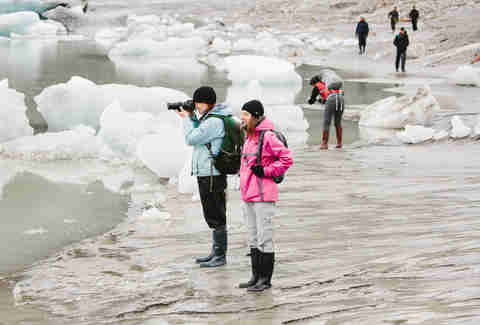 Best cruise for seeing wildlife
UnCruise Adventures
Prices start at: $3,195 per person
Where it goes: Alaska, Hawaiian Islands, Mexico's Sea of Cortés, Columbia & Snake Rivers, coastal Washington, Galápagos Islands, Costa Rica and Panama, Belize, Guatemala and Colombia
What makes it awesome? Small ships and yachts that carry just 22 to 88 passengers mean that you can get up close and personal with the wildlife you seek. Fewer ports of call mean that you have time and freedom to explore. Spend your days hiking, kayaking, bushwhacking, and exploring by skiff. Snorkel with turtles in Hawaii. Watch humpback whales from your kayak in Alaska. See gray whales and calves in Baja. Even better, the Costa Rica and Panama itineraries just got extended, so you've got more time to explore two beautiful countries and one heck of a canal. Basically, if you want an adventurous, nature-filled vacation, this is your cruise.
MORE: A run-down of the very best Alaska cruises
Best if you love an insane cruise ship
Viking's Ocean Cruises
Price starts at: $2,199
Where it goes: Scandinavia and Northern Europe, Mediterranean, Asia and Australia, Africa, The Americas & Caribbean, Alaska & the Inside Passage -- as well as World Cruises, including Viking's 245-day Ultimate World Cruise, which for the first time includes a stop in Hawaii
What makes it awesome? Viking's Ocean Cruises carry 930 peeps (max) and are classified as "small" ships -- which means you can get into harder-to-reach ports of call and see more than your mega-ship counterparts. Viking's six ocean ships bring elegance and modern Scandinavian design into every nook and cranny. Every cabin has a veranda, so you can escape your room and watch the scenery go by. Dining is top-notch, and the Thermal Spa, which includes the sauna and snow grotto, makes this a truly Scandinavian experience. An excursion is included in each port of call, plus free wine and beer at lunch and dinner brings even more added value to the trip.
Best river cruise
AmaWaterways
Price starts at: $2,699
Where it goes: Europe, Southeast Asia, including Austria, Belgium, Botswana, Bulgaria, Cambodia, Croatia, Czech Republic, France, Germany, Hungary, Luxembourg, The Netherlands, Portugal, Romania, Serbia, Slovakia, South Africa, Spain, Switzerland, Tanzania, Vietnam and Zimbabwe
What makes it awesome? Guests are treated better than family with AmaWaterways. In addition to the more popular itineraries through Europe, AmaWaterways takes you on incredible adventures in Africa and Asia, offering in-depth experiences using local guides. On-board, the chef sources food and wine locally along the journey (yes, you can go to the market with him), and AmaWaterways was the first river cruise line inducted into La Chaîne des Rôtisseurs, one of the world's most prestigious culinary organizations. 
This year, AmaWaterways welcomed the AmaMagna to the fleet, a ship that is twice the width of a traditional river cruise, but only welcomes 20 percent more guests. Four restaurants, an onboard cinema, Zen Wellness Studio with in-house trainer, juice bar, two massage rooms, a sun deck with heated pool, whirlpool and sky bar are just a few reasons to book this larger ship. Oh, and if you need any further encouragement, try this: some of these cruises come with free airfare.
Best Caribbean cruise
Royal Caribbean
Price starts at: $169
Where it goes: 270 destinations worldwide, including Mexico, Haiti, Jamaica, Cuba, Bahamas, Antigua, US Virgin Islands, St. Lucia, St. Kitts, St. Maarten, St. Thomas, Puerto Rico, Barbados, Martinique, Aruba, Bonaire, Curaçao, Grand Cayman, Honduras, Belize, Grenada, Dominica and their private island, Perfect Day at CocoCay
What makes it awesome? If you want a taste of the islands, and even Mexico and Central America, Royal Caribbean can get you there. They offer short escapes (three to five days), all the way up to 18-day vacations. Cruises leave for the Caribbean from up and down the East Coast, as well as Puerto Rico if you want to tack on a little extra beach time or book a land-and-sea vacation with Universal Orlando Resort. 
Guests can't seem to get enough of Royal Caribbean's new private island, Perfect Day at CocoCay. It's home to the tallest waterslide in North America, the largest freshwater pool in the Caribbean, and a helium balloon ride that soars up to 450 feet in the air. Expect a lot more sailings from Royal Caribbean's fleet to stop here in the next decade. Also on the horizon is a $165 million renovation of the Odyssey of the Seas, which will debut in the fall of 2020 sailing out of Fort Lauderdale to Aruba, Curaçao, Mexico, Grand Cayman, and Perfect Day at CocoCay. This ridiculously massive ship will feature a Bionic Bar with two robotic bartenders, a panoramic theater dubbed Two70, and the tallest slide at sea.
Best Mediterranean cruise
Windstar Cruises
Price starts at: $2699
Where it goes: Alaska, Asia, Australia and New Zealand, Canada and New England, Caribbean, Costa Rica and the Panama Canal, Egypt and the Holy Lands, Greece, Italy, Mediterranean, Mexico, Northern Europe, Tahiti, South Pacific, the West Coast of the U.S. and Ocean Crossings
What makes it awesome? Hop aboard a yacht. Yes, a yacht. If you really want to dive into the small ports across the Mediterranean with fewer than 300 guests onboard, you hop on a yacht. So go ahead, order a round on you. Ask if they know who you are. Ask if they know who your dad is.
Lesser-known ports means you can escape the mega-ships at the big destinations. A partnership with the James Beard Foundation means guest chefs climb on board specialty cruises to offer cooking demonstrations, market tours, and some of the best meals you will ever eat on or off the high seas. 
Big news this year, the Star-Class ships are getting a new section added to the middle. They are literally cutting their current boats in half to add an entire section for 50 more suites, spa and fitness center, an elevated pool, and two new dining spots (a new Spanish restaurant named Cuadro 44 by Anthony Sasso and a new smoker, grill, and rotisserie spot named Star Grill by Steven Raichlen). All cabins will still have ocean views or balconies.
MORE: Secrets I learned working on a cruise ship for a year
Best cruise for polar adventure
Quark Expeditions
Price starts at: $4995
Where it goes: Arctic (Greenland, Spitsbergen, North Pole, Canadian High Arctic) and Antarctic (Antarctic Peninsula, South Georgia, the Falkland Islands, plus a few other Antarctic islands when the weather allows)
What makes it awesome? Wanna see a polar bear? Maybe a few penguins, seals, beluga whales, and walruses? A humpback whale or two? Quark Expeditions only travels to the Arctic and Antarctic, and they've been doing so for 30 years. When you are traveling through some of the most extreme habitats in the world, you want the best of the best leading the way, which is why they only hire expert staff -- and lots of them. Snowshoe across polar landscapes, kayak in the icy ocean, and take that polar plunge (brrr!). 
Their newest ship, Ultramarine, is pushing the boundaries of what you thought you could do on a cruise ship, like popping two helicopters onboard for flight-seeing and heli-skiing tours. You'll also have access to a main restaurant, panorama lounge, lecture theater, a polar boutique, spa, sauna, and fitness center. Not a bar way to check "see a polar bear" off your list. Can we come too?
Best cruise through the Middle East
Costa Cruises
Price starts at: $449 per person
Where it goes: Caribbean, Far East, Indian Ocean, Mediterranean (Eastern and Western), Middle East (UAE, Oman, Israel, Jordan and Qatar), Northern Europe, Transoceanic (Atlantic and Indian Ocean), South America and World Cruise. Fjord cruises include the Netherlands, Norway, Denmark and Germany.
What makes it awesome? You may perfectly well want to explore the white-washed mosque in Abu Dhabi, or try the indoor skiing in Dubai -- but you may be nervous about getting there on your own. This is when you hop on a Costa Cruise for the perfect intro to some of the most fascinating parts of the UAE and the Gulf of Oman. Guests can book a 5-day or 8-day "Dubai and UAE" cruise, roundtrip from Dubai or Abu Dhabi aboard Costa Diadema. This new(er) itinerary stops overnight in Abu Dhabi, with additional stops in Doha, Qatar; and Fujairah Khor Fakkan, UAE.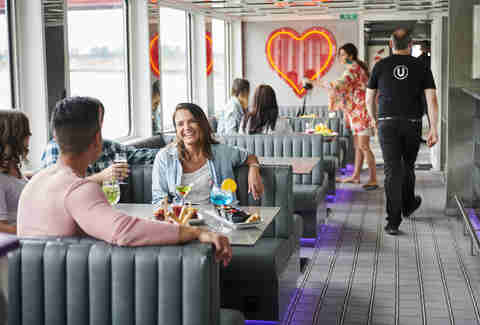 Best kid-free cruise
U River Cruises
Price starts at: $1959
Where it goes: The Netherlands, Germany, Slovakia, Hungary, France, Austria
What makes it awesome? No water parks, crazy arcades, or wet diapers in the pool. More and more travelers are seeking kid-free vacations, and U River Cruises is happy to answer the call, with cruises that are exclusively for grown-ass adults. But not, ya know, ADULT adults. Launched in spring 2018, this boutique-hotel-meets-river-cruise was designed with millennials in mind. Think silent discos, karaoke, happy hours, paint & wine, rooftop BBQs, top-shelf bars, baristas and scheduled meet-ups included. Best of all, there are only 120 people onboard, a fraction of the amount you'd get on a typical ocean ship. One last perk? Free WiFi for all.
Best cruise if you aren't sure you like cruises
Virgin Voyages
Price starts at: $2800
Where it goes: Caribbean and Mexico, including Key West, Bimini, Bahamas, Cozumel, Playa del Carmen, Costa Maya, Puerto Plata, San Juan
What makes it awesome? Virgin Voyages, founded by Richard Branson, has four ships in the works, with the first making its debut in April 2020. This cruise line is truly "Adult by Design" (AKA only for the 18+ crowd). Well-being is the main focus, so expect lots of free fitness classes and opportunities to relax and rejuvenate when you aren't out exploring Mexico and the Caribbean. WiFi, entertainment, dining and tips are all included in the price. Oh, how we love the lack of nickel and diming in an all-inclusive.
The Training Center at Athletic Club will feature a boxing ring, and strength and gymnastics equipment. Or better yet, sweat your toxins out at The Manor, a nightclub/entertainment space. Naturally, you will first need something to burn off, which is when the 13+ bars and restaurants come into play.
What do we love best about this new cruise? They have banned all single-use plastics. That's right -- no straws, plastic bottles, condiment packets, shopping bags, food packaging, stirrers, or take-away coffee cups. Virgin Voyages has also partnered with Climeon, a Sweden-based technology company, with a goal to significantly reduce carbon dioxide emissions by converting engine waste heat into clean electricity.