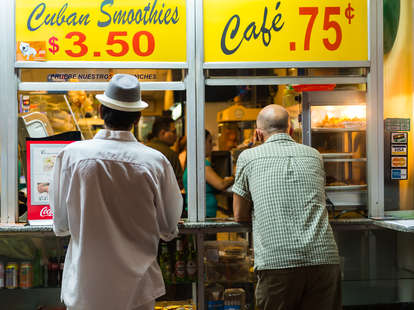 Little Havana

| Daniel Korzeniewski/Shutterstock
Little Havana

| Daniel Korzeniewski/Shutterstock
The Best Places to Experience Cuban Life in Miami
If you're even thinking of being in Miami, check out the rest of our DestiNATION: Miami guide. It's stacked with expert advice from locals on what to eat, where to drink, and what to do.
Miami, the oft-dubbed "Capital of Latin America," could've turned out to be just another very-deep-South city in Florida. Instead, Cuba happened. In the late '50s, early '60s, as Fidel Castro came to power, waves of Cubans fleeing their island nation -- first the wealthy elite, with few possessions, and eventually scores of unaccompanied children -- settled into the heart of Miami, in a neighborhood then known as Riverside that swiftly transformed into Little Havana. The community's central artery was and remains Calle Ocho, running from Downtown Miami all the way west to the Everglades and beyond -- a street that today sees a whopping 3.5 million visitors each year.
To write the whole thing off as a skippable tourist trap would be a mistake. When you're in Miami, the Cuban experience will truly be inescapable, and in some ways, just as inexpressible. But Calle Ocho is where Miami's Cuban experience began; step carefully around the traps, and it's still here for the taking. Because this is Miami, you'll be tempted to drive. But your better bet by far is to get the sidewalk under your feet and walk.
While it's true that many, if not the majority, of Little Havana's original families have relocated to the 'burbs, their grandchildren still flock here to see Willy Chirino play at Hoy Como Ayer lounge. Or for dinner and dancing at Ball & Chain, an iconic nightclub whose notoriety dates back to its days as a gambling saloon in the '30s.
Between the art galleries, musty cigar shops, and fruit stands that line Calle Ocho you'll find old-timey architecture and landmarks concentrated on the blocks between 12th and 17th Avenues. The Tower Theater -- state-of-the-art when it opened its doors in 1926 -- is where countless Cuban families got their first glimpses of American cinema in the '60s. Directly next door, take in the scene and quiet murmurs of Spanish at Domino Park (Maximo Gomez Park, on a map), where older Cubans still gather to play dominos and smoke hand-rolled cigars. Get an obligatory look at the Walk of Fame on your way to Los Pinareños Fruteria, an open-air market owned by the Hernandez family for the last 50 years. Further west, the Caballero Rivero Woodlawn Park North Cemetery is a must-see -- for its beauty, but also for the graves of Cuban and Nicaraguan presidents, first ladies, and senators. And also the guy who created the Spy vs. Spy comic.
If it's more ghosts you're after, the most haunted house in Miami is purportedly Villa Paula, Miami's first Cuban Consulate on North Miami Ave in an area now known as Little Haiti. This restored cultural center, museum, and art gallery was built in 1925 -- the home of Don Domingo Milord, who named it after his beloved wife Paula. She's buried in the garden, and, yep, haunts the place with the help of four other spirits. The smell of Paula's roses and Cuban coffee wafts through the house, even though there is none.
You can't talk about Calle Ocho and not mention the Calle Ocho Festival each March. The festival is a once in a lifetime experience, where you can eat your way through 24 blocks filled with Cuban and Latin American cuisine and dance with a million of your new best friends. The open-air party started as an ode to Cubans' influence on Miami but has morphed to include all of Latin America. This March 12 is the festival's 40th Anniversary. It's an experience that should be tried at least once. If you're claustrophobic, go early and leave before the millionth person arrives!
Downtown, near the bay, it's worth a visit to the Freedom Tower on Biscayne Blvd. Built in 1925 as the original home of the Miami News, the "Ellis Island of the South" served as the immigration facility that provided food, doctors, translators, and financial support for some Cuban refugees seeking asylum from Castro's regime. Though we arrived from Cuba in 1960, my family and I were not actually refugees (my father had been in the American Air Force). Our family and friends who received food subsidies at Freedom Tower often gifted us the huge cans of peanut butter they'd been given. Cubans didn't eat peanut butter. So they gave it to us instead: We had already been Americanized.
But enough about the sights. You're mostly here for the food -- specifically palomilla steak with a side of black beans and rice, or a frita -- an authentic Cuban sandwich topped with potato sticks. The holy trinity of Cuban restaurants are Versailles and La Carreta, both on Calle Ocho, and Sergio's on Coral Way. All are well-known landmark institutions where you'll find good food for good prices. Further north, Little Havana serves up a mean pork or chicken tamarind, plus all your Cuban standards at slightly steeper prices. For fritas, Miami's signature Cuban burger, El Mago de las Fritas is the place, or El Rey de las Fritas for something a bit closer to Downtown. You can't go wrong at Islas Canarias, a humble eatery established in 1977 by the Garcia family still serving the family's original recipes.
Some of the other authentic spots have, naturally, wandered further from the historic Calle Ocho as Miami itself became an honorary Cuban city. Molina's Ranch Restaurant, a classic diner in Hialeah, well out of the city's usual tourist zones. Little Havana Restaurant in North Miami Beach is considered one of Miami's top Cuban restaurants, and with well-below-market-rate mojitos. If you find yourself in the nest of sand-seeking tourists that is South Beach, you can downshift for Cuban comfort food and great cafecitos at Puerto Sagua.
After dark? Try to find yourself in Wynwood, a resurgent arts and culture district just two miles north of the Freedom Tower. There you can't really go wrong, but at El Patio, with its reasonable cocktails and kitschy-chic '60s decor, you can easily imagine yourself in the Miami of two generations ago -- at a moment when the city was embracing Cuban newcomers by the thousands, and they were getting to work building the city you see around you today.
Sign up here for our daily Thrillist email, and get your fix of the best in food/drink/fun.
Linda Rodriguez Bernfeld lives on an island and loves being able to walk outside to watch rockets launch from the Kennedy Space Center. She has worked in radio, television and newspapers, and tweets @lindabernfeld.