ROBBIE'S MARINA, ISLAMORADA, FLORIDA

| ROMRODPHOTO/SHUTTERSTOCK
ROBBIE'S MARINA, ISLAMORADA, FLORIDA

| ROMRODPHOTO/SHUTTERSTOCK
The Best Quick Day Trips Around South Florida
If you're even thinking of being in Miami, check out the rest of our DestiNATION: Miami guide. It's stacked with expert advice from locals on what to eat, where to drink, and what to do.
A wise man once described Miami as "palm trees, blue skies, ganstas and goons / where parties don't stop till the next afternoon." Truly, Pitbull nailed it.
In the Magic City, we typically spend our days making love to rappers, swapping luxury real estate, and blissfully ignoring climate change. But every so often, Mother Nature manages not to drop her signal, and the call of the wild comes through. When it does, we break away from the strip clubs, strip malls, and grandma's condominium -- and go explore. Florida's longleaf pine forests and stillwater cypress swamps are ecosystems unlike any other on the planet. Our beaches boast some of the warmest, bluest, and fishiest waters in the Western Hemisphere. Did you know we even have bears?
Should the vacation gods bestow you with enough time off for a multi-day side trip from Miami, steer clear of the Mouse House and instead swim with manatees in freshwater springs, take a cruise to Bimini for a weekend, or hunt for fossils on the Peace River, where ancient shark bones and mastodon teeth are waiting to be found. But if time is scarce -- or you just can't keep away from the city's sexy neon glow -- the easy day trips below are enough to nab a literal breath of fresh air. Plus, you can be back to hit the club before midnight. As Pit would say, "Dale!"
The Everglades: Ride an airboat with the Miccosukee Tribe
Drive time from Downtown Miami: An hour
Why it's worth the trip: The best way to explore one of America's most impenetrable national parks
Just west of Miami, the 600-member Miccosukee Tribe of Indians (neighbor to the more famous Seminoles) controls 33 acres of reservation land, plus another 189,000 acres of Everglades wetlands, which function as their big wet backyard. The Miccosukee, whose ancestors were almost wiped out during Andrew Jackson's wars, fiercely defend the delicate ecosystem, which is still under threat from sugar farming.
Zip around with them on an airboat over the seemingly endless expanse of swamp, where lily pads cover the water like carpet. You'll encounter gators for sure, and maybe a deer, hawk, or turtle. If you're lucky, the driver might do donuts in the boat, take you to one of the tribe's private islands, and/or let you cradle a baby gator in your arms (selfie!). Afterward, pop into the Miccosukee Indian Village to witness an alligator-wrestling show and learn more about the tribe's fascinating history, like that time it teamed up with Fidel Castro to embarrass the United States. A tribe-run restaurant serves up gator bites and traditional pumpkin fry bread.
Palm Beach: JFK's bomb shelter, Trump's Mar-a-Lago, and more
Drive time from Downtown Miami: 1.5 hours
Why it's worth the trip: Ever been in a nuclear fallout shelter?
In 1961, as the Cold War escalated, an ominous possibility became scarily real: Soviet Premier Nikita Khrushchev might actually press the button. If that were to happen while President John F. Kennedy were at his family compound in ritzy Palm Beach, the prez would need to be squired away somewhere safe to run whatever remained of America. So, Navy Seabees dug an underground bunker into a small hill on a man-made island in the Intracoastal Waterway, a 15-minute boat ride from the Kennedy home.
Today, visitors can ride a water taxi to Peanut Island and tour the Kennedy Bunker -- which feels like a giant tin can. Inside, you'll see the now-declassified order to build the shelter, and the decontamination showers that theoretically would have been used to wash away radioactive particles. The 79-acre island has been developed into a public park, popular for paddleboarding, kayaking, and camping. Should you get hungry, Romana's will deliver you a pizza by boat.
After visiting the island, you may want to check out the nearby underwater snorkeling trail at Phil Foster Park, or spin through Palm Beach, window shopping at Chanel and Tiffany on Worth Ave and throwing back a drink at the palatial Breakers resort. Head back to Miami along the beachfront road, A1A, to gawk at opulent mansions, including Donald Trump's private club, Mar-a-Lago. Given the Secret Service presence, you'll only be able to glimpse the turret that rises into view over a massive wall -- unless you have $200,000 to cover the membership fee.
Ochopee: Swamp walks and skunk apes
Drive time from Downtown Miami: 1.5 hours
Why it's worth the trip: The skunk ape is the Florida Man of Bigfoots
For a delightful side hustle to the rural town of Ochopee, start at the compound of Clyde Butcher, the photographer whose haunting black-and-white images of the Everglades earned him a reputation as the area's Ansel Adams. During a guided swamp walk -- either with a naturalist, or a photo excursion with Butcher himself -- wiggle into a pair of waist-high rubber pants and wade into the mucky water as cypress trees tower like a cathedral around you. Sure, there might be water moccasins slithering underfoot, but more likely you'll encounter anhinga, apple snails, and rare fauna. Lucky visitors might even see a rare ghost orchid, famous from the book The Orchid Thief.
Next, pop in to the Skunk Ape Headquarters, where proprietor Dave Shealy swears he's been hunting a Bigfoot-like creature since he caught it on video in the early 1990s. His discovery has helped inspire an entire subculture of Sasquatch hunters -- or "cryptozoologists," as they like to call themselves. Shealy himself has been known to offer guided skunk ape-hunting tours complete with frog leg dinners, but a spin through the gift shop may be satisfying enough.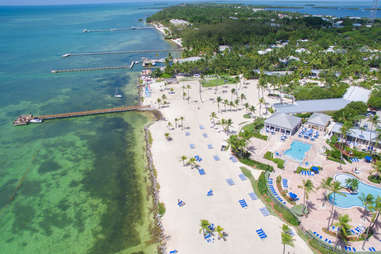 The Florida Keys: Islamorada
Drive time from Downtown Miami: 1.5 hours
Why it's worth the trip: Saves two hours in driving time from Key West, and untold amounts in hotel fees and tourist trinkets
Islamorada has all of the laid-back charm of Key West (probably more, with Key West now so commercialized) for a fraction of the expense. On this collection of five tiny islands, countless boats can be chartered for private fishing trips. But if you stop in at legendary Tiki bar Holiday Isle for "just one" and end up never leaving the barstool… well, you wouldn't be the first. Should such fortune befall you, might as well get a room -- perhaps at the resort of Guy Harvey, the artist who makes all those dad T-shirts with drawings of fish on them. Or, more adventurously, on a houseboat or sailboat. On the way, visit Pennekamp Coral Reef State Park and wash down the trip with some Key lime pie.
Fort Lauderdale Beach: The Strip
Drive time from Downtown Miami: 40 minutes
Why it's worth the trip: A lower-key beach scene with a dose of the raging '80s
Miami is cool... until last call, then the lights come up to reveal too much truth: the drink-stained carpets, the "surgical enhancements," the bar tab so steep you'd swear it's in pesos. Nearby Fort Lauderdale provides the antidote with a dose of normalcy.
The city once renowned for spring break debauchery and wet T-shirt contests is now renowned for its yachting industry. And its once-seedy, mile-long strip along Fort Lauderdale Beach has transformed into a just-right mix of working-class watering holes, mom-and-pop ice cream shops, and fancy hotels. In the daytime, it's a family-friendly destination with lifeguards and body surfing. Nights and weekends, it's a people-watching bonanza, with jugglers, souses, and flip-flopped cuties from all over the world bar-hopping. The beach's ground zero: the Elbo Room, made famous in the '60s film Where the Boys Are.
Snowbirds crowd the roads from Thanksgiving to Easter, and college kids still come every March, but the loveliest visitors arrive between May and October: three species of sea turtles. Join a nighttime turtle trek and witness mama turtles laying their eggs in the sand, or babies hatching. Thanks to volunteers who patrol the sands at night, populations have rebounded to record highs.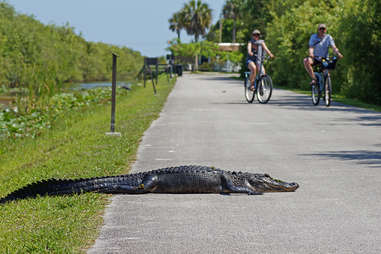 Everglades National Park: Bike Shark Valley
Drive time from Downtown Miami: An hour
Why it's worth the trip: Gators, gators, and more gators
Barely two steps past where you've rented your bicycle, you might stumble upon a 12ft alligator. Not even in a cage! Then another. And another one. When you finish freaking out, you'll realize these scaly dudes don't do much but laze about in their mud holes, and pretty soon, they blend into the landscape like wallpaper. Halfway around the paved 15-mile loop at Shark Valley, a section of Everglades National Park, you'll come to a concrete lookout tower, which you can climb to get a sense of the vastness of the park, and to appreciate the beautiful, eerie silence.
Not up for the bike ride? Ride a tram with a tour guide. In summer months, the gators are the least of your mortal threats; beware mosquitoes and heatstroke. Pro tip: This is way more exciting during monthly nighttime rides under a full moon. Check the park service calendar for the schedule.
Canoe through Jonathan Dickinson State Park
Drive time from Downtown Miami: Two hours
Why it's worth the trip: This is the raw-ass old Florida of lore.
According to legend, a Polish immigrant who became known as "Trapper Nelson" learned to catch muskrats in New Jersey before landing in South Florida. Here he bought 800 acres, upon which he captured small animals and sold them for fur and food. After he started putting on alligator-wrestling shows and opened a small zoo, he became known as "Tarzan of the Loxahatchee River" and Palm Beach heiresses began to swoon over him. He went a little crazy after a stint in World War II, becoming a hermit, and no one knows for sure if he really committed suicide, or if it was a ploy by the government, which had shut his zoo and moved to seize his land -- now part of Jonathan Dickinson State Park.
Stop at the trapper's old homesite during a slightly challenging 3.5- to seven-hour canoe or kayak trip (beware of logjams, dehydration, tipping over, and hungry gators) along this federally designated wild and scenic river, where bald eagles and gopher tortoises make their home.
Naples: Chill out
Drive time from Downtown Miami: Two hours
Why it's worth the trip: Peace and quiet
Miami madness might leave you craving something calmer... and Naples, on the west coast of Florida, is about as low-key as it gets. Cute boutiques, artsy shops, and a renowned fishing pier suggest this is just a nice little town… when, in fact, it is a haven for billionaires. Residents include Shahid Khan, owner of the Jacksonville Jaguars, and countless banking types whose names you've never heard. You might want to scan Tinder while you're here; just sayin', the odds are good. Or, get kissed only by the sun, at one of Naples' soft sand beaches on the Gulf of Mexico, where dolphins might leap up at any moment. Split when it gets dark. Restaurants close soon after, anyway.
Homestead/Redlands: Eat up
Driving distance from Downtown Miami: 45 minutes
Why it's worth the trip: Wine… mango wine
There's an alligator farm and a NASCAR speedway in this agricultural area south of Miami, but mostly it's a wonderland for farmers, given the subtropical climate. Visitors can pick their own strawberries at Knaus Berry Farm in winter, then grab mangos and avocados in the summertime. (The botanical garden Fruit & Spice Park alone grows 150 varieties of mango.) Schnebly Redland's Winery takes this bounty and makes wine out of it (beer, too); tasting tours are available. Get lost in the aisles at Robert Is Here fruit stand, where the fruit shakes will blow you away. There's a petting zoo out back, and you'll be tempted to try exotic flavors, like Monstera deliciosa (tastes like pineapple-banana!) or miracle fruit, which makes anything you eat for an hour afterward taste sweet.
Sign up here for our daily Thrillist email, and get your fix of the best in food/drink/fun.
Deirdra Funcheon is a writer based in Miami. She's probably listening to "Give Me Everything" on repeat right now. On Twitter, she's @DeirdraFuncheon.