The American desert is awfully welcoming for such a damn haunted place. Where foreboding mountains ring vast open spaces of cactus-studded landscapes, you'll find a wild array of curious small towns. Some are lushly landscaped mid-century modern architectural oases -- your Palm Springs and Palm Desert. Others are crumbling, dust-to-dust ghost towns where Wild West booms once thrived -- your Bodie, California and Rhyolite, Nevada. Then there's everything in between: artist sanctuaries in the middle of nowhere and pocket-sized cities with loads to offer.
These are some of our favorite desert towns -- some famous, others decidedly not, and all worth finding on a big-skied open highway somewhere out in America.
Kingman, Arizona
Best known as a pit stop for bikers (of the Harley kind) and other motorists making the Route 66 pilgrimage between Vegas to Phoenix, this is a fast up-and-coming food/drink destination. Really. The past decade has brought a push to restore the historic Downtown district, bring more arts and culture to the area, and populate the area with small businesses that happen to include a LOT of booze. Breweries, wineries, and distilleries are all at the ready here, and they are all well worth a leisurely weekend of exploring.  
The main stretch of downtown Beale Street is a worthwhile destination for any beer drinker. Black Bridge Brewery anchors: a three-barrel brewery that sells almost everything they brew straight out of the taproom -- so you can pretty much only get it here. Across the street is Rickety Cricket Brewing, a large industrial-looking space with exposed brick and corrugated metal, plus an outdoor patio where you'll eat pizza. It's also connected to the House of Hops (marked by an old neon sign that says "Kingman Club"), with a rotating list of 64 craft beers and 40 wines on tap. For some Southern BBQ done AZ style, pop over to the other side of Rickety Cricket to Floyd & Company Real Pit BBQ and Wood-Fired Pizzas.
Kingman is also home to a burgeoning (VERY burgeoning) wine scene, with tasting rooms for Cella Winery and Stetson Winery, both estate wineries with plots in northwestern Arizona, located just off Route 66. To taste a variety of Arizona wines and beers, head to Diana's Cellar Door Wine Bar. Twenty minutes from downtown (and on the way to Keepers of the Wild, an excellent exotic animal rescue sanctuary with all sorts of lions and tigers and bears) you'll find Desert Diamond Distillery, where you can take a tour and then sample their selection of craft rums. On your last morning in town, fuel up at Beale Street Brews Coffee Shop & Roasting Company, where you can enjoy a house-roasted cup of organic, Fair Trade coffee with fresh bagels and pastries.
Another fun fact: Kingman is the closest community to the Grand Canyon West Rim, where you'll find the horseshoe-shaped glass walkway, the Grand Canyon Skywalk.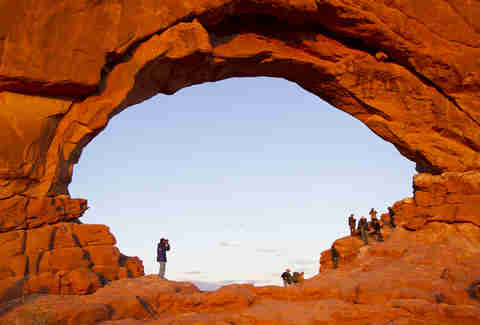 Moab, Utah
Top to bottom, Utah is one of the most beautiful states in the country, with a barrage of natural wonders and the most amazing collection of national parks. The city gets you easy access to two of them, Canyonlands and Arches. It's also close to Dead Horse Point State Park, an International Dark Sky Park with dramatic formations just as wild as any other formations you'll find throughout Utah.
After all that hiking, climbing, canyoneering, mountain biking, kayaking, and rafting, you might be tempted to hightail it back to civilization -- unless you're in Moab. This town of 5,000-ish people in southeastern Utah's high desert offers more than stunning landscapes. There are wineries that produce wines from locally grown grapes, plus Moab Brewery, the town's largest restaurant and only microbrewery, with a distillery opening soon. There are several remarkably good restaurants like the Moab Diner, Desert Bistro, Twisted Sistas' Café, Milt's Stop 'N Eat, and Zax Restaurant. And Moab has an incredibly robust arts scene -- to get the full experience, plan your visit around the second Saturday of the month for the Moab Artwalk.
Grand Junction, Colorado
Grand Junction tends to be more of a place you drive through, rather than stay in. But the Old West town, first settled in the 1880s, has a unique charm all its own that calls for a visit. Outdoorsy folk should consider this a convenient central location for knocking a few wild and wonderful things off their bucket list: White water rafting down the Colorado River? Done. Seeing wild horses in an Old Western frontier? Little Books Cliffs Wild Horse Area, check. Unique red rock canyons teeming with bighorn sheep? Colorado National Monument, check and check. The world's largest flattop mountain? Grand Mesa, chiggity-check.
Fruit orchards, vineyards, and more than 20 wineries surround Grand Junction, making this city the center of Colorado wine country. The Downtown also impresses with more than 100 public art pieces, all part of an expansive public exhibit called Art on the Corner. Most of the sculptures are for sale, so if that massive buffalo sculpted from chrome car bumpers calls to you, you can have at it, should you have a whole lot of money to spend on a massive buffalo sculpted from chrome car bumpers. And, like all quaint desert towns, there are plenty of cute independently owned shops, coffee houses, and restaurants to check out while you're snatching up art.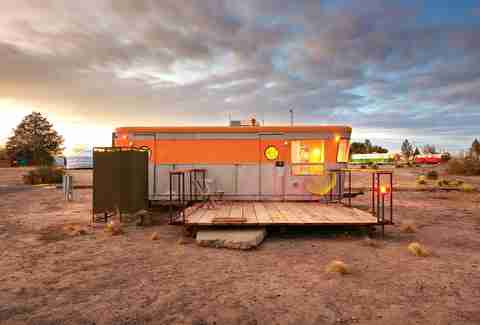 Marfa, Texas
Even if you think it's overplayed, you know deep down that Marfa is great. The Prada Marfa, its most recognizable landmark, remains a resounding favorite for Instagrammers -- an interesting piece of pop that only points to this legit artists hub in West Texas. It owes its reputation to sculptor Donald Judd, who moved there from New York in the '70s to make minimalist concrete installations. Other artists followed, ultimately leading to the establishment of the Chinati Foundation, which preserves these large-scale permanent installations by a number of artists.
Getting to Marfa is an exercise in patience and persistence, as even the closest airports, Midland-Odessa and El Paso, are still about a three-hour drive away, which may help to explain why only about 1,700 people have committed to year-round living. It is (still) an artists haven on the edge of the Chihuahuan Desert, though the "hipster paradise" that was promised could very well have been its own undoing, and there are plenty of hand-wringing op-eds on this to prep you before your visit as a rank tourist who, you know, doesn't "get" Marfa.
If you dig festivals, plan your visit around the end of September during the Trans-Pecos Festival, which usually boasts an anti-festival festival lineup with performers like Lee Ann Womack, Wilco, and Fiona Apple. (That was this year's lineup. 2017 Coachella it ain't.) Stay at El Cosmico, a 21-acre trailer, tent, and teepee hotel and campground. Too rustic? Book a room at the Hotel St. George. Spend some time on Highway 90 about 9 miles east of Marfa at the "official Marfa Lights viewing site" to maybe see the spooky "Marfa lights" -- glowing orbs that have been attributed to UFOs, paranormal activity, and... atmospheric reflections of automobile headlights and campfires. Because leave it to science to ruin a good story.
And since it took so long to get here, you might as well venture out. To the north you'll find Balmorhea State Park, a true desert oasis with the largest spring-fed swimming pool in the world. To the south, just about butt-up against the Mexico border, is Terlingua, home to THE International Championship Chili Cook-Off and ruins worthy of hosting a West Texas edition of Wasteland Weekend, plus Big Bend National Park, where you can kayak down the Rio Grande between cliffs that rise to 1,500 feet.  
Antelope Valley, California
Antelope Valley was one of those spots in "LA's backyard" that people didn't pay much attention to -- until the hipsters moved in. Specifically 5 Acres, an art cooperative and outdoor artist workspace launched by a gang of youngsters from Venice, CA. The area is making a name for itself, not unlike Marfa, as a refuge for experimental artists inspired by the surreal landscape of nearby Joshua Tree and who, you know, want cheap property. Check out the Lancaster Museum of Art and History (MOAH), the Art Gallery at Antelope Valley College, and public art like MOAH's mural project.
There's a certain sense of eeriness that pervades the area; Antelope Valley is home to that creepy adobe church from Kill Bill and the retro motel and diner from House of 1000 Corpses, as well as the remnants of other communities like Llano del Rio and Lake Los Angeles. And let us not forget Joshua Tree National Park, with its otherworldly "trees" of twisting limbs like something sinister from the mind of Dr. Seuss. Rock formations make Joshua Tree a favorite destination for climbers, with 8,000 established climbing routes for all skill levels. Spend a few nights in one the park's first-come, first-served campgrounds. For something less creepy, the Antelope Valley Poppy Preserve is one of SoCal's best-kept secrets, a state park that's awash in brilliantly orange wild poppies each spring.
Bend, Oregon
It's not what you'd expect in the typically lush Pacific Northwest, but the little inland empire of Bend is thoroughly high desert. The town enjoys 300 days of sunshine a year and has geographic formations and vegetation reminiscent of Nevada or New Mexico: massive ponderosa pines, sagebrush plains, its very own Badlands Wilderness, and the spectacular Owyhee Canyonlands, all of which can be seen along the 750-mile Oregon Desert Trail. You can also go skiing, kayaking, white water rafting, mountain biking, golfing, or crawling through a mile-long lava tube.
Yet the beer will assure you you're in Oregon. The Bend Ale Trail is the largest beer trail in the West, with stops at a brew-it-yourself pub and craft brewery and some national heavy hitters like Deschutes and 10 Barrel. Visiting in June? Sign up for the Bend Beer Chase beer run. Visiting in August? Check out the multi-day Bend Brewfest! Stay in a microbrewery while you're here: The McMenamins Old St. Francis School is a boutique hotel AND microbrewery located inside a renovated Catholic schoolhouse built in 1936.
Continuing with this trail theme, the Roundabout Art Route is a collection of 23 public art pieces located at the center of traffic circles ("roundabouts"), named by Americans for the Arts as one of the most innovative approaches to public art in the country. You'll also find galleries, museums, the Tin Pan Alley Art Collection, and cultural events like the Art in the High Desert festival and the BendFilm festival.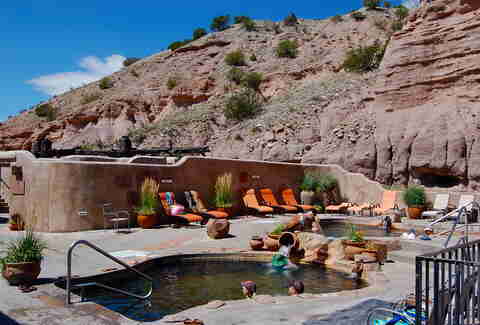 Ojo Caliente, New Mexico
You don't have to spend more than your monthly mortgage for a legit spa retreat in the American Southwest. Just head to Ojo Caliente, a town of 816 residents between Santa Fe and Taos. Natural sulfur-free hot springs feed several beautiful spa resorts in the area. Even in the depth of snowy winter, the 109-degree geothermal mineral waters jet up from a subterranean volcanic aquifer, making this a year-round spa destination.
The Ojo Caliente Mineral Springs & Resort includes a historic hotel built in 1916 surrounded by mountains on the property's 1,100 acres of land. "Take in the waters," as it was once said, then take in the jaw-dropping vistas along the area's ample hiking and biking trails that traverse through lush river valleys and past high desert mesas. A sister property, Sunrise Springs in Santa Fe, offers 70 acres of landscaped gardens and high desert landscape surrounding the spring-fed waters.
Boulder City, Nevada
Boulder City has a hard time shaking off its rep as ground zero for blue-hairs taking bus tours to the Hoover Dam. But Boulder City has charm -- something that really can't be said for Vegas or Reno. It's just a 30-minute drive from the Strip, and instead of being assaulted by an endless sea of identical tract housing, you have structures that look like, well, actual houses, and a highly walkable Downtown.
Wilbur Square Park is a wide expanse of beautiful green space that's home to the annual Boulder City Beerfest (the best in southern Nevada, in my humble opinion). Along little strips of independent shops and restaurants, you'll find Boulder Dam Brewing with a large outdoor patio that hosts live music on weekends, the Boulder City Art Guild & Gallery exclusively displaying the work of local artists, and the Historic Boulder Theatre, home of the excellent Dam Short Film Festival. The vintage and antique stores are great rabbit holes, especially the impeccably curated Sherman's House of Antiques.
Pop into the Diners, Drive-Ins and Dives-famous Coffee Cup for breakfast, enjoy classic American and Tex-Mex at the Southwest Diner for lunch, and have dinner at the gangster-themed Dillinger Pub with a menu of gourmet burgers and an ever-rotating selection of craft beers. Tour the Hoover Dam (you're here, might as well), kayak the stunning Emerald Cove, or get a soaring view of Lake Mead from above on the Flightlinez Bootleg Canyon Zipline Tour. Then take home an alpaca rug from Alpaca Imports (the largest alpaca store in the world!).
Cottonwood, Arizona
There's not much talk about Northern Arizona wine country, which is a damn shame. The wines coming out of this teeny-tiny region are resoundingly excellent, thanks largely in part to one person: Maynard James Keenan, perhaps a wee bit better known as the lead singer of Tool. Keenan launched Arizona Stronghold Vineyards in 2007, which has since become the best-selling and highest-volume winery in the state of Arizona. Its tasting room is located in Historic Old Town Cottonwood.
Cottonwood has become an off-the-beaten-path eating and drinking destination that makes nearby Sedona look like the overblown tourist trap. For a place so small (around 11,000 residents) the number of bars and restaurants is a pleasant surprise. Arizona Strongholds is by no means the only wine tasting room in town; just steps away is the Merkin Vineyards Tasting Room & Osteria, which doubles as a phenomenal Italian restaurant where EV-ER-Y-THING is made from scratch and with local ingredients -- right down to the grains used in the house-baked breads. Get loose at places like R.I.O.T. in Old Town, with a great selection of craft beers, plus karaoke and bar games, and if you want to drink like a local, with the locals, swing by Kactus Kate's, a rock'n' roll dive bar with live music. Just 20 minutes up the mountain from Cottonwood is Jerome, another quirky old mining town-turned-wine country destination. You're also half an hour from Sedona and the superb hiking trails of Coconino National Forest.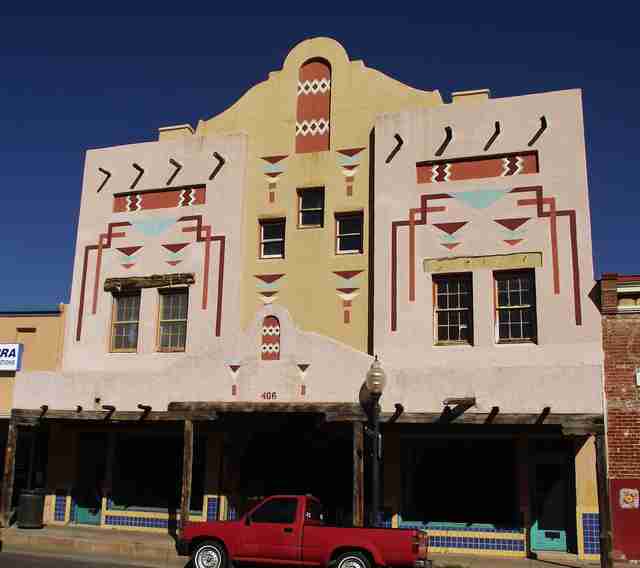 Silver City, New Mexico
This Old West mining town dating back to the 1870s is, actually, still an active mining town -- best known now its renovated historic buildings and a stellar arts community that earned it a spot on the 100 Best Art Towns in America. Painters, potters, printmakers, weavers, glass blowers, and jewelry makers set up studios and galleries in town, and their work tends to be a touch more affordable than New Mexico's better-known artsy town, Santa Fe. Old-timey renovated theaters host local theater troupes, and the free Silver City Blues Festival has brought musicians into town for Memorial Day Weekend for 20 years running. You can also catch live acts at Little Toad Creek Brewery & Distillery, which is also, conveniently, a brewery and distillery.
The singular dining experience is at 1zero6, a reservation-only café with a mere six tables that's only open on weekends. Everything is shopped for locally and made from scratch daily, and the international influences range from Pacific Rim and Southeast Asian to Oaxacan and Italian. And of course, one must hike. Located outside of town in the Pinos Altos Mountains is the Gila National Forest, covering 3.3 million acres with junipers, ponderosas, and piñons. And don't miss the Gila Cliff Dwellings National Monument, cave-like houses built by the Mogollon people in the 1200s.
Sign up here for our daily Thrillist email and subscribe here for our YouTube channel to get your fix of the best in food/drink/fun.