Spot UFOs, Dinosaurs, and Cowboys in These Funky Desert Towns
There's great art, food, and booze too.
Bisbee, Arizona

| Photo courtesy of Arizona Office of Tourism
Bisbee, Arizona

| Photo courtesy of Arizona Office of Tourism
Remember a few years back when 2 million people planned to raid Area 51, just for shits and gigs? Yeah, we never really gave up on that dream. Although the internet's plans were eventually thwarted by the US military (boooooooo), we've still got our hearts set on that fateful meeting place where it all went down: the strange and beautiful deserts of America.
The allure of desert towns—the relative isolation, the mysticism—is now stronger than ever. Out in the sandy expanses, anything is possible: time travel back to the days of the Old West, otherworldly art exhibitions, dinosaur hunts, eerie ghost towns, fertile vineyards, and even potential UFO sightings (or sleepings). Whether you're itching to see some of the clearest night skies in the nation (same) or have your very notion of what a desert looks like challenged, you'll find unique characters, otherworldly views, and a surprising wealth of food and drink at these unforgettable desert towns.
Moab, Utah
Top to bottom, Utah is one of the most beautiful states in the country. And a ridiculous amount of that staggering beauty—including Arches and Canyonlands National Parks and the Dark Sky destination Dead Horse Point State Park—is centered around Moab. The town of 5,000 or so is essentially the center of an expanding vortex of otherworldly rock formations, natural arches, and full-spectrum stargazing.
After you've had your fill of hiking, climbing, canyoneering, mountain biking, kayaking, and rafting, piece your blown mind back together in the bustling high-desert town. You'll find a wealth of local wineries; Moab Brewery, the town's largest restaurant and its only microbrewery and distillery; and other remarkably good restaurants like the Desert Bistro, Twisted Sistas' Café, and Zax Restaurant. Moab also has an incredibly robust arts scene—to get the full experience, plan your visit around the second Saturday of the month for the Moab Artwalk. And to top it all off, this may be one of the best places in the country for dinosaur people. Hello, dinosaur tracks! Pleased to meet you, dinosaur bones! Dinosaur hiking trails, we love you! —Nicole Rupersburg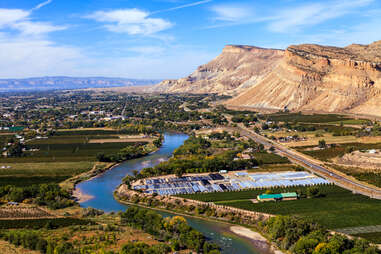 Grand Junction is most often viewed from the window of a speeding car. But the Old West town, first settled in the 1880s, has a unique charm all its own that demands to be explored on foot. The outdoors-inclined should consider this a convenient central location for knocking a few wild and wonderful things off their bucket list: Whitewater rafting down the Colorado River? Done. Seeing wild horses in an Old Western frontier? Little Books Cliffs Wild Horse Area, check. Unique red rock canyons teeming with bighorn sheep? Colorado National Monument, check and check. The world's largest flattop mountain? Might we recommend Grand Mesa?
Orchards, vineyards, and more than 20 wineries surround Grand Junction, making this mid-sized city the center of Colorado wine country. The downtown also impresses with more than 100 art pieces, all part of an expansive public exhibit called Art on the Corner. Most of the sculptures are for sale, so if that massive buffalo sculpted from car bumpers calls to you, it could be yours provided your chrome buffalo budget allows. —NR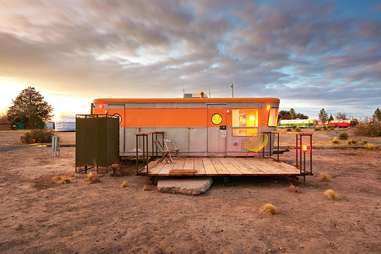 We don't care how many times we've seen it on Instagram—Marfa is cool. Yes, it's a three-hour drive from the nearest airport. Just pretend you're driving Fury Road. The time will fly, and you will be glad you came. In Marfa proper, you'll want to check into El Cosmico, a 21-acre tent/trailer/yurt hotel and campground, or the slightly-less-rustic Hotel St. George. Then, hit the desert beyond town for the real action.
The iconic Prada Marfa by Berlin-based art duo Elmgreen and Dragset is like the Wild, Wild West, but make it fashion. It's also not too far from the Chinati Foundation, a museum founded by sculptor Donald Judd, one of the creative giants who helped establish Marfa as a storied artists haven (although some people might say otherwise). To the north, Balmorhea State Park is a true desert oasis with the largest spring-fed swimming pool in the world; to the south, there's Big Bend National Park and, most important of all, Terlingua, home to the International Championship Chili Cook-Off. In the evenings, take a drive down Highway 90 to the official Marfa Lights viewing site. Are the mysterious glowing orbs spaceships? Optical illusions? Ghosts? That's between you, the desert, and the lights. —Tiana Attride
Bend is not a small town: Despite the old-mill aesthetics and highly walkable Rockwell-goes-western downtown, it's one of the fastest-growing cities in the Pacific Northwest. But Bend exists to confuse, and that starts with the fact that it's a sunny, high-desert city in the lush, rainy PNW. Yeah, you've got your Oregon touchstones—it's a world-class beer city, a magnet for artists and musicians, and has great cannabis and better food—but it's also a portal to the arid section of Oregon most of us forget exists. Oh, and it's a ski town, just to keep you on your toes.
The place enjoys a whopping 300 days of sun, all the better to explore a surrounding landscape dotted with ranches that sprawl out in the shadows of snowy mountains. Those peaks clash beautifully with Mars-like terrain that seems closer to Nevada or New Mexico than Cascadia. You'll find massive ponderosa pines, sagebrush plains, the Badlands Wilderness, and the spectacular Owyhee Canyonlands, all of which can be seen along the 750-mile Oregon Desert Trail. The roaring Deschutes River brings whitewater adventure and leisurely tubing. Smith Rock State Park draws climbers from the world over, while Mt. Bachelor is a beacon for fat tires and snowboards alike. Around each turn, you'll find yourself questioning your image of what a desert should look like… until you get whacked in the face by a tumbleweed while looking at a lush butte. —Andy Kryza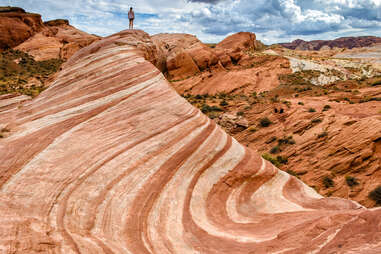 We are absolutely racking our brains to work a Johnny Cash pun or "the floor is lava" joke into this blurb, but we'll spare you for now. In the meantime, let's talk about the real draw of the Valley of Fire: the blazing red sandstone that gives this 70-mile expanse of desert its name. Here, you'll find ancient petrified trees, 150 million-year-old rock formations like the Fire Wave and the Mouse's Tan, and 2,000-year-old petroglyphs (prehistoric rock carvings). No matter what time you visit, you're guaranteed a spectacle: In the daytime, a bright blue sky crowns the vibrant red earth; at night, a heaven of stars opens up above campers. Everybody wins.
Meanwhile, nearby Overton is relatively quiet, but makes a great home base. While you're in town, be sure to stop by the Lost City Museum, created to preserve artifacts from the 1,000-year-old Pueblo Grande de Nevada archaeological site. It's also worth mentioning that all of the above is just an hour outside of Las Vegas, making it one of many excellent weekend trips from Sin City. —TA
You don't have to spend more than your monthly mortgage for a legit spa retreat in the American Southwest: Just head to Ojo Caliente, a tiny town between Santa Fe and Taos. Natural sulfur-free hot springs feed several beautiful spa resorts in the area. Even in the depths of snowy winter, the 109-degree geothermal mineral waters jet up from a subterranean volcanic aquifer, making this a year-round spa destination.
The Ojo Caliente Mineral Springs & Resort includes a historic hotel built in 1916 surrounded by mountains on the property's 1,100 acres of land. "Take in the waters," as it was once said, then take in the jaw-dropping vistas along the ample hiking and biking trails that traverse through the area's lush river valleys and past high desert mesas. A sister property, Sunrise Springs in Santa Fe, offers 70 acres of landscaped gardens and high desert landscape surrounding spring-fed waters. —NR
If you're looking to try something new in California's Coachella Valley, Palm Desert promises somewhat fewer influencers and just as many out-there experiences as nearby Coachella and Palm Springs. And while we can't guarantee you'll spot Rihanna rolling a blunt on her bodyguard's head (God we miss pre-pandemic life), we can promise that you'll see some truly eccentric artwork and beautiful landscapes in an area that packs all the quirky desert appeal and opulence of its more famous neighbors with a fraction of the fuss.
A lot of the usual Palm Desert recommendations like the McCallum Theatre, the Palm Springs Art Museum, and much of the El Paseo art walk are on hold due to COVID-19. But many of the city's best sights are located outdoors for your cooties-free viewing pleasure. For your consideration: An enormous nose with glasses! A 14-foot metal man napping in the grass! A zoo/botanical garden focused entirely on desert life! Beyond that, hiking trails with killer views like the Bump and Grind, Palm Desert Cross, and Art Smith Trailhead abound. And if things aren't weird enough for you, consider this your portal to the vast weirdness of California's desertscape: Joshua Tree (the park and the funky-as-hell town), Slab City and Salton Sea, and the sculpture-laden Anza-Borrego State Park are all nearby and waiting to blow your mind. —TA
Boulder City is mostly known as magnet for blue-hairs taking bus tours to the Hoover Dam. But Boulder City has charm—something that really can't be said for its gaudier Nevada brethren. It's just a 30-minute drive from the Strip, and instead of being assaulted by an endless sea of identical tract housing, you have structures that look like, well, actual houses, and a highly walkable downtown.
Said downtown hums with people perusing galleries and and taking in the local bounty. It's home to the (currently in purgatory) Boulder City Beerfest—Nevada's best beer bash—and the superlative Boulder Dam Brewing, whose large outdoor patio host local bands. Breakfast at Coffee Cup is Fieri-approved, while Southwest Diner brings Tex-Mex flair and Dillinger Pub serves elevated gastropub fare with a gangster theme. After, you might as well send grandma a postcard from the dam, then spend the day kayaking the stunning Emerald Cove. Don't forget a fuzzy rug: Alpaca Imports is the largest alpaca store in the world, after all. —NR
There's not much talk about Northern Arizona wine country, which is a damn shame. The wines coming out of this teeny-tiny region are resoundingly excellent, and getting extra attention thanks to Arizona Stronghold Vineyards, founded, rather unexpectedly, by Tool frontman Maynard James Keenan. Stronghold's Old Town Cottonwood isn't the only game in this town: just steps away is the Merkin Vineyards Tasting Room, which doubles as scratch-made everything restaurant. Throw in great beer at R.I.O.T. in Old Town and locals' dive Kactus Kate's and Cottonwood reveals itself as an off-the-beaten-path eating and drinking destination that makes nearby Sedona look like the overblown tourist trap.
Not off the path enough? Just 20 minutes up the mountain from Cottonwood is Jerome, another quirky old mining town-turned-wine country destination. You're also half an hour from Sedona and the superb hiking trails of Coconino National Forest, should you want to get a little more cosmic after you've had your fill of wine. —NR
Most Old West mining towns are now abandoned. Silver City, meanwhile, has been going strong since the 1870s. Today, its renovated historic buildings and stellar arts community have earned it a spot on the 100 Best Art Towns in America. Painters, potters, printmakers, weavers, glass blowers, and jewelry makers set up studios and galleries in town, and their work tends to be a touch more affordable than New Mexico's better-known artsy town, Santa Fe. Old-timey renovated theaters host local theater troupes, and the free Silver City Blues Festival has brought musicians into town for Memorial Day Weekend for more than 20 years —they even kept it alive, albeit digitally, in 2020.
Of course, the landscape is its own draw, and this area drops jaws even amid stunned silence. Located outside of town in the Pinos Altos Mountains is the Gila National Forest, covering 3.3 million acres with junipers, ponderosas, and piñons. And don't miss the Gila Cliff Dwellings National Monument, cave-like houses built by the Mogollon people in the 1200s. —NR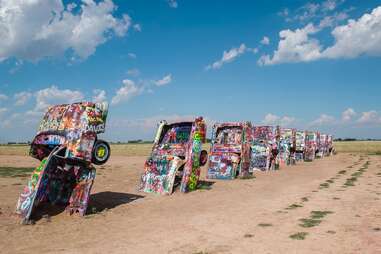 Amarillo, Texas
Everything really is bigger in Texas—the hair, the food, and the land. That being said, may we present Amarillo: the gateway to a very big place, the Palo Duro Canyon. Sure, the Grand Canyon is grand. But Palo Duro is both grand and severely underrated, receiving just a fraction of the visitors each year despite being the second-largest canyon in the United States. That means 60 miles of towering rock formations, peaceful horse rides, and essentially crowd-less selfies for you.
Nearby, Amarillo also has its fair share of inviting eccentricities. There's Cadillac Ranch, an art installation of graffiti-covered Cadillacs buried into the ground; the Route 66 Historic District, lined with galleries, restaurants, and antique shopping; museums like the Panhandle-Plains Historical Museum (the largest history museum in Texas) and the RV Museum (exactly what it sounds like); and a Hall of Fame for horses, because why the hell not. All very Texas. All very fun. —TA
Bisbee, Arizona
Something is a little off in Southwest Arizona's Bisbee, and that something is everything. Proudly embracing its nickname of "Mayberry on Acid," this Mule Mountain town a few klicks north of the border kind of feels like a cadre of psychedelic time travelers set up shop in the old boom times, keeping the silver-mining aesthetic of the 1800s then warping everything else however they saw fit.
Here, technicolor homes stand out amid the muted desert palate. Art explodes out of the galleries and onto the sides of antiquated buildings. Cars roam the streets adorned with bric-a-brac as if en route to a post-apocalyptic clown show. You'll find great sandwiches at the century-old Mimosa Market and lodging in the vintage buses and retro airstreams of Shady Dell. Hit it in June and you'll find the greatest small-town Pride parade in America. Hit it any other time and you'll find yourself simply captivated by a town that took the concept of "trippy desert town" and allowed it to completely calcify in its DNA. —AK
Sign up here for our daily Thrillist email and subscribe here for our YouTube channel to get your fix of the best in food/drink/fun.