Paid Content For
Honda Civic
The Best Designed Underground Spaces in America
Paid Content For
Honda Civic
"Underground" spaces are either awarding themselves the stamp of counterculture approval or they're actually underground. The following fall in the latter category, but forget stalactites, stalagmites, and cave dust: from a government bunker in Virginia to a concert hall in Colorado, these subterranean spaces are swank.
1. Jaegers
Kansas City, Missouri
Paintball is like the more painful version of laser tag, but you may as well do it in the hillside of a limestone mine. Its five fields feature various objects for protection from the most vicious players, including vehicles, wooden spools, and barrels. Some even have protected observation areas so you can just laugh when your friend gets shot in the ankle and is hopping around on one foot. It's also pretty much the perfect spot for a teambuilding exercise. Nothing strengthens company loyalty more than being able to peg Bill from accounting.
2. Spa Terra
Napa, California
The Meritage Resort's 9,000 square-feet spa is located in its "Estate Cave" -- a fancy pants name for steam grottos, soaking pools, waterfalls, treatment rooms, and whirlpools located 40 foot below the hillside. It has a distinctly Mediterranean vibe, with mosaics, wrought-iron decorative touches and an earthy (ha) palette.
3. The Greenbrier
White Sulphur Springs, West Virginia
The mother of all 5-star bunkers and bomb shelters is that created by the government at the Greenbrier hotel in 1961. Located 720 foot below, the former "Project Greek Island" comprises a 25-ton blast door, decontamination chambers, a hospital clinic, power plant, and a 6-month supply of food and pharmaceuticals. To summarize: congress would be A-Okay during a nuclear attack, living underneath a luxury resort, while the rest of us dodge radiation.
4. Forestiere Underground Gardens
Fresno, California
Baldassare Foestiere, an Italian immigrant and subway digger, carved out this 10-acre subterranean complex, with patios, grottos, arched passageways, garden courts, and even a fishing pond modeled after the Sicilian catacombs of his homeland. The fact that he only worked with a pick, shovel, and wheelbarrow is either insane or just proves how badly he wanted to escape the heat. He was smart enough to sculpt out skylights so things could grow -- and maybe so he wouldn't get super depressed.
5. Mansueto Library
Chicago, Illinois
The glass-paneled domed top of this University of Chicago library sticks out above ground (students need some light to read their books). But just below is a five-story book depository, where an automated system delivers any of the 3.5 million books in an average of 5 minutes. It's basically a library run by robot librarians, only they can't shush rowdy studiers. There's even a freezer set at negative 40 degrees to clean wet, moldy, or insect-infested books. Let's not imagine what people are doing with the books to make these things happen.
6. Arthur M. Sackler Gallery
Washington, DC
Designed in the Postmodern style (aka sleek and simple), the Sackler Gallery is 57 foot below ground, with the kind of staircase you see people in ball gowns walk down during movies. A passageway connects it to the Freer Gallery of Art, skylights keep away the introvert-looking-at-art-and-being-socially-awkward vibes, and a reflecting pool at the bottom ensures it's classy enough for schmoozy events. Check out the 8,000-plus works of art it houses from China, Japan, Korea, Iran, India, and Southeast Asia.
7. Koullshi
Boston, Massachusetts
Beneath Moroccan restaurant Tangierino is Koullshi, a hookah and cigar bar with belly-dancing shows Thursdays through Sundays. Dimly lit, Moroccan-influenced lanterns dangling from the ceiling, pillow-lined couches, and colorful drapery give it a slightly sex-den vibe -- in the classy kind of way. Even if flavored tobacco isn't your thing, there's always the Mediterranean tapas. Plus, it touts a state-of-the-art air-filtration system so you may not need to dry clean your outfit after.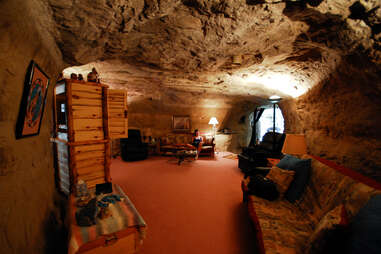 8. Kokopelli's Cave
Farmington, New Mexico
"Hotel" is a bit of a stretch for this 1,700 square-feet cave in the Tertiary Ojo Alamo sandstone cliffs near the Four Corners; you'll feel like a bear burrowing in and out of its den. But the accommodations, 70 foot below, are a little nicer than what bears sleep in, with waterfall showers, Jacuzzi tubs, and kitchenettes. Its replica kiva fireplace gives the space an authentic Southwest vibe. Outside, two porches overlook the La Plata river valley about 300 foot below, for killer views of Southwest sunsets and Shiprock, a sacred Navajo rock formation.
9. Joan and Irving Harris Concert Hall
Aspen, Colorado
Built within a 40-foot-deep hole amid meadows, this music hall is said to have Aspen's best acoustics, which may or may not have something to do with the fact that it's lined with expensive, and expensive-looking cherry, walnut, and maple woods. At the very least, all that expensive wood makes it look, well, expensive. Local architect Harry Teague reportedly designed the hall to look like an imaginary Ute Indian musical instrument.
10. SubTropolis
Kansas City, Kansas
In an excavated mine the size of 140 football fields, SubTropolis is an entire world dug into 270-million-year-old limestone deposits with 2 miles of rail lines, 6 miles of roads, and 5 million square-feet of business space. Original film reels to Gone with the Wind and Wizard of Oz reside here, and the US Postal Service stores millions of postage stamps in its distribution hub.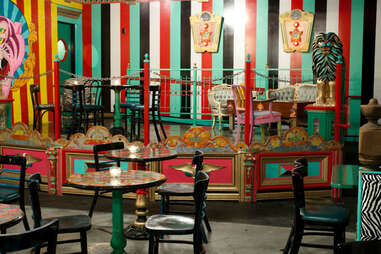 11. Narwhal
Seattle, Washington
Narwhal, not to be confused with the city's oyster truck, is Unicorn's underground space. It's got a similar Betsey Johnson-meets-carnival atmosphere like the upstairs. The bubble machine and arcade games were featured in Macklemore's video for Thrift Shop (along with the rest of Seattle). When the décor gets you craving a funnel cake, they've got that, too, along with all things fried: fried Oreos, fried Snickers, and a fried Nutella sandwich with Fireball jelly. Stop by for the renowned drag brunch on Sundays; dressing in drag optional.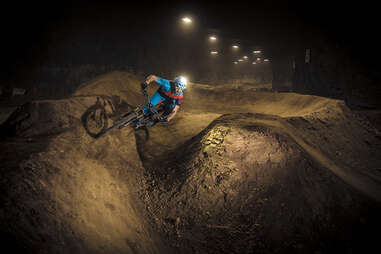 12. Louisville Mega Cavern
Louisville, Kentucky
Ten stories beneath Louisville, in a former limestone cavern, sit 17 miles of corridors, which some geniuses outfitted with zip lines, a ropes course, a tram ride, an event space, and a 320,000 square-feet bike park. And as if these five ways weren't enough to empty your wallet, load up your car and head there around Christmastime: you can drive through a portion of the cave decked out in tens of thousands of lights for you to "ooh" and "aah" at.
13. Dakota's
Dallas, Texas
This steakhouse is 18 feet below street grade, on (below?) land that was once owned by the First Dallas Baptist Church. Design touches like a 5-tiered granite water wall, fire pit, 20th-century Beaux-Arts wood columns, and Art Deco lamps will make you want to stay down there.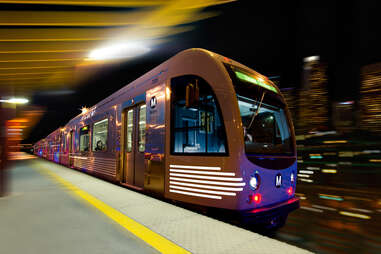 14. Union Station
Los Angeles, California
LA isn't known for it's trains, but behind this station's pretty-awesome-in-and-of-itself Mission-style exterior is a marble-tiled waiting area and (faux) wood-beam ceilings, with a sprinkling of Art Deco. Spanish tiled courtyards. If Elon musk gets his way this will be a happening place.