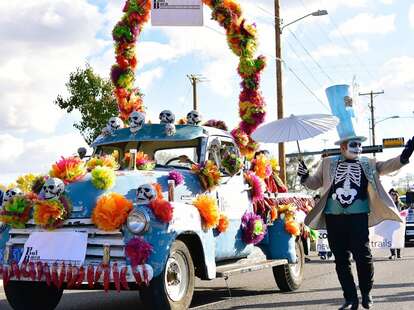 With its close proximity to October 31st, Día de los Muertos—or Day of the Dead— tends to get conflated with Halloween in America. But while good ol' All Hallows Eve centers around gorging on candy and terrorizing everybody within a five-mile radius, Día de los Muertos is a joyous two-day celebration of the deceased, a colorful affirmation of life through the embrace of death.
Originally an Aztec holiday dedicated to the god Mictlantecuhtli and the goddess Mictecacíhuatl, the rulers of the underworld, it was later melded with the Catholic celebrations of All Saints' and All Souls' Day after the Spanish arrived in the New World. Today, many Latin American countries celebrate a pair of holidays coinciding with the harvest: November 1, Día de los Inocentes, on which the spirits of children who've died return to their families; and November 2, Día de los Muertos, for departed adults.
Leading up to their loved ones' return, family and friends decorate altars known as ofrendas with heartfelt adornments—old photographs, marigold flowers, shots of mezcal, candles, tissue paper cutouts, the deceased's favorite food and drink, and other personal items—and light up the world with parades, parties, song and dance, elaborate costumes, painted sugar skulls, and more. Cities across the United States are coming around to these unique traditions—and these are among some of the best Día de los Muertos celebrations North of the border.
San Antonio, Texas
October 23 - November 2; parade on October 29
Cost: Free; seated tickets for the procession $22-$27
San Antonio is a major melting pot, with Native American, Spanish, French, and German influences found throughout town. But the Latin American culture that vibrates throughout the city runs strong, especially in the La Villita Historic Arts Village, set right off the River Walk. The entire Day of the Dead celebration here is loud, energetic, and totally infectious, but the highlight of the festivities is the River Walk parade, with over 20 floats and barges, Calaveras skulls designed by local artists, giant puppets, skeleton drummers banging out beats for traditional dancers, and people dressed up in costumes including La Catrina—the iconic skeleton first drawn by illustrator Jose Guadalupe Posada in Mexico around 1910. The smell of burning incense fills the air, and a beautiful fleet of stunning altars carried through the festival cast their glow.
Los Angeles, California
October 25 - November 2
Cost: Free
Considered the "birthplace of Los Angeles," the historic, tree-lined Calle Olvera is the oldest part of Downtown Los Angeles, where in 1781 travelers from what is now northern Mexico arrived and settled. You'd think the Olvera Street Día de los Muertos festivities fell right out of Mexico's own celebrations: There are the stalls selling tacos, fruit, and churros at La Golondrina Mexican Cafe, as well as nightly Novenario processions, colorful and vibrant parades of the living dead with participants carrying bowls of burning incense and huge photos of their loved ones.
After each procession, pan dulce (sweet bread) is passed out to the crowd, who can also bring photos of deceased loved ones to place on a community altar. There's also the Carrera de los Muertos, a 5K run that's rapido, divertido y pintoresco—fast, fun, and scenic. Runners paint their faces as sugar skulls and honor their loved ones at a runner's altar.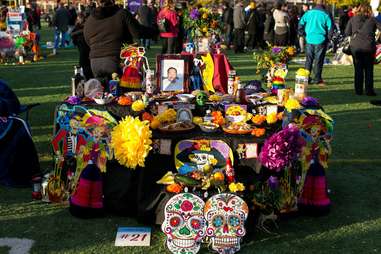 Chicago, Illinois
October 30th
Cost: Free
You probably can't get a more accurate Día de los Muertos experience than at the Xicágo celebration held by the National Museum of Mexican Art because, well, it's the National Museum of Mexican Art. As at most Day of the Dead celebrations, you'll be able to get your face painted like a sugar skull and hear some incredible live music. But the museum also immerses guests in a full art experience.
Throughout the afternoon, artists will draw live illustrations that'll be projected on the building, and to make the event even more personal, the museum's two-story entrance will feature photos of lost loved ones that people submit. "We're located in a predominantly Mexican neighborhood on the South Side of Chicago," Barbara Engelskirchen, the museum's chief development officer, said. "It's not just art, it's social. It's cathartic to talk about people who have passed away."
Visitors will also have a chance to peruse the 2021 Dia De Los Muertos exhibition, which remembers the many from the US and Mexico who passed away in the last two years due to Covid-19 and offers a space of collective mourning. The exhibition runs through December 12, 2021.
Albuquerque, New Mexico
October 8 - November 13
Cost: Free
After a pause in 2020, the South Valley Día de los Muertos Celebration and Marigold Parade—more succinctly known as Muertos y Marigolds—is on again this year, with a few alterations due to the pandemic. This month-plus festival brings art workshops, sugar skull and face painting, food, vendors, music, a parade, and more to the streets of Albuquerque. The 2021 theme is "Unity is the Center of Community," and although the parade is still on hold for this year, in its place comes an event just as riveting: an enormous community ofrenda featuring 11 altars honoring different people and causes important to South Valley residents, including family members, community leaders and activists, and those lost during the pandemic.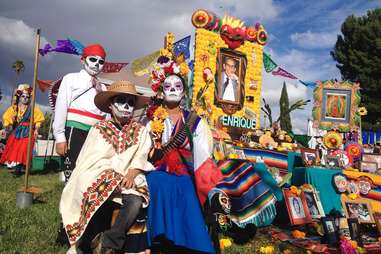 Los Angeles, California
October 28
Cost: $40-$50
The Hollywood Forever Cemetery is the final resting place for some titans of the earliest days of show business and is often regarded as one of the most interesting cemeteries in the world. Their celebrations are split into two parts so that you can choose your own adventure: the family-friendly Dia De los Muertos during the daytime, and the (already sold out) Noche de los Muertos, which runs from 3pm to midnight.
This year's theme is "The Return of Quetzalcoatl," the phoenix rising from the ashes. Events include a traditional Aztec blessing, dancing, a procession throughout the cemetery, and live music from Grammy Award-winning artists before festival-goers explore some of LA's most intricately crafted and personally adorned altars. There's also an altar contest that pays out up to $5,000 in three different categories: best event themed, best traditional, and best contemporary altar.
New Orleans, Louisiana
November 2nd
Cost: Free
New Orleans' Krewe de Mayahuel—named after the Aztec goddess of agave, the primary ingredient in tequila—is made up mostly of Mexican immigrants and their families. This November 2nd, the community will host their fourth Day of the Dead procession—a solemn but beautiful event featuring four bands, a gigantic puppet, and a parade along St. Claude Ave to the historic St. Roch cemetery followed by a short cultural program by locals. All are welcome, and participants are encouraged to bring a candle and pictures of loved ones to place at the altar at the entrance.
Fort Lauderdale, Florida
November 2
Cost: Free
Fort Lauderdale goes all out for their seaside Day of the Dead. All manner of bones come to life at the Skeleton Processional, which pays homage to the traditional cultural elements of the holiday with some added Florida twists: alongside giant puppets ambling down the riverwalk, you'll also find skeleton alligators, sea turtles, pirates, and mermaids. Anyone can join the parade, which begins at Huizenga Plaza. There, and at several stops along the way, you'll find bands, performers, stilt walkers, mariachi musicians, makeup booths, and special photo ops with those giant puppets. To get the community involved, the festival also offers workshops on traditional Folklorico dance, giant puppet and mask making, and creating Milagros, a sort of religious folk charm.
San Diego, California
October 30 - November 7
Cost: Free
You can't get any closer to Mexico without actually being in Mexico. The purported birthplace of California, San Diego runs deep with Latin American influences, and a lively and unique Chicano culture that honors American and Mexican traditions. San Diego's Old Town provides the backdrop for the Mercado del Arte on October 30, where businesses will be decorated with ofrendas. On November 2nd is the procession to the cemetery, where student mariachi bands perform and Aztec dancers keep the crowd moving. Along with the traditional costumes and outfits, this festival features a huge skeleton puppet and a skeleton stilt walker that towers over the crowd.
Elsewhere in San Diego, you'll find Ofrenda: A Día de los Muertos Celebration, a visual and musical concert by the sea with traditional music and dances. On November 1st, the California Center of the Arts offers free admission, with Aztec dance performances and community participatory altars. And on November 7 is the Carrera De Los Muertos, a 5K or 10K run along the bay with mariachi bands and costumes where you'll be rewarded for your efforts with delicious food.
Tanner Saunders is a contributor for Thrillist who misses celebrating Día de los Muertos in Texas.

Vanita Salisbury contributed reporting to the updated version of this article.