How Disney Uses Brilliant Foods to Hack Into Your Instagram Feed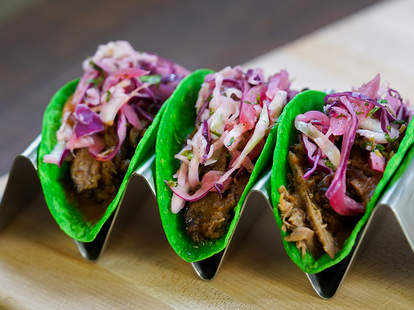 The word that Disney wants on the tip of your tongue at the House of Mouse is "magic." To get there, it has to overcome the TSA-style security check at the entrance, the inevitable family squabbles, and the mobs that await anyone who dares step to the park on a weekend. Thing is, Disney aims for that sensation with such savvy, in so many dimensions, that it converts even the cynics. You know magic is real when even the humble corn dog nachos boost the sensation that, in these parks, any ridiculous thing is possible.
Food, in fact, is where Disney more than any of its competitors has figured out how to generate a ridiculous amount of adoration. Just look at Disney Food Blog or Disney Hungry or Foods of Disneyland to get a sense of how elaborate, how thematically ambitious, how camera-ready the parks' offerings have become. In recent months, the Mouse has gone to new lengths to make its food -- in particular, its street food -- colorful, weird, interesting, and the kind of thing that makes your friends jealous on Facebook. To paraphrase the Pet Shop Boys, doesn't have to beautiful -- but it helps.
Here are some of the ways Disney has, beyond all sense and reason, fused their zillion-dollar properties with social media and, oh yeah, actual nourishment.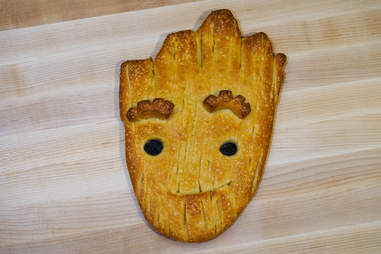 Groot Bread

| Courtesy of Disneyland Resort
Groot bread is huge on Instagram and in your hand
The new reality: Disney theme parks are about Star Wars and superheroes these days. You'll still catch sight of Donald Duck and a few of those seven dwarfs, but you're more likely to see Darth Vader on a T-shirt than Chip or Dale. So let's talk about Groot Bread -- based on the monosyllabic treelike alien from Guardians of the Galaxy.
Casey Starnes is one Disney fan who geeks out for Groot in gluten form. She goes to Disneyland about once a week a lot. She moved to Southern California years ago after her husband lost his job; they figured at the time if they were going to be unemployed, they might as well be unemployed near Disneyland. She now works full-time as the brains behind Disneyland Daily, an independent website that's all about Disneyland Resort and its two neighboring theme parks.
She praises the Groot bread -- with olives for eyes and surprisingly tame eyebrows -- as an example of Disney bringing surprising charisma to sourdough.
"It's literally the size of your face," she says. "So it's a fun picture to take. As my 9-year-old daughter says, 'It's so Instagrammable, people buy it whether they want to eat it or not.'"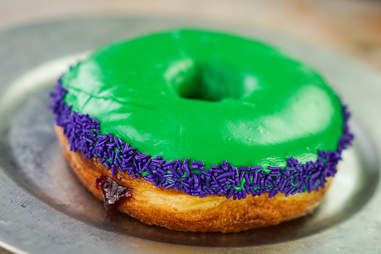 Gamma-Sized Doughnut

| Courtesy of Disneyland Resort
The Marvel-influenced donuts are ridiculous
The Marvel influence is also strong at Schmoozies, which introduced a series of super-donuts during Disney's "Summer of Heroes" celebration at California Adventure.
The biggest of all -- the Gamma-Sized Donut -- is what you'd get if a villain melted down the Incredible Hulk into a sugar fix nearly as large as the paper plate it's served on. Smothered in green vanilla icing, the donut is rolled in purple sprinkles and filled with a blackberry/blackcurrant jelly that's piped in from four different sides.
Yeah, that's right. Blackcurrant. The berry is more common overseas, so give Disney credit for challenging its American audience to a filling that's not raspberry or strawberry. "We wanted to add a little elegance to it," says chef John State, the culinary director at Disney California Adventure. "Our pastry chef is French. To him, it can't be that simple. He wanted something unique."
State says Californians are low-key donut fanatics. Other super-donut include a red-white-and-blue one inspired by Captain America (with an all-American apple pie filling, natch) and a maple-bacon version in honor of Groot. The key is knowing the audience. "There's a high level of expectation from our guests, but not everybody wants foie gras on a stick," he says.
Spider Bite Doughnut

| Courtesy of Disneyland Resort
If you want a Sriracha-worthy spicy kick, go with the spidery, manly Spider Bite. "Originally, the donut was going to be filled with this red-hot vanilla custard, but we didn't get the approval for that," State says. "We did get the approval for these intense little cinnamon candies wrapped around it. The red vanilla glaze has a little cinnamon in it too. It gets your attention."
So they look cool. Do they taste good? The superhero donuts are pretty awesome -- and made from a puff pastry similar to a croissant. But Casey Starnes has an insider tip: the Mouse's best donuts can be found at the coffee kiosk near Disneyland's Sleeping Beauty Castle. "One is covered in Fruity Pebbles. One is covered in chocolate and huge chunks of peanut butter cups," she says. "There is also a maple bacon donut, with a maple glaze and chunks of actual bacon sticking out of it -- almost like spikes."
They're only sold at park opening and then again between 5 and 6pm. Look for the vintage "donuts" sign out front when they're available. "They've become so popular, people actually know when the cart is en route," Starnes says.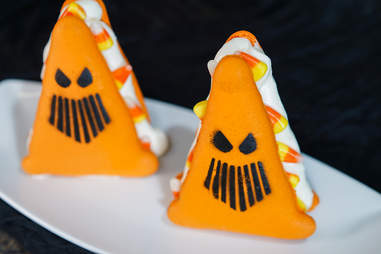 Spoke-y Cone Macaron

| Courtesy of Disneyland Resort
Disney's Halloween food is spooky, bloody fun
If the chefs at Disneyland can take pride in just one thing this year, it was actually making candy corn interesting. The Spoke-y Cone Macaron was revealed for the Halloween season -- which is probably the most underrated time of the year to visit the parks. This evil looking macaroon is stuffed with marshmallow -- because well, everything is better stuffed with marshmallow.
Other strange Halloween stuff included a spicy pepper jack cheese stick, dipped in corn batter and topped with blackberry sauce, pineapple salsa, pickled serranos, and crushed cheese puffs (what?!) at Paradise Pier's Corn Dog Castle. The Green Apple Spell Lemonade at Smokejumpers Grill in Grizzly Peak came with cherry drops you'd swear were oozing blood.
Lightsaber Churro

| Courtesy of Disneyland Resort
Of course churros are now lightsabers
If Kylo Ren had a churro for a lightsaber, at least Han Solo would still be alive. (Sorry, 2015 spoilers there.) That's right, Disney has turned this amusement park staple into edible Star Wars merch. "It was a no-brainer," says State. "We could make them look and appear like lightsabers."
They lightsaber churros tend to pop up on special occasions like May 4 ("May the Fourth be with You") or near a new Star Wars movie releases. They might even pop up for one or two days only to disappear again. It's part of Disney's strategy to keep you guessing. "You have to get in line at park opening," Starnes says. "I've seen the line with a hundred people long."
 
Dole Whip

| Courtesy of Disneyland Resort
The legend, Dole Whip, is ready for its close-up
Originally only found at Aloha Isle at Walt Disney World and the Tiki Juice Bar at Disneyland's Enchanted Tiki Room, Dole Whip is a non-dairy "frozen treat" (don't call it ice cream) that comes in a cup or as a float with pineapple juice. John State credits its strange combination of richness and lightness for its ludicrous popularity. "If you've ever seen the Dole Whip line," he says, "you'd think you were meeting the president."
Dole Whip became a cult favorite over the years. Showing rare restraint, Disney resisted the urge to go overboard. So it's still not available many places (if you don't count it slaying on Instagram).
"People stand in line for two hours for it," says Starnes. She offers another overlooked pro-tip for those craving a citrus brain freeze. "You can get it at a place called The Coffee House in the Disneyland Hotel," she says. "They put a Dole Whip machine in there -- and the fun part is you can add a shot of rum, both dark and light -- essentially without any line at all."
 
Mickey Mouse Beignets

| Courtesy of Disneyland Resort
The Mickey Mouse beignets are weirdly legit
"Beignets are a huge, huge seller," Starnes says. "They're found at the Mint Julep, which is inside New Orleans Square and sold typically in three or six packs."
She knows what she's talking about. Starnes got familiar with New Orleans cuisine while attending Louisiana State University. She says Disney's beignets -- in the shape of a Mickey Mouse head -- are for real. "They're not Cafe Du Monde but they're pretty good," she says. "I'm impressed."
Disney changes up the beignets throughout the year -- a not-so-subtle trick to keep demand high and regulars guessing. For example, a blackberry version marked the return of Fantasmic, a nighttime light and laser show. The holidays usually offer pumpkin or butterscotch for Halloween and peppermint or gingerbread for Christmas. The catch is, they pick only one special flavor per season, leading Disney superfans to lose their minds, make predictions, and reveal spoilers online.
Which beignet is the ultimate death match champion? "My favorite is gingerbread by far," says Starnes. "The gingerbread beignets are the best they've ever done."
Gibson Girl Ice Cream Sundae

| Courtesy of Disneyland Resort
To get that extra-special snap, you gotta go off-menu
People tend to be narcissistic egomaniacs -- that's why we post photos of all this food online anyway. And that's why we want the stuff that most people don't know about. So Disney has a few off-menu dishes to keep things interesting -- including the carnitas nachos at the Grand Californian Hotel. "They are one of my absolute favorite things to eat at the resort," Starnes says. "You can find them at a place called White Water Snacks." Just ask for the toppings from the carnitas burger to be placed on an order of nachos instead. Don't worry. The staff will know exactly what you're talking about.
John State says that Coke Corner has a deconstructed taco sold off-menu. "It's a bag of corn chips topped off with chili, Cheddar, sour cream, and green onions," he says. "You eat it right out of the bag."
Gibson Girl Ice Cream Parlor on Main Street USA has a red velvet whoopie pie ice cream sandwich that can be ordered on the sly. The Golden Horseshoe Saloon in Frontierland is also known to serve ice cream nachos off-menu -- with scoops of ice cream, whipped cream, chocolate chips, and a cherry on top of a waffle cone pieces that resemble nacho chips.
As treats come and go -- and become more inventive -- the idea is to build a buzz online, especially among guests who return over and over again throughout the year. "You never know what you'll find, but you'll find something," State says. "We're getting permission to do fun creative food. Guests are open to new ideas."
Sign up here for our daily Thrillist email and subscribe here for our YouTube channel to get your fix of the best in food/drink/fun.
Based in Las Vegas, Rob Kachelriess has been writing for Thrillist for nearly four years. His work has also recently appeared in
Travel + Leisure
,
Vegas Seven
,
David Magazine
,
Vegas Magazine
, and Luxury Estates International's seasonal publication. He is looking forward to those holiday beignets at Disneyland. Follow him on Twitter @rkachelries