When the first American drive-in theater opened in Camden, New Jersey way back in 1933, it completely transformed the moviegoing experience. Over the course of a few decades, drive-ins popped up in every state, with around 4,000 in operation during the halcyon days of the '50s and '60s. For generations, they became peak Americana for moviegoers -- ground zero for car cruises, late-night double features, hickeys, and kids hiding in trunks to avoid paying admission. 
Today, the drive-in theater, like soda-jerk pharmacies, sits atop the endangered list of 20th century Americana. Blame it on rising gas prices. Or the emergence of home video, land grabs, and the recent -- and expensive -- requirement for theaters to convert to digital projection. Currently, a scant 300 or so drive-ins still screen films. A few close each year. New York has the most of any state, with 28. Five states -- Alaska, Delaware, Hawaii, Louisiana, North Dakota -- no longer have any at all.
Still, the remaining drive-ins evoke wistful nostalgia in ways that few other bygone cinematic relics -- ahem, Blockbuster -- do. They're easy to romanticize, for one: kids spread out on blankets in the grass, summer air, date nights, lying on top of your car. This is what will, money permitting, likely keep the lights on at some of America's last drive-ins long after you've stopped remembering what Redbox was. So, too, will the unique personalities of the best remaining venues. 
"One of the biggest challenges has been that the way technology is now, the way media is now, there's so much streaming availability," said Lauren Summers, executive director of Hull's Drive-In Theatre in Lexington, Virginia. "So people who come have to really want to come for the experience, versus just [seeing a movie]."
That experience is what has kept things alive. Drive-ins today often play a mix of new and classic movies. Double and even triple features are common (and you still get the benefit of intermissions). Back in the day, everything was contingent on the weather, but now there are some drive-ins that are open rain or shine. Many have accessorized with extras like trivia nights, go-kart tracks, or flea markets. Concession stands -- basically what keep the lights on at these places -- have seriously upgraded the food. In areas where they thrive, these drive-ins continue to draw people beyond the Boomers seeking a time capsule to their youth. 
"One thing that's been surprising that we've noticed the last couple of years is the audience is a nice mix of people in their 30s, 40s, coming out and bringing their kids, but we're also seeing a lot of younger attendees," said Ben Harroun, general manager of  Harvest Moon Twin Drive-In in Gibson City, Illinois." Teenagers, younger teens... they're kinda rediscovering the drive-in as something new."
Despite the odds, drive-ins aren't dead. It's just harder to find. These are just a few of America's surviving outdoor theaters. Get to them while you can. 
Recommended Video
Please Don't Hang Up: The Best Things to See, Eat, and Do in Seattle, WA
Monetta, South Carolina
Claim to fame: The big-ass peach that houses the cinema's projector
The theater -- also called The Big Mo -- itself dates back to 1951, but the signature giant peach containing its projector only arrived in 2014, serving as a nod to the state's famous fruit and giving the venue a little extra cred as a roadside attraction. You can catch double features every weekend between March and November; kindly enjoy them without bringing in any weed. For big blockbusters, plan to make an evening of it and get there at least an hour and a half before showtime -- it does get packed. Admission is $9 for adults and $5 for kids ages 4-11. Alcohol is allowed, and you're welcome to bring in outside food, but management does politely remind you that their concessions, which are very tasty, are are what quite literally keep the lights on inside the pit of that big-ass peach. 
Lexington, Virginia
Claim to fame: The world's first non-profit movie theater
In the late '90s, when it looked like Hull's would be forced to close, local moviegoers formed a non-profit group -- the Hull's Angels -- and raised $75,000 to purchase the business. It became the world's first movie theater designated as a non-profit, and continues to be run by a mix of paid staff and Hull's Angels volunteers. It takes about a dozen people to operate the drive-in on any given night -- some running the projector, some at concessions, some selling merch at the "Angel Booth." The theater successfully digitized about a decade ago, and stays open unless there's a tornado or other particularly angry weather.
Newberg, Oregon
Claim to fame: Classic cars and classic movies
A fixture of the tiny Oregon town of Newberg since 1953, the 99W Drive-In has survived massive storms and the conversion from film to digital intact (well, they had to replace the screen three times, but still…), and to this day offers up double features, often pairing new releases with old-school classics from the drive-in era's past (think It: Chapter 2 and Beetlejuice, a one-two punch that likely simultaneously delighted and scarred children). Despite the newer movies, the place is seemingly unstuck in time, a snapshot of a bygone era made all the more nostalgic by the omnipresent classic cars, whose owners seem pulled straight out of a community theater production of American Graffiti, a film that's been known to show up on the screen from time to time.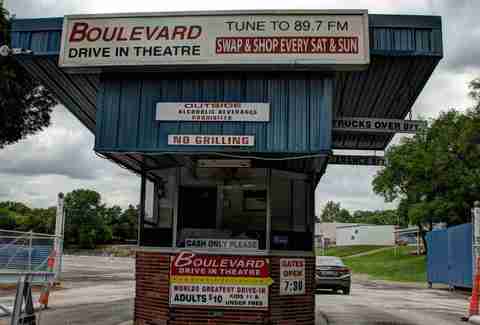 Kansas City, Kansas
Claim to fame: Flea market by day, outdoor theater by night
In addition to its cutting-edge sound system, Boulevard Drive-In is known for a Swap & Shop flea market that it's operated for decades. From 5am to 2pm every Saturday and Sunday, all year long, you can visit the market for $1. Do bring some folding chairs to get comfy when you go to see a movie, and enjoy the fact that they sell alcohol on the premises. You're also allowed to bring in your own food, but, y'know, you really should consider the concessions -- a large tub of popcorn is $5. Just remember everything's cash-only here. You can download the theater's app for free on Android.
Gibson City, Illinois
Claim to fame: Movies powered by wind turbines, patrons powered by pre-show tailgating
Harvest Moon Twin was the first movie theater of any kind to be powered by wind turbines. "It helped out with the expense of the power supply portion," Harroun said. "But then -- because we were the first theater to do it -- the press release from that took us from a stagnant point to having a lot of people come from all over."
Harvest Moon Twin is open rain or shine. They'll rent you a portable FM radio if you don't have a lot of faith in the one in your car. You can bring your own outside snacks for the price of a $5 food permit (for context, their cheeseburgers are $4), and are allowed grill before showtime -- Harvest Moon Twin does a lot of their movies more like tailgating events now, especially the double features.
 
"I think a lot of people don't realize how much is actually involved in going to a drive-in, what's actually available to do," Harroun said. "[Drive-ins] give people something they're searching for, which is to get away from that constantly connected feeling that we all have to our cell phones. But you still have the ability to check your phone -- no one hassles you because no one sees it."
Middle River, Maryland
Claim to fame: Home of the largest movie screen in America
Standing 52 feet high by 120 feet wide, the screen at Bengies will live in your memory a very long time: It's the biggest in the US. Tune in to 105.3 FM or AM 830 to hear the show, and they'll also rent you a radio if you need one, no problem. Open rain or shine, Bengies' season usually runs March through October; maybe longer, if it's warm enough. (The snack bar will conveniently also sell you several forms of bug repellant; those warm nights can get itchy.) On Memorial Day and Labor Day weekends, the theater plays movies 'til dawn. Admission is $10 for adults, and $5 for children ages 4-10. You can sign up to get notifications about special invitation-only events, too.
Orefield, Pennsylvania
Claim to fame: The oldest operational drive-in, period
Shankweiler's, in Orefield, Pennsylvania, is the oldest continually operating drive-in theater in the country. It opened in 1934, becoming America's second drive-in after the Park-In Theatre in New Jersey, which has since been shuttered. It survived Hurricane Diane in 1955, upgraded its sound system in 2002, and digitized in 2013. It's open from April-ish through September-ish; depends on the weather. Adult admission is $10. Sound is transmitted to your car on 90.7 FM.
Driggs, Idaho
Claim to fame: The one with the giant potato
Dating back to 1953, Spud Drive-In is open only from June through August. If you can plan a trip through Driggs during those months Spud is one of the most fun and distinctive drive-ins you'll ever have the privilege of visiting. One look at that giant potato and you're in love. The location makes Spud the perfect nightcap on a road trip to Yellowstone, which as it happens is packed with more than enough to do in the summer months. Admission is $8.50 for adults ($7 for "Seasoned Taters" ages 65 and up; $5 for "Small Fries" ages 4-11; "Small Tots" ages 3 and under get in free).
Fort Worth, Texas
Claim to fame: Horses and a fully operational canteen
Rumor has it that admission to Coyote Drive-In is free if you arrive on horseback, though Thrillist had not received confirmation about this as of press time. Horse or not, this place is a treasure, a four-screen destination complete with a fully covered canteen area where you can score beer from Deep Ellum (and cans from Bud) to go along with Frito pie and pizza. Sound comes through an FM channel, though they do have standalone speakers you can use in case you want to test that horse thing out for us.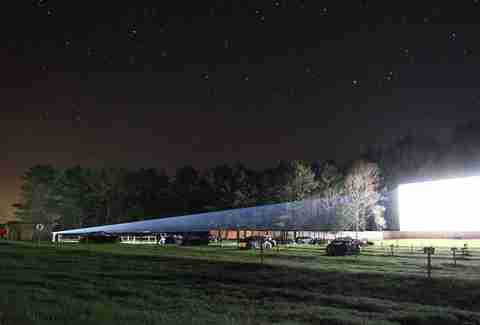 Fairlee, Vermont
Claim to fame: Hotel rooms with blockbuster views
This Vermont institution on scenic Route 5 has survived everything from the construction to an interstate expressway to digital conversion in tact. That's thanks in large part to the fact that it pulls double duty as a motel, where you can actually watch the blockbusters playing on the big screen from the comfort of your room, forever rendering the omnipresent "free HBO" outside old off-highway hotels a disappointment in the future. As an added bonus, because you're in Vermont there are two guarantees: the surrounding area is gorgeous, and Ben & Jerry's is available at the concession stand. 
Monte Vista, Colorado
Claim to fame: Blockbuster views and continental breakfast
A distant cousin of Fairlee's, Movie Manor is the country's only other combination motel/drive-in, offering up another instance where you can sleep at a movie theater without seriously annoying other ticket holders. Proving that updating kitschy older properties into hotels isn't exclusive to hipsters, this one's part of the Best Western empire, complete with continental breakfast. Unlike most Best Westerns, though, Movie Manor allows you to watch a movie on the big screen from your room, with the added bonus of Colorado mountain views.