Riga, Latvia

| Dmitry Rukhlenko/Shutterstock
Riga, Latvia

| Dmitry Rukhlenko/Shutterstock
The Insanely Fun European Cities You're Missing Out On
Far too many Americans plan a trip to Europe and draw their boundary at Berlin, or Prague, maybe Budapest. Anything further east conjures images of shawled old women waiting in breadlines in the cold. That's an immense shame, because when you pull back the Iron Curtain and all those outdated associations of Post-Soviet Europe, you'll find an exuberant multi-cultural region where the locals are welcoming, the parties last till sunup, and your dollar takes you oh-so-much further.
From the Balkans to the Baltic, past the Black Sea all the way to Tbilisi, you'll find playful, progressive enclaves flourishing with students, artists, musicians, and young people with a vigorous appreciation for a good time. So take advantage of mega-cheap flights to Europe in the coming months and get off that well-worn tourist track -- these underrated European destinations should be on your radar.
Leipzig, Germany
This city of 20-somethings is giving Berlin a run for its money
The birthplace of the peaceful protests that ultimately led to the fall of the Berlin Wall, Leipzig has picked up the nickname of "Hypezig" over the past few years, thanks to an onslaught of media attention praising it as "the new Berlin." Nearly 40,000 student inhabitants have made this former industrial city a haven for creatives and youngsters drawn by the cheap rent, coffee houses, art spaces, vegan restaurants, and techno parties. It's the kind of city that hosts a goth festival one weekend (Wave-Gotik-Treffen) and a classical music fest the next (BachFest). Opt for an Airbnb in the "cool neighborhood" of Plagwitz, stroll the canals, Instagram the street art, then dance your face off to some house music -- try Institut für Zukunft for a bigger club vibe, or find a show at beer-garden-slash-artist-residence-slash-concert-venue Villa Hasenholz.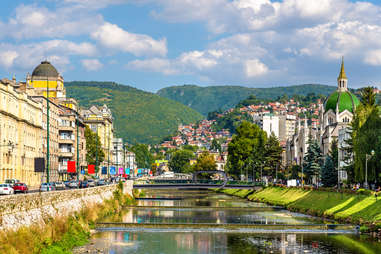 Sarajevo, Bosnia & Herzegovina
A counterculturalist hotbed listed as one of the safest capitals in Europe
Still trying to overcome its "war-torn" history, the capital of Bosnia and Herzegovina has very little in the way of high-end or luxury tourism. Instead it's thriving as a spot for extreme counterculturalism with huge punk and electronic music scenes. Drinks will run you no more than $1.50 apiece; steer to the rakija, the local potent fruit brandy. Locals are a multi-ethnic bunch, extremely accommodating and happy to fraternize and bar-hop along Mukevita Street. There's Pink Houdini, the city's premier jazz spot, or Mucha Lucha, lauded for its street parties. Silver and Smoke is the electronic music joint of choice, and Kriterion has built its reputation as LBGTQ-friendly space with kickass events.
Kraków, Poland
Fascinating history, lively squares, and fairytale bars
Easily accessible by train from Warsaw, Berlin, or Budapest, Kraków's Old Town has long been a stop for big tourist groups. And for good reason -- the city's sprawling history lends itself to magnificent architecture, museums, churches, and synagogues. The former Jewish district of Kazimierz is one of Europe's indisputably cool neighborhoods, full of funky boutiques and street art. Off the beaten path and down cobblestone backstreets, you'll find tucked-away dives and underground lairs -- drift from smoky jazz bars to cabaret shows to the occasional techno party. Meeting people in Krakow is easy; finding your way back to your hostel at dawn can be more challenging.
Riga, Latvia
A capital more cosmopolitan than its cheap bachelor-party rep
On first sight the Latvian capital comes across as your typical European port city: old historic squares, quiet cobblestone streets, a cityscape of Gothic churches and castle spires. Under that, Riga's reputation is mainly as a dumping ground for weekend revelers and British stag parties looking forward to staggeringly cheap drinks. Look closer and you'll find a cosmopolitan center with a well-educated, forward-thinking community that's been reinvigorated with modern art centers and music festivals that keep popping up around the city. A barrage of hipster cafes and live music joints like Aristīds, which offers up obscure, vibey disco and electronica, keep the party popping. Oh, there's a great beach too. Bring your favorite groom-to-be.
Croatia's Dalmatian Coast
Europe's most underrated paradise has world-class beaches, parks, and partying
From Love International to Selectors Festival, Croatia is leading the way in Eastern Europe's international music and festival scene. Both take place in the gorgeous small town of Tisno, on the coast outside of Zadar, where bands play on beach-facing stages and DJs spin on boats cruising down the coast. There's also the massive EDM fest Ultra Europe that comes to the city of Split every summer, or Zrće, basically the Croatian version of Ibiza during spring break. If dancing with sun-kissed, half-naked types doesn't sell it, the Croatian coast is dotted with gorgeous medieval towns, national parks, and some of the best damn beaches in Europe, with plenty of options for white-water rafting, sailing, and diving. Somehow tourists still haven't overloaded Croatia, despite accommodations that start at $10 per night.
Kiev, Ukraine
A city in transition that's playing by its own rules
At the heart of a revolution back in 2014, Kiev is now a center for artistic expression and large-scale counterculturalism in the face of political hardship. The younger generation is largely bilingual and unemployed, intent on having a good time, and establishing festivals, clubs, and cultural centers, especially in the old-city Podil. Driving the action are locations like Closer -- an old warehouse turned art gallery and music space -- and crews like Cxema, who specialize in throwing events in thrilling, unused spots. Throw in a delicious street-food scene, colorful architecture, and fantastic options for theater, and you've got a fascinating city worth visiting while it works to redefine itself.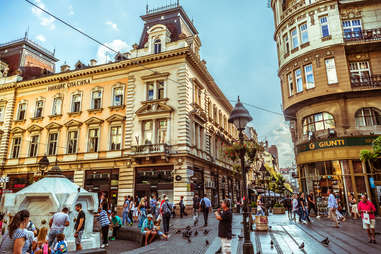 Belgrade, Serbia
A spirited modern metropolis that's at once rowdy and laid-back
Say this for the Serbs: They're really welcoming. On the beautiful banks of the Danube, Belgrade is jam-packed with coffee shops, trendy bistros, historical sites, art studios, and hip cultural centers. You'll find music and parties in various disused warehouses, and revelry on river barges with little-to-no entrance fees. During the day, the Supermarket Concept Store is a great place to grab lunch and get accustomed to some of the regional artistic offerings. After the sun goes down, KGB Coffee, The Tube, Drugstore and Sveta offer all-night parties where debaucherous raving is de rigeur. And one of Europe's largest de facto music events -- Exit Festival -- takes place down the road in Novi Sad every summer.
Tbilisi, Georgia
Extra cheap and extra genuine, Tbilisi boasts one of the world's greatest club scenes
It's probably not the first name to roll off your tongue when putting together your travel bucket list, but the hilly capital of Georgia is fast becoming one of the biggest tourist destinations in the East. Perched between the Black and Caspian Seas, Tbilisi is gaining recognition for a nightlife scene that reflects the country's growing liberalism and open-minded youth. As dance magazine Resident Advisor puts it, you'll find "smartly booked clubs" -- like Bassiani, Mtkvarze, Vitamin Cubes, and Café Gallery -- "with excellent sound systems, passionate crowds and parties that go well past dawn." The city is more than just affordable -- it's dirt cheap, and one of the last bastions of the former Eastern Bloc that's really opening up to Western tourists, so it still retains an authentic spirit. Locals are warm hearted and open to visitors, willing to share their cheap Georgian wine and the local speciality, Khinkali.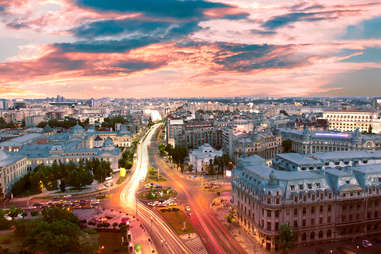 Bucharest, Romania
A city of contrasts that's a must for electronic music
There are plenty of worthwhile museums, and street art, to see, but Romania is best known for its minimal techno scene (EDM's more sophisticated, avant-gardist brother). Now the city is branching out into wider-ranging sounds, venues, and events, with regular shows hosted by Red Bull Music Academy and an experimental music festival called Rokolectiv. At the heart of everything is Control Club, a converted ballroom dating to the communist period. A cafe by day, it transitions each night to a music venue hosting bands and hip-hop, indie, and techno DJs. Having built a reputation for booking acts before anyone else in Europe, it's one of several spots keeping this city ahead of the musical curve.
Sign up here for our daily Thrillist email and subscribe here for our YouTube channel to get your fix of the best in food/drink/fun.

With a background in exploring global trends in music journalism, British native turned Berlin resident Daniel Cole found it inevitable that he would slide into the world of travel writing. A promoter, DJ, consultant, editor, and public speaker, Daniel can often be found in front of the stage -- or on it -- bouncing between continents and time zones as he writes. Follow his adventures on Instagram and Twitter @dancolereview.