Skip London and Paris: 13 Overlooked European Cities Not Enough Americans Visit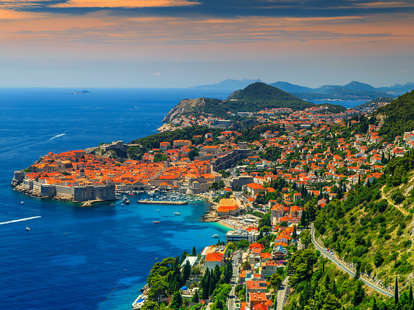 Dubrovnik

| Gaspar Janos/Shutterstock
Dubrovnik

| Gaspar Janos/Shutterstock
Let's say you had a friend from Denmark coming to visit the United States, first time ever, who asked you where she ought to go. Would you say New York? Chicago? Washington, DC? Or would you offer some deeper cuts: say, maybe check out Denver if you want to feel a younger sort of American flavor? Nashville, for someone entranced with bluegrass and barbecue? Hell, a visitor could live the best version of America during 72 hours in Oakland... if they aren't lured by a more famous red bridge across the bay.
Visiting Europe presents the same quandary, reversed: 750 million people, dozens of countries, more history and topography than anyone could cover in a lifetime, let alone a week. Americans, possessing scant few dollars and even fewer vacation days, default to the old, safe hits. London. Paris. Rome. Dublin. Barcelona. Maybe Athens, Berlin, Copenhagen, Madrid, Oktoberfest. And then back home to Missouri, satisfied that the Facebook crowd will be able to pick out, yes, the Eiffel Tower, wow, the Colosseum, and know that you had a proper Euro trip.
How about next time, zig instead of zag. We've rounded up cities well worth a trip on their own, when the spirit or flight discounts move you. A visit to any of these towns -- as explained by people who have lived in or visited them -- will set you apart from your fellow wandering Americans. As such, the locals there will recognize you as a deliberate traveler. And you will, we promise, have a hell of a time, equalling or surpassing what the more oft-visited hubs will offer. You'll be a more interesting person in Český Krumlov than you will be in Prague. Venture accordingly.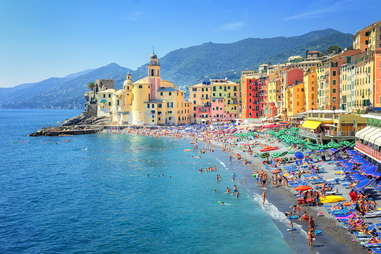 Genoa, Italy
The home of pesto is genuine Italy, minus the tourists
Genoa, a Graham Greene novel masquerading as an Italian city, exudes many qualities: luxury, seediness, style, charm, deliciousness, and just the right amount of graffiti. Credit its diverse, centuries-old shipping port for the narrow medieval streets that tangle the waterfront, creating a sense that anything might be around the corner. There could be a cool jazz club, a great restaurant, a tiny piazza where you can get a Negroni for four euro, or maybe a multi-national drug deal going down. Who's to say?
(Note: If you see a shady alley with vibrant blue light that in Manhattan's Lower East Side would indicate a hip, rakish bar? That is actually just a space where people put their garbage.)
Skip the tempting harbor boat cruise -- you'll only see shipping containers and a concrete seawall -- and instead use Genoa as basecamp to scoot around the Cinque Terre towns by boat. In town, though, try meandering through the maze of alleys until you think you might get mugged (you won't, probably), then head uphill to ritzy Via Garibaldi. Along that ancient street you'll find palaces: Rosso, Bianco, and Doria Tursi. You'll experience both real estate envy and centuries of masterful artwork.
Further up the hill, in a magnificent, unpopulated, terraced park, maybe you'll run into an elderly Italian man with a golden retriever. And you'll let him direct you, through a swarm of pot-smoking teenagers hiding away in a corner of the park, to a hidden, yet magnificent museum of Japanese Culture, the Museo d'Arte Orientale Edoardo Chiossone. And he'll be happy to spend half an hour telling you about it, because he doesn't see a lot of tourists here. - JP Howley, Thrillist contributor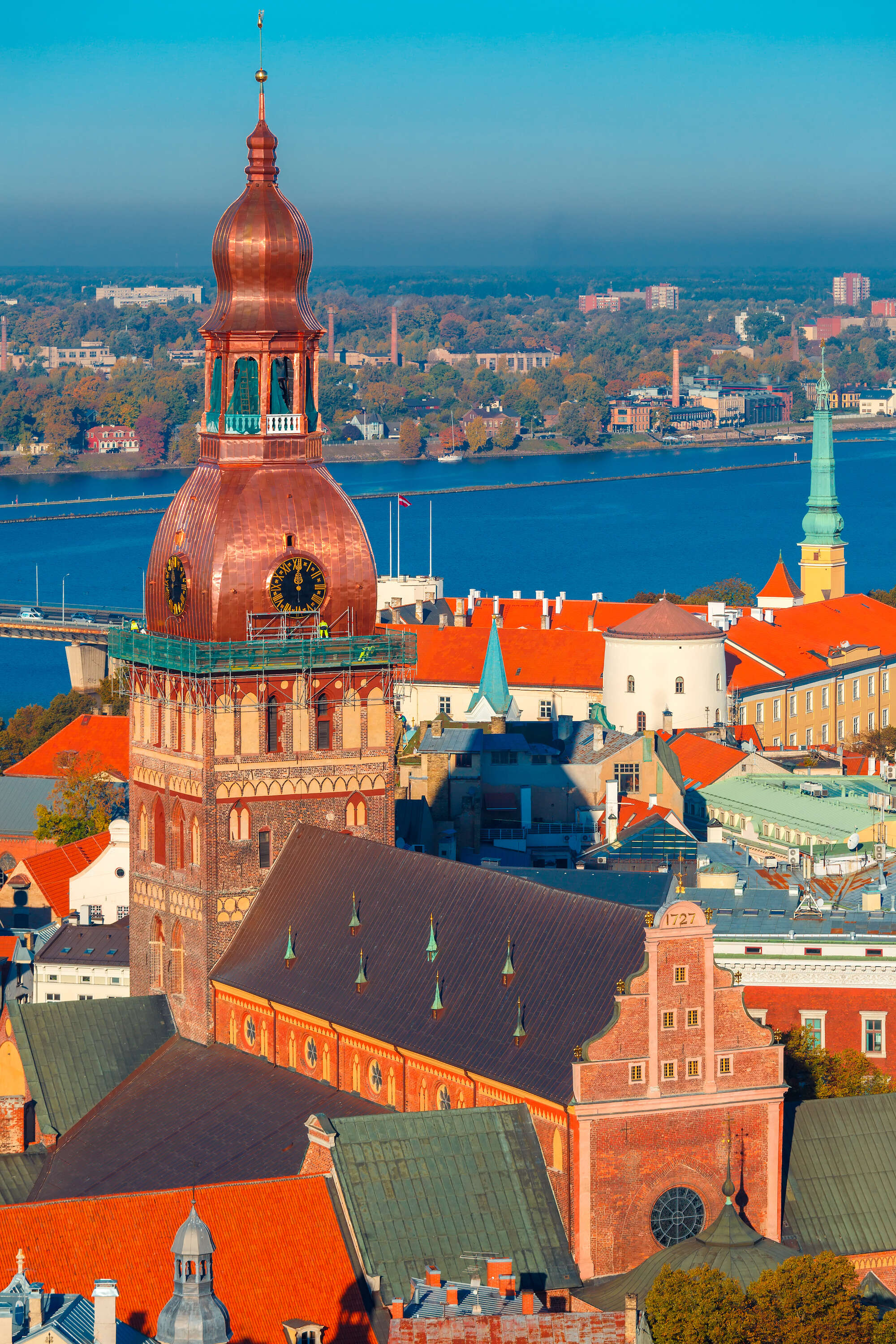 Riga, Latvia
When communism left, the party started
As opposed to huge countries like the US, where some residents can live lifetimes without encountering foreigners, residents of small countries with numerous neighbors have global outlooks by necessity. A tiny country with a big reputation for nightlife, Latvia has been free from Soviet occupation since 1989. Its photogenic capital, Riga, is viewed by some untamed party-seeking Europeans as an inexpensive binge getaway -- a natural, given that Riga's Old City overflows with inviting and inexpensive bars and restaurants. Locals may chafe at the inbound weekend warriors; for a glimpse into their more modest scene, find Riga's immense European-style central market, decidedly off the party circuit.
But the influx of new breath can only mean the city is starting to reach ahead for its future. Attractions today include the Art Nouveau Museum, café-style live music bars on cobblestone pikes, a throwback Armenian church, and ladies decked out in art nouveau period outfits (buy her a drink, bonehead; exchange rate for their currency, the Lat, goes a long way). Dine at candlelit Zila Govs (named for a mythical Latvian blue cow) for steaks served on a hot stone, or pick at their quinoa and kelp, abetted by a wine binge. Evolving from red (communist) to green (democracy) is a beautiful thing. - Bruce Northam, Thrillist contributor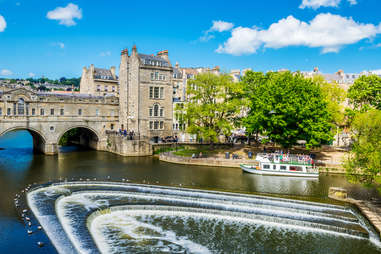 Bath, England
More than mineral spas, though those are quite nice too
Situated on River Avon and less than two hours from London is the town-like city of Bath -- a historic, picturesque gem that somehow remains underexplored. The city's pulse is its epic Georgian architecture (it was named a World Heritage Site), with landmarks like the Royal Crescent, Bath Abbey, and Pulteney Bridge maintaining their historic charms. Literary buffs can also go home and brag to their book clubs about having walked the same 18th-century cobblestones as Jane Austen.
Lest we forget how Bath got its name, the magnificent ancient baths of pungent spa water, laced with 43 different minerals, are well-preserved. Bathe as the Romans really did by soaking at the Thermae Bath Spa, where the modernized rooftop pool comes with a magnificent view of the abbey.
Bath is indeed a city, larger than you're probably expecting. But it doesn't lack the UK's signature rolling countryside and scenic parks, like Prior Park, Royal Victoria Park, and Bath Skyline's six-mile hike. Don't leave town without enjoying afternoon tea and buns at Sally Lunn's, catching a Bath Rugby Club game, browsing the farmers market on a Saturday, and sipping Strongbow at the Pig & Fiddle pub. - Brooke Sager, Thrillist contributor
Lisbon, Portugal
Where Europe's classy vibes rub against Mediterranean-like fever
The city's not cheap, but nor is it Euro-expensive, so you should be able to do the city right, and block out at least five days for it. First, treat yourself by staying the charming and strategically located Internacional Design Hotel, overlooking the busy Rossio Square, and outfitted with themed rooms: urban, tribe, Zen, or pop. Then, forage. If you're there in the summer, food markets will be sprinkled all over the city; just follow the scent of ham smoking. Sangria sellers abound for you to complement the tiny hill of meat on your plate. For higher-end street food -- and quite possibly the best food served anywhere on plastic trays -- enter the Time Out Mercado da Ribeira. (We recommend Monte Mar.) For dessert, leave and head to Belém for custard cups of heaven at Pastéis de Belém.
Every tour book will guide you to the famous town of Sintra and the wild Palacio de Pena; along the way, give some love to the underdogs too, especially the Moor Castle, distinguished by a green flag reading "Sintra" in Arabic. Sintra's roads lined with tall eucalyptus trees will smell like home for Californians. It's breathtaking, both for its beauty and, in a literal sense, for its hills. Head to the center of town and treat yourself to sardines for an appetizer, a Lisbon classic, at Incomum by Luis Santos.
Other must-see sites outside the typical Lisbon Top 10 include the Tile Museum, to appreciate the finer details and potential in all the ceramic squares of the world, even those on bathroom walls, Óbidos, where you'll have the cherry liqueur, or Ginjinha [jin-jah], in chocolate cups, the grand Monastery of Batalha, Cascais, and Fátima if you're into the Virgin Mary. Finish your trip with a final view of the city and coast by climbing the Santa Justa Lift built in 1902. Bonus points for spotting the graffiti of the fat king drinking oil out of the globe through a straw. - Dana Ballout, Thrillist contributor
Reykjavík, Iceland
An urbane outpost amid the natural splendor
Iceland is one of the stunningly beautiful countries in the world, every single last square inch of it: think waterfall hiking and ice climbing and whitewater rafting and scuba diving and horseback riding. Or, if you need a more cosmopolitan retreat, Reykjavík. For world-class dining, there's Dill -- a "New Nordic" restaurant helmed by the inimitable Chef Gunnar Karl Gíslason that books up months in advance. The bar scene is best understood as a never-ending frat party regardless of how old you actually are (a de facto prohibition that ended only in 1989 is partially to blame/thank). It swirls around fantastic craft beer bars and cocktail bars that will have you praising the local poison of choice, Brennivín. The bars are open until 5am Fridays and Saturdays, and during the summer months when the sun never sets it can be a little...disorienting.
To see the country's top up-and-coming live musicians, head to KEX, a hostel-meets-social hub with a great gastro pub. (Guests also have access to bike rentals, haircuts, an event rental space, a library bar, and fresh-baked breads each morning.) Because downtown Reykjavik is right on the Old Harbour, splurge a bit to stay at the painfully stylish Icelandair Hotel Reykjavik Marina and spend happy hour sipping stellar cocktails at Slippbarinn. A thriving contemporary arts scene with several Scandinavian arts-focused museums and galleries can fill a few meandering afternoons, but don't miss the Harpa Reykjavik Concert Hall -- the building itself is a work of art -- and the Icelandic Phallological Museum, obviously. - Nicole Rupersburg, Thrillist contributor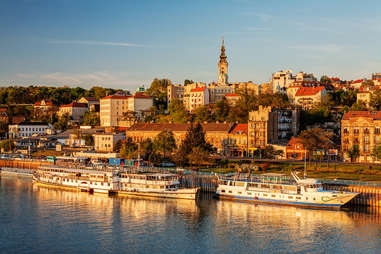 Belgrade, Serbia
An art haven fills a void left by war
Now 15 years after the decade-long Yugoslav wars, this capital buzzes with youthful energy and optimism. The conflict is in some ways still present-tense, as you'll see on tours that point to runs of buildings NATO bombed in 1999. But there's more to this so-called "white city" at the confluence of the Danube and Sava Rivers than the mausoleum that holds ex-Yugoslav president Marshal Tito's remains.
The up-and-coming riverfront neighborhood of Savamala is home to a buzzing art scene and pulsating nightlife, including one of the hottest electronic music scenes in Europe. Formerly dilapidated buildings now house art galleries, skate shops, boutiques, and bars like The Mikser House, which is a combination design center, performance space, boutique, bar, and coffee shop where the cool kids hang. It's also the place to buy handmade jewelry, scarves, and other crafts by independent designers from the Balkans.
A short walk downriver, near the cruise ship dock, find trendy restaurants including Ambar where diners can try contemporary takes on regional cuisine. Try the kajmak, a dairy spread served porcini mushrooms and hazelnuts or pljeskavica (a meat patty made from ground lamb, pork, beef, and spices) with urnebes, a salad of cheese and peppers. - Meredith Bethune, Thrillist contributor
Seville, Spain
Splotchy modernity with old-world grit
Having been molded by the Romans, seasoned by the Moors, and gilded with West Indian gold, in 1939 Seville, along with the rest of Spain, went into post civil war stasis under dictator Generalísimo Francisco Franco. In 1975, Franco died of natural causes, leaving no successor. What followed was one of the smoothest, most pacific democratic transitions in history. Forty years later, modern Seville's sleepy modernity is only just beginning to settle in, with its high-speed trains, low-cost flights, Hard Rock Cafe, and a love/hate fascination with the quick tourist buck.
When traversing the city by foot one can't help but come across unexpected chunks of the ancient ramparts, centuries-old wine bodegas, and walls made of repurposed millstones, as the cacophony of cobblestoned horseshoes shatters the calm orange blossom- and jasmine-scented air. (You might even stumble upon a pre-Inquisition Jewish tomb preserved in the corner of a subterranean parking garage.) The enormous, labyrinthine old town of Seville, in particular the Barrio Santa Cruz, boasts writhing wrought iron gates still meticulously dusted by Sevillana matriarchs in colorful house dresses, and which let you peek into glorious Andalusian patios that are moist and green even during the sweltering summers of Europe's second-hottest city, like a breath mint plopped in the middle of a second-degree burn.
Sevillians can be raucous but are rarely rowdy. They shout when arguing and shout louder when joking, but they're not as impassioned as many of their Mediterranean neighbors. In many ways, Seville is still just an overgrown pueblo. Many Americans are initially startled by the locals' immediate intimacy -- the touching, the joking, the political incorrectness -- but most soon come to find it a refreshing taste of old-world down-to-earthiness. - Josh Bergen, Thrillist contributor
Dubrovnik, Croatia
A Game of Thrones chapter on the Adriatic
It's hard to believe this jewel is even real. The bluish hue of the sea defies reality, while the 17th-century baroque, UNESCO-protected palaces are reminiscent of a forgotten fantasy world. Little wonder then this former port plays King's Landing in HBO's Game of Thrones. And unlike the rulers of Westeros, you do not need to honor your debts as Dubrovnik (like most of Croatia), is more affordable than other like-for-like Adriatic and Mediterranean hotspots.
Dubrovnik's history and culture, and its Venetian cobbled roads, give it a sublime flair as a romantic hideout, with amazing seafood and a local brandy sljivovica, potent as wildfire. The fantastic climate and great beaches lend themselves to sea kayaking and snorkeling. It's a must see when exploring the Adriatic, and will be temperate long after winter finds the Seven Kingdoms. - Daniel Cole, Thrillist contributor
Oslo, Norway
Scandinavia's best worst-kept secret
Oslo is the type of city that Americans often hear about in the news -- whether it's Peace Prizes or economic conferences or political forums -- that it almost becomes a place of pure business that doesn't exist for anyone looking to simply travel. That's why most people who arrive there are surprised that the city is a textbook example of a highly livable Scandinavian city. Of course, there's the easy access to nature (including hiking trails, island kayaking, and an insane zipline) that is as popular with locals as it is with visitors. There's also the surging cocktail and craft beer culture (especially bars like Himkok, which focus on so many facets of the beverage world with such skill that it's hard to think of a better example anywhere else) presented in a low-key style of nightlife that feels unique to Norway.
A younger generation of chefs have pushed the city beyond its smoked-fish-at-every-meal rep to become a criminally underrated food destination. A perfect day here is taking in full views of the harbor before walking to Mathallen Oslo for a food epiphany and winding the night down with beers on the patio at Parkteatret. - Zach Mack, Thrillist contributor
Český Krumlov, Czech Republic
A medieval detour away from Prague
Prague is great, but when you've grown weary of large, European cities that everybody says you simply must visit, get thee to Český Krumlov. The Czech Republic's second city is only a three-hour drive south from the capital, but its aesthetic dates back centuries. Labyrinthine alleyways, gothic watering holes, and a full-on, pre-1300s castle -- all preserved just so as a UNESCO World Heritage Site -- await.
The scenic town and its old-world architecture and sprawling gardens perch along the River Vltava, which in the summer can and should be rafted (particularly as part of a pub crawl). And should you go in mid-June, you'll wander through a Renaissance festival dubbed the Five-Petalled Rose Celebrations, during which the townspeople don their best medieval garb, roast pigs in the street and reenact jousting tournaments. When winter comes, the castle is cloaked in white powder and smoke rises skyward from every chimney in town. Regardless of the season, be sure to visit the titillating Egon Schiele Art Centrum and climb the castle bell tower for a majestic view of all the land. - Ashley Harrell, Thrillist contributor
Bucharest, Romania
A bachelor's paradise on the cheap
Since joining the European Union in 2007, Romania has been eager to welcome international visitors. Partiers from all over the world are taking notice, too, as the country's capital continues to be a popular bachelor party destination for bargain- and pleasure-seeking Western Europeans.
The neighborhood of Old Bucharest offers everything for your groom's crew could want. Per Romanian tradition, start with shots of the local firewater (a clear fruit brandy called palincă) before moving onto multiple bottles of Romanian wine made with grape varieties like băbească neagră or fetească neagră. Restaurants like Crama Domnească boast an open grill and serve multiple meat courses like smoked sausages, meatballs, grilled marinaded pork, lamb kebabs, and even chicken testicles. For beer, head to Caru' cu Bere, renowned for its art nouveau interior and dazzling stained glass windows. Cap it all off with a chewy simit (Turkish bagel) from one of the many vendors lining the cobbled streets.
The wide boulevards and ornate buildings long ago earned the city a reputation as the "Paris of the East." Today the architecture leans decidedly communist. The biggest example (literally) is the Palace of Parliament, the pet project of former dictator and megalomaniac Nicolae Ceaușescu. The massive structure has 12 floors (including a nuclear bunker), 1,100 rooms, and 480 chandeliers. Today, if you get any big ideas, it is indeed rented out for weddings. - M.B.
Galway, Ireland
A distinctly Irish getaway with youthful verve
Tucked into the West Coast, directly across the island from Dublin, Galway is a place where you can actually unwind over pints with locals, and recoup from the crush of tourists and long lines for attractions elsewhere. But don't come here expecting a sleepy town. Bustling with students, Galway's walkable cobblestone streets practically call to young visitors. Come here if you want a youthful taste of distinctly Irish music and arts with an unabashed appreciation for the traditional.
When in Galway, you're never far from the water. Stroll over the frothy River Corrib to watch racing rowers, or head to the picturesque Salthill area to enjoy craft beers and a sprawling view of Galway Bay. The city's prime location means it's an ideal base when you're hitting the vertiginous Cliffs of Moher, sailing to the rocky Aran Islands, cruising among tiny fishing villages or exploring nearby castle ruins. And did we mention fish and chips that have been perfected over generations? Seriously, this is the city you need to see. - Hannah Bae, Thrillist contributor
Freiburg im Breisgau, Germany
An adventurer's gateway to the best of Germany
Perched down in Germany's southwestern corner, the quaint university town of Freiburg acts as an adventurer's jump-off point into some of the most beautiful parts of the country. The medieval German town, replete with castles, gothic cathedrals and renaissance architecture, is the perfect place for visitors to acquaint yourself with Germany's Rhine, Black Forest, and Baden regions.
To the east, in that legendary Black Forest, the hikes (or skiing, during winter months) provide stunning landscape views. To the west, you arrive at the Kaiserstuhl -- the Emperor's Chair -- the home of German Grauburgunder and a region with 140km of hiking routes, a steam railway that dates back almost a century, and vast tracts of conservation area. A further west the Upper Rhine Valley offers views of villages and vineyards that line the river all the way north to the cultural capital of Strasbourg. When you're ready to wind down from all of this, a brief journey north takes you to the former Roman settlement of Baden-Baden, a town with easily the best spas in the country, where you can really treat yourself like an emperor. - D.C.
Sign up here for our daily Thrillist email, and get your fix of the best in food/drink/fun.