The Scenic Forage-to-Table Restaurant You Have to Experience
This might be the best possible way to get your hands dirty. We're at the lush Hana Ranch, 3,600 acres of organic farming and grass-fed cattle ranching between ocean and mountain in Hana, a tropical pocket on the eastern edge of Maui.
We're handed baskets, gardening gloves and knives, and we roll up our sleeves. Everything here is organically grown and raised without the use of synthetic chemicals or GMO seeds. The ranch's hospitality manager, Morgan Maki, shows us rows of different heirloom carrots, beets, basil, tomatoes, limes, bananas. Who knew there were so many types of bananas? "Some are eaten raw, some are for cooking, some are for dessert," Maki explains.
Everything here is grown with a regard for its impact, he said: a regard for the land, the environment, the ecosystem, and for the ranch and its 26 employees, most of whom are relatives or friends. Built in the 1940s as a hotel, the ranch has blossomed into one of Hawaii's premiere sustainable food and agriculture destinations, supplying local restaurants with fresh, seasonal produce and beef. Along the way, it has become a little-known farm-to-table heaven. If you're going to visit Hawaii, this is an immersive way to experience it: picking your own food with professional chefs, then cooking and dining with them.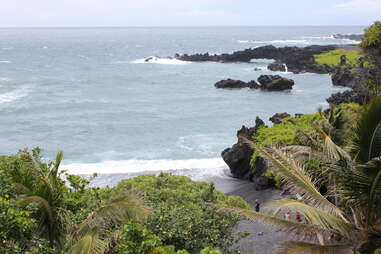 Getting there is affordable and/or spectacular
Though this side of Maui may seem isolated, it's actually not that tough to reach. For a low-impact approach, rent a car: it's just a few hours on the palm-lined Hana Highway. Or try a 30-minute helicopter ride via Paradise Helicopters, part of a package of experiences arranged by the ranch and the Four Seasons resort in Wailea. There's no better way to ogle waterfalls, dramatic coastline, valleys of untouched rainforest, and Haleakala, the old, cold volcano that composes three-quarters of the island.
If you're feeling adventurous and want to find the farm on your own, sans package, a tour runs $15. It's so close to the black sand beach at Waiʻanapanapa State Park, with turquoise waves and freshwater caves sculpted by the lava guide, you pretty much have to go. Also, Virgin America has dropped prices to the island, touching off a bit of a price battle. Round-trips might run you just $400 from California.
Respect for the food is respect for the culture
Here, you'll find that every beach, hill, and rock is sacred. Locals say that taking so much as a stone or stick without permission can lead to sickness, depression, even death. That sense of connectedness lives in the ranch's ethos, and we ask permission as we harvest greens -- and even pay it forward and plant some new ones.
"I ulu no ka lala i ke kum," chants Kui Gapero, our cultural guide. "The branches grow because of the tree."
Everywhere you look, culture and heritage -- not what outsiders might expect from an island known for sugar cane and aloha shirts. It's so beautiful and tranquil, it's easy to almost feel bad about taking these plants. But by the time we fly in and get to work in the dirt, we're famished.
As we help plant butter lettuce, we nibble a few leaves. And then with the chefs guiding us, we pluck basil, beets, and kale, sampling as we go. The vegetables grow to gigantic sizes in the tropical sun.
Once we collect the greens, we pass them to the head chef, Jon Watson, and Marco Calenzo, the executive sous chef from the Four Seasons. We head out from the ranch house to take in the ocean views, enjoying lemonade from trees we just passed. The chefs, meanwhile, get to work in the open kitchen with ingredients we've collected -- chopping greens, mixing herbs, juicing citrus, drizzling vinaigrettes. Our stomachs play the national anthem.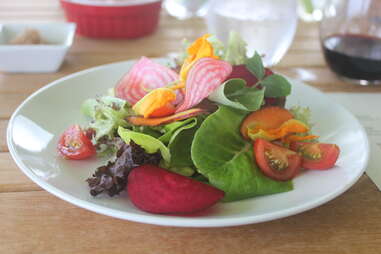 At last, you get to eat what you picked
On the menu: five courses we foraged. Croquettes of zucchini, sweet potato, and taro with green tomato chutney, and lemon herb chermoula. Taro ranch salad with shaved carrot, radish, baby lettuce, squash blossom, banana blossom, cherry tomatoes, pea shoots, nasturtium blooms, and a silky nasturtium vinaigrette. Risotto cooked in tomato water, with micro greens and ahi tartare, topped with basil.
Then a generous free-range short rib, harvested from the ranch, with a five-spice glacé; the meat is so tender it sloughs from the bone. Dessert is a scalding baked pineapple and ginger crumble with whipped vanilla bean mascarpone and a rich chocolate avocado mousse topped with just-picked raspberries. We eat it on the run. This is a tropical island, after all, and as the weather turns, our pilot gets skittish.
As we take off, we pass a forested hill -- the Ka'uiki Head -- the birthplace of a queen and the site of a historic battle in the 1700s between warring Hawaiian chiefs.
We fly over miles of sugar cane, and Chris tells us that this is the last season Maui will grow it, no longer the cash crop it once was. What will happen to these plantations? The opportunity will be there for the island to press on beyond beaches, golf courses, and resorts. Land owners here could do worse than to look to Hana as an example of sustainable tourism and farm-to-table foraging. Low-impact foods, grown as organically as possible, steps away from sun and surf. It would be perfect for choosy foodies willing to get down in the soil.
Sign up here for our daily Thrillist email, and get your fix of the best in food/drink/fun.
Adam Popescu is a journalist based in Los Angeles. On Twitter, he's @adampopescu.

Gina Bender is a West Hollywood photographer and graphic designer. Her photos accompany this piece.