These Are the Best Places to Eat at Disneyland Right Now
Here are the best ways to eat and drink now at Disneyland, California Adventure, and beyond.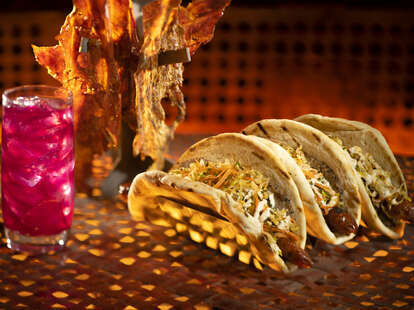 Star Wars: Galaxy's Edge

| Courtesy of Disneyland Resort
Star Wars: Galaxy's Edge

| Courtesy of Disneyland Resort
Just when you thought last month's days of decadent food and drink were drawing to a close, think again—at Disney, those fabulous eats and drinks only continue.
Because as it turns out, dining is a big part of the park's experience—and we've come a long way since a turkey leg and a Dole Whip alone comprised a balanced meal in the Happiest Place on Earth. Indeed, in the past few years eating at Disneyland has become a thirsty subculture within the larger Disney fandom, with hundreds of Instagram accounts and hashtags devoted to what people are eating right now in the parks. Some of that social media hype (and the FOMO it creates) led team Disney to add perks like mobile ordering and to-go options for certain restaurants, but don't worry—there's still plenty of chances for the popcorn, leisurely character breakfasts and Mickey-ears ice cream of yore.
From fancy funnel cakes to Tiki-inspired tipples, here are the best ways to eat and drink now at Disneyland, California Adventure and beyond.
The best places to eat in Disneyland
Star Wars: Galaxy's Edge: Most Star Wars fans will queue up for the Millennium Falcon or to make their own lightsaber, but the food options here are just as notable. At Docking Bay 7, order Endorian Fried Chicken Tip Yip and the Felucian Kefta and Hummus Garden Spread; grab a pork wrap and Sour Sarlacc (limeade with raspberry and spicy mango) from Ronto Roasters; then grab an adult beverage at Oga's Cantina (the Tarkenian Night Flower melds gin, elderflower liqueur, and huckleberry).
Last year's arrival of Avengers Campus brought with it Pym Test Kitchen (and plenty of Pym-centric salads and sandwiches) along with two Shawarma Palace carts and Terran Treats, a favorite for churros.
Harbour Galley: In front of New Orleans Square's Haunted Mansion and overlooking Tom Sawyer Island is a quaint little "dockside" shack that serves an outrageously good lobster roll with house-made potato chips. Pair it up with a Gold Port Galley passionfruit lemonade ringed with mango and pineapple sugar.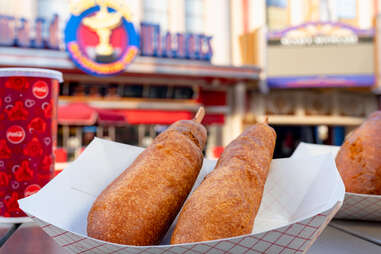 Little Red Wagon Corn Dogs: There are several places to get corn dogs between the two parks, but the Little Red Wagon on Main Street is a must-visit—especially considering the accompanying signature dips. Pro tip: post-purchase, snag a table (and a moment of quiet) behind the truck.
Tropical Hideaway: Everyone heads to the Enchanted Tiki Room near the entrance to Adventureland to have a famous Dole Whip—do this, then skedaddle around the corner to Tropical Hideaway for more. Here, expect fully loaded Dole Whips in different flavors (and extra toppings). But the real treats are the fluffy bao buns—try the Loco Moco, with spiced ham, ground beef, egg and mushroom gravy.
Plaza Inn: Visit the Plaza Inn (across from the iconic Walt and Mickey statue) for a character breakfast, where you can order Mickey-shaped waffles as (act cool) the real deal walks over to your table. The restaurant also serves lunch and dinner—if you go, definitely spring for the fried chicken, which is perfectly crisp on the outside and tender and juicy on the inside. It's served with biscuits, mashed potatoes and green beans, making it one of the heartiest meals in the park.
The Golden Horseshoe: Here, the plant-based chili cheese fries are crowd pleasers, as are the chicken tenders. Fun fact: the building is an original Disneyland Resort building from 1955 and it was one of Walt's favorite places in the park.
Blue Bayou Restaurant: This is the restaurant where you see people dining when you first set sail on the Pirates of the Caribbean ride. It's famous for this vantage point and for reservations filling up fast, which means you'll need to make yours before you arrive at the park. If you score a table, order the Monte Cristo, which is a decadent riff on the American classic that functions as batter-dipped French toast stuffed with ham, turkey and Swiss cheese. If a booking is hard to come by, order the sandwich to-go at Café New Orleans.
Bengal Barbecue: Across from the Indiana Jones ride, pick up a skewer here with your choice of chicken, vegetables or beef. Get a bacon-wrapped asparagus, too (just because). If it's an extra hot day, grab a crisp, cold pickle from an icy bin at Tropical Imports next door.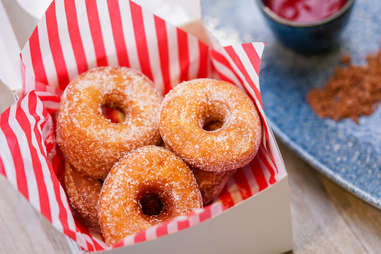 The best places to eat in Disney California Adventure
Lamplight Lounge: If you only have time for one place to enjoy a sit-down meal, make it the Lamplight Lounge, one of the newest restaurants in the park. Looking as swish as a boutique hotel with caramel leather chairs, exposed brick walls and a tiled bar overlooking Pixar Pier, the restaurant subtly incorporates famous characters from Pixar movies. The lobster nachos and potato skins might just be the best things in the entire park. Unlike Disneyland, where you can only drink in Oga's Cantina, California Adventure allows adults to cut loose in multiple locations, including this one.
Pacific Wharf: If you're feeling indecisive, head to Pacific Wharf, an outdoor food court in the center of the park and a great place to stop before Pixar Pier. The most Instagrammable dishes are the Mickey-shaped bread bowls from Pacific Wharf Café, but other satisfying options include the pork wonton nachos or spicy Szechuan chicken from the Lucky Fortune Cookery, the QuesaBirria Tacos or Tacos Dorados de Papa from Cocina Cucamonga and finally, sweets from Ghiradell's Soda Fountain & Chocolate Shop.
Carthay Circle Restaurant: Another sit-down spot to visit for lunch or dinner, Carthay Circle Restaurant is best known for its fried biscuits stuffed with white cheddar, bacon and jalapeno. Both the restaurant and the lounge offer an impressive cocktail menu too, offering hints of 1920s halcyon Hollywood.
Studio Catering Co: Seeking comfort fare in Hollywood Land? This food truck has you covered with a medley of baked potatoes, available at Hollywood Lounge or via mobile order.
The best places to eat at the hotels
At the Grand Californian Hotel & Spa, get a taste of wine country and elevated California fare at Napa Rose, or visit Hearthstone Lounge, which recently launched a menu with options like chorizo poutine or steak frites. Close out the night with a stop at GCH Craftman for bite-sized snacks like nachos, skewers, or wings alongside a slew of specialty cocktails (think ginger juleps or tamarind margaritas).
At the Disneyland Hotel, check out the Polynesian-inspired Tangaroa Terrace, which offers breakfast orders like the Loco Moco Burrito or thick and fluffy Japanese pancakes, along with hearty lunch and dinner options like pork tonkatsu ramen or the Hawaiian cheeseburger.
A quick hit list of must-have desserts
Sweet treats are pretty much what food-lovers come for at Disneyland. Here are our favorites:
At Disneyland: Along with the aforementioned Dole Whip, the must-eat treats are centered around Main Street and include the likes of Mickey-shaped beignets at the Mint Julep Bar, specialty sweets in the Jolly Holiday Bakery, plus the toffee churros and any other candy/cupcake/caramel apple that catches your eye at Candy Palace. For something a little extra, head to the Hungry Bear Restaurant in Frontierland, where seasonal funnel cakes are front and center.
At Disney California Adventure: The sweetest spots are Clarabelle's Hand-Scooped Ice Cream on Buena Vista Street (near the Starbucks), the Sorcerer Mickey milkshake from Schmoozies! near Hollywood Land and the Pixar Pier Frosty Parfait from the Adorable Snowman Frosted Treats at the edge of Pixar Pier.
At Downtown Disney: The retail and dining promenade just outside the parks has some memorable draws, too, including Sprinkles Cupcake, Salt & Straw ice cream, together with over-the-top concoctions from the CrazyShake milkshake window at Black Tap Craft Burgers and Shakes.