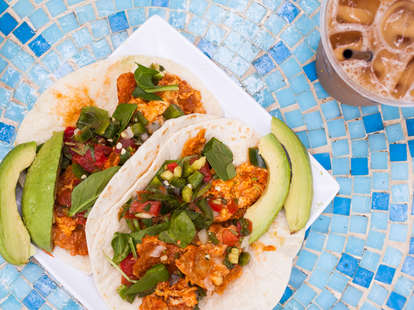 Tamale House East

| Thomas Allison/Thrillist
Tamale House East

| Thomas Allison/Thrillist
If you're even thinking of being in Austin, check out the rest of our DestiNATION: Austin guide. It's stacked with expert advice from locals on what to eat, where to drink, and what to do.
Austin's food identity has come a long way in a few short years. The city was once all but defined by BBQ and Tex-Mex, and while those cuisines are still as famous as the music scene, Austin's spent the past 10 years undergoing a massive food renaissance, making it one of the most exciting places to eat in America.
The formerly quiet food scene received an influx of badass chefs of impressive pedigree, food artisans, farmers, brewers, distillers, and innovators who shaped Austin's edible landscape into the venerable powerhouse it is today, a place of phenomenal range, international flare, and outstanding meals both high-class and low-brow.
Still, while you can get game-changing New American fare and world-class sushi with ease, no visit to Austin would be complete without indulging in the city's seven core food groups. They are the foods embedded in the city's DNA like a fine smoke flavor on a 12-hour brisket. And in each category, you'll find examples both old-school and newfangled, because like the city where they're made, they defy categorization and love to toy with convention. Best prepare to loosen that belt buckle.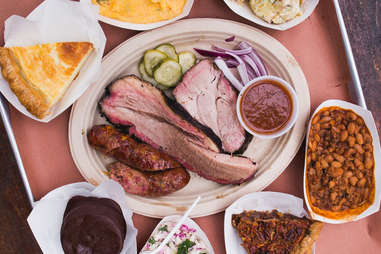 BBQ
Sure, other states have good barbecue, but nothing comes even close to Austin. The city's unrivaled BBQ greatness stems from a uniquely Austin combination of tradition and progress. Czech and German settlers founded the Central Texas meat markets that became 'cue institutions, their knowledge passed down and preserved by our new generation of pitmasters. The laborious low-and-slow method of smoking over native wood gives the meat it's distinctive flavor and juiciness not found anywhere else.
Texans take barbecue very, very seriously. So be forewarned: Great beef commands serious waits. Aaron Franklin's legendary, James Beard Award-winning restaurant on East 11th Street likely serves the best bite of barbecue in the universe, but it's no exaggeration that to guarantee your lunch, you'll need to be in line before 8am. If you prefer the scenic route, spend that time making the 90-minute round-trip drive to Lockhart or Taylor, home to equally esteemed restaurants with the benefit of small-town Texas charm. Either way, the best places will likely be out of meat by 2pm.
Wherever you land, follow a few guidelines. With a group, it's almost always better to order family style by the pound rather than by the plate. Beef is king in Texas, specifically brisket, so make it the main meat. Monstrously fatty beef ribs are another clutch order, but expect to share -- each rib usually weighs 1-2 pounds. Sausage is a final signature of Texas, and these days pitmasters begrudgingly have mastered the art of pork ribs.
Whatever you do, keep the sauce on the side. Most pitmasters cringe when customers drench the meat in sauce before at least trying a bite plain to experience the flavor.
la Barbecue: Austin's woman-owned BBQ institution, now housed in a hip convenience store, has standout beef and pork ribs, brisket, and sandwiches that are well worth the wait.
Franklin Barbecue: Franklin Barbecue is as famous for its hours-long-wait as it is for its worth-it melt-in-your-mouth brisket, so bring a folding chair and a cooler to enjoy the meat pilgrimage like a pro.
LeRoy and Lewis: This off-the-beaten-path new-school BBQ truck offers unique and highly prized cuts of locally-sourced meats -- think smoked beef cheeks, whole-hog platters, and pork sausages spiked with hops -- plus rotating specials.
Mickelthwait Craft Meats: Another East Austin favorite, Mickelthwait serves smoked meat by the pound, with regulars raving over the rotating selection of housemade sausages and Frito pie topped with brisket.
Valentina's Tex Mex BBQ: BBQ and Tex-Mex collide in the best way at Valentina's; opt for smoked meats by the pound, in an indulgent sandwich, or in tacos made with handmade tortillas and fresh salsas.
Breakfast Tacos
As the bagel is to New York, the breakfast taco is to Austin. It's the morning meal of champions, the curer of hangovers, and a great unifying wrap of sustenance served everywhere from gas stations to coffee shops to Tex-Mex restaurants (more on those later).
The formula is simple: tortilla plus eggs plus meat plus cheese equals happiness. Most places offer signature combos as well as options to build your own. The most popular is typically migas (eggs, peppers, onions, and crushed tortilla chips) or a classic bacon, egg, and cheese. On the weekends Austin slows down a step and becomes a big brunch town. You'll find gluttonous comfort foods, more adventurous New American fare, and international options to pair with your mimosas. But whether your Austin breakfast taco is made with love by a cute abuelita; sustainably with locally-sourced organic ingredients; or served with a rainbow of fresh salsas; know that you're in the epicenter of breakfast-taco greatness.
Veracruz All Natural: A modest food-truck fleet known nationally for its migas taco, a play on the Mexican/South Texas breakfast staple -- a thick flour tortilla filled with a mix of scrambled egg, cheese, crispy corn tortilla strips, cilantro, onion, tomato, and avocado.
TacoDeli: The Austin-born taco chain not only makes great Tex-Mex and Mexico-inspired tacos for both breakfast and lunch, but sources from farms and raches all over Texas for actual farm-to-taco vibes.
Granny's Tacos: Some of the best tacos in Austin are being served out of a repurposed ambulance by a sweet, actual granny who makes fresh tortillas and salsas daily.
Taco Joint: Taco Joint is a no-frills taqueria serving breakfast tacos that are made with some serious love, whether your true love leads migas, gringas, or vegan.
Mi Madre's: Located on Manor Road -- perhaps the epicenter of Austin breakfast tacos -- Mi Madre's hits all the marks: It's a homestyle Mexican restaurant with abuela-approved tacos, a huge menu of different breakfast plates, and a takeout window in case your hangover's too grotesque for public.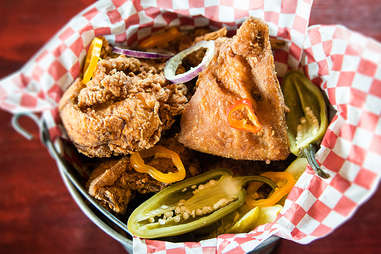 Southern
Hip, young Austin may not be the first city that comes to mind when it comes to Southern food, but the eclectic mix of eateries in the city includes some of the best down-home and chef-driven comfort food in the country.
Austin takes inspiration from our porch-sipping, polite neighbors to the East and combines that old-school Southern charm that with truly Texan foods. Think larger-than-your-head chicken-fried steaks. Green chile gravy-loaded fries. Classic soul foods. Succulent fried chicken paired up with some of the best biscuits in the world -- sometimes served alongside them, often between them.
Some folks say Texas isn't technically the South (despite, you know, maps). But Austin's bonafides in gravy-drenched dishes make a case for honorary membership in the Deep South.
Olamaie: Fancy Southern fare from a James Beard-nominated chef -- think elevated Hoppin' John and smothered pork chops with carrot escarole -- is served upin an elegant space with some of Austin's greatest biscuits… a bold claim, yes, but very true.
Jack Allen's Kitchen: If you've ever taken your dad to a "New American" restaurant only to have the portions confuse him, Jack Allen's Kitchen is your go-to for family hangs. The hearty Texas-centric food covers all the bases -- brunch buffet, Tex-Mex, seafood, and literally "chicken-fried anything." Yes, "anything" includes ribs.
Pitchfork Pretty: This East Cesar Chavez spot's "Hill Country cuisine" concept must be experienced to be properly understood -- high-end, family-style New American meets Southern traditions and a heavy Korean influence. Any dish here is a contender for best meal in Austin, period.
Bird Bird Biscuit: This casual, grab-and-go biscuit shop is breakfast sandwich royalty, a miracle of fried-chicken craft, and home to some of the city's best doughnut holes.
Lucy's Fried Chicken: An offshoot of New American pioneer Olivia, Lucy's fried chicken will blow you away, but don't sleep on grilled oysters, deep-fried deviled eggs, classic red chili, and fried catfish.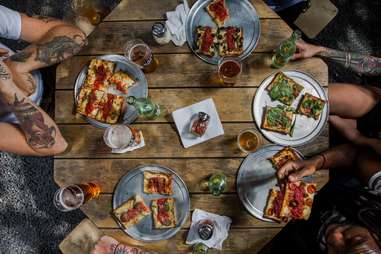 Food Trucks
Austin's rise as a great food city came largely on the backs of food trucks. A surplus of undeveloped property meant plenty of places to park. The low barrier to entry encouraged creativity, and a city of open-minded eaters was happy to give fledgling chefs a chance -- some of whom rose to become Austin's brightest food superstars.
While Austin currently ranks second in the nation for number of mobile munchie operators -- the top spot belongs to ginormous LA -- the much-smaller city brings its A game with 1,000+ trucks. And if you think it's all kebabs and tacos, be prepared to be shook when you encounter Detroit-style pizza, tikka masala tacos, spicy Thai, fresh-made Italian pasta, and every other style you can imagine… plus some you've never even dreamed of.
Whether you're on a lunch break, at a festival, or stumbling out of a honky tonk, chances are you've got a great, inexpensive meal nearby that could well be the best thing you eat all year. And as a bonus, many are posted up on the back patios of popular bars.
Via 313: This multi-location truck is now a mainstay on best pizza lists for a damn good reason: It's take on charred-cheese, deep-dish Detroit-style pizza is the style's best iteration outside of the Motor City.
Soursop: Parked on the patio of St. Elmo Brewing Co., Soursop slings flavor-packed Pan Asian-inspired street food -- think burgers, wings, and tots -- that pair nicely with the breweries' refreshing beers.
Arlo's: Arlo's unique "stoner vegan" offerings -- bac'n cheeseburger, Frito pie burgers, tots -- are a nightlife staple and delicious enough to make anyone consider ditching meat. In BBQ-obsessed Austin, that's no small feat.
DEE DEE: DEE DEE's Northeastern Thai street food, located at Radio Coffee & Beer, is one of Austin's top meal destinations thanks to dishes like the fiery minced pork laab, marinated moo ping skewers, and herbal om gai chicken.
Luke's Inside Out: Chef Luke Bibby serves hearty daily specials and the best damn burger in Austin -- the secret is in the sirloin and bacon mix, melty cheddar, and secret sauce -- out of a tiny trailer next to Gibson Bar.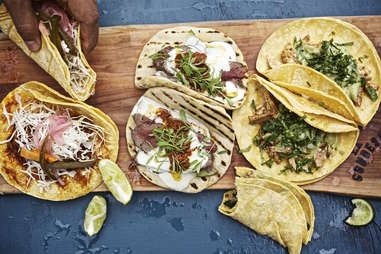 Mexican
Right now, the culinary world has its eye on Mexican cuisine and the people who are celebrating their roots while pushing boundaries. In Austin, this sentiment's just deeply bred into the city's DNA. This is, after all, a city whose Mex heritage runs as deep as its Tex, and as such has the very best Mexican food the US has to offer (sorry, SoCal).
Austin is home to young taqueros making 'grammable street food, accomplished chefs using centuries-old traditions as the foundations for their creations, and everything in between. So, whether you find yourself at a food truck, a hip bungalow full of flickering religious candles, or that bougie and bustling chef-driven restaurant you finally scored a res at, you'll experience the essence of pan-Mexican culinary culture from the best in the game.
Vaquero Taquero: The specialty at this casual, inexpensive Hyde Park banger is the juicy al pastor served with insanely delicious, handmade tortillas. But definitely pair that pork with quesadillas made with pan-seared Oaxacan cheese.
Suerte: Suerte's Mexican cuisine combines a modern sensibility with rustic ingredients and traditions -- the masa here is made from heirloom corn -- as the foundation for its ridiculously popular menu. Make reservations ahead of time.
Nixta Taqueria: A relative newcomer, Nixta has quickly earned well-deserved praise with their eclectic, modern take on tacos using fresh masa, unexpected ingredients like beet "tartare," and house salsas. The space is tiny, so plan accordingly.
Licha's Cantina: A bumpin' happy hour spot on East 6th, here the margaritas and guac flow like water alongside twists on traditional Mexican dishes such as like bone-marrow huaraches, succulent goat barbacoa in a clay pot, and tacos running from sweet potato to chimichurri steak.
La Condesa: Inspired by Mexico City and elevated with locally-sourced ingredients, this modern 2nd Street anchor offers up multiple ceviches, three-day mole, and other dishes complemented beautifully by a stellar cocktail program.
Tex-Mex
If you want to experience bomb-ass Tex-Mex, don't run for the proverbial border. Austin is the Tex-Mex promised land, where the queso runs like water Instagram feeds contain more tacos nestled in foil than cute pictures of dogs.
The city's proximity to the South Texas birthplace of Tex-Mex and Austin-centric obsession with food means a wealth of restaurants and trucks serving the universally-loved cuisine. Whether you're into traditionally South Texan handmade flour tortillas, hangover-crushing breakfast tacos (more on those later), gooey enchiladas with a blanket of yellow cheese, sizzling fajita platters, or the new-school style like tacos filled with fried chicken and queso, Austin is your Tex-Mex HQ.
Matt's El Rancho: Queso is one of the major food groups in Austin, and the best bowl is from this South Lamar institution. The Bob Armstrong here queso adds ground beef, pico de gallo, and guacamole to the addictive, melty yellow cheese.
El Arroyo: Sure, their sign on West 5th gets a lot of attention, but El Arroyo's all-day menu of favorites like queso, chilaquiles, Tex-Mex combination plates, and margaritas is what's kept this spot a must for 25+ years.
Tamale House East: If you are staying on the Eastside, Tamale House is the perfect place to start or end your day: it's open late on weekends, has plenty of indoor and outdoor seating, grills up tasty tacos (breakfast and dinner!), and pours its famous iced Mexican coffee with horchata.
Torchy's: Torchy's is Austin's hometown chain serving over-the-top tacos like the bestselling Trailer Park (fried chicken, chiles, lettuce, pico, cheese) and fried avocado taco, which is as insane as it sounds but also surprising every single time.
Vamonos: Tex-Mex is given the Austin treatment at Vamonos, where the menu ranges from cuts of local meat grilled over native Texas Oak to bowls of queso blanco spiked with guac and beef to electric pink prickly pear margaritas.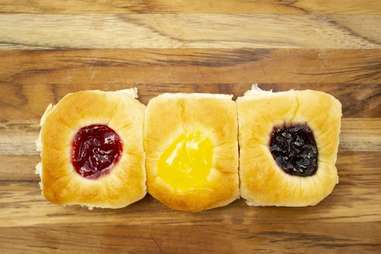 Kolaches
Kolaches have long been a road-trip treat indigenous to off-highway markets between towns (and Buc-ee's). But you don't need your CDL to get your hands on one: Austin is also obsessed with the sweet and savory pastry introduced to Texans by Czech (and German) immigrants.
Kolaches are like buttery, hole-less donuts topped with dollops of fruit and cream cheese or filled with meat, because Texans gonna Texas. The kolache's cousin, the klobasnek, is the savory version later invented in Texas that looks something like a large pig in a blanket, the soft buttery dough is often filled with sausage and cheese. They are an integral part of Texas-Czech culture -- and therefore Austin's -- so you have to get your hands on these, with the caveat that said hands are about to get very messy.
Batch: Manor' Road's Batch specializes in savory and sweet kolaches and, in true ATX form, has added craft beer and live music to the mix. Try the brisket, pickle, and Swiss cheese kolache.
Sour Duck Market: Sour Duck is the casual, mostly-outdoor East MLK eatery (and drinkery) from the folks behind farm-to-table concept Odd Duck. The in-house bakeshop has all kinds of kolaches, including a rotating sweet and savory selection that should not be missed.
Austin Kolache & Koffee Shoppe: Open for over 40 years, Creastview's Austin Kolache has the largest variety of sweet and meaty kolaches in town. Try the Texas pecan cinnamon roll kolache and you'll immediately understand the longevity.
Kerlin BBQ: The best kolaches -- well "kerlaches" -- in Austin are from East Cesar Chavez' Kerlin BBQ and made by Venezuelan co-owner Amelis Kerlin using their smoked meats. Try the OG brisket & cheddar or smoked sausage with pickled jalapeño and cheddar.
Mañana: This stylish South Congress coffee shop offers much more than a cup of joe in an upscale boutique hotel setting. Go with an "everything" kolache and our favorite, the blueberry lemon cream cheese kolache.
Dan Gentile is an Austin-based writer and photographer who has shot hundreds of food trucks, written about thousands of pork belly entrees, and drank millions of cups of coffee. Follow him to occasional tweets @Dannosphere.
Anastacia Uriegas is a contributor for Thrillist.