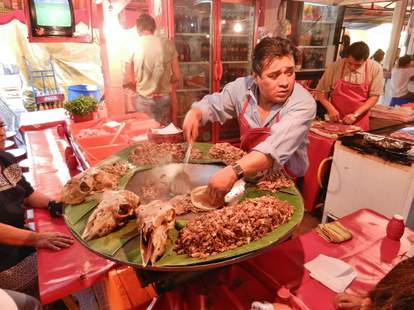 The World's 6 Most Overlooked Food Cities for Food Lovers
Here's how you know a city is a food capital: when you return from a visit and the first question your friends ask isn't what museums you visited, what beaches you loafed on, what mountains you climbed. Nah, you know it when they blurt, "What did you eat?"
Consider it this way: would you get on a plane just to chow your way through a city? Paris, New York, Tokyo are easy calls. For a weekend, maybe Vancouver, Toronto, New Orleans. If you're both rich and peckish, maybe Hong Kong, Dubai, Cape Town. Hunger and wanderlust fuel all kinds of adventurous decisions -- all the better if you know where best to land. The following are six cities that are worth a trip, and doubly so when your stomach gets a vote.
Lima, Peru
A historic mixing pot where cheap eats and chef-driven gastronomy collide with unique Andean ingredients
Why you should go: Long regarded by many as little more than a stopover en route to Machu Picchu, the Peruvian capital is more than worthy of being a singular destination, particularly if you appreciate great food and ancient architecture. With amazing seafood and produce, plus centuries of dedication to gastronomic know-how, the Lima has finally gained its rightful acclaim as one of the richest food cities in the world, where you can bounce with ease from street-food stalls, to markets, to high-end, chef-driven restaurants, to backstreet eateries. Lima sits on the Pacific coast, near some of the most fertile and unique agricultural lands in the world, where Andean ingredients meet Spanish, Italian, Chinese, and Japanese culinary influences.
What you're eating: Peruvians excel in making use of the unique ingredients cultivated over a millennia by the Incas, whose civilization ranked among history's most advanced agricultural societies. Home to one of the world's great superfoods, quinoa, Peru prides itself on having 3,800 different varieties of potato. In the mountainous areas surrounding Lima, you'll never tire of the quinoa and potato soup options. In the city, you have to try papa a la huancaína, a speciality using local yellow potatoes cooked with peppers in a spicy cheese sauce. There's also lomo saltado -- a beef specialty with an addictive fried potato and pepper salad. But the one meal that sets Lima apart is its ceviche -- a dish comprised of raw fish, soaked in lemon and lime, with added cilantro, sweet potato, and corn. Then ask for a leche de tigre (tiger's milk), where the leftover sauce is poured into a glass along with a shot of pisco. The sour digestif is a local aphrodisiac (personal note: it works). Be sure to spend time in the colorful beachside neighborhood of Miraflores, where you'll find an abundance of great restaurants that won't break the bank. Peruvian chef Fanny Suarez (who runs ChaSu in Berlin) recommends Barra Chalaca. "They're not well-known," she says, "but everything is made with love." Other recommended must-eats in Lima include Chez Wong, El Mercado, La Picanteria, and El Ceviche de Ronald.
What to do between meals: Once you've washed down a plate of fresh seafood with a glass of pisco sour, there's Spanish colonial architecture to tour as well as ancient huacas -- ruins that date as far back as 500 AD. Lima is a hub for surfing -- and has plenty of good spots for beginners -- and with the strong Peruvian winds you can also try hang-gliding across the cliffs. The underground music community here is rich and distinct, with its own tropical bass and electro-cumbia scene. Mostly, though, Lima is for eating. Once you've finished your meal, you'll be keen to start planning your next one. -- Daniel Cole, Thrillist contributor
Singapore
A multicultural food paradise at the crossroads of Southeast Asia
Why you should go: Flying across the world to visit an island roughly the size of New York City might seem like a big ask considering Singapore's rep as an authoritarian state where even chewing gum is banned. But right in the heart of Southeast Asia, the cosmopolitan "Little Red Dot" is where inexpensive street eats meet splurge-worthy fine dining. Hong Kong has amazing dim sum; Bangkok has gastro temples Gaggan and Nahm. But for variety, Singapore just can't be beat. And as an added bonus, everyone speaks English -- a rarity in the region.
What you'll be eating: A real global city, Singapore packs a unique cultural diversity. You'll find not only Chinese, Malay, and Indian food (representative of the local population's ethnic mix) but almost all other cuisines. The iconic hotel-casino megaplex Marina Bay Sands is filled with celeb restos fronted by headliners like Gordon Ramsay, while at the freshly rejuvenated Boat Quay and Clarke Quay districts you'll find everything from chili crab to Japanese izakayas. But the real highlight is the street eats: filling and less than $5 a pop, hawker meals form the bulk of the Singaporean diet. And they are seriously good -- so good that hawker stalls Hill Street Tai Hwa Pork Noodle and Hong Kong Soya Sauce Chicken Rice & Noodle have each been awarded a Michelin star.
Singapore is also one of the world's top coffee destinations. Locals obsess over their traditional dark roast "kopi" and their pulled espresso shots. Coffee fests abound, and the districts of Jalan Besar, Kampong Glam, and Tiong Bahru (one of the most hipster 'hoods in the world) are chockablock with artisan java. Cafe-hopping is a national pastime and the scene has an Australian vibe -- many Singaporeans head down under for college and return home with a taste for flat whites and laid-back brunches -- but with a local twist (pandan cakes and salted egg yolk waffles are cafe staples).
What to do in between meals: The National Gallery offers an impressive collection of Southeast Asian art, killer in-house restaurants (think two-star French dining and elevated old-school eats), and artsy souvenirs from the museum shop. You can also snag a mind-boggling array of keepsakes -- gourmet snacks, handmade crafts, and indie publications -- at design stores like Supermama and Naiise. When the sun goes down, Singapore boasts a world-class cocktail scene, and is one of the best party cities in the world, hands down. Hit up Chinatown's many bars, where you'll find hawker stalls pouring craft brews, Tiki joints offering Caribbean rum, whiskey dens helmed by dapper Japanese barkeeps, and speakeasies specializing in gin -- the neighborhood has it all. -- Hui Wen Chin, Thrillist contributor
Tel Aviv, Israel
Some of the world's best ingredients, in a modernist Mediterranean beach town
Why you should go: Beaches, Bauhaus, and Big Breakfasts -- the four B's every vacation must have. Tel Aviv does all of these very well. Start your day with an Israeli breakfast -- dozens of small plates ranging from local cheeses, salads, and fresh breads, to pastries, muesli, and natural jams, all refilled as you finish them, with a fresh juice and coffee on the side. Afterwards, wander the nearby streets for an architectural tour of "the white city," and see some of Tel Aviv's 4,000-plus bauhaus modernist buildings, which help make the city a UNESCO World Heritage Site. Once you've had enough modernism for one day, go for a swim in the warm waters of the Mediterranean, work on that "I went on holiday" tan to impress your co-workers back home, or join a game of the local favorite, Matkot (a hybrid of ping pong and volleyball), with a group of chiseled, Speedo-wearing dudes.
What you'll be eating: As the cultural stimuli settle in, your hunger pangs crescendo into what sounds like your Jewish grandmother telling you to eat. She also taught you to always eat the freshest ingredients. Israel is known for cultivating over a dozen new variations of produce such as Black Galaxy tomatoes, Tomaccios (cherry tomatoes), and seedless bell peppers. Unique food experiences are at the core of the culinary scene here, all the way up to the celebrity chefs. Newly opened restaurant Catit, from chef Meir Adoni, caters to the idea of "foodography" with silverware, lighting, and plating arranged so diners can take ideal photos to post on Instagram. Or check out chef Eyal Shani, famous for making Israeli street food gourmet and serving it right on the table, no plate, at Abraxas North. His Instagram (@eyaltomato) is more fine art than culinary art. In Tel Aviv, a plate of hummus is eaten as a meal and shakshuka and sabich (eggplant sandwiches) are street-food cult classics.
What to do between meals: After gaining a few pounds and some Instagram followers, hop onto the Tel-O-Fun bike share (so fun! It's right there in the name!) and hit the Tel Aviv Promenade. Stretching along the coastline, this wooden boardwalk winds amid boutiques like Bar Refaeli's sunglasses store, Carolina Lemke, endless cafes, and even a mobile library for you to grab a good beach read. Go a bit inland and you'll up end up at Shuk HaCarmel, possibly the world's biggest and baddest food/farmers bazaar. Here you will find everything from spices you've never heard of piled high like the Alps, gummy candy stacked even higher, and cheap souvenirs like "I (heart) TLV" shirts. So, yeah, call your mom up and tell her you're going to find a nice Jewish girl and start a falafel stand. -- Oren Aks, Thrillist graphic designer
Mexico City, Mexico
A world-class hub of food and culture, so close and so very cheap
Why you should go: Clued-in travelers have long headed to this pulsing metropolis of 21 million souls, where they've explored world-class museums, a vibrant independent art scene, and stunning colonial architecture. And while Mexico City's profile is definitely on the rise, the Ciudad de Mexico, or CDMX as it's known locally, remains an overlooked destination in comparison to the shining stars in the firmament of international travel. That's a downright shame: with its warm, welcoming culture, leafy, tree-lined colonias, and wonderfully delicious food, there are endless reasons to visit Mexico City. It can go head to head with the world's more touristed cities any day -- and at a fraction of the price.
What you'll be eating: Few places in the world take eating as seriously as Mexico City. Street food reigns supreme, and you can hardly walk a few steps without being enticed by the aromas wafting from the little carts where hard-working, immensely talented cooks serve up delectable (and cheap -- we're talking less than $3 for a complete lunch) snacks all day long. In the morning, visit a tamalero, a vendor who serves hearty, corn-based breakfast items: in addition to tamales, he'll offer sweet cinnamon-and-vanilla-scented cups of atole, a hot, smooth corn drink. Ready for lunch? Seek out a tlacoyo, an eye-shaped disc of blue corn masa griddled and stuffed with creamy mashed fava beans or porky chicharron. Mexico City's tacos are equal to all the hype, available all day in every neighborhood, and filled with a huge range of meats. For a taste of the ultra-local, look for tacos al pastor, little corn tortillas folded around seasoned pork and warm, juicy bits of sweet pineapple. Said to be brought to the Mexico City area by Lebanese immigrants in the 19th century, the style has proliferated across the country but reaches its apex in CDMX.
If you're the type of diner who prefers an unhurried, sit-down meal, take note. In recent years, the city's fine-dining scene has exploded: star chef and CDMX native Enrique Olvera's Pujol, located in the tony neighborhood of Polanco, is probably the best-known example. It more than merits its many accolades, plating refined fare that demonstrates an intimate knowledge of traditional Mexican ingredients deployed in surprising ways -- and at about $100 for a seven-course meal, it won't blow up a vacation budget. Other excellent white-tablecloth restaurants include nearby Quintonil, where Jorge Vallejo creates Instagram-worthy dishes that taste as good as they look, and Maximo Bistrot, a cozy little corner spot in Roma with an excellent wine list.
What to do between meals: The vast expanse of Mexico City is divided into diverse neighborhoods known as colonias, and one of the most rewarding activities is to stroll among them, leisurely taking in the bustle of the city. Architecture buffs should check out Roma Norte, where expansive early-20th-century mansions now house cultural centers, bookstores, and art galleries; nightlife lovers can bar-hop around Condesa, the city's most tourist-friendly area, packed with cafes and clubs. The art of Diego Rivera and Frida Kahlo, Mexico City's famed twice-married couple, is on display all over the city, but for a more unusual glimpse into the life of the former, visit the Museo Anahuacalli in Coyoacan, which houses Rivera's unparalleled collection of pre-Columbian art and artifacts. Gallery enthusiasts can hit up Kurimanzutto, which represents pan-media modern artist Gabriel Orozco and relative newcomer Labor. For local color, CDMX's main square, the Zocalo, is always fun to walk around, and Chapultepec, the city's Central Park, offers an oasis of green apart from the packed and frenetic streets of Downtown. -- Lauren Rothman, Thrillist contributor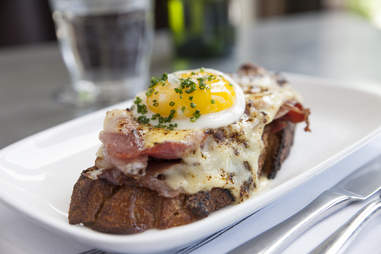 Courtesy of St. Genevieve
Minneapolis, Minnesota
The upper-Midwestern food oasis that might be America's single most underrated food town
Why you should go: Minneapolis may not immediately spring to mind among the pantheon of food capitals, but it's quite likely the most underrated food town in the United States. That puts the Twin Cities high in the running for most-overlooked worldwide, even as no less than Anthony Bourdain calls Minneapolis an unexpected foodie city. The town boasts the classic American comfort food you'd expect from an upper-Midwestern food oasis -- from top-notch diner fare at Mickey's Diner in St. Paul (as seen in Mighty Ducks 1, 2, AND 3) to the white-hot debate over who makes the best Jucy Lucy in Minneapolis. Here you'll also find a surprising abundance of outstanding Vietnamese, Polish, and Mediterranean restaurants, and great chefs (most notably Andrew Zimmern) who have decided to call Minnesota home. And since Minnesota is way more affordable than more well-known foodie destinations in America, you'll eat like a king on a joker's budget.
What you'll be eating: For starters, you can't visit Minneapolis without stopping by Matt's Bar for a Jucy Lucy -- one of a handful of iconic American restaurants you should make sure you eat in before you die. To see the city's more cosmopolitan side, head to Nicollet Ave -- better known as "Eat Street" -- for seemingly unlimited global cuisine presented by real Minnesotans: Greek food at Christos, classic Vietnamese at Jasmine. And let's not forget breakfast. While other states are held in thrall by the likes of Dunkin' Donuts and Tim Hortons, world-class pastry chefs are helping to make Minnesota the donut capital of the country. The rich arts scene in Minneapolis inspires these skilled bakers, with shops like Glam Doll and Bogart's creating artworks in a medium of brown butter glaze, peanut butter, and Sriracha.
What to do between meals: We all owe Prince a proper send-off, and starting this month you can actually tour Paisley Park, Prince's iconic residence and recording studio. Music fans will also want to take in a show at First Avenue, or pop into the Fifth Element record store to pick up the latest, greatest, and rarest releases from Twin Cities hip-hop royalty. In the warmer months, the Twins' Target Field is one of the best new ballparks in Major League Baseball -- or you could try to spot Bill Murray at a St. Paul Saints game, where Murray, a part-owner of the team, is known to pop in without warning. Oh, and about those lakes. Walk, run, camp, and hike your way through the Chain of Lakes, Pike Island, or Minnehaha Falls, which will give you plenty to Instagram outside of all that food you just ate. -- Patrick Strait, Thrillist contributor
Berlin, Germany
A hotbed for ethnic diversity, street food, and gourmet wonders
Why you should go: Berlin is a quintessential European bucket list spot, bristling with history from Nazi remnants to the Berlin Wall and former East buildings now covered in provocative graffiti and hipster digs. But for years after the Wall's fall, the foodie scene was barren, peppered only with ultra-traditional, unimaginative restaurants and just a few kitschy ethnic joints. Only in the last few years has Germany's capital played catch-up in a big way, spurred by tourism, the startup scene, and local visionaries. Berlin is now flourishing with creative concepts and high-quality fare, rounding out all those hidden gems and hole-in-the-walls. It's difficult to ignore when matched up with the city's "cool kid" status and how inexpensive a solid meal is compared to other European capitals.
What you'll be eating: Berlin's scene is pumping with new feasting markets and street-food events, especially in the summer during a booming festival season. Street food is no longer just limited to doner kebab, with Bite Club throwing big bashes filled with electronic music and artisan treats. Also in Kreuzberg, which is as close as it gets to hipster central, Markthalle Neun is a historic marketplace reopened five years ago to showcase diverse stalls. You'll find an exotic smorgasbord of everything from oysters to BBQ to craft beer. During weekends, a technically illegal stakeout of Thais cooking on blankets becomes Thai Park, and local liberal customs turn a blind eye so that Berliners can enjoy authentic som tum and satay.
While Mitte is effectively the scene's epicenter, aforementioned Kreuzberg and a still-gentrifying neighborhood called Neukölln are providing new frontiers for interesting cuisine. Gourmet food badly needed bar-raising, and finally there are many eateries experimenting with fresh, regional fare. Industry Standard is dishing up "nose-to-tail" in Neukölln, while the "brutally local" Nobelhart & Schmutzig only opened two years ago and earned a Michelin star in 2015. It's an interesting mix, especially when mashed up with the diverse roots of locals -- Turkish, Middle Eastern, Vietnamese, and the like -- providing plenty of greasy spoons that are authentic and cheap.
What to do between meals: Berlin's landscape is teeming with students and artistic types, so you'll find no shortage of passionate, emboldened entertainment in this thriving cultural scene. The city has superfluous ways to feed the soul, from live rooftop jazz at Klunkerkranich, an open-air bar that also shows films, to, of course, one of the wildest boozy party scenes in the world. Berlin's full of surprises, from impromptu techno raves in parks to whichever rapper or didgeridoo player is killing it on the Oberbaum Bridge. Needless to say, you're going to work up one hell of an appetite just by walking around. -- Barbara Woolsey, Thrillist contributor
Sign up here for our daily Thrillist email, and get your fix of the best in food/drink/fun.