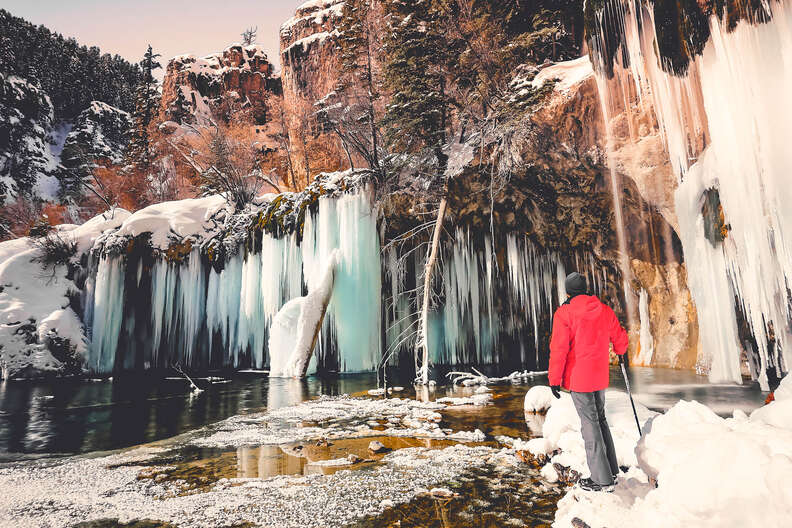 Hanging Lake, Colorado

| darekm101/RooM/Getty Images
Hanging Lake, Colorado

| darekm101/RooM/Getty Images
Your Winter Hiking Goals Should Involve These Crystalline Frozen Waterfalls
Don't chase waterfalls. Climb them.
Winter hiking is a vastly underrated activity, but this year it will be extra crucial as a means of escape. For those who don wool socks and extra Gore-Tex, a wilderness adventure amid the snow gives you a glimpse of a transformed world, one where trees are blanketed in white and, if you play your cards right, waterfalls stand still.
In the dead of winter, many waterfalls—some accessible roadside, others buried deep in a snowshoe-equipped journey—become surreal spires of ice. Some freeze partially. Others become massive walls of crystalline ice so thick that adventurous climbers scale them equipped with pickaxes. And once you see them, you'll never forget them. To inspire your next cold-weather hike, here are some of America's most magical frozen falls.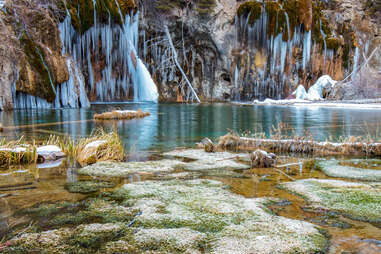 Hanging Lake
Colorado
Coloradans like myself have always known Hanging Lake, a few miles from Glenwood Springs, as one of the state's most scenic destinations, and that's no less true once the aspens have stopped quaking for autumn. Come wintertime, the gentle waterfalls feeding Hanging Lake can freeze into icicle-like columns; catch it on a quiet early morning and it's like the whole world is standing still.
Columbia River Gorge
Oregon
Considered the crown jewel of Columbia River Gorge Highway—a historic stretch cliff-lined road east of Portland—Multnomah is the main attraction on a highway literally overflowing with waterfalls. The postcard bridge, the big boulder at the bottom... you know this place. What you might not know is that, massive as it is, this storied waterfall can fully turn to ice once the temperature drops below freezing. Sometimes it's only partly frozen, but the streams of water running down over translucent blocks of ice makes for no less grand a view. The same goes for the dozens of other smaller, less-touristed falls hikers can visit right off the historic highway.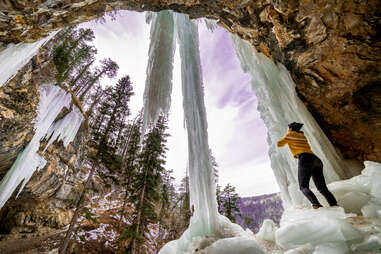 Spearfish Canyon
South Dakota
Snaking through one of the most gorgeous parts of the Black Hills, Spearfish Canyon's towering walls conceal countless treasures, among them multiple falls. And in winter, when the only sounds are the river and the snowmobiles in the distance are audible, Roughlock Falls and the towering Bridal Veil transform into something extra surreal. Those are the big ones. The rest are for you to discover on your own.
Niagara Falls
New York
The temperature has to drop and stay that way for a while in order for Niagara Falls to freeze completely, but it can and does happen. Probably more often than you expect. For the most part, there's still water flowing underneath the frozen surface, but Niagara Falls really does give the appearance of being iced over.
Starved Rock State Park
Illinois
Head southwest of Chicago to LaSalle Canyon in Starved Rock State Park toward the end of a cold snap and you might find this gargantuan column of water suspended off the rock face, perfectly still. Follow the trail to take in the view from behind the falls, looking out through what would normally be a curtain of flowing water.
Winding Stair Gap
North Carolina
The imposing falls at Winding Stair Gap in Franklin—a town hidden in the forests of western North Carolina—freezes so solidly as to attract ice climbers. It's also conveniently accessible from the Appalachian Trail, for those of you who want to take advantage of the waterfalls' majesty without necessarily bringing a pickaxe.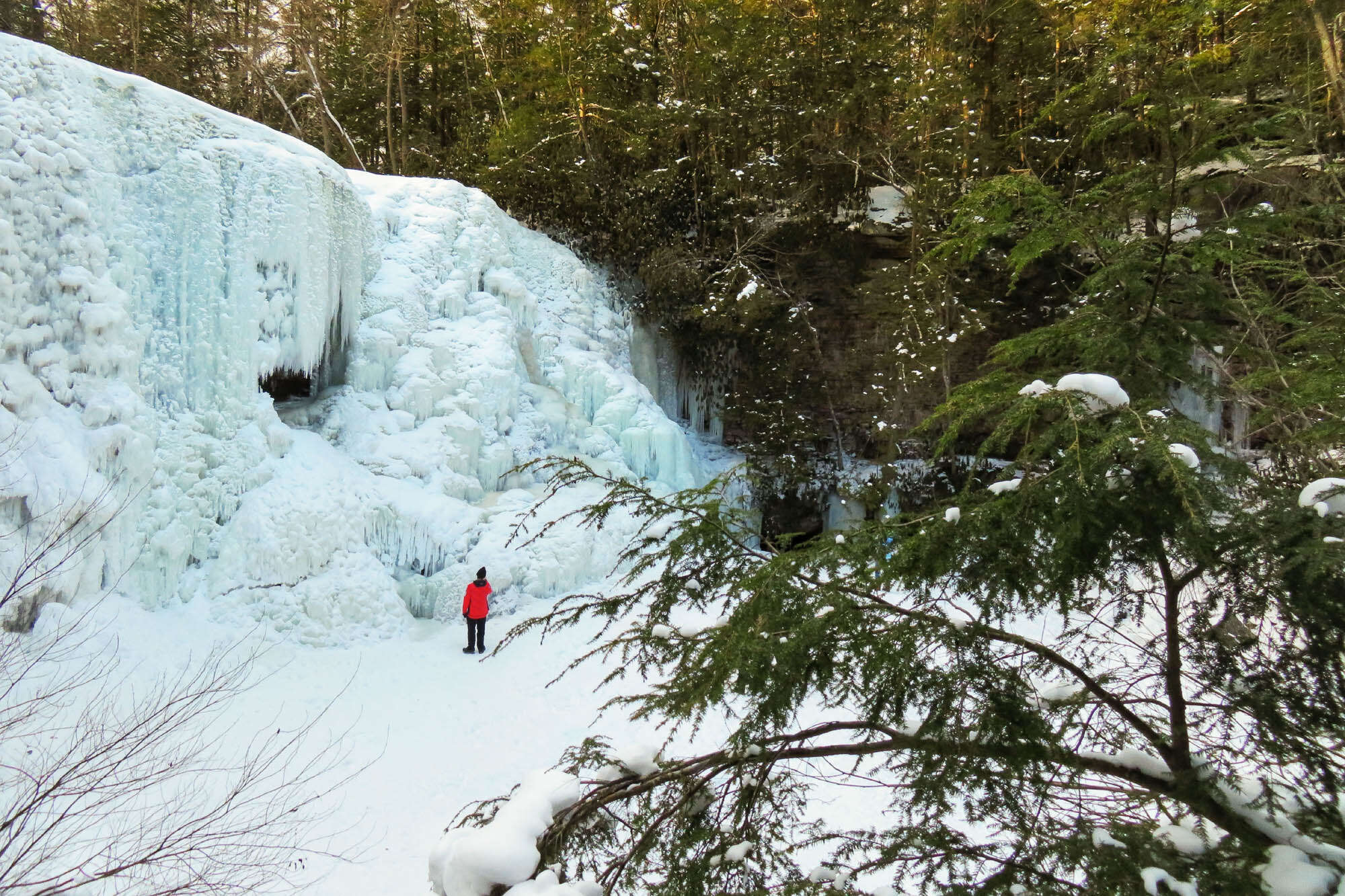 Mountain Lake Park
Maryland
There are several beloved waterfalls in Maryland that are known to freeze under the right conditions, including the 53-foot Muddy Creek Falls. Head into Swallow Falls State Park on the western reaches of the state for a tower of cascading ice you can walk right up to.
Tahquamenon Falls
Michigan
The signature brown running through these famous falls comes from tannins absorbed from cedar and hemlock swamps. In the summer the water might just look muddy, but when frozen the tannins add an unexpected pop of color. There are many, many frozen falls in Michigan's unofficial tundra—this is a place where the waves on Lake Superior freeze into ice volcanoes—but Tahquamenon is the most famous and accessible. Hell, there's even a brewery in the park. No wonder they call the nearby town paradise.
Glory Hole
Arkansas
These 31-foot falls in Ozark National Forest, Arkansas, pours out of what looks like a large hole in a larger rock ceiling, and was so named long before your mind became dirty. Sometimes it's a slow drip; sometimes it's a raging waterfall; sometimes, when it's below freezing, it's a perfectly suspended column of water. The only leaky ceiling you're likely to ever enjoy.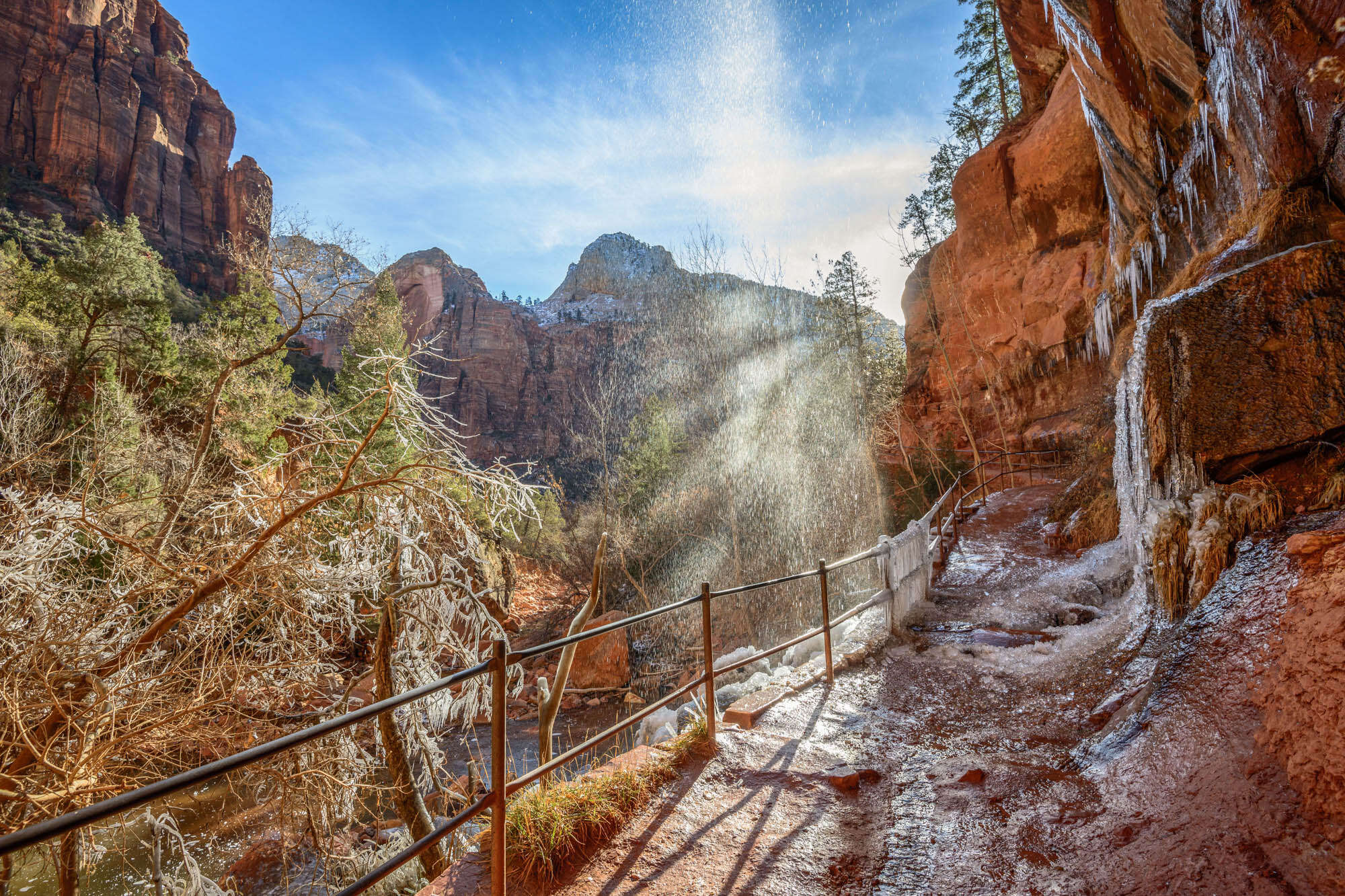 Zion National Park
Utah
Zion in the summertime? Overcrowded. Hot. Too many lines. Zion in the wintertime? Sublime. Peaceful. Wondrous. Surprisingly cold! The best time to visit this national park is definitely between November and March, when foot (and car) traffic is about one-tenth of what it is in the peak summer months, and where the the waterfalls might be converted to icicles. As a bonus, this is also one of the best times of year to stargaze in total isolation here.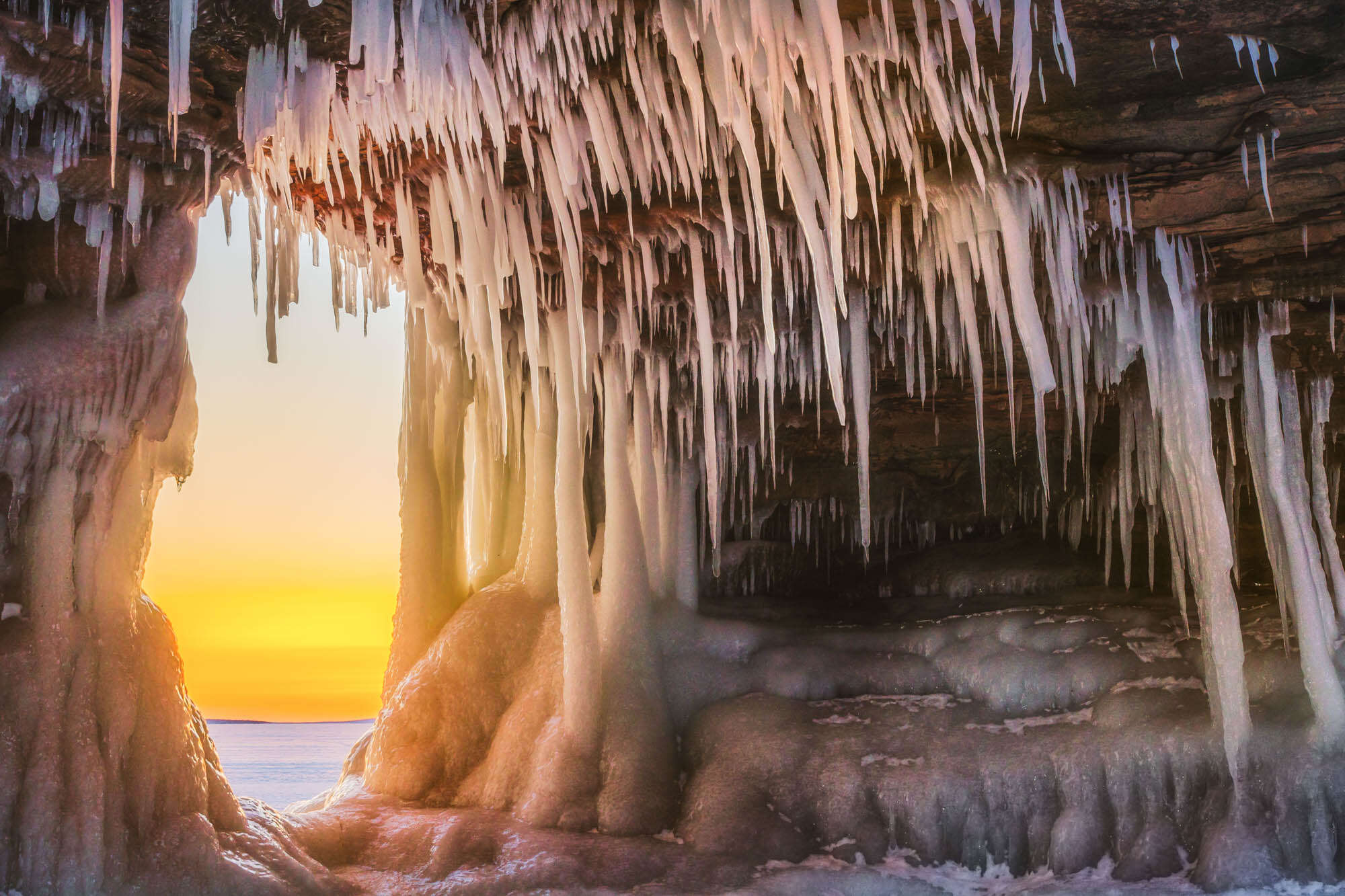 Bonus: Apostle Islands
Wisconsin
Is this strictly speaking a waterfall? It is not, though if you want to be a stickler you can find a bunch of those throughout this section of Northwest Wisconsin. But the frozen sea caves of the Apostle Islands on the coast of Lake Superior are a must if you're looking to see perpetually moving water at a standstill. Lake Superior's mainland ice caves only appear like this under precisely the right conditions—not just temperature, but wind and waves—and are one of the most breathtaking wintertime sights in the country.