Each June, the streets of New York are transformed into a blitz of rainbow flags, bared skin, and joyous dancing. Never does New York City's annual Pride March fall shy of spectacular -- even moreso this year, with the commemoration of the 50th anniversary of Stonewall with World Pride (full disclosure: Thrillist is a sponsor) -- crowds often pack in more than 2 million people to see the action and celebrate the spirit of Pride, one of radical inclusion.
Anyone is welcome to come as they are -- or, for some, as they love to be. The doyennes of the day are the drag queens, for whom Pride can be the busiest (and most wonderful) time of the year. Case in point: One booker told me that the most sought-after performers might work five shows on a Pride weekend, crisscrossing the country for various events.
The influx of drag queens to stages and venues throughout the country during Pride month also has a gateway effect for aspiring drag queens wanting to celebrate and "get in heels and lip sync to Britney," as Queens-based drag queen Sutton Kyler Puckett recalled. The New York City-based queen, who performs with the name Heidi Haux, was forever changed by moving to New York at 18 years old, on Pride Weekend, no less. "I was still closeted," he said. "The overwhelming support and sheer quantity of pro-gay anything blew my mind."
It's no surprise that NYC Pride is generally regarded as America's most vibrant Pride event; this is, after all, the birthplace of Pride as we know it. Following the riots outside The Stonewall Inn in June 1969, the first official New York City pride march, then called Christopher Street Liberation Day, became an anniversary of marginalized people standing up against unjust police riots at gay bars. Given its history, this is the landmark event the LGBTQIA+ community and allies flock to annually. "There's nowhere like New York, the gay rights movement started here," said New York City drag queen Candy Sterling. "It's so symbolic of our fight for acceptance and progress."
But that fight and the ongoing struggle for acceptance continues across the 50 states, especially in places without gay bars, LGBTQ resource centers, and a few less proudly waving rainbow flags than the West Village. Which is why it's more important than ever to call attention to the small towns and cities throwing their first-ever Pride parade this year, and recognize the communities outside of New York that throw America's best Pride celebrations.
So we talked to well-traveled drag queens to find out which are the prides of Pride, nationwide.
Recommended Video
Please Don't Hang Up: The Best BBQ & Barcade in Dog-Friendly Kansas City
Best Unexpected Festival: Sioux Falls
Your next Pride weekend may be best spent in South Dakota. This annual celebration has swelled in the past few years from a few hundred attendees to over 8,000, according to The Advocate. New York-based drag queen Delighted Tobehere described it as a "very comfortable Pride festival, because everyone was so warm and welcoming." She also enjoyed seeing performers from Middle America: "They'd announce, the next up on stage is directly from Omaha, and it was so exciting." Tobehere also said the festival packed in straight allies, in an "incredible" show of support. "There was concern that folks wouldn't show up, but [the attack on Pulse, in Orlando] certainly didn't scare folks off," she said. "This Pride was a day that unified our community." The Sioux Falls Pride took place on June 15 this year.
Seattle has one of the oldest Pride weeks in the country -- dating back to 1974 -- a fact that hasn't kept it from staying weird and cheerful. "I was really blown away by Seattle Pride," said Los Angeles-based drag queen Jackie Beat. "The energy was off the charts and everyone was so welcoming and embracing." Seattle Pride doesn't get too flashy with only two main events, a parade, and a festival. And the atmosphere stays wholly positive. "I didn't feel any of that 'us vs. them' separatist energy," Beat said. "It was amazing!" Seattle Pride takes place on June 30 this year.
Jackie Beat doesn't like to play favorites with Pride -- likening them all to "one of my children" -- but has been blown away by a couple of the smaller celebrations: "The feeling of community in places like Buffalo or Tulsa is undeniable." These festivities aren't as corporate as New York or LA's massive celebrations, for better and for worse; there are fewer dollars, true, but also fewer sponsor logos to dim the warm vibes. Another perk to visiting a small town for Pride: shopping. As a "legendary rent-a-clown," Beat usually flies quickly in and out of town, but noted that "small towns are so much better than big cities when it comes to my bargain vintage witch-hunts!" Buffalo Pride Festival was on June 2 this year; Tulsa Pride was celebrated June 1.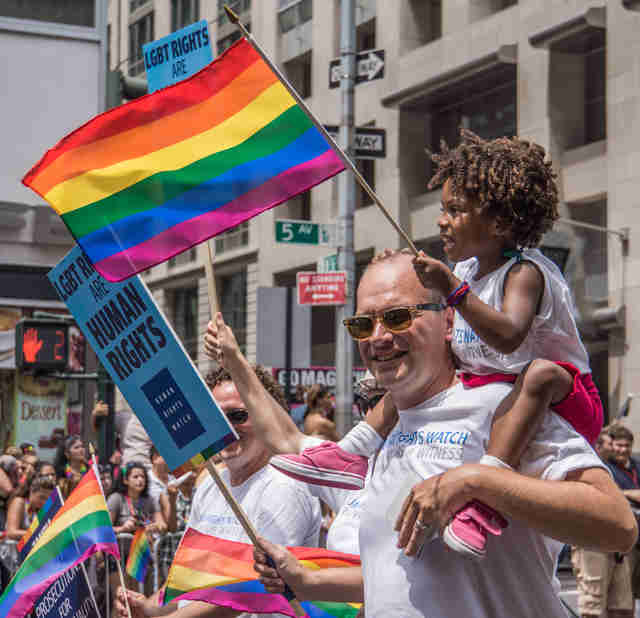 Best to Celebrate Queer History: NYC Pride
Acid Betty, a Brooklyn-based contestant on Season 8 of RuPaul's Drag Race, votes New York as having the best Pride celebration, "because that's where it started." Her favorite part of the annual Pride March is reuniting with "brothers and sisters" in a struggle for equal rights that still continues, almost 50 years after Stonewall. "Pride kind of reminds us," she said, "that we're not alone." NYC Pride March & PrideFest take place June 30.
Las Vegas-based drag queen Derrick Barry, a contestant on RuPaul's Drag Race Season 8, has done San Francisco Pride and last year performed at New York City's Night of 1000 Queens. But her dark-horse favorite Pride experience? Milwaukee, where in 2015 she performed a 30-minute Britney Spears set on closing night, on the outdoor stage at the fairgrounds that host the annual event. "There's something about doing outside club-type shows in a big outdoor area: It's so electric," Barry said. And unlike some bigger coastal cities, this truly is the weekend to cut loose: "It's what they look forward to all year. It's the big LGBT event." PrideFest Milwaukee was June 6-9, and this year's lineup included a youth drag show, queens Malaiya Marvel, Lady Gia, and several others.
If you're considering performing at Pride, try San Diego Pride, a music festival-style celebration featuring various stages with different types of music. In 2014, Derrick Barry performed here alongside headliners including DJ Ruby Rose and other big names and recalled the star treatment as being one of the highlights. "I had my own trailer -- nobody has ever done that before," she said. The "big stage, big crowd" and more gave a cool California vibe to this festival, perfect for anyone who wants to feel "so VIP" or just celebrate in the sunshine at a rainbow-themed music festival. On July 6, experience women-centric She Fest; the San Diego Pride Parade takes place July 13.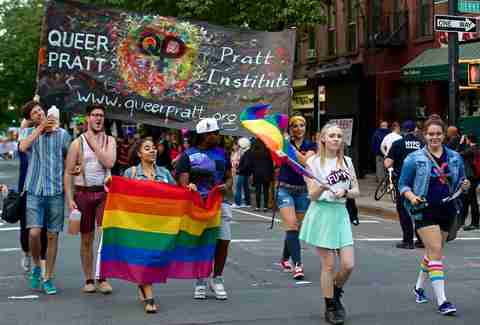 Where to go when New York becomes too mainstream? Brooklyn, obviously. Candy Sterling said Brooklyn Pride, which usually occurs the second weekend of June, has a more "avant-garde, artistic vibe." This is partially due to the alternative nature of Brooklyn gay nightlife, which Sterling described as "a little more risk-taking, more wild." With fewer sponsorships and corporate events than its big sister, Brooklyn relies on more of an "organic," underground scene. Sterling added that "exciting things in drag and nightlife are happening in Brooklyn," where queens are more experimental than Manhattan's "more traditional, theater-inspired drag." Brooklyn Pride Festival took place June 9 this year in Park Slope.
Kalamazoo, Michigan, which is home to exactly zero gay bars, hosts a surprisingly good Pride celebration each June. Drag queens Thorgy Thor and Pearl performed in 2017's Kalamazoo Pride, a vast improvement from when Sutton Lee Seymour attended the celebration as a college student. "Pride a decade ago was a barbecue," she recalled. "Maybe a hundred or so people would come and it was a great party, but now it has grown into something huge where they're bringing Drag Race girls." Kalamazoo Pride was on June 7-8 this year.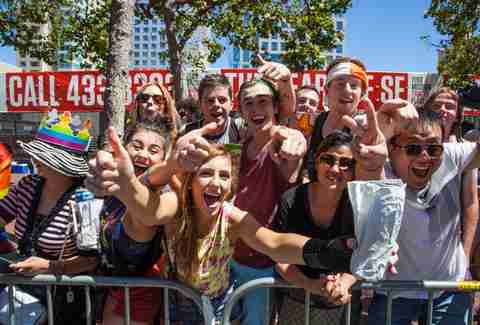 Kyler Puckett calls San Francisco Pride "the gayest Bonnaroo on Earth," no affiliation with the jams in central Tennessee. This one begins with a parade down Market Street where scores of people line the streets and observe from fire escapes above as the march winds to City Hall. There, at the main stage and several smaller stages, vendors and sprawling grass welcome hordes of LGBTQ people and allies out to celebrate. Puckett attended SF Pride after 2015's Supreme Court ruling on federal marriage equality. "That year was particularly special," he said. "The whole city seemed to be proud and celebrating love." SF Pride is also known to be particularly political; 2017's theme was "For Racial and Economic Equality"; 2018's was "Generations of Strength." This year? It's "Generations of Resistance," taking place June 29-30. Party on.
School's out for summer, but the home of Indiana University doesn't let Pride slip by without a proper party. Indiana-based queen Ruth N. Nasia is a big proponent of Bloomington Pride, which brings out Midwestern queens for a "lovely experience." Offstage, the audience isn't shy about turning the entire celebration into a dance party, and local queer bar The Back Door is open essentially all day and night for Pride weekend celebrations. "Bloomington Pride is special, because though the town can feel small, it doesn't during Pride, when almost the whole city is decked out in celebration of queer people who paved the way before us and those who are doing so now," Ruth N. Nasia says. Bloomington Pridefest takes place August 31.
After moving from Boston to Providence, Rhode Island in 2015, Phaedra Phaded became entranced by Providence's annual pride parade (now in its 44th year!) and all-night block parties. "It's the smallest pride I've ever attended but it is the most exciting by far," she says. "It's a magical event and the fact it's at night makes it so much easier to be a working girl because day drag is not for the faint of heart." She notes that the tight-knit LGBTQ community in Providence also sends a "beautiful message of inclusion" especially during Pride. Rhode Island Pride took place June 15.
Delighted Tobehere, who grew up in South Carolina, advocates attending as many red-state Pride events as possible. "Go to all of them," she said, laughing. As someone who was kicked out of his house for being gay, Tobehere emphasizes the importance of smaller Prides to gain a deeper understanding of why the movement is so vital. "When you go to a smaller pride and you have folks coming out of the closet, coming from a town where everybody knows everybody," she said, "protestors may include their family members and there needs to be a lot more support for the folks that don't have the connections and the resources to surround themselves with other LGBT family members."
Smaller Pride festivals might be the only local touchpoint for essential services, such as education on HIV testing, or the opportunity to join a gay bowling league or even to meet someone and ask them out. To start, Tobehere recommends grassroots festivals such as Upstate Pride South Carolina (June 21 -22), Outer Banks Pridefest (September 13 -15), and Salisbury (North Carolina) Pride (June 22).
Sign up here for our daily Thrillist email, and get your fix of the best in food/drink/fun.