Bring a Flashlight to the State with the Most Ghost Towns
Desolate places and where to find them.
Nevada has at least 600 ghost towns within its borders. That's more than any other state. Do the math (carry the one) and you'll realize Nevada actually has more ghost towns than "regular" towns. Call it a byproduct of being a massive state with a fair share of desert, rock, and mountains beckoning would-be prospectors with dreams of heading west and striking it rich. Nevada is the Silver State, after all.
Back in the pioneer days, it was relatively easy to transport your life in a stagecoach (or later, a stiff automobile) and rebuild where the laws in them mountains, much like the slot machines to come, were said to be "loose." And if things didn't work out, many just packed up, moved along, and tried again—leaving much abandon behind.
Yes, things are different now. Yet Nevada continues to be a transient territory, where a roll of lucky dice brings the promise of a new day. Meanwhile, some of the unlucky old days are preserved and on display, hiding in the outskirts and remote corners of the state's 111,000 square miles. Timeless Wild West destinations like Goldfield, Goodsprings, and Jarbidge (a lovely place indeed) are often tagged as living ghost towns, which means people actually still live there. But let us focus on places even farther off the beaten stagecoach path, where history and the sounds of silence come together in captivating ruins.
Rhyolite
Rhyolite is one of the most visited and photographed ghost towns in Nevada. Part of that is thanks to convenience, as it's a short drive from Las Vegas and Death Valley National Park. But people also come for its dramatic post-apocalyptic feel, in part due to the town's rapid rise and fall. During the gold rush boom, Rhyolite became a wealthy mining town with more than 10,000 residents and three different railroad lines passing through. There were luxury hotels, a stock exchange, an opera house, and more than 40 saloons. It even had street lights! But the town quickly fell apart when a financial crisis swept the nation in 1907.
Today, you can see the old three-story bank, jail, and still-intact train station that had a second life as a "haunted" casino long after the town was abandoned. There's also a home made of 10,000 glass bottles and the Goldwell Open Air Museum, an oddball, outdoor art installation and selfie spot.
Belmont
Belmont was a boom town in the late 1800s, when the discovery of silver led to 10 mines and six mills—three of which are still visible as ruins today. In some ways, Belmont was a respectable place with schools, churches, and politicians who upheld the town as the county seat from 1867 to 1905. However, Belmont also had a reputation for rowdiness, with rambunctious saloons, gambling, and a red light district. Drunken brawls, shootings, and hangings were common. The two-story, red-brick courthouse (with the town jail behind it) remains Belmont's centerpiece. Today, you can grab a drink at Dirty Dick's Belmont Saloon, which came around long after the mining days, but recreates the experience of knocking one back before high noon.
Gold Point
Call it an identity crisis or call it resilience, but Gold Point has lived a few different lives, proving to be one of the few ghost towns with a comeback story. The tiny community was originally called Lime Point due to lime deposits, but was renamed Hornsilver after becoming a mining camp in 1908. More than 200 tin and wooden buildings emerged, including hotels, cafes, and at least a dozen saloons. Things fizzled out by World War II, and somewhere along the way, the name changed to Gold Point.
It was mostly forgotten until Walt Kremin came along and bought up the buildings (with the help of an investor who won $200,000 from a Vegas slot machine). The result is one of the most preserved and renovated ghost towns in Nevada. Book a night in one of the old miner's cabins, pull up to the counter at a saloon, and send a postcard from the original post office.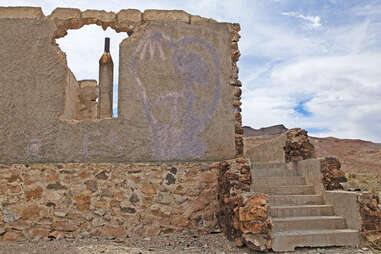 Blair
Think of Blair as a ghost town with views. The ruins sit at a high elevation, overlooking the desert landscapes of Clayton Valley and what seems to be a lake. The pale, almost glowing turquoise waters are actually the Silver Peak Lithium Mine, which is continuing Nevada's legacy of mining, but for the digital age.
Way back when, Blair was all business, with a mining company pulling as much valuable rock out of the ground as possible between 1906 and 1915. The old mercantile, hotel, and saloon are long gone, but you can still see the remains and towering chimney of what was once the largest mill in Nevada along with other scattered structures. The primitive concrete is pale and colorless among the desert rock, making Blair feel like a lonely place, even for a ghost town.
Nelson
Out of all the ghost towns in Nevada, this one feels the most like a movie set—and it's sometimes used as one. Just look for the "plane wreckage" left over from 3000 Miles to Graceland. Much of Nelson was renovated and rebuilt, so it's sometimes hard to know what's authentic. Yet some of the buildings are indeed original, and the town's legacy is very real.
Nelson hit the jackpot in the 1860s, producing a record amount of gold in Nevada. You'd think that would mean a haven of happy miners, but guess again. Nelson was known for lawlessness, murders, and a high rate of violence—even by Old West standards. Today, the town is privately owned and offers official tours to explore the mines. Between a vintage Texaco gas station, sheet-metal garage, and water tower, you can't go wrong any which way your camera points.
St. Thomas
The dwindling condition of Lake Mead is a major water concern in the southwest, but the drought has also revealed a secret locked in desert sands. The receding waters have unveiled St. Thomas, a Mormon settlement from 1865 that was once a stop along the Arrowhead Trail between Salt Lake City and Los Angeles.
The residents, who initially thought they were still in Utah, built a hotel, school, and a few shops—which all ended up 60 feet underwater when the Hoover Dam created Lake Mead in 1935. Thanks to climate change, the town was exposed in 2002, and visitors can now hike and explore the washed-out ruins.
Manhattan
Manhattan was something of a sister town and perhaps even a rival to the nearby ghost town of Belmont. Although founded in the mid-1800s, Manhattan's mining business didn't pick up until Belmont's was on the way down, around 1905. Manhattan developed a hopping business district, the bustling Merchant Hotel, and notoriously muddy streets.
A series of fires destroyed much of the town in the 1920s, but a handful of saloons and businesses survived, making Manhattan one of the most rewarding ghost towns to explore today. You can still see the iron vault inside the remains of an old bank (the only stone building in town) and a church that was transported fully intact (or stolen, depending on who you ask) from Belmont.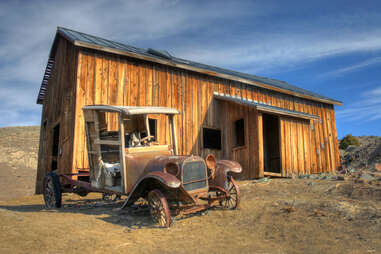 Berlin
Berlin wasn't the biggest or baddest of mining towns—it lasted less than 20 years after it was founded in 1897 and had a population that peaked at just 300 people. But, as part of the Berlin-Ichthyosaur State Park, the ruins have been preserved and restored. There are nearly 50 sites and structures, including a stabilized mill (with killer views from inside), mining offices, and a blacksmith shop.
As the name suggests, the park also comes with a bonus: the largest known concentration of Ichthyosaur bones, left behind from when an ocean covered much of Nevada more than 200 million years ago. The fossil exhibit is temporarily closed for road work, but it's expected to reopen by the end of the year.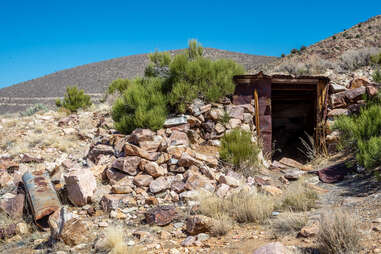 Delamar
Delamar is nestled in a beautiful, green mountainside, but there's darkness in them hills. The town is nicknamed the Widowmaker due to its dangerous mining operation, which flourished in the 1890s, at one point producing more than half of Nevada's ore output. But excavations created a fine dust from quartzite rock that, inhaled by miners and mill workers, led to widespread silicosis (lung disease). A wave of deaths followed, leaving behind 400 widows in a town that had 3,000 people at its peak.
Despite a serious fire in 1900, much of Delamar is left behind, thanks to the stone-mason architecture. It's in a remote area down the Extraterrestrial Highway near Area 51, but remains a popular destination for its legacy of lost souls—making Delmar an actual ghost town.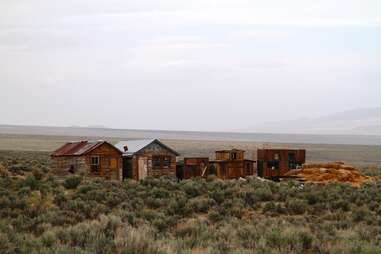 Unionville
Unionville is a well-maintained ghost town with an unusual perk: you can actually spend the night. The town has exactly one business—the Old Pioneer Garden Country Inn, a five-room bed and breakfast built in 1861 on the site of a blacksmith shop. The main building once hosted Mark Twain for dinner, as the writer was actually a short-lived resident of Unionville. His cabin is still around—and a vital part of town lore—along with a church and schoolhouse.
Unionville was a stop on a stagecoach route in the 1860s and its silver mine attracted around 1,500 prospectors, about a third of whom were Chinese. Today, it's not uncommon to find Chinese coins, marbles, or the occasional opium pipe in the woods.
Rob Kachelriess
has been writing about Las Vegas and travel at Thrillist for more than eight years. His work has also appeared in
Travel + Leisure, Trivago Magazine, Sophisticated Living, Modern Luxury, Leafly, Las Vegas Magazine,
and other publications. He prefers to visit ghost towns with an operational saloon. Follow him on Twitter
@rkachelriess
.