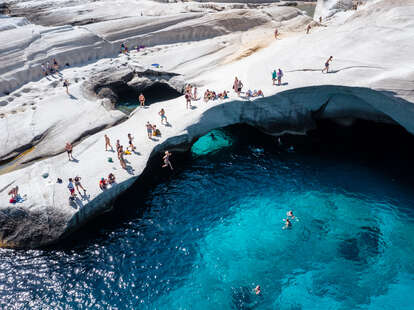 Sarakiniko beach, Milos, Greece

| Matteo Colombo/DigitalVision/Getty Images
Sarakiniko beach, Milos, Greece

| Matteo Colombo/DigitalVision/Getty Images
Greece is the most beautiful country in the world, says every Greek person ever. They're not bluffing. Look no further than the legendary Greek Isles, where postcard-perfect beaches make for the best sunsets, an "anything goes attitude" makes for the best locals, and perpetually sunny climes make for the freshest, most flavorful olives and tomatoes you will ever taste.
On this side of the Mediterranean, old-world wonders like retro tavernas, archeological sites, and ancient villas blur the line between past and present. Jump into a world where your only concerns are how long to nap and how much ouzo is too much ouzo. Out of the thousands of Greece's islands, here is an extraordinary handful.
Hydra
Welcome to the St. Tropez of Greece, where the Beatles, Rolling Stones, and Leonard Cohen paved the way for cashed-up bohos, yacht folk, and Greek Glamazons. Hydra's good looks are undeniable, but there's more here than meets the eye. Alas, since it's less than two hours away from Athens by ferry, people rarely really get to know it. Splurge on the overnight experience once the day-trippers have gone back to the capital.
There are no cars, just horse-drawn carriages, but the best way to explore this tiny island is on foot. Wandering the cobblestone streets, just follow the sound of plucky bouzouki folk music to time-warped tavernas handing out ouzo shots, sirtaki (Greek traditional dance) extravaganzas, and seaside restaurants serving decadent seafood platters.
Rhodes
If you're UV-starved and looking to spend all day outside, this is your island. The sun shines about 300 days a year here, courtesy of the Greek sun god Helios who once ruled this island. Rhodes is packed with luxe resorts and silky stretches of sand outfitted with beach loungers and drink service. When you're ready to put your sandals back on and emerge from the R&R, there's plenty of history to discover in the Old Town, including a wonderful archaeology museum, Greece's oldest Jewish temple by way of the 16th-century Kahal Shalom Synagogue, and an Ottoman hammam with a starry dome. Hiking up to the Acropolis of Lindos, the incredibly well-preserved ruins dating to the 4th century BCE, rewards with a killer view.
Crete
This is the original hipster health destination, proudly providing sustainable organic everything in magnificent surroundings. The food is healthy, homegrown and affordable. Try the dakos (the Cretan take on bruschetta), olive oil-drenched octopus, and savory rice pilafs. It all goes down brilliantly with a bottle of vino or better yet, tsikoudia, the local gut-warming moonshine.
As Greece's largest island, Crete is perfect for island-hoppers who can't decide what to do and want a bit of everything. Cities and towns are totally different: In Heraklion, you'll find fancy beach resorts and fascinating archaeological sites, while Chania and Rethymno offer Venetian and Turkish architecture as eye candy. Rustic tavernas are open year-round, not just during the high season, and come with the show-stopping views and "don't give a damn" ambience that amplifies Crete's charm.
Skiathos
Smaller than Manhattan, Skiathos is but a morsel of the Aegean Islands, but it's a tiny package of perfection you might just recognize from Mamma Mia! There are 63 beaches to choose from, like the outrageously beautiful Koukounaries or pebble-strewn Lalaria, plus remote coasts hidden by pine forest and hills to explore via Sea-Doo, kayak, or boat.
Besides all the resplendent nature, Skiathos is also known for throwing a good party. Banana Beach is where the music gets loud and things stay hot even after dark, but even Old Town is known for breaking out into a block party on summer nights.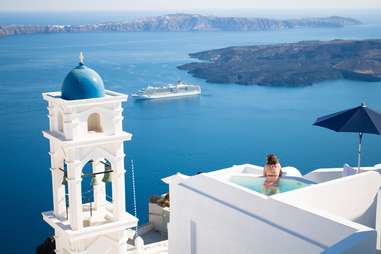 Santorini
Big with honeymooners and the cruise ship crowd, Santorini's got that iconic rooftop view with ivory villas, stuccoed cave hotels, and pops of blue cascading down the hillside beneath the sunset. The only downside is all the other people, but that's what private pools are for. Better yet, plan your visit for the winter to steer clear of the masses.
Santorini may be famous for its architecture, but its best-kept secret is definitely the food. There are a lot of tourist traps, but choose wisely and you'll find yourself sipping Greece's best white wines yielded from dark volcanic soil and fantastic local produce like white aubergines, tangy sausage, and sweet tomatoes. There's even a couple cool microbreweries—Santorini Brewing Company and Ftelos Brewery—on the island if you're itching for a Greek-style IPA.
Ikaria
Ikaria's claim to fame is that locals tend to live well over 100—which is pretty freakin' amazing considering how many glasses of wine and packs of cigarettes these people go through. Scientists are miffed as to what makes Ikaria's residents immortal, but some suspect it's the mellow lifestyle revolving around gardening, fresh produce, and lots of naps.
The summertime is when the young and old kick it into high gear. Ikaria is famous for its Panagiria (a.k.a. feast days), when locals dance, sing, and indulge in the local Ikarian wine. The festivities often last from early afternoon to sun-up, which may sound daunting, but don't worry—Ikaria's spry senior citizens will show you exactly how it's done.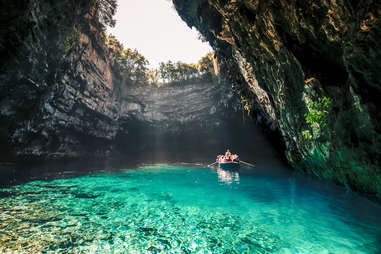 Kefalonia
The largest of the western Ionian Islands, Kefalonia doesn't put on any airs. It has straightforward scenery, old-school architecture, and an ultra low-key chill you won't get on Santorini or Rhodes. The trade-off for nightlife is exceptional peace and quiet—which does not translate to boredom. Discover new beaches like the red-top Xi, sip white wine at the progressive Gentilini Winery, and explore the Byzantine-Venetian ruins of the hilltop Agios Georgios Castle. Under-explored stretches like the agrarian patchwork of Paliki Peninsula and Mt. Ainos National Park, with its wild horses and black fir thickets, are perfect for seclusion-seekers.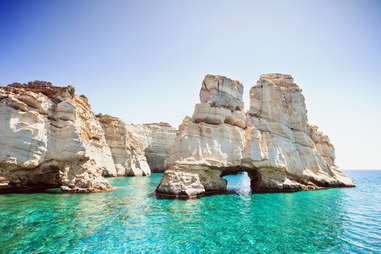 Milos
Milos has long been a favorite of Greeks on their holidays (Greeks love to vacation in Greece, don't you know?). This tiny volcanic island is a little slice of Mars on earth, its surrealist beaches festooned with bizarre rock formations and painted in a spectrum of hues: crimson, pitch black, and, in the case of Sarakiniko Beach, moon-dust white. The archaeological ruins are just as curious, including the second-largest catacombs outside of Rome and an ancient marble theater.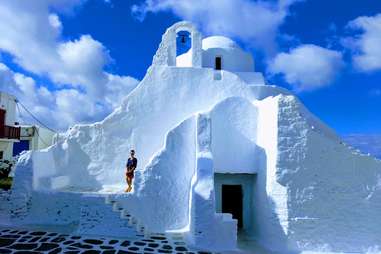 Mykonos
If you don't come away from Mykonos with a tale of debauchery, then you didn't do it right. Joie de vivre summer hedonism reaches a sweet fever pitch here, with bar crawls across sugar-cube houses, fresh fruit cocktails on the waterfront at Scarpa, table-dancing at Jackie O', and hopefully a late-night drag show. This will eventually descend into the ouzo-infused madness of trying to fight the famous Mykonos Windmills Don Quixote-style—or even worse, the pelicans. Don't say we didn't warn you.
Naxos
Life in rural Naxos, a land of rickety tractors and donkey crossings, moves along at a delightfully slow pace. And, unsurprisingly, it's the ideal place to recover after one too many all-nighters next door in Mykonos. Food and nature is the name of the game here. You'll have plenty of time for inhaling local cheeses, cured meats, and grilled house delicacies accompanied by locally harvested potatoes between bouts of wandering beaches and citrus groves. Take extra time framing up your Instagram shots—picture-perfect isolated beaches and ancient sites like the iconic Portara abound.
Skopelos
Another Mamma Mia! filming location, handsome Skopelos remains down-to-earth. Smooth pebbled beaches and transparent waters dominate the topography, so star-fishing on velvety shores is just about all you'll want to do.
The island's famous plum orchards make the fruit ubiquitous, whether baked into pastries, cooked up with meat, or fresh from the branch. Despite the Hollywood treatment, accommodations and meals are still relatively affordable in Skopelos, with the average price of a villa and pool running about $130 a night. There's really no better way to treat yourself.
Kalymnos
Kalymnos is heaven for rock-climbers, known for its dramatic limestone cliffs overlooking ambrosial fields of citrus groves and wildflowers. For centuries, it was a working sponge-diving island, but now it's a go-to for modest beach resorts offering a lot of bang for your buck.
You really can't come here without trying your hand at rappelling just once. There are crags for beginners and monkey-armed pros alike, while local delicacies such as grapefruit, bergamot, and daily seafood catches are sure to keep you fueled up and ready for all that exercise.
Barbara Woolsey is a Berlin-based writer who once saw an elderly Greek woman take an ouzo shot off the floor without hands while dancing. She tried to do it in Mykonos with disastrous results. Follow her on Facebook and Instagram.