'Tis the season to don your most deranged/flirty costumes, stick some glitter to your eyelids, and lose yourself in the moonlight. Do your hometown haunted high school gymnasium again... or head to a city where you can duck into a depraved alter ego, where you won't just see out-of-the-package witches and stray children panhandling for M&M's.
The best Halloween cities tend to be those that keep a low, steady Halloween spirit year-round. This time of year, though? Now's when you can greet strangers on the street like you've been sharing secrets since childhood, cavort with fire-eaters and aerial silk dancers dressed like Harley Quinn, and drink absinthe with a man in a Pikachu costume who will turn out to be a tattooed heavyweight champion. That night is just one among many -- you should make yours memorable.
Recommended Video
Debatable: It's Fine To Recline Your Seat On a Plane
Los Angeles, California
What makes it unique: Everyone who lives here came from somewhere else to become someone else. That didn't work out, so Halloween is their best second chance.
Nowhere else in America has so many people whose literal job it is to create horror effects, and the city goes in hard with the haunted houses. Theme parks like Knott's Berry Farm and Magic Mountain turn to the dark side, as do escape rooms, and other more staid attractions: The Queen Mary, for instance, is packed with mazes and themed bars. But there's also no better city in America to flip your identity completely. Go on a Pretty Woman-style shopping spree at one of the city's countless costume shops, devise an alter ego, and join the half-million revelers romping around the West Hollywood Carnaval. You'll be parading down the boulevard with the bawdy and proud. After all, this is a city full of chiseled aspiring celebrities (complete with extensive wardrobes and impeccable makeup skills). Just as trippy is the official Dia de los Muertos celebration: Paint your face as a calavera skull and festoon your head with feathers and florals to honor the dead while marching with mariachi bands and Aztec dancers in full regalia.
What makes it unique: The creepiest historical town in America is spooky on any given Tuesday in July. Halloween turns it up to an 11.
The hometown of the genuinely horrific Salem Witch trials of the 1690s (in which women and children were accused of witchcraft and then executed) today celebrates seances, magic, and witchcraft during Festival of the Dead, which runs for the whole month of October. Dress up in your finest Victorian mourning clothes to meet psychics, speak to the departed at seances, conjure the dead at graveyards, and then sweat off the bad spirits at the official Salem Witches' costumed ball.
Miami, Florida
What makes it unique: In a city where women wear Halloween-worthy skimpy outfits to buy groceries, and guys wear costumes every day like "undercover drug informant" or "legitimate business owner," one might think Halloween wouldn't be that special. But one would underestimate Miami's ability to throw parties.
Pretty much every day here is a celebration: live street DJs, free-flowing booze, strangers shedding inhibitions. But October 31st takes it to a truly special level. Ground zero is Lincoln Rd, an outdoor pedestrian mall that 364 nights of the year is where one goes to get Lululemon and Starbucks. But on Halloween it packs people in elbow to elbow, wearing shockingly little even by Miami standards. The parade of insane costumes can be enjoyed from any of Lincoln Rd's sidewalk, cafes, or bars, but the side streets off the mall have little pop-up clubs set up in the street, where DJs stand onstage and blare EDM out to the asphalt dance floors below. The entire weekend before, South Beach clubs are packed with people in costume, and the sand at Lummus Park is home to the annual Nightmare on the Beach party, a combination haunted house/beachfront bacchanal that benefits the Little Lighthouse Foundation. - Matt Meltzer, Thrillist staff writer
New Orleans, Louisiana
What makes it unique: The biggest population of actual vampires outside of Paris meets liberal open-container laws.
This city's a magnet for the pent-up outcasts in every conservative Bible Belt burg between Alabama and Texas: the goths, the LGBTQ clubs, theater nerds, the drinkers, the dancers, the painters, the singers, the sinners. That only intensifies on Halloween, naturally, when this town of above-ground burial vaults and a general sense of impending doom goes full-on delinquent. Get laced up into a decadent costume and hit the Endless Night Vampire Ball, where a theater of pale, gorgeous creatures keep you entranced in the underworld. Head to a voodoo witchcraft festival to spend two days on a riverboat learning hexes and spells. Or you can go a shade more basic and pack into the Voodoo music and arts festival to get costume-sweaty with big names like Arcade Fire or The Chainsmokers. It's less Halloween-centric, but you know it's going to be jammed with thousands of people who are down to get as dark as you want to make it.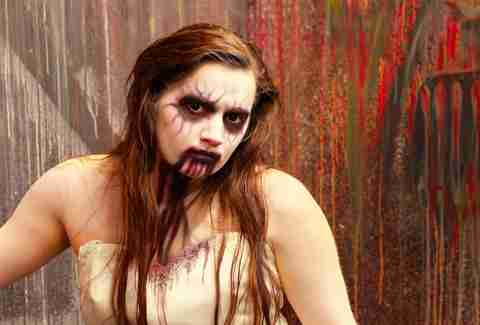 Portland, Oregon
What makes it unique: Portland's pretty much Halloween year-round (vampire-themed vegan strip clubs, anyone?), so when one of America's best drinking cities does Halloween, it does it right.
Portland's a weird place, especially when it gets macabre. This is, after all, a city that has a haunted underground network called the Shanghai Tunnels where all manner of creepy kidnapping took place (take the haunted tour). There are also cemeteries that do tours of untimely departures and movie theaters showing old-school horror movies with live organ scores.
But back to that drinking. Venues here absolutely explode for All Hallows, and not just because there's a zombie-themed take on SantaCon. The Crystal Ballroom -- Downtown's biggest venue -- that hosts the PDX Erotic Ball, a combination adult costume party/burlesque extravaganza, plus fetish demonstrations, and more. Concert halls play host to full-costume cover bands, haunted houses like the enormous FrightTown -- the scariest thing to happen to the Rose Garden since Rasheed Wallace! -- offer up labyrinthine scares, theme bars like the horror-themed Lovecraft draw standing-room-only crowds of ghoulish dancers. Oh, and about those strip clubs (Portland's the nation's capital). They get spooky too, none more than Downtown's Spyce, which hosts a fully nude take on the haunted house where ghouls pop out and say boo... bs. - Andy Kryza, Thrillist senior eat/drink editor
Athens, Ohio
What makes it unique: The biggest party of the year at one of the most notorious party schools in the country, all crammed into four small, yet densely liquor-licensed city blocks.
Halloween is absolutely the scariest, greatest night of the year in this small college town in southeastern Ohio. What began as an illegal street takeover by student activists at Ohio University in the 1970s has since evolved into an annual city-sanctioned Block Party (yes, capitalized) that draws tens of thousands of outrageously costumed revelers. The celebration gets so unruly that police call in reinforcements from surrounding jurisdictions to better control the crowds, and the university imposes tight restrictions on out-of-town visitors staying in the dorms. Inevitably, the the local jail fills up quick, and the arrest count makes national news. But you can easily escape the throngs and have a more authentically creepy experience by avoiding Uptown Athens altogether and instead strolling around the Ridges, a long-abandoned insane asylum nearby, which is haunted as hell. - Chris Shott, Thrillist senior New York editor
Key West, Florida
What makes it unique: The least-inhibited corner of Florida is always looking for an excuse to dress up (and way, way down).
If you're less interested in fear and more interested in an all out bacchanal in a city where your sexy Ken Bone costume won't make you catch cold, head to Fantasy Fest in Key West. (This year's theme: Political Voodoo & Ballot Box Barbarians.) Key West's Carnival meets Halloween festival runs for a full 10 days. There you may expect body-painted nude breasts, absurd burlesque and parade floats, naughty (or not) themed parties, and an anything-goes party vibe. The official parade is a romp down Duval St, but even if you don't join in, there are plenty of indulgences in bars and clubs and themed balls scattered around the city.
Estes Park, Colorado
What makes it unique: The very best place in America to imagine a crazed Jack Nicholson swinging an axe into your chest.
This small town's Stanley Hotel at the foot of the Rockies inspired Stephen King's iconic history of the Overlook Hotel in The Shining. Relive the novel/film's most uncanny moments by booking a stay in one of the hotel's 420 rooms. Get prepped by ghost lore on a haunted walk and spend some time in the creepy hedge maze outside the hotel, then join other guests in a masquerade ball, or simply seek supernatural encounters by wandering about the empty halls alone after dark.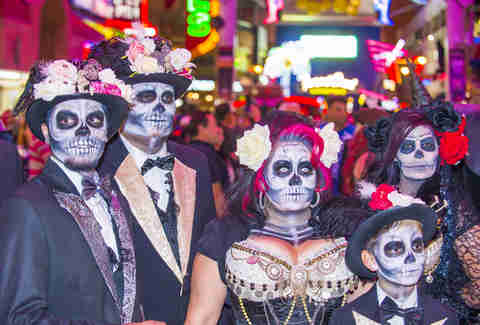 Las Vegas, Nevada
What makes it unique: You're in one of the performance capitals of the world, in a town where clubs will pay out $10,000 for the best costume. The streets, they get freaky.
Halloween's the best night of the year to people-watch in a city that revels in extravagance, greed, and desperation. Sample the dizzying offerings of the Strip in costume -- sequins and false lashes are de rigueur. Hotels abound with horror-themed parties, and you'll be able to lose yourself in a sea of sweaty, sparkly bodies at the many EDM events around town, this year (and, hell, probably every other year) featuring DJs like Steve Aoki and Calvin Harris. The legendary Fetish and Fantasy Halloween Ball at the Hard Rock Hotel is a must-attend if your fantasy or fetish is to pack into a dark room with a thousand hot people dressed in trashy outfits to mash against one another and get sprayed in the face with lasers.
Madison, Wisconsin
What makes it unique: State St is the eclectic hub of one of the best college towns in America. Adding a football stadium's worth of costumed revelers and live music makes it an intoxicated Midwestern Disneyland.
In the 1980s and '90s, Halloween on Madison's State St became a bucket list item for Midwest college kids and 20-somethings, on the scale of Carnival in Rio -- complete with the scantily clad partygoers, minus the promise of warm weather. Somewhere along the way, someone figured out that 100,000 masked youngsters plus alcohol was a bad combination. In the early 2000s, the knucklehead quotient on State saw a significant uptick, so the city established Freakfest, and (relative) order was restored. The organized party tamed the free-for-all atmosphere by blocking off a chunk of State, adding live music stages, and charging admission. The crowds have diminished slightly from Madison's raucous heyday, but it's still one amazing party. Arrests, incidentally, are down significantly -- a good thing, because otherwise you're overnighting in a concrete cell with a creepy clown. - Patrick Follett, Thrillist contributor
Savannah, Georgia
What makes it unique: It's where Southern meets Gothic, and where a famed art and design school ensures a steady supply of dark, creative energy.
This is where moody Spanish Moss frames the walkways to haunted Antebellum plantations, and the wandering Confederate ghosts make it a perennial pick for one of the country's most-haunted cities. Stay up all night ghost hunting with paranormal investigators in the Sorrel-Weed House. If you don't believe in the legends of an infidelity that led to suicide and murder that took place inside the house, believe in its proximity to the Siege of Savannah, one of the bloodiest battles of the Civil War, which had more than a thousand casualties. Spend your Halloween night feeling claustrophobic in the basement -- or just head out to a masquerade party, dressed as a vindictive Southern Belle.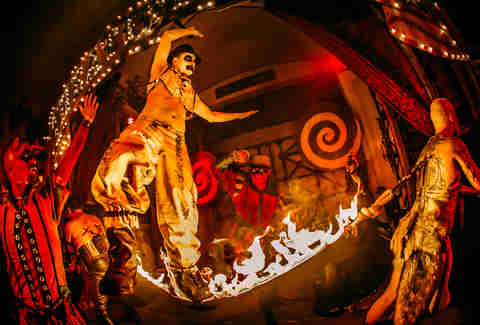 Detroit, Michigan
What makes it unique: Crisp fall weather, long nights, and sections of the city being a complete ghost town. Throw on top of that iconic live music and you've got yourself a party.
Detroit is basically Gotham City. Corrupt individuals own the majority and cater to the rich, crime is more rampant that we'd care to acknowledge, and the only thing keeping the place afloat are the efforts of mysterious, underappreciated crusaders. Halloween used to bring an annual disaster here: For decades the local "Devil's Night" meant rampant arson, with hundreds of buildings a year torched. That has abated, though, and now Halloween's not a particularly unsafe time of year to be on the streets. An added bonus: Detroit's wide-open spaces, creative powerhouses, and complex social situations have allowed it to become one of the country's prime cities for accessible artistic expression. Events such as Theatre Bizarre, the DAMNED Show and Creepy Cheapy represent the city's obsession with art, the macabre, and rock 'n' roll. Metro Detroit also is home to an impressive number of haunted houses, some of which are full-contact, 21+, and which will discount your ticket price if you make it out alive. Said locales happen to represent your best chances of running into a real-live juggalo, outside of any suburban Walmart. - Megan Frye, Thrillist contributor
New York, New York
What makes it unique: The sheer density of people cramming into the West Village makes it one of the highest concentrations of creative, costumed weirdos on the planet.
If there's one thing New Yorkers know how to do, it's to dress extravagantly and put on a show. The time-honored tradition (est. 1973) of the grand Village Parade through the West Village kicks off in full gear (this year's theme: reverie). Gawk in awe at giant puppets created by celebrated artists and perhaps join in the parade yourself (no one minds) before heading off to a warehouse party in Brooklyn or Manhattan. This year, there are not one but THREE Stranger Things-themed parties where you can play Dungeons & Dragons or dress up as the tulip-faced monster. Alternative: Wander the crypts beneath the Cathedral Church of Saint John the Divine, or celebrate the impending apocalypse in themed parties thrown by twisted imaginations and few limits.
Sign up here for our daily Thrillist email, and get your fix of the best in food/drink/fun.