Photo courtesy of Spirit of Halloweentown
Photo courtesy of Spirit of Halloweentown
Thanksgiving is for family. Black Friday is for big box stores (and Amazon). But out of all the holidays that we celebrate in the fall, Halloween is the only one that's truly for everybody.
You can celebrate it at all ages and in all places, whether you're trick-or-treating in something your grandma sewed, decorating your house to scare your entire neighborhood, or going all out with a stay in a creepy historical hotel. Eventually, you can sew costumes for your grandkids, and someday you'll be free to haunt ghost tours instead of simply attending them. Halloween is forever.
Regardless of which phase of the Halloween life cycle you're in, nothing beats a good old-fashioned small-town Halloween festival. They've got costume parades and pumpkin carving, seances and seasonal snacks. Heck, some of these festivals even have autumnal train rides, over-the-top light-up displays, and macabre backstories. For all the spooky, wholesome fun you can handle, head to one of these small towns across the US.
Manitou Springs, Colorado
The Emma Crawford Festival is known for a very particular tradition: coffin racing. There's actually a story behind the event. In the late 1800s, Emma Crawford died of tuberculosis in Manitou Springs, and was buried atop a nearby mountain as she'd requested in her final days. But decades later, spring flooding unearthed her coffin and sent it luging down the mountainside and into town. Her remains were gone but for a few bones. Today, Manitou Springs residents honor her by forming teams of five—four coffin pushers ("pushers") and one coffin driver ("Emma")—and racing coffins through town, heat by heat. There are awards for the three fastest times, Best Entourage, Best Coffin, and Best Emma—and the fastest team has the option to represent Manitou Springs in the upcoming Tuff Shed Coffin Race in Nederland, Colorado where the winners will take home the coveted Coffin Cup.
If you want to try your luck at the Emma Crawford race, there's a $100 entry fee per team, but spectating is free. In addition to the races, the festival includes a parade, skeleton-decorating contest, horror movie nights, ghost tours, an "Emma's Wake" event, and a coffin race after party.
Laconia, New Hampshire
The crispness of fall simply goes harder in New Hampshire, which makes it a perfect destination for Halloween. To really lean into that autumnal feeling, however, we'd recommend checking out the New Hampshire Pumpkin Festival. Each October, the city of Laconia spends one magical day doing all the Halloween things. They've got pumpkin displays, carnival games, live music, costume parades and contests, seasonal movies, a craft show, food trucks, a Jack-o-lantern lighting, and even a zombie walk. As part of the festival, you can also hop on the Pumpkin Express Train for a scenic 45-minute journey.
Pigeon Forge, Tennessee
Halloween in Pigeon Ford, Tennessee, is about as big as Dolly Parton's hair—which is to say, very. There are attractions like spooky rollercoaster rides, fright nights, and kid-friendly trick-or-treat events, but the true pièce de résistance is the Dollywood Harvest Festival. You can still enjoy all the usual rides and music that Dollywood has to offer, but with the addition of all kinds of pumpkins (some truly massive) and fall-themed foods like pumpkin spice churros and apple pie milkshakes. After dark, check out the park's Great Pumpkin LumiNights, where thousands of carved pumpkins and massive pumpkin sculptures light up the park.
Providence, Rhode Island
Take in the sight of thousands of carved pumpkins at the Roger Williams Park Zoo's Jack-O-Lantern Spectacular. This year, the event is celebrating 75 years of television, which means you'll see lots of cool pumpkins with designs featuring shows like Stranger Things, The Walking Dead, and I Love Lucy, accompanied by TV theme songs. Follow the glowing pumpkin trail after dark, then hop on a zip line to take in the sight from above. As a heads up, you'll need to grab tickets in advance online.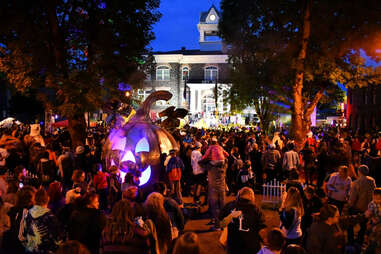 St. Helens, Oregon
If you've ever seen, heard of, or wished you could climb inside the 1998 Disney classicHalloweentown, here's a chance to fulfill a childhood dream by visiting the real Halloweentown. The movie was filmed in St. Helens, Oregon, just 30 minutes outside Portland. Each year, the town goes all out with a nearly 1.5 month-long Halloween festival that even includes the lighting of the film's iconic giant pumpkin. Enormous gourds aside, there's really a lot to see and do here. You'll find haunted houses and hotels, a Sand Island pumpkin trail, and a spooky train ride—not to mention performances, parades, and even a merry band of riverfront pirates.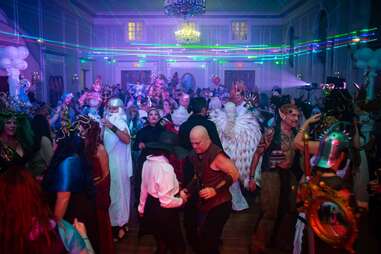 Salem, Massachusetts
Salem is inarguably America's most infamous Halloween destination, and every year, the residents make damn sure to remind us why they've held a firm grip on that title for the past 300 years. Hosted by "the foremost authorities on the spirit world," the month-long Festival of the Dead celebrates all things witchy, occult, and related to death. There's a psychic fair and witches' market, nightly seances, lessons in conjuring spirits, and even a grand Witches' Ball (which very much gives Hocus Pocus vibes) with live performances from DJs, ritual drummers, and ceremonial dancers, as well as a costume contest with awards of up to $1,000 in cash.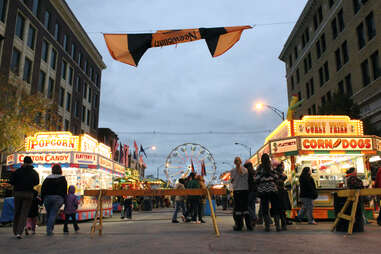 Independence, Kansas
Neewollah's unusual name is just "Halloween" spelled backward. The coolest thing about the festival is that it's actually been happening for more than a hundred years, kicking off with the first event in 1919. At this point, it feels like the family-friendly festival is taking a "more is more" mentality that feels very cohesive with Halloween's "eat all the candy" mentality. There's a whole carnival setup with games and rides. Plus not one, not two, but three costume parades, naturally. And of course there's also a chili cook-off, food vendors, performances, a musical, races, and even a medallion hunt.
What's a medallion hunt? Glad you asked. Each day, a new clue is posted online, prompting Independence residents to turn the entire town upside down in a bid to find a hidden medallion. Once found, the medallion can be exchanged for a prize of up to $500.
Sycamore, Illinois
It all started with Mr. Pumpkin. The Sycamore resident earned this title by displaying decorated pumpkins on his lawn in the '50s, then working to turn it into an official festival in the 60s. Today, it's the biggest citywide event of the year. City residents enter more than 1,000 decorated pumpkins for display (and competition), and everyone celebrates over the course of multiple days. Activities include races, two carnivals, a fun fair, a pie-eating contest, two craft shows, and more—and it all wraps up with a massive parade. The event has a different theme every year; this year it's Wish Upon a Pumpkin.
Anoka, Minnesota
Discover why this charming city just north of Minneapolis has declared itself the "Halloween Capital of the World." Like many Halloween festivals, Anoka's celebration began as an attempt to give local teens an appealing alternative to pranking their neighbors—but the city believes it was the first in the country to enact this clever idea. The first festival was a success, and now, buoyed by 100ish years of Halloween tradition, Anoka goes all out every October. We're talking all kinds of contests (costume, pumpkin carving, house decorating), plus races and a medallion hunt. There's also a haunted house, a few parades (including one with light-up floats that takes place at night), movie nights, a kids' festival, and ghost tours. If you're anywhere near the area, this is not an event you'll want to skip.
Chadds Ford, Pennsylvania
Every October, more than 70 enormous pumpkins are masterfully hand-carved before awed spectators in Chadds Ford, then lit up and displayed for a few days of celebration. This would be a sufficient draw on its own, but there's more to look forward to if you decide to go. Come at night to see the pumpkins, enjoy live music, enter a raffle, eat and drink, and check out a family-friendly haunted trail.