10 Best Hidden Beaches in America
<a href="https://www.flickr.com/photos/roome/13966888880/" rel="nofollow" target="_blank">Peter Roome/Flickr</a>
Imagine lying on the beach. There's sun, soft sand, lapping waves and.... tons of other people? Of course not! Beach days are payback for those far-more-numerous days spent stuck in traffic or crushed in a subway car, along with the rest of humanity. The best spots are off the beaten path, or known to relatively few, so we rounded up the ten you need to hit -- on the down low.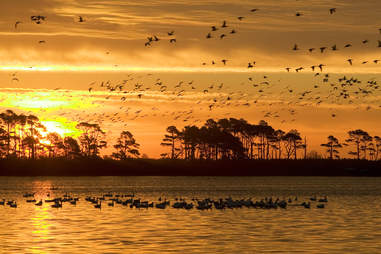 <a href="https://www.flickr.com/photos/usfwsnortheast/4349723396/" rel="nofollow" target="_blank">Steve Hillebrand/USFWS/Flickr</a>
1. Chincoteague National Wildlife Refuge, Virginia
Distance from Richmond: 193 miles Northeast, 3.5-hour drive
Chincoteague comprises more than 14,000 acres of beach, which is more than enough to avoid everyone you've ever met, all at once. Beside loner beach lovers, it was established in 1943 to protect migratory birds and other wildlife, who vacay among its 2,600 acres of manmade marshes and soil. The non-feathered can also enjoy hiking, crabbing, clamming, horseback riding, biking, fishing, and all that beach, beach, beach.
Pro tip: Need some A/C? Take the 90-minute wildlife tour and learn something as you cool off.
<a href="https://www.flickr.com/photos/dhawkins/6394914693/" rel="nofollow" target="_blank">David Hawkins/Flickr</a>
2. Cumberland Island, Georgia
Distance from Atlanta: 345 miles Southeast, 5.5-hour drive
Georgia's largest and southernmost barrier island rewards only the determined. But its 17 miles of pristine forests, marshes, mudflats, creeks, dunes, and windswept beaches are worth it. It's home to more than 9,800 acres of Congressionally-designated wilderness, and scores of animals (including feral horses, so nap with one eye open).
Pro tip: Ride a horse! No really, don't do that. Instead, grab some fresh seafood at Lang's Marina Restaurant, in nearby St. Mary's, on the way home.
<a href="https://www.flickr.com/photos/roome/12034965504/" rel="nofollow" target="_blank">Peter Roome/Flickr</a>
3. Indian Beach, Oregon
Distance from Portland: 82 miles Northwest; 1.5-hour drive
Ecola State Park's nine miles of beaches are not to be sniffed at, but if you'd like to up your surfing game undisturbed, head for secluded, sandy Indian Beach. It's backed by an atmospheric Sitka spruce forest and home to some serious surf – and seriously cold water, so bring a wetsuit. If it looks familiar, cast your mind way back to Twilight in 2008: it's La Push beach!
Pro tip: You might get lucky and spot a gray whale. But you should probably yell "shark!" just to be on the safe side.
<a href="https://www.flickr.com/photos/benschmittphoto/7680136636/" rel="nofollow" target="_blank">Ben Schmitt/Flickr</a>
4. Kauapea, Kauai
Distance from Lihue: 26 miles Northwest, 45-minute drive
Known to locals as "Secret Beach," this 1.5-mile stretch of fine, white sand is well off the typical tourist route. But if you can find it, you'll thank us for its privacy, and natural phenomena like outcrops of black lava rocks, red cliffs, lush vegetation, pounding surf, soft sand, waterfalls, and the low possibility of bumping into anyone.
Pro tip: The west end of the beach is good for tide pooling, but be forewarned: nude sun-worshippers like to hang loose here. As it were.
<a href="https://www.flickr.com/photos/clarkmaxwell/4657188332/" rel="nofollow" target="_blank">Clark Maxwell/Flickr</a>
5. Keewaydin Island, Florida
Distance from Miami: 130 miles West, 2.5-hour drive
Between Marco Island to the south and Naples to the north lies not-bustling-at-all Keewaydin, and its eight miles of squeaky-white-sand beaches. Oh and should your picnic get hit by a wave on the trip out, Burger Barge slings sandwiches, sodas and beers from its parking spot on the sand. Really, why leave?
Pro tip: Keewaydin's southern and western shores will get your "This is my land!" juices flowing.
<a href="https://www.flickr.com/photos/npca/4438643531/" rel="nofollow" target="_blank">NPCA/Flickr</a>
6. Padre Island National Seashore, Texas
Distance from Dallas: 438 miles South, 7-hour drive
Not to be confused with the resort/party community of South Padre Island, which is several light years from the hidden vibe, these 70 miles of quiet dunes, beaches, grasslands, and tidal flats are a haven for wildlife/birdwatching, fishing, beach-combing, walking, and even off-roading, should lazing on the beach get old.
Pro tip: It's only 10 miles from Corpus Christi, for when you feel like rejoining civilization.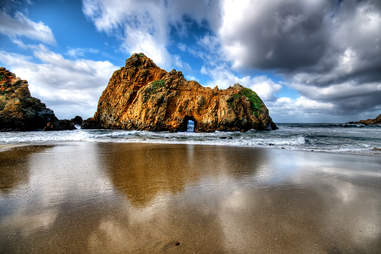 <a href="https://www.flickr.com/photos/haglundc/3405361333/" rel="nofollow" target="_blank">haglandc/Flickr</a>
7. Pfeiffer Beach, California
Distance from San Francisco: 138 miles South, 3-hour drive
So there's probably no Michelle, but there is purple sand. To feast your eyes upon it, take Sycamore Canyon Road from Highway 1 down to this, one of Big Sur's prettiest and most secluded beaches. Check out its photogenic keyhole arch and rock formations, turquoise waters, tide pools, and good surf.
Pro tip: McWay Falls, an icon of Big Sur, is about ten miles south, so and you can't really visit Big Sur without walking out to view this watery landmark. Be a little sociable.
8. Roque Bluffs State Park, Maine
Distance from Bangor: 85 miles Southeast; 2-hour drive
White sand? Check. Natural diversity and abundant wildlife? Check. Roque Bluffs' 274 acres cup the coast of Englishman Bay, and its half-mile beach is backed by the 60-acre, freshwater Simpson Pond, so you can chase a nippy Atlantic dip with a freshwater wallow.
Pro tip: Get patriotic with some bald eagle spotting. They frequent the area year-round, and won't tell anyone – including the President – what you got up to at Roque Bluffs. 
<a href="https://www.flickr.com/photos/aboyandhisbike/825006035/" rel="nofollow" target="_blank">aboyandhisbike/Flickr</a>
9. Ruby Beach, Washington
Distance from Seattle: 190 miles South/West/Northwest, 3.5-hour drive
If rugged is your bag, take in the sea stacks, tide pools and sandy walks of Ruby, in the southern portion of Olympic National Park. It lies inside no fewer than three national wildlife refuges and the Olympic Coast National Marine Sanctuary, so you'll have to share it with a host of critters, of the feathered and marine variety.
Pro tip: The local rainforests are not to be missed.
<a href="https://www.flickr.com/photos/tde1973/3751137174/" rel="nofollow" target="_blank">tde1973/Flickr</a>
10. South Manitou Island, Michigan
Distance from Detroit: 272 miles Northwest, 4.5-hour drive
Part of the celebrated Sleeping Bear Dunes National Lakeshore, this C-shaped Lake Michigan isle is home to miles of empty beaches and, further in, ruined reminders of its inhabited past. Should you feel like peeling yourself from your beach towel and exploring, there are two shipwrecks – from 1911 and 1960 – just offshore.
Pro tip: Head for the western shore's towering dunes, where you can run, tumble, and roll like nobody's watching. Because they aren't.