Greece has 227 inhabited islands—many of which are sublimely off the beaten path.

| Kite_rin/Shutterstock
Greece has 227 inhabited islands—many of which are sublimely off the beaten path.

| Kite_rin/Shutterstock
The World's 8 Most Underrated Honeymoon Destinations
Skip Hawaii—think Kerala.
After shelling out on a splashy wedding, it's tough to plan a honeymoon that comes at a similar price point. Of course, there are plenty of simple mistakes that can start your marriage out on a less-than-perfect note—like going all the way to the Maldives for five days. But one of the easiest ways to ensure your honeymoon is as romantic as you always imagined (without instantly going into debt as newlyweds) is by choosing the right locale—and making sure your partner is on the same page. Some cities, like Paris, are classic picks—strolling along the Seine, table for two overlooking the Eiffel Tower, brass-covered Art Nouveau bistros that haven't changed much since Hemingway's time. But there are plenty of places that up the romance factor and are far less obvious.
Don't want to spend a day traveling all the way across the world for an overwater bungalow? Book a boutique hotel closer to home on one of Mexico's less-visited islands. Can't stomach the price of Santorini's iconic cave hotels? Opt for another island in the Cyclades instead. And while some couples are happy to leave decision-making out of the equation for a few days and don't mind all-you-can-eat buffets at all-inclusive hotels, for those who want a more, well, authentic experience, we've got just the destinations in mind. From the Canadian Rockies to canal cities like Kerala, India, here are eight of the more under-the-radar honeymoon spots around the world.
Paros, Greece
The Cyclades are some of the most popular islands for honeymooners, but Santorini tends to get most of the love. A quick flight or ferry from Athens, Paros has the whitewashed, cubic homes characteristic of the Cyclades, but outside of the capital, Parikia, and a few villages like Naoussa, the island still feels somewhat rugged and undeveloped. There are plenty of sandy beaches skirting the coast, but if you want to stay directly on the sand, check into one of the new openings on the island, Cosme, which has its own stargazing area, private beach club, and half-moon infinity pool overlooking the bay. Book one of the rooms with a private pool and you'll still get that Santorini feel—but with more privacy and at a fraction of the price.
Kerala, India
Though it somehow just missed our list of the world's best canal cities, the place known as "God's own country" is home to some of the most serene canal cruises in the world. Multi-day boat trips—some on houseboats that would rival any five-star hotel in the U.S.—take you through backwaters where you'll see an authentic side of life here. Or, if you want to get off the water, India's best beaches are also in Kerala, and many of them are as remote as those you'd find in the South Pacific. There's also the nearby Western Ghats, a mountain range with sweeping views and bright green tea plantations. Be sure to hit Eravikulam National Park, a 37-square-mile swath that sits entirely above the tree line and even features jungle camps, if you want to sleep in true wilderness.
Phi Phi Islands, Thailand
With more than 1,000 islands, it's not exactly easy to narrow down where to stay in Thailand. Some spots, like Koh Samui, are obvious choices, but if you'd rather skip the sprawling, five-star beach hotel and cozy up in something simple along the sand, the Phi Phi Islands, which are accessible only by ferry, are where you should go. One of the larger islands, Ko Phi Phi Don, only has a few hotels, so one of the private beach huts is your best bet. When you're ready to explore, go snorkeling with leopard sharks or take a short board ride to Phi Phi Le, whose white-sand beach encased by towering, limestone cliffs is so picturesque, it was featured in The Beach.
Mendoza, Argentina
A wine country honeymoon doesn't have to be somewhere classic like Napa or Bordeaux. In fact, even with the flight, Mendoza may prove to be a cheaper option. The city center is much easier to navigate than bustling Buenos Aires, and you can find smaller, boutique options on quiet streets that feel more like a guest house than a hotel. Or, picture waking up in your luxe villa overlooking vines and views of the Andes Mountains. Just an hour from town, the Uco Valley is the place to taste your way around some of Argentina's best wines, and you'll find fantastic, family-run restaurants where you can eat your way through the country's infamous grilled meats.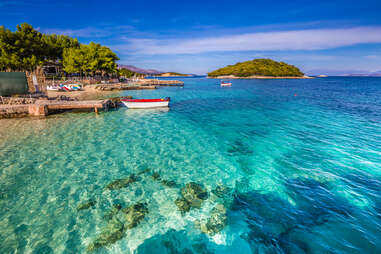 Vlorë, Albania
Croatia and Montenegro get a lot of hype, but this coastal town in the "Albanian Riviera" is just as beautiful and not nearly as crowded. And, similar to Croatia pre-Game of Thrones, you can stay in a great hotel without spending too much (four-star properties are as little as $60 a night) and won't be surrounded by cruise ships and tons of tourists. You also won't have to worry about reserving restaurants in advance—all of the seafood here is fresh, cheap, and easy to find.
Lake Louise, Canada
Quite simply, this might be the most scenic lake in North America. And one of the best ways to soak up the scenery is with a train ride from Banff to Jasper. VIA Rail Canada has trains that leave from both Toronto and Vancouver, the latter route taking you through the Canadian Rockies, where you'll see the mountains from the comfort of your own private sleeper car. Once you arrive, spend your days embracing the great outdoors, canoeing, hiking, or simply admiring the striking turquoise of the lake from a rooftop jacuzzi in one of the surrounding lodges.
Biarritz, France
Brigitte Bardot helped glamorize Saint-Tropez and the French Riviera, and while a suite at iconic Byblos is certainly a dream, the prices are not so much. Even in off season, you'll be scrambling to find a restaurant romantic enough to actually eat at. Look to French Basque Country and one of the towns along the coast, like Biarritz. Not only does it offer some of the best beaches in the country, it's also a popular surf spot. The blend of Basque and French culture means you'll find tapas as authentic as nearby San Sebastian, which is less than an hour away, as well as restaurants that could easily rival some of the hard-to-book spots in Paris.
Isla Holbox, Mexico
The Mexican Caribbean is an easy flight from most places in the U.S., but that doesn't mean you need to stay put once you land in Cancun. As Tulum has rapidly developed into a mini Mykonos, Isla Holbox, on the Yucatán peninsula, has thankfully avoided the DJ and party scene and remained one of Mexico's more off-the-grid islands. The fact that it requires a two-hour drive and ferry makes it feel remote, yet not as far-flung as somewhere like Fiji. The island is car- and ATM-free, and most of the hotels are huddled near the tiny "downtown," a few blocks of beach bars and restaurants. You won't need to worry about dressing up for dinner, since many places are so casual, they're sitting right along the sand. Even one of the most luxurious hotels on the island, Ser Casasandra, with its suites overlooking the sea and private balconies with handmade hammocks, will only run you a few hundred dollars per night in high season.
Matt Meltzer is a Miami-based contributor for Thrillist, a veteran of the United States Marine Corps, former pageant judge in the Miss Florida America system, and past contributor to Cosmopolitan magazine. Matt graduated with a BBA from University of Miami and holds a master's in journalism from the University of Florida. He currently lives in Miami with his Betta fish, Bob.