Ahhhh, the hotel pool. Sometimes it's a venue for the craziest parties in the world. Sometimes it's a place where weird people from Nevada drink canned beer and watch their kids play with float toys while trying to recruit you to a religious cult. It's a mixed bag. But whether you're surrounded by supermodels or super-weirdos, there are some pools around the world with views that will ensure you forget both.
From an infinity pool on the African savannah to a rooftop number with a skyline shot of NYC, here are 18 of the sweetest hotel pool views on the planet.
Sheraton Puerto Rico Hotel & Casino
San Juan, PR
Getting your tan on is as much a part of a Puerto Rican vacation as visiting the Bacardi distillery or being a little revolted when you find out what's actually in morcilla. But at this pool, you'll get that tan while also enjoying a panoramic view of the capital skyline and beautiful Old San Juan.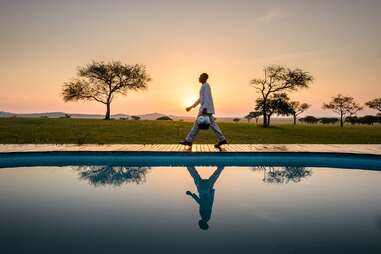 Singita Grumeti Sasakwa Lodge
Grumeti Reserves, Tanzania
Safaris are great and all, but most of them still involve driving around in a Jeep with no A/C all day. Wouldn't it be nice if you could watch an antelope migration while sipping cocktails in an infinity pool? Well, the Singita Grumeti Sasakwa Lodge has got you covered -- its main pool has a front-row seat to the savannah and all the wildlife that comes strolling by.
Four Seasons Shanghai Pudong
Shanghai, China
No pool in the world makes you feel like you're in the middle of a futuristic action thriller like the one at the Four Seasons in Pudong. Assuming, of course, your character in said thriller enjoys an occasional Jacuzzi soak (while looking out floor-to-ceiling windows at the space-aged skyline of Shanghai) in between fighting intergalactic street gangs.
Villa d'Este
Lake Como, Italy
You don't have to be George Clooney to enjoy the deep blue waters of one of the world's most luxurious lake towns. But you shouldn't be George Costanza either. The floating pool that juts out into the lake -- essentially giving you the feel of swimming in Lake Como -- has the added bonus of warm water. It belongs to the Villa d'Este, and rooms start at about $517 a night.
Four Seasons Punta Mita
Punta Mita, Mexico
Mexico has no shortage of fancy hotel swimming holes that sit right on the water. But this multi-level gem at Punta Mita is like an amphitheater, staggering up the side of a hill and hugging the natural cove of the property. The rocks just offshore in the Pacific act as said amphitheater's stage, and you can listen to the waves crash against them while you work on a fruity umbrella cocktail.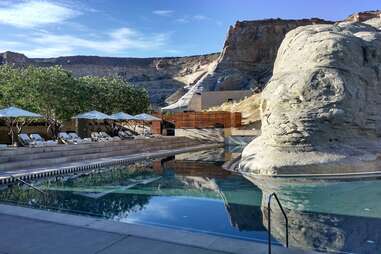 Amangiri
Canyon Point, UT
It's not exactly wandering for 40 years, but a six-mile hike through the remote deserts of Utah still warrants a nice soak in a heated pool. And the coolest hotel in Utah boasts one that offers the sensation of relaxing in a desert oasis surrounded by epic canyons and blue sky.
Fasano
Rio de Janeiro, Brazil
Yeah, it would be pretty cool to get a selfie on top of Christ the Redeemer. But that's, like, a seriously long hike. For those same panoramic views (minus the hike but plus fruity cocktails), hit the rooftop infinity pool at Fasano in Ipanema -- it looks out on a beautiful backdrop of water, green mountains, and jagged rocks.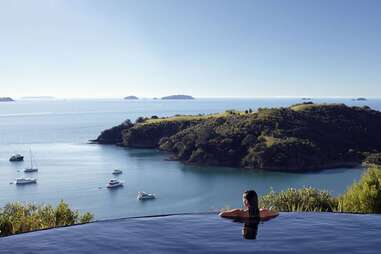 Delamore Lodge
Oneroa, New Zealand
Technically, New Zealand is still in the South Pacific. It might not have the palm trees and turquoise waters of Bali, but you'll get that tropical feel while sitting in the heated infinity pool at this boutique resort on Waiheke Island. The pool -- built into the side of a cliff -- looks out on to a cove off Owhanake Bay.
The 1 Hotel South Beach
Miami Beach, FL
Perhaps you've been perusing this list and thinking, "Boy, tough call. Ocean view or city skyline, they're both pretty great. Wouldn't it be great if there was a pool with, like, BOTH?" Well, Mr. Cake-and-Eat-It-Too, Miami's 1 Hotel is your spot: look to the east and you can gaze out at the Atlantic from 18 floors up; look to the west and you're rewarded with a bird's-eye view of Miami's ever-expanding skyline. And, because it's Miami, chef Bun Lai will also serve you fresh sushi poolside from his new venture, Prey.
Los Suenos Marriott Ocean & Golf Resort
Herradura, Costa Rica
This pool sits between the Pacific and an 1,100-acre tropical rainforest, so not only can you gaze off at the ocean but also on to the resort's golf course, and all of the sloths that are on it. No, like, LITERAL tropical rainforest sloths -- they populate the area surrounding the resort and occasionally enjoy playing nine holes.
The Cambrian Adelboden
Adelboden, Switzerland
You might get some funny looks from your significant other when you're packing goggles and Speedos for a ski vacation to the Alps, but the heated pool at The Cambrian Adelboden offers the novelty of swimming under snow-capped mountains in the dead of winter. The view from outside the pool is doubly impressive, literally: the mountains reflect perfectly off the water, giving you two views for the (extremely steep) price of one.
Thompson Playa del Carmen
Playa del Carmen, Mexico
Though the in-water living rooms in this 30,000sqft infinity pool aren't exactly the flat-screen-adorned kind where you spend the day watching regular-season NBA games, the panoramic view from the highest point in Playa del Carmen is probably more entertaining anyway.
Hotel Indigo Lower East Side
New York, NY
OK, so the pool's not massive, but this is New York; what it lacks in size, it more than makes up for in aesthetics. Here, guests are treated to a 360-degree view of the Big Apple (and a direct sight line to the Empire State Building) from the 15th floor.
Scrub Island Resort
British Virgin Islands
Though technically there hasn't been a king of the British Virgin Islands since 1952, that doesn't mean you can't pretend to be one at this two-level hillside lagoon pool that overlooks green islands and turquoise water. From the top, you'll have a vista over much of the territory; and from below, a gorgeous white sand beach.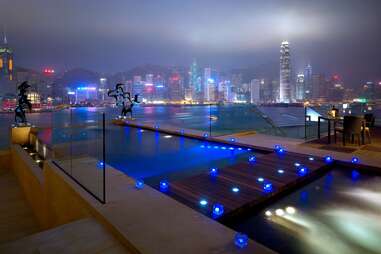 InterContinental Hong Kong
Hong Kong
Unless you're like Hong Kong's version of Kramer, swimming in Victoria Harbour is about as smart as going on Tinder in Thailand. However, soaking in one of three infinity spa pools that feel like you're swimming in Victoria Harbour? That's an idea we can get behind, especially when said pools are safely ensconced at the Hotel InterContinental with a view of one of the world's best skylines.
Hotel du Cap-Eden-Roc
Antibes, France
People in the hotel industry throw the word "iconic" around like mattress salesmen throw around "discount." But this celebrity hotspot in the south of France has been a standing symbol of European luxury since Antoine Sella dynamited the pool into the side of a cliff in 1914. Since then, the beautiful people have flocked to get their Med on at this cliffside lagoon, and it's one of the most unique swimming experiences in all of Europe.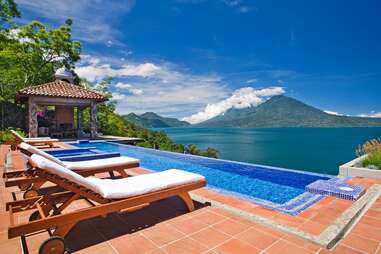 Casa Palopo
San Antonio Palopo, Guatemala
Guatemala is like the little country that could, which is why it boasts two spots on our list of Central America's hidden gems, and why it's home to the smallest hotel on this list (a former private residence that can only host nine guests per night). A short trip up some cobblestone steps takes guests to the Villa Palopo, where they can lay by the hotel's infinity pool and appreciate stunning views of Lake Atitlan and the two volcanoes on its shore.
Andaz West Hollywood
Los Angeles, CA
The only thing LA might have more of than rooftop swimming pools are dudes who promote parties at rooftop swimming pools; and with that kind of selection, the best is hard to pick. Serious nods go to both Standards (Downtown and West Hollywood), but the top view of the hills, skyline, and Pacific has to be from the Andaz West Hollywood. By day you can soak up the California sun; by night enjoy Bob Seger on repeat as you appreciate the city's lights.
Sign up here for our daily Thrillist email, and get your fix of the best in food/drink/fun.
Matt Meltzer is a staff writer at Thrillist who is promoting a sick rooftop party. The only way you can get in is by following him on Instagram: @meltrez1.