Who says hotels are just for sleeping? Or stealing stuff? Sure, the dining options at the Snellville La Quinta may not be world renowned (although there's probably a Waffle House nearby), but some of the country's most exclusive restaurants happen to be hidden inside hotels. Here are 11 gourmet meals worth the trip.
NoMad, NoMad Hotel -- New York City
Signature dish: Whole roasted chicken for two, with foie gras, black truffle, brioche.
Designed to capture the belle epoque aesthetic of an early 20thC Parisian eatery, the cluster of dining rooms in this impossible-to-get-a-reservation spot surround a sun-drenched, glass-enclosed atrium. Food/drink-wise, expect classic cocktails and suckling pig to accompany your foie-gras stuffed poulet.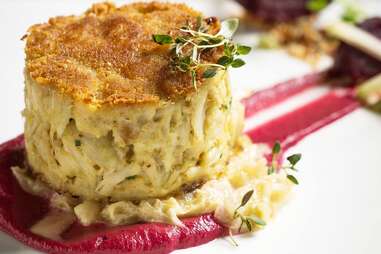 Wit & Wisdom, Four Seasons Hotel Baltimore-- Baltimore
Signature dish: JM Clayton blue crab cake, horseradish creamed cabbage, heirloom beets, pistachio butter.
Located on Baltimore's historic Inner Harbor, this "modern American tavern" cooks up "Eastern seaboard classics" like bourbon steak burgers and lobster pot pie in/on their hearth oven and live-fire grill, while outside the 85-seat patio (dubbed Wit on the Water) offers guests views of the harbor.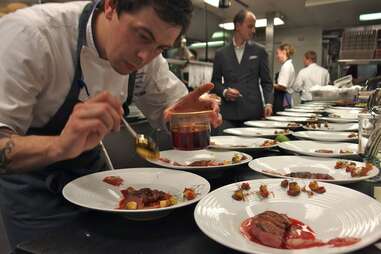 Parallel 37, The Ritz-Carlton -- San Francisco
Signature dish: Boneless chicken wings, poached hen egg, cannellini beans, persimmon.
With an interior highlighted by slab wood light fixtures, windows into the kitchen, and an etched swinging glass door (!!), this Nob Hill bar and restaurant focuses -- as the name cleverly hints -- on food from the Bay area and includes a five- or eight-course tasting menu for the table.
The J. Parker, Hotel Lincoln -- Chicago
Signature dish: J. Parker Burger, dry-aged beef, butterkase cheese, belly fire mayo, lettuce, charred onion, pickles.
With an epic 140-seat deck that sits atop the Hotel Lincoln, The J. Parker offers unobstructed views of Chicago and Lake Michigan to go along with a rotating-quarterly lineup of cocktails and smaller bites like burgers, braised beef, and hot wings.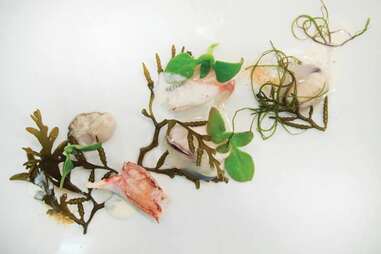 Aubergine, L'Auberge Carmel -- Carmel, California
Signature dish: Sablefish, Napa cabbage, emulsion of oyster.
Tabbed as "Best New Chef" in 2013 by Food & Wine, Chef Justin Cogley is the reason to stop at Aubergine. Seriously, the dude used to be a professional ice skater -- although that's really more of a fun fact. As for the food, ordering is simple: there's a $110 five-courser ($20 extra for artisan cheese) or a $145 Tasting Menu that features over 20 ingredients like spot prawn, green tea, and fennel.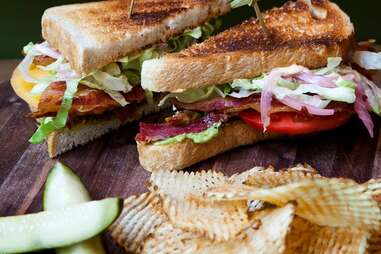 The Breslin Bar & Dining Room, Ace Hotel -- New York City
Signature dish: Chargrilled lamb burger with feta, cumin mayo and thrice cooked chips.
With a vintage decor hat-tip to old New York, this insanely popular no-reservation gastropub on 29th street allures with Scotch eggs and crispy pig's trotters, before smacking you over the head with a lamb burger considered by many to be one of the city's best.

Proof on Main, 21c Museum Hotel -- Louisville, Kentucky
Signature dish: Woodland Farm Hog Chop.
As would be expected from a restaurant in Kentucky (and in one of the most hipster cities in America), PoM does bourbon right, pouring over 75 varieties to accompany their locally sourced hog chops and bison burgers. Rotating contemporary art exhibitions, curated by the 21c Museum, make for a captivating decor.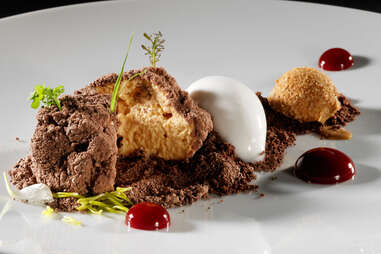 Clio, The Eliot Hotel -- Boston
Signature dish: Roast Duck, licorice, fennel, pickled black radish, Buddha's hand.
Chef Ken Oringer opened Clio in 1997 in one of Boston's most well-known boutique hotels and the joint has been winning awards consistently ever since. In addition to a 14-course tasting menu that can last as long as four hours (about $300), the heavy-on-the-chemistry cocktail program could be taught as a course at MIT, and the attached sushi spot, Uni, serves some amazing late-night ramen.
Trace, W Seattle -- Seattle
Signature dish: Trace "signature roll" with crab and torched spicy tuna.
Acclaimed for its decor, this two-year old spot in Seattle's revamped W rocks a sleek 10-seat sushi bar and plates a "localist" lineup of fresh seafood and Asian-inspired regional fare.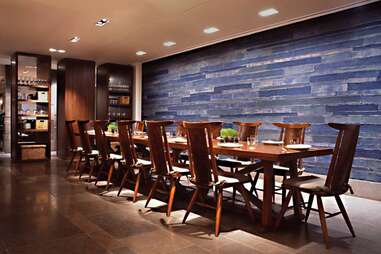 Blue Duck Tavern, Park Hyatt Washington -- Washington, D.C.
Signature dish: Wood oven-fired Wagyu beef, king trumpets, Béarnaise sauce.
Anchored by an open kitchen and wood-burning oven, the Blue Duck's rustic American aesthetic -- with dark oak and blue burlap accents -- fits its location in the nation's capital nicely, as does lineup of regional dishes from Executive Chef Sebastien Archambault.
J&G Grill, St. Regis Bal Harbour -- Miami Beach, Florida
Signature dish: Local red snapper, nut and seed crust, sweet and sour jus.
Boasting ocean views and background jazz, this sleek spot overlooks the beach and plates a greatest-hits lineup from famed chef Jean-Georges Vongerichten's other restaurants. Also, the wine vault holds over 2,500 bottles.