10 of the world's best hotel restaurants
Earlier this year we took you on a culinary tour of America's best hotel restaurants, from New York's NoMad and Carmel's Aubergine, to Baltimore's Wit & Wisdom and Louisville's Proof on Main. And everything in between. It included more than a few heavy hitters, to say the least.
This time, we traded TSA PreCheck for Global Entry (actually, PreCheck's included in Global Entry, but whatever) and whittled down the world's top hotel eateries to 10 of the tastiest. Feel free to start planning your next epicurean adventure of the planet now...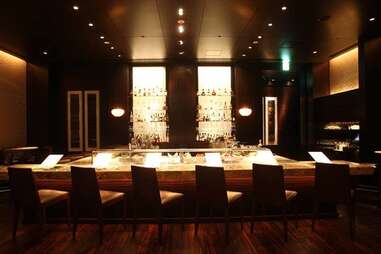 Tapas Molecular Bar, Mandarin Oriental Tokyo -- Tokyo, Japan
Nobody does molecular gastronomy -- you know, when chefs turn ingredients into wicked science fair projects -- than Tapas Molecular Bar. Part sushi counter, tapas bar, science lab, and edible modern art exhibit, the eatery only serves eight people at a time, twice a night, so reservations are a must.
Signature dish: Crystal Ravioli or Yurine Espuma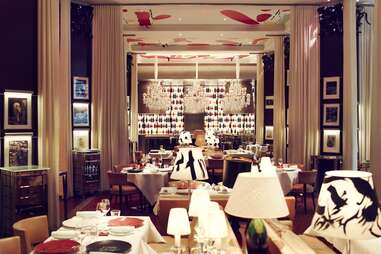 La Cuisine, Le Royal Monceau Raffles Paris -- Paris, France
With its romantic alcoves, open kitchen, and ceiling fresco, La Cuisine boasts one of the most beautiful dining rooms in Paris. Add a sommelier voted 'Best in France' and a pastry chef known as the "Picasso of Pastry" (be sure to try the shortcrust Tarte Infiniment Citron with lemon cream and sorbet), and you can't miss.
Signature dish: Roasted duck, confit legs, red pepper, and white radish with Thai coriander
ONE Restaurant, The Hazelton Hotel -- Ontario, Canada
One of acclaimed chef/owner Mark McEwan's three Toronto eateries, this French/Italian-inspired spot in Ontario's Yorkville neighborhood plates favorites like linguine with blue crab and black tiger shrimp, and a 34-ounce ribeye steak called the "Canadian Prime Tomahawk Chop".
Signature dish: British Columbia black cod, sesame pancake, chow mein noodles, carrot and cucumber salad with marinated tofu and yuzu aioli
We know what you're thinking: Come on, there's no such thing as a great Irish restaurant. Or at least one that doesn't pour Guinness and sling vats of boiled cabbage and corned beef. Wrong! There is. A three-decade staple of Dublin fine dining, Restaurant Patrick Guilbaud is the only two-star Michelin-rated restaurant in all of Ireland. Don't miss the terrine of smoked eel, poached Annagassan blue lobster, and butter toast touraine squab pigeon.
Signature dish: Mellow spiced wicklow lamb, black garlic, piquillos pepper, olive crumble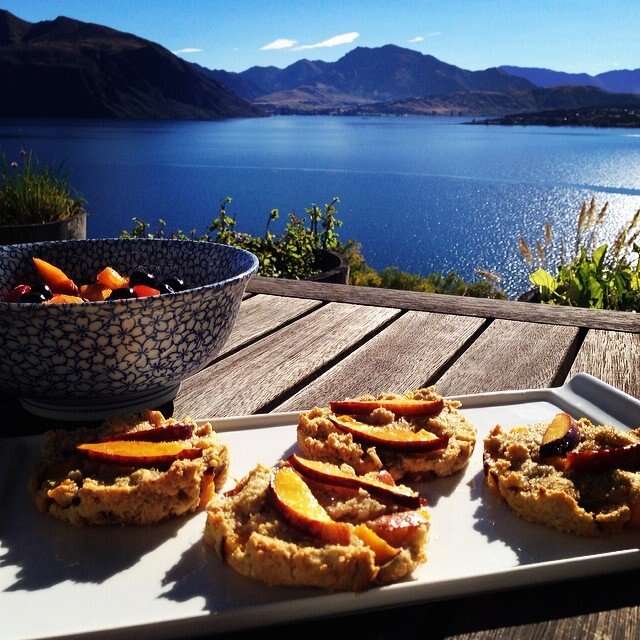 Set on the shores of Lake Wanaka in New Zealand's Central Otago region, Whare Kea Lodge & Chalet's dining room offers jaw-dropping views of the water and surrounding snow-capped peaks of the Southern Alps. U.K. born Chef James Stapley followed his Kiwi wife to New Zealand and has become a culinary star with a changes-daily, artisan menu that includes dishes like smoked salmon and horseradish roulade or goats cheese mouse beetroot.
Signature dish: Rose jelly with raspberries, elderflower cream, and vanilla beignets or 72hr beef shortrib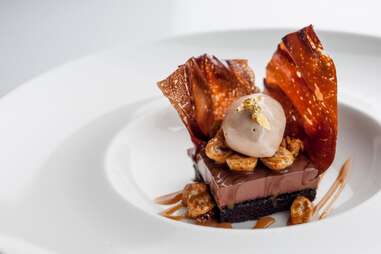 The dream child of successful U.K. Chef Raymond Blanc, Le Manoir rocks its own two-acre kitchen garden where they grow 90 types of vegetables and 70 herbs. As you can imagine, the menu skews toward the greenery. Try some risotto of spring vegetables or raspberry and beetroot gourmandine.
Signature dish: Cornish sea bass, Scottish langoustine, smokey mash, star anise jus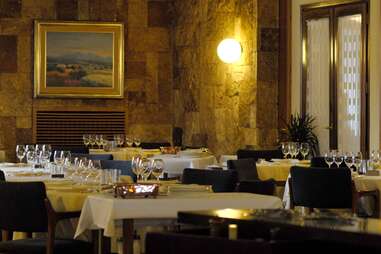 El Motel has created a name for itself as a trailblazer for new "Catalan gastronomy", or local Spanish cuisine dressed up with internationally inspired dishes. Think tatin of ox tail, broad beans, or octopus sautéed with onion and eucalyptus oil. While you might think the heavy on the vintage '60s decor is a gimmick, guess again; the restaurant has remained mostly unchanged since it opened in 1961.
Signature dish: Monkfish in black olive oil
Felix at The Peninsula Hotel -- Hong Kong
Decorated by avant-garde designer Philippe Starck, dining at Felix is like eating on the set of "Barbarella", complete with strange chairs that feature the faces of long-time hotel employees and a "Crazy Box", or soundproofed area with a "footprint floor" that lights up the imprints of dancers feet. It's also located on the hotel's 28th floor and boasts killer views of the Hong Kong skyline.
Signature dish: Grilled Japanese A5 beef tenderloin with green pepper sauce, pickled red onion, marinated lycium, deep-fried potato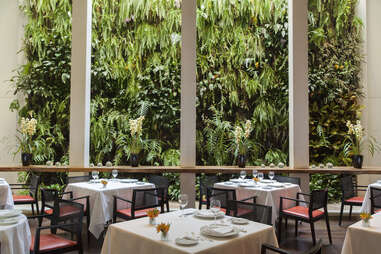 Smack dab in the middle of São Paolo's chic "Jardins" district, the Emiliano Restaurant is the class of the city. Chef Stefano Impera serves impressive Italian fare like ossobuco with Milano-style risotto and slow-cooked suckling-pig with potato "millefoglie." Also, did we mention the giant wall of vegetation?
Signature dish: Roasted black cod with pearl barley, carrots ragu, and Sicilian lemon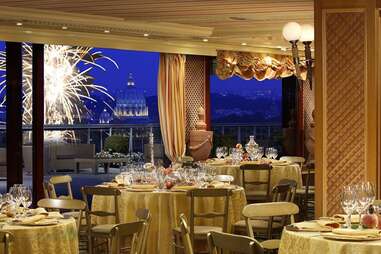 La Pergola at Rome Cavalieri -- Rome, Italy
Taking the concept of hotel restaurant to another level, La Pergola is the only one in Rome with three Michelin stars. Long-time Executive Chef Heinz Beck serves a nine-course gourmet menu that -- for a cool $300 -- includes a tasty carpaccio of scallops, green tortellini with seafood, venison salami, and veal cheek. Throw in a wine cellar stocked with a ridiculous 60,000 bottles, stunning view of St. Peter's Basilica, and a water menu complete with 29 choices of water (seriously, water!), and you've got one solid (and well-hydrated) night out in Rome.
Signature dish: Fillet of veal marinated in pepper on aubergine purée