Which airlines serve the best in-flight booze?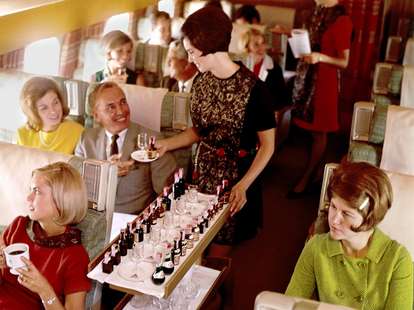 In case you haven't noticed, economy domestic air travel has gone to the dogs. Between soul-destroying security lines, shrinking seat-sizes (as you grow ever-bigger), and ancillary costs for everything that used to be free, a flight anywhere in the US is now stressful enough to drive a man to drink. And pay for it. Thankfully, airlines still stock the mini-bar; we've examined their menus to come up with the top ten for boozing at altitude.
10) Hawaiian Airlines Unless you're Kevin Alexander and hitting Waikiki every month to celebrate your dating anniversary, you're probably not flying Hawaiian Airlines that often. When you do, though, you'll be rewarded with Hawaii's Primo Island Lager, as well as a gratis signature tropical cocktail featuring Koala Rum from Kaua'i.
9) American Airlines As all of the major carriers pretty much stock an almost identical 13ish-strong lineup of staple spirits that include Jack Daniels, Jim Beam Black, Bailey's Irish Cream, Courvoisier Cognac, and Bacaradi Rum, we'll blow through them based on who's mixing it up with something, anything different. In the case of American, it's the addition of SKYY Vodka and Beefeater Gin.
8) United Airlines Sure, nobody expects a bar stocked with small-batch craft microbrews, but something other than Bud, Miller Lite, and Heineken would be nice. Too bad you're flying United; insert sad trombone here. Thankfully, UA pours Tito's Handmade Vodka, Grand Marnier, and Crown Royal, along with some mixed-up Mai Tais and margaritas.
7) Southwest/ AirTran Nothing too out-of-the-ordinary on either of these soon-to-be-merged airlines, with the exception of Wild Turkey and Corona. What you do get on Southwest, however, is a free drink if you happen to be flying on any number of different holidays. And not even just the ones you get off from work -- think Southwest's birthday, and buy her a card (June 18).
6) JetBlue Despite a svelte lineup of six spirits (Malibu Rum is a stand-out), the first airline to offer personalized live in-flight TV for free only gets mildly local with their beers, pouring suds from Brooklyn Brewery and Sam Adams.
5) US Airways In addition to serving Cosmos (oh, goodie), US Airways rolls with Tanqueray Gin and Finlandia Vodka, and gets bold with three different brews including Beck's, Dos Equis, and Shock Top.
4) Delta Airlines Delta steps a foot outsid… no, more like "on the line" of the box, by adding Blue Moon to their beer list. They get a little more adventurous, though, with Avion tequila (tequila's not a staple on most of the other airlines), Jack Daniel's Honey, and Woodford Reserve Small Batch Bourbon, as well as three cocktails (including a mojito).
3) Frontier This Denver-based airline wants to ensure your flight from Great Falls to Cedar Rapids is as enjoyable as possible (since Cedar Rapids is probably not going to be), and, to do that, they're pouring legit craft beers like Fat Tire Amber Ale and Boulder Beer's Hazed and Infused, not to mention a handful of varying spirits like Glenlivet 12yr, SKYY and Grey Goose Vodka, and Maker's Mark.
2) Virgin America As you would imagine, Virgin America doesn't appear to use the same booze distributors as the rest of the lot. Expect Glenfiddich Single Malt, 360 Vodka, Sauza Hornitos Reposado Tequila, and even that Veev Acaí Spirit, which's made from the berries of a Brazilian fruit. Beers include Anchor Steam and Gordon Biersch Marzen, and -- if you happen to be coming off a major weekend in Vegas -- they even stock Eboost and Rockstar Recovery.
1) Alaska Air In the top spot, Alaska Air not only pours its home-state's Alaskan Summer Ale, Kona Longboard Island Lager from Hawaii, and Bend Distllery's (OR) Crater Lake Hazelnut Espresso Vodka, but they've actually partnered with a local Seattle distillery to stock handcrafted spirits like UNXLD Vodka, 100-proof Gun Club Gin, and a bourbon/ sherry barrel-aged rum.