There are some internships you take to make your parents happy, and there are some you take to actually make decent money. And then there are the international internships you pick just based on where the hell you are going -- otherwise known as interning abroad. Call us biased, but those tend to be the best ones.
And guess what? A few of them even pay! Sure beats that study abroad program. Check out our lineup of the best internships you can complete in another country:
Recommended Video
The Best Things to Do and See in Puerto Rico
Helping small businesses get off the ground in South & Central America
Organization: Maximo Nivel's Micro Business program
Where you'll be: Costa Rica, Guatemala, or Peru, staying with a family, or in an apartment, residency, hostel, or hotel
When: Throughout the year, for a minimum of four weeks
Who they're looking for: A business, economics, or communications major (or graduate student) working on a final project. Your Spanish-speaking skills need to be pretty strong, too, though Maximo Nivel also offers Spanish courses to help bring you up to speed.
What you'll be doing: Helping small startups & businesses get off the ground, including leading everything from marketing and accounting to sales, staff training, and client services. You're essentially creating and implementing a complete business -- in other words, basically the best stepping stone you can get to international business development.
Best perk of the job: During your internship, you can also enroll in "side schools" to get certifications in scuba diving, and for teaching surfing or yoga.
Does it pay? No, but you get college credit and better advanced Spanish than you could ever get in a classroom.
When to apply: Throughout the year depending on how long you want to go; application here
Putting your skills (and hustle) to use most anywhere in the world
Organization: L'Oreal
Where you'll be: Pretty much anywhere, depending on the program: Cairo, France, Belgium, Japan, Italy, Mexico, Germany, India, etc.
When: Most are throughout the entire Summer (June, July, August)
Who they're looking for: Ambitious college students with an open mind. In other words, enthusiastic 20-somethings who will hustle their tails off for a variety of projects.
What you'll be doing: Depending on which program you pick, it can be anything from assisting marketing campaigns to a crash course in becoming a sales assistant or refining your IT skills. Most positions are full time, with a few part-time opportunities as well.
Best perk of the job: Having the option to apply to programs in dozens of countries on most any continent
Does it pay? Yes. Exact amount may be determined by experience and the specific program chosen.
When to apply: ASAP! Deadlines vary for each; peruse the many options and apply here.
Providing medical care in Nepal
Organization: Medical Internships (World Internships)
Where you'll be: In an apartment or a homestay in Kathmandu
When: The internships are offered year-round from four-week to 20-week increments
Who they're looking for: Pre-med students, nursing students, or anyone that's dabbling in the health care field. It's a pretty competitive internship, so your grades shouldn't necessarily suck. Just saying.
What you'll be doing: You'll be stationed at a hospital or clinic providing medical care to people in Nepal who can't afford it. And learning firsthand about basic health care in a third-world country.
Best perk of the job: The excursions. Aside from being near Mount Everest, the program takes you to Chitwan National Park for a few days -- which is about as close to living in The Jungle Book as you're ever going to get.
Does it pay? No. But they do cover a lot of the expenses, including your accommodations and daily meals. Plus, this one will score you some pretty major points on that med-school application.
When to apply: They accept rolling applications throughout the year here.
Investment banking in Australia
Organization: Goldman Sachs
Where you'll be: Melbourne, or Sydney and Perth
When: Ten to 11 weeks over the summer
Who they're looking for: Smartypants undergrads who want to prove themselves in a hands-on environment in programs in Melbourne or Sydney and Perth. You don't have to be a business major but you do need an "outstanding record of academic achievement" and to at least feign an interest in financial markets.
What you'll be doing: It's basically a mini bootcamp to simulate what your life would be as a Goldman Sachs analyst, which could very well happen given they tend to pick full-time employees from this program. After orientation comes the division-specific training program, before you dive Wolf of Wall Street-style into the full spectrum of day-to-day responsibilities.
Best perk of the job: Working side by side with some pretty heavy hitters in the field, aka the same people you probably would seldom see should you score the actual job
Does it pay? Yes. Exact amount undisclosed, but reportedly around $29/hr.
When to apply: For Melbourne, the deadline to apply is July 7th; Sydney and Perth, it's July 21st. Application here.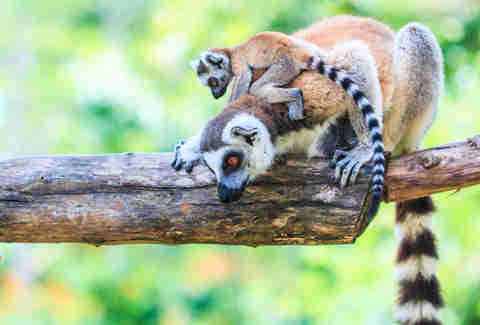 Roughing it while conserving the natural environment in Madagascar
Organization: SEED Madagascar (Sustainable Environment, Education & Development)
Where you'll be: Tent camping in the Anosy region of Southeast Madagascar
When: A 10-week program starting at the beginning of January, April, July, and October each year. Also available in four-, six-, or eight-week durations.
Who they're looking for: Anyone over 18, but you should probably love animals, because you'll be working with a lot of them -- also, a rudimentary knowledge (and even fieldwork) in biology and conservation couldn't hurt. Oh, and be in decent shape -- this one is big on the outdoor adventures and long hikes.
What you'll be doing: Basically living in your own little National Geographic, i.e., reforestation work, studying the native lemurs, and being part of a team committed to preserving Madagascar's threatened ecosystems
Best perk of the job: You heard us say lemurs, right?
Does it pay? No. And you actually need to raise money for the charity to even get accepted. But! Once you get there, they cover accommodations -- and you can get school credit.
When to apply: Depends on which trip you're interested in, but if you miss one, don't worry -- they take four trips every year. Application here.
Web design and development for social justice in Israel
Organization: Windows - Channels for Communication
Where you'll be: Tel Aviv, Israel
When: There are programs running from three to 12 months throughout the year
Who they're looking for: A killer web & design developer with language skills in Arabic and Hebrew
What you'll be doing: Working alongside fellow research and data nerds to improve the overall digital online presence for Windows - Channels for Communication, a joint Israeli-Palestinian organization that "builds partnerships for social justice through educational programs"
Best perk of the job: You can work pretty independently. Meaning, as long as you know what you're doing, and finish your work, they'll leave you alone to soak up the rest of the country.
Does it pay? No. But you get a lot of real-life job experience in this one.
When to apply: Applications are accepted throughout the year here.
Teaching English and developing educational curricula in Peru
Organization: SKIP (Supporting Kids In Peru)
Where you'll be: The city of Trujillo, on the Pacific coast of Peru
When: Throughout the year for a minimum of six weeks
Who they're looking for: Must love kids. Also, have some education/teaching experience and be willing to work at least 35 hours a week.
What you'll be doing: Teaching English to students aged 4 through 18, and creating lesson plans and curricula for public schools in Peru
Best perk of the job: They have a really solid mentoring program and recommendations to set you up with a potentially pretty great teaching gig post-internship. Also, Peru!
Does it pay? No. But your accommodations are covered.
When to apply: Applications are accepted throughout the year here.
Being a tech visionary in Australia
Organization: Google -- ever heard of it?
Where you'll be: Sydney, Australia
When: Summer
Who they're looking for: They list such things as "strong technical abilities, creativity and written skills," but we're not going to sugarcoat it: they look for a lot. As in top of your class at probably a top school and the ability to change the world in some way a lot.  
What you'll be doing: You'd be part of the coolest nerd crew around, better known as the Product Management team. This means you'll be embedded with a group of engineers who guide all of Google's products from conception to launch. As well as "bridge technical and business worlds as you design technologies with creative and prolific engineers and then zoom out to lead matrix teams." Whoa.
Best perk of the job: Um, working at Google isn't enough? Sydney is also one of their global engineering headquarters. Oh, and nap pods!
Does it pay? Specific salary unknown, but your room and board are certainly covered -- and let's be honest, since Google tends to bring it hard with the free office food -- most of your meals.
When to apply: Deadline is Friday, September 16th, 2016 at 11:59pm EXACTLY. Apply here.
Sign up here for our daily Thrillist email, and get your fix of the best in food/drink/fun.