Lanzarote, the Canary Islands, Spain

| Zu Sanchez Photography/Getty Images
Lanzarote, the Canary Islands, Spain

| Zu Sanchez Photography/Getty Images
16 Incredible Island Vacations to Fantasize About Right Now
Note: We know COVID-19 is impacting travel plans right now. For a little inspiration, we'll continue to share stories from our favorite places around the world so you can keep daydreaming about your next adventure.
Daydreaming about a pristine patch of powder-soft sand has been a near-universal pastime since the dawn of mankind. Sadly, the prospect of hopping on a plane to a remote island paradise is more elusive than ever. Unless you're sheltering-in-place in Bora Bora, it remains to be seen whether any of us will be sipping rum in a balmy beach hut anytime soon.
But hey, we can dream, right? We put the question to a gaggle of world travelers and asked, "what are the islands you would most recommend as a dream vacation?" They came back with hotspots for weird art and volcanic wine, hidden caves and soaring cliffs, sea turtles and wildlife safaris, extreme biking and stargazing. The hammocks are a'swingin' and the living is most certainly easy. And they're out there, ready and waiting to turn those vacation dreams into reality.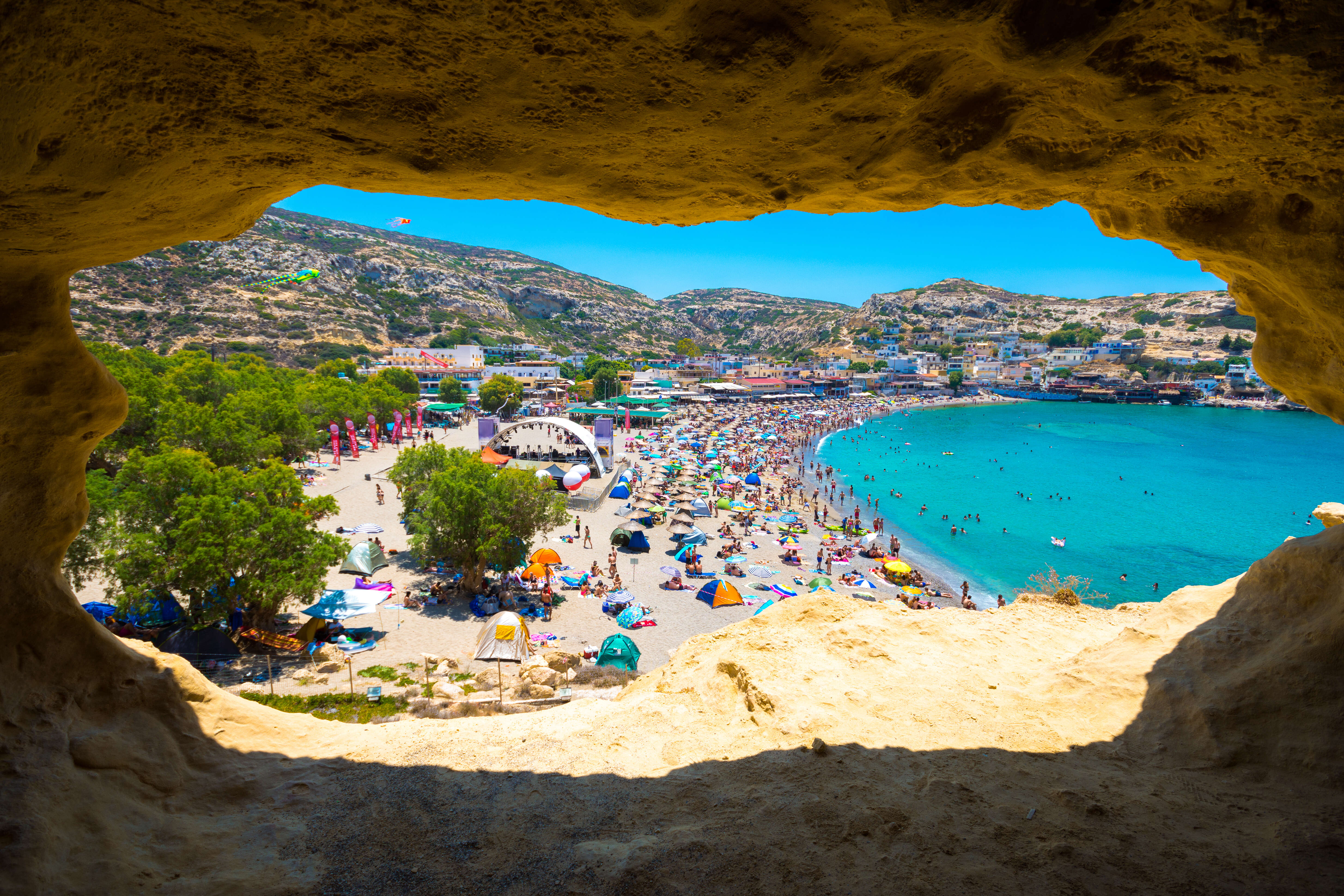 Crete, Greece
Not just any Aegean island
Don't get us wrong -- we love the Greek islands, but they can blend together after a while. Dry, rocky hills drop dramatically into crystalline waters. A whitewashed chapel on a cliffside ledge. You've seen the pictures. You get it.
Crete has a flavor all its own. Over the course of its history Crete has played host, with varying degrees of reluctance, to Roman, Venetian, and Turkish empires, whose cultural and architectural influences all converge on the island if you look close enough. You'll spy, for example, an oddly rounded gift shop that looks out of place along Chania's gorgeous old Venetian waterfront, until you learn it used to be a Turkish mosque. And in this part of Greece, ordering a raki won't get you the ouzo-esque Turkish tipple rakı, but rather a Cretan version of grappa. The largest Greek island, Crete is also home to one of Europe's most dramatic canyons, the Samaria Gorge, perfect for a daylong hike through stunning mountainsides (keep an eye out for the endemic Cretan wild goat, the kri-kri). And if you've got your heart set on rocky hills dropping into crystalline waters, look no further than Balos beach, one of the true treasures of the Mediterranean. -- Conor O'Rourke
MORE: Want to avoid tourists? Check out these under-the-radar Greek Islands.
Raiatea, French Polynesia
An under-the-radar South Pacific paradise
Raiatea means "faraway heaven," and it delivers on that promise. Jade peaks, swaying palms and a thousand shades of brilliant blue -- this is the kind of place you see on the front cover of a travel magazine and announce "Phwoar, it's amazing what they can do with Photoshop these days." As for the "faraway" part -- sure, it's a little trickier to get to than cruise-accessible Tahiti and honeymooner-infested Bora Bora, but that just means means it's a taste of a quieter, wilder, more wondrous French Polynesia. And anyway, it's only a 45-minute flight from the capital, Papeete.
The most popular thing to do here is... nothing. Just find yourself a hammock and breathe in the hibiscus-scented air. There aren't any beaches, but you can take a boat out to a motu (an uninhabited tuft of palm trees and white sand poking out of a lagoon) and live out your desert-island fantasy. For a dose of culture, head to the UNESCO-approved archaeological site at Taputapuatea, featuring some of the best blocks of stone this side of Easter Island. Inland, hike up the verdant Mount Tapioi or hack through bamboo jungle to a trio of cascading waterfalls. Take a shipwreck-dive if you've got the nerve (the black-tip sharks like it down there too). Just be sure to follow that up with more nothing. That's why you're here. -- Jonathan Melmoth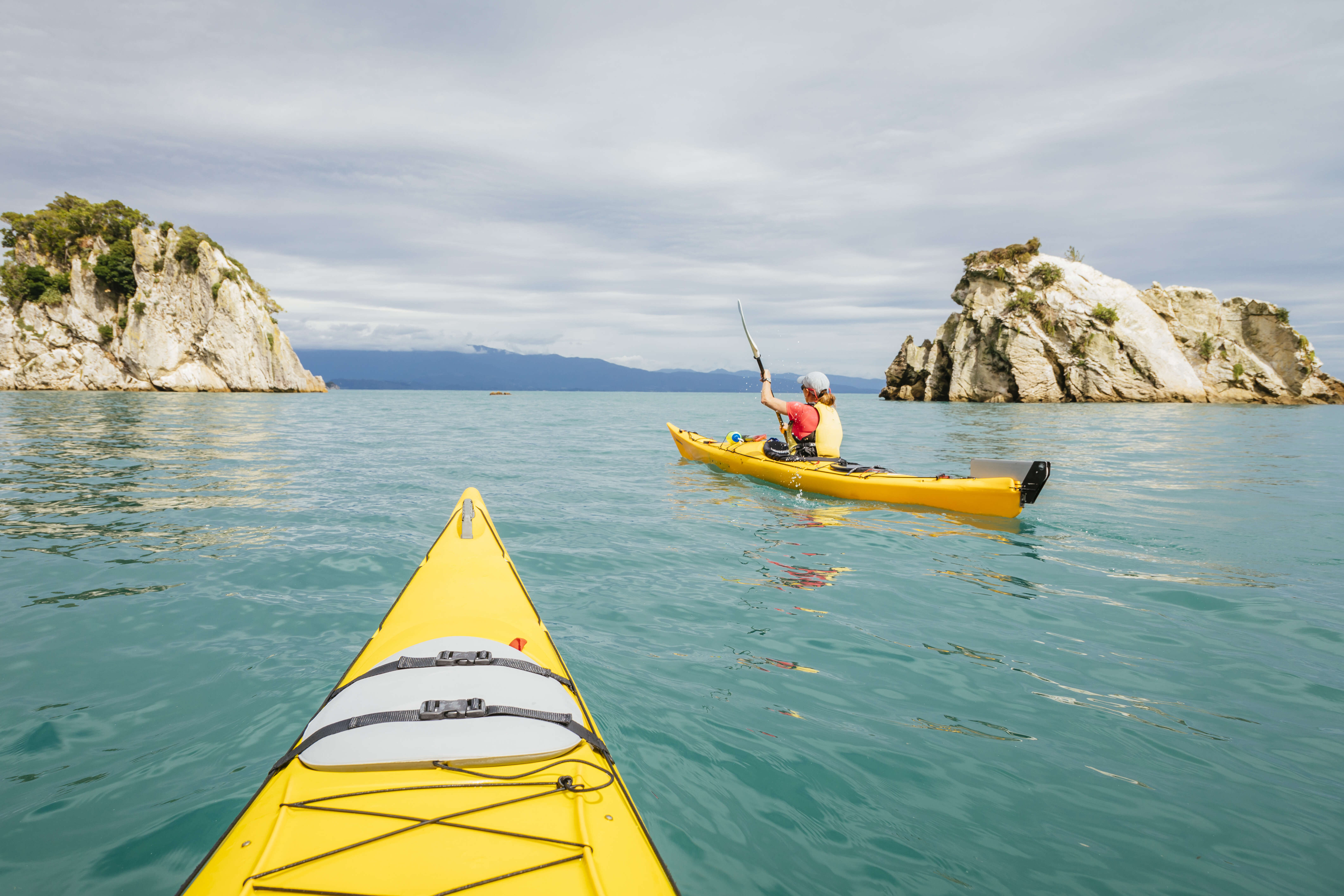 South Island, New Zealand
The epic antidote to the Northern hemisphere's chilly climes
It doesn't matter if you're in Washington, D.C. or Minnesota -- come winter you're going to be sick of the perma-frost coating the ground, the wind whipping your face, and that window draft chilling your bones. The solution? Head south -- far, far south, so freaking south that you end up in South Island. Down here in New Zealand, summer runs December through February, with long, hot days ideal for outdoor adventuring via kayak, surf board or biking.
Summer is prime time to see some of South Island's copious natural wonders and dive into the near-infinite reasons that it's been dubbed the adventure capital of New Zealand. The big-gun glaciers (Franz Josef and Fox, to their friends) make for excellent sight-seeing but be warned: You won't be alone on their stunning trails. Be sure to take advantage of plentiful surf, especially off the coast at Farewell Spit, Dunedin and Whangamata Beach. -- Jonathan Melmoth
Isla Mujeres, Mexico
Microdose on all that's good in the Mayan Riviera
At 4 miles long and less than half a mile wide, Isla Mujeres is a tiny sliver of calm a short ferry ride away from the chaos of Cancún. The island's north tip is edged with white sand beaches, sheltering palms, and turquoise surf that just beg to be napped upon after a touring the wealth of beach bars. If you can peel yourself off the sand for some exploring, do so by bike or moped, or on foot along paths that line the Caribbean side.
Resist the temptation to sleep in and catch the sunrise on the south end, where wind-worn cliffs break the open sea below a small pyramid in honor of Ixchel, Mayan deity of fertility and healing. If you're staying for a bit, a visit to colonial Valladolid, a town built around a cenote (a partially underground swimming hole) makes for a swell day trip. Come dinnertime, head to La Justicia de Don Pino to try shrimp in the shell, hauled in by the local fisher's cooperative, or just stroll Hidalgo Street downtown and follow your nose. There's plenty of Cubans on the island, which means evenings are for salsa: hit up Rincón Cubano for a little taste of Havana. Shimmy to exhaustion, then sleep off the night on the beach tomorrow. -- Luz Corral
MORE: Keep your Mexican beach daydream going with these underrated beaches
Bluff Island (Sha Tong Hau Shan), Hong Kong, China
Hong Kong's non-concrete jungle that you never knew existed
Most people think of Hong Kong as the land of skyscrapers and more than 7 million people. Turns out, that "land" only accounts for a mere 30% of the vast area; the majority is barrier islands, wetlands, woodlands, and protected country parks. One such park, Hong Kong National Geopark, was formed 140 million years ago, and lying within are the region's most breathtaking natural sites, which remain essentially tourist-free. The crown jewel is a place many Hongkongers don't even know about: Sha Tong Hau Shan (aka Bluff Island).

To get there, nab a boat at Sai Kung Pier, then cruise past massive mountains formations straight out of Jurassic Park. Upon arrival at remote Bluff Island, you'll find powder-white beaches, crystal waters, and trees covered in red pineapples (you can't really eat them, but still). From above, the island resembles a turtle with four extended legs, and is packed with lush trees, wooded spaces, and an array of natural rock areas that even the fanciest spa could never replicate. Plus, it's home Sha Tong Hau Cave, one of the biggest sea caves in the eastern waters, making it the ideal spot to dive into surrounding South China Sea, which you can explore via kayak, scuba suit, or just by floating on your back, pretending you temporarily live there with Wilson. -- Liz Newman
Bohol, the Philippines
Home of the famed "chocolate hills" and cheeky little monkeys
Part creepy, part cute, the Philippine tarsier is one of the smallest known primates in the world, about the size of a frog with disproportionally gigantic eyes. Out of more than 7,000 tropical islands in the Philippines archipelago, these bizarre little creatures are found only on a small handful of islands in the southeastern quadrant, Bohol among them.
As if you needed another reason to go, Bohol is also the stage of an iconic geological marvel: the Chocolate Hills. Across 30 square miles you'll find more than 1,200 of these giant, camel-hump hills, named for their brown color during the dry season, where they bake in the sun. Here, you'll discover world-class scuba diving and the heavily Instagrammed Hinagdanan Cave, an underground swimming hole where you can backstroke under stalactites. -- Erik Trinidad
Madeira, Portugal
Way more than just a pretty face
I suspect most Americans who have heard of Madeira heard about it on The Bachelorette in 2013. Yes, it's rocky, it's lush, it's gorgeous -- but that doesn't do it justice. Madeira has been carving out a space for itself as an extreme-sports capital, not unlike Queenstown, New Zealand. With little in the way of flat terrain, downhill mountain biking is the thing to do here. "It's quick, it's fast, muddy, dusty. All the very big names, they come to Madeira to ride just for fun," says former national champion Rosie Bayntun. "It's a volcanic island, so anywhere you go, you can make it a track."
Jumps -- over obstacles, dirt roads, regular streets -- can be more than 15 feet long, but there's plenty for beginners to tackle, too. Various companies will rent you all the gear you need and drive you around to various tracks across the island. And if biking isn't your thing, perhaps you'd like to go scuba diving, or whale-watching, or cross the glass-bottomed skywalk, or -- the coup de grace -- get pushed around the island on a wicker sled perched on skis. Ernest Hemingway was a fan. -- Kastalia Medrano
Naoshima, Japan
A huge contemporary arts destination in a tiny, rural setting
Naoshima is one of several tiny islands that decorate Japan's glassy Seto Inland Sea. These islands are sleepy, rural, and lightly populated, yet over the past decade the Seto Islands have evolved into a big-time arts destination, home to countless extraordinary outdoor sculptures, installations, and museums.
Naoshima boasts one of artist Yayoi Kusama's famous yellow pumpkins, holding court at the end of a dock. Other highlights include the hilltop Chichu Art Museum and the Art House Project, where various artists including James Turrell have filled abandoned homes with bizarrely compelling installations. The Benesse House -- part museum and part hotel -- is worth the splurge (my seafront room had an actual Frank Stella in it), but between the islands' two small towns there are plenty of guest houses to choose from, plus kickass hole-in-the-wall eateries where you might find the best karaage chicken ever fried. The islands are particularly well-suited for women traveling solo, the sort of place where time just stops, encouraging you to toss your cell phone aside, if you can resist the urge to photograph everything in sight. -- Emily Zemler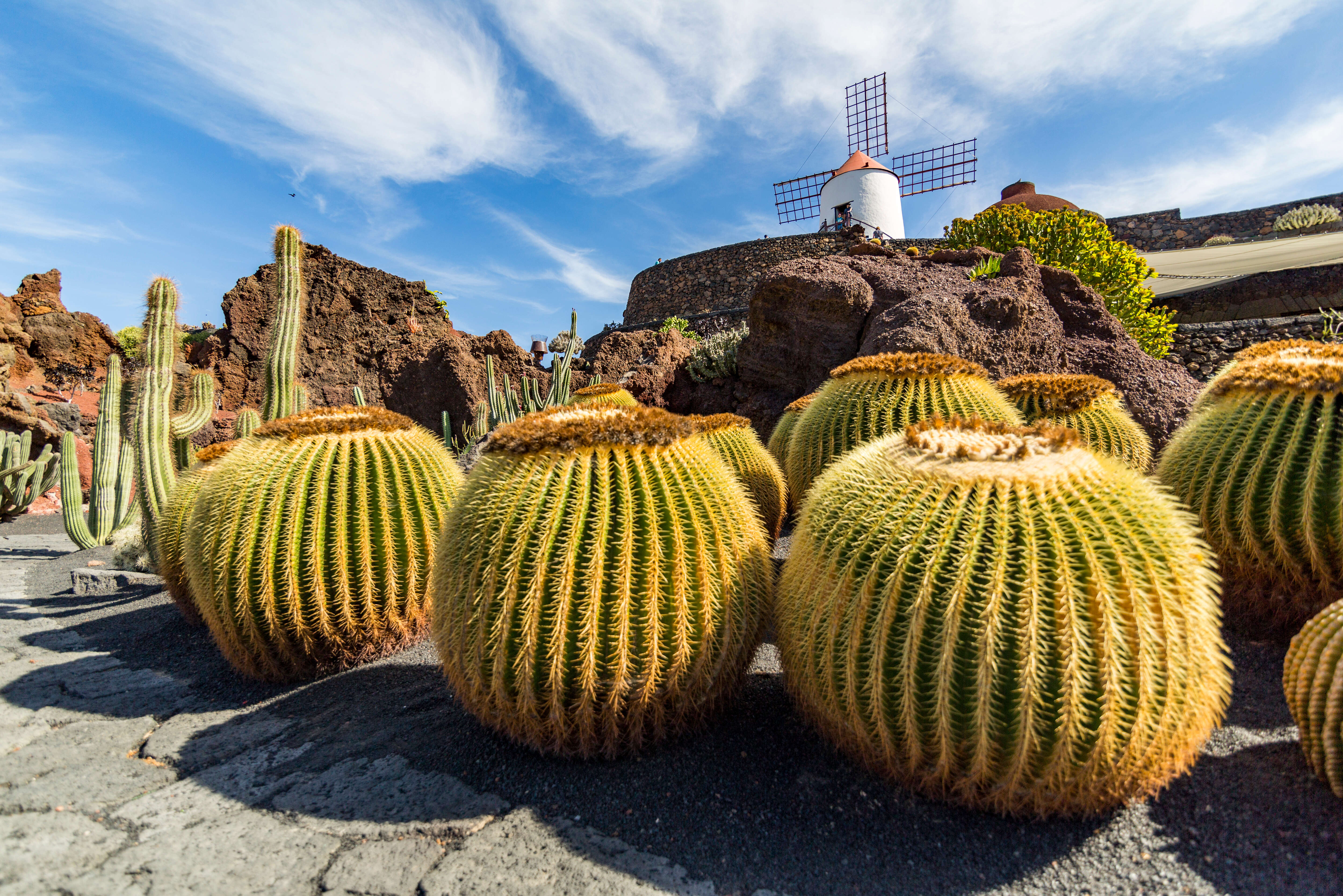 Lanzarote, the Canary Islands, Spain
A volcanic island that's like a trip inside the darkest recesses of Timothy Leary's mind
While the Canary Islands are practically hugging the lower west coast of Morocco, they're Spain's by right. In Tenerife, you'll find one of the best black-sand beaches in the world, Playa Jardín, but the new favorite among the archipelago is Lanzarote, where you can surf, hike, or enjoy fantastic beaches. All standard stuff, sure, until you realize the biggest draw is simply walking about the black-and-red ash, Martian-esque moonscape. The colors alone will have you feeling nice and high: The government-mandated universal color of buildings is white-wash with a Kelly green trim, a catchy contrast to the surrounding land.
The entire island was the trippy inspiration for Canary Island native and artist César Manrique, whose work intersects with the natural and manmade. We cannot confirm whether or not he was on LSD, but you'll certainly feel like you are. Manrique's vision for the island is abstract expressionism, pop art, and new sculpture, and his vision blends seamlessly into the landscape. Take Jameos del Agua, for example, a system of intriguing caves with a surprise ending. Lanzarote's terrain is veined with underground volcanic riverbeds, and Manrique decked out the underground Fraggle Rock-esque space with groovy lighting and plenty of hidden surprises, including a restaurant. -- Meagan Drillinger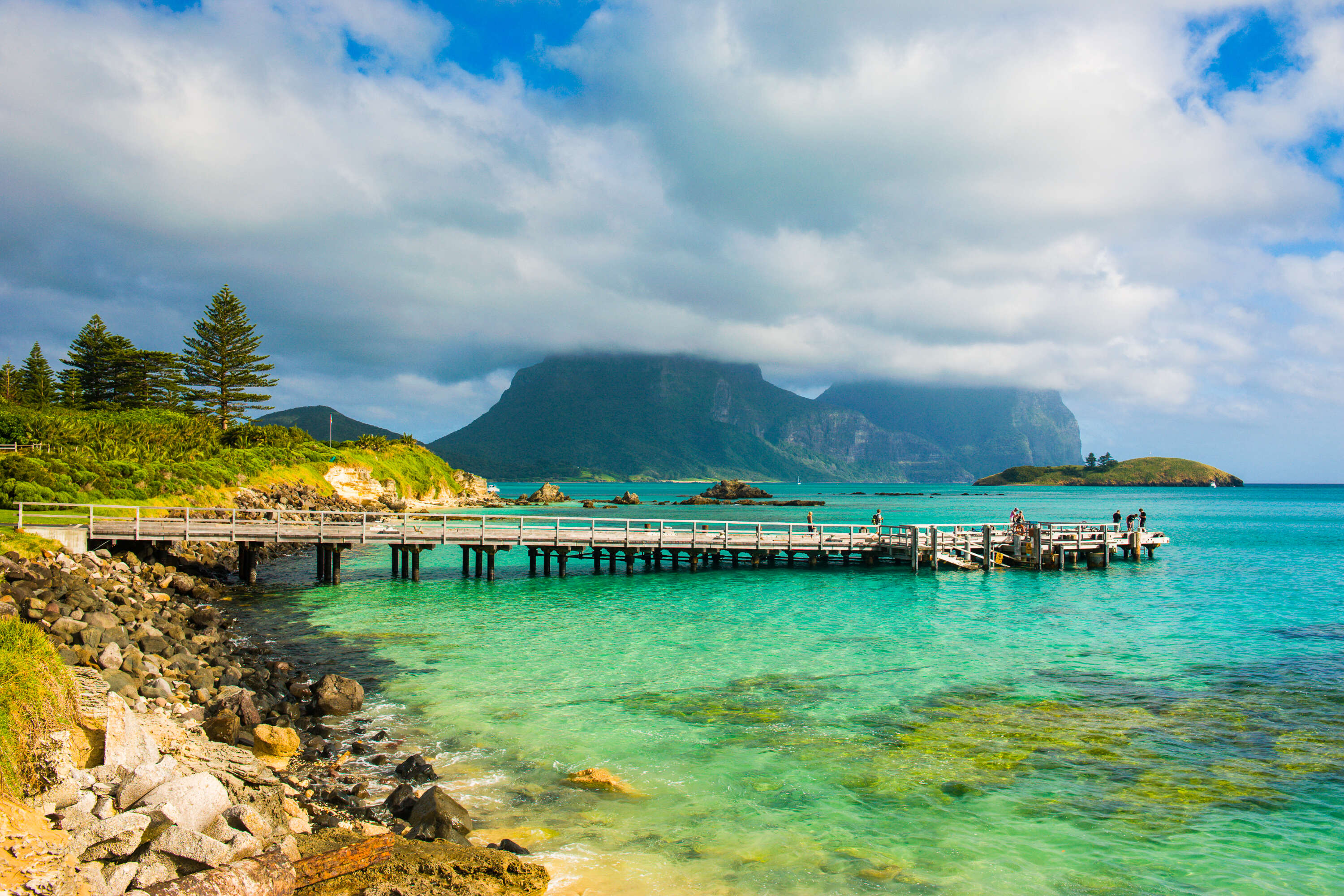 Lord Howe Island, Australia
The self-proclaimed cleanest place in the world is a stargazers delight
Some 480 miles off the coast of Sydney, Lord Howe Island is one of those truly middle-of-nowhere places where, on a clear night, you'll see more stars than you ever have in your life. But that's just a bonus. The real draw of the 6.2-mile-long island is the stunning array of plant and animal species -- some once considered extinct -- that await after a half-day hike up the island's tallest peak, Mount Gower. Locals are happy to guide you up the mountain, so long as you book in advance. Many of the 382 residents descended from the first settlers, a motley crew of English and American men who set up camp shortly after the island was first spotted in 1788. Crash the weekly fish fry at the lawn-bowling club and you might hear tales of family rivalries and alliances formed and broken over the years.
Lord Howe was a popular honeymoon spot for Australians in the days before long, expensive flights became a little less expensive. Besides lounging on low-key beaches you can snorkel among some of the most pristine coral reef left in the world. Take a day trip to see Ball's Pyramid, the world's largest freestanding seastack, and stop at the sea arch on the way back. If the tides are right, you might just get to jump off the deck and swim back to shore. -- Danielle Elliot
MORE: Australia is also home to perhaps the most perfect stretch of beach on Earth
The Islands of the Uros, Lake Titicaca, Peru/Bolivia
If you build an archipelago, they will come
Lake Titicaca, which lies on the border between Peru and Bolivia, has a lot going on. Not only does it have bragging rights of being the highest navigable body of water in the world and South America's largest lake, it's also the center and origin of the universe, according to the ancient Incans. Fast forward half a millenia and this lake is now center of the Uros people, who live on the surface of Titicaca on their manmade floating islands.
Embarking from Puno, Peru, you can visit this peculiar archipelago, which the Uros built from the region's totora reeds. The islands are strong and spacious enough to sustain the weight of a community of about 1,200 Uros locals and the tourists who come to visit. The reed weaving doesn't stop with the ground beneath your feet, as almost everything is made from totora reeds: the huts, the furniture within, and the boats the Uros use for traveling and fishing. Animal lovers (and Instagrammers) will appreciate the animal heads woven into the boat bows, including roosters and cats. -- Erik Trinidad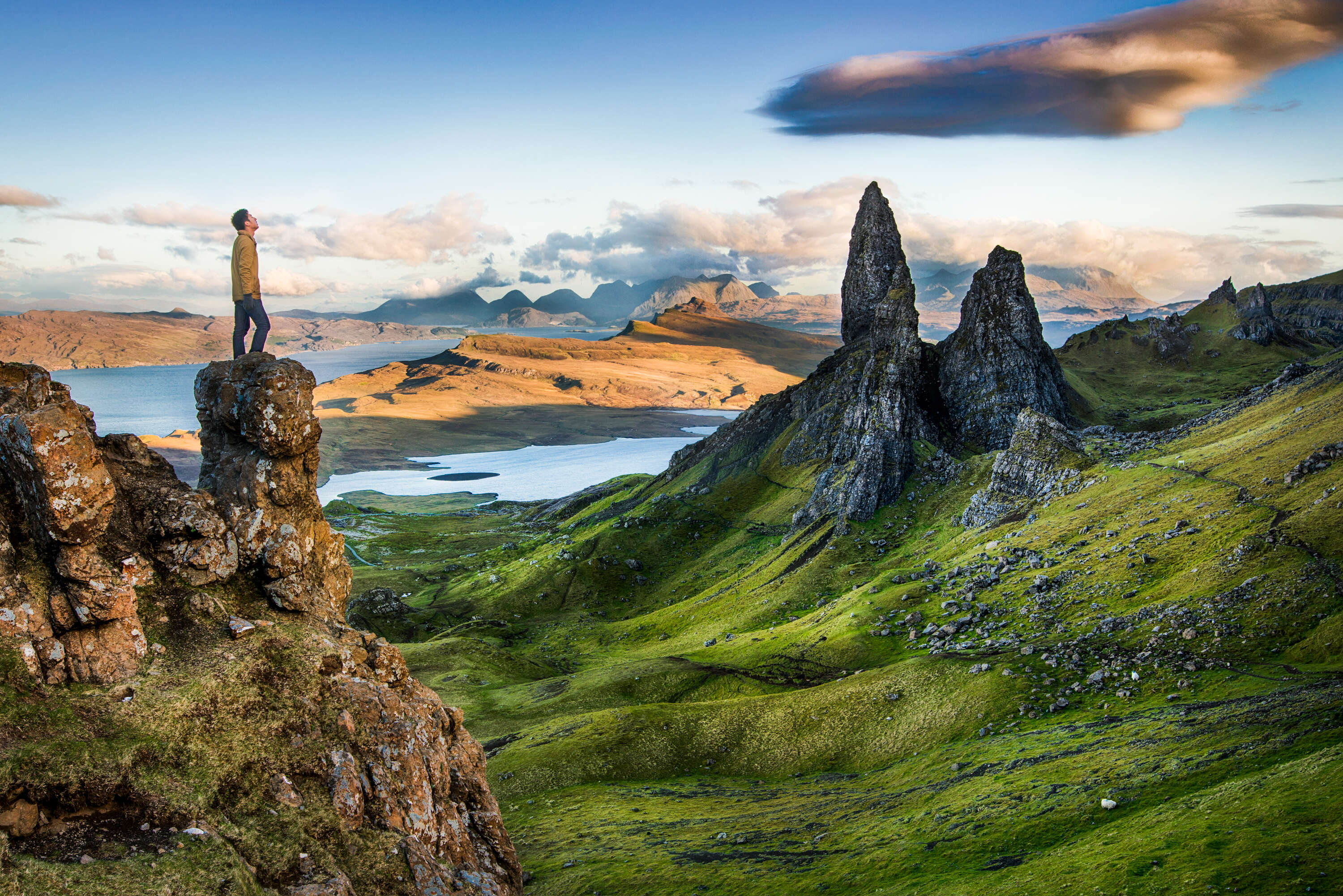 Isle of Skye, Scotland
Fairy pools, towering mountains, and country pubs await
Skye is where mountains disappear behind mist in a blink. Oystercatchers peck between rocks and golden eagles catch thermals overhead. The main town of Portree is all pastel-colored cottages by the sea; the few other villages are stuffed with the whitewashed crofts of dreams. Connected to the rest of Scotland by a (controversial) bridge since '95, on this island there are fairy glens to wander between and fairy pools to jump into. Skye is stupid-stunning.
Hit the Skye Trail, a 79-mile trek that takes seven days, a lot of falling into bogs, and 10 hours of stomping between purple heather and basalt pinnacles along the dreamy Trotternish Ridge to complete. Finish the hike at the northern tip of the island and stay overnight in the Lookout Bothy. Below the soaring sea cliffs, minke whales, basking sharks, and dolphins all like to hang out in the plankton-rich waters. If that sounds like a lot (it is), head instead to Glen Sligachan valley for an afternoon's exploring before heading into Seumas' Bar, where you can warm up with some 400 Scottish malts. -- Ailsa Ross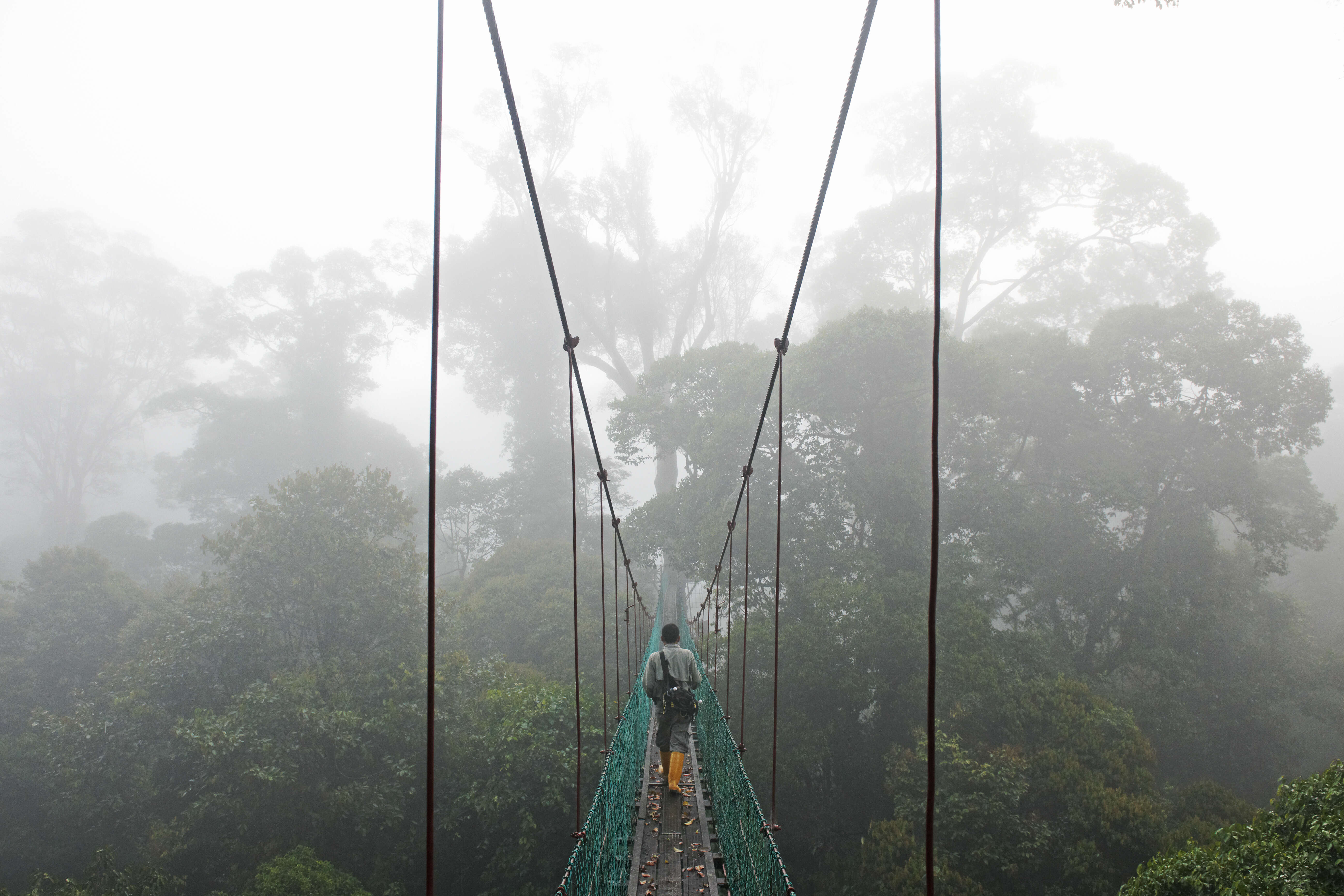 Borneo, Malaysia
Caves, mountains, animals like nowhere else in the world
Home to Malaysia's five highest mountains and two longest rivers, there's no shortage of adventure in Borneo. The island is shared by three countries (Malaysia and Brunei in the north and Indonesia in the south), and Malaysia's segment is carved into two states: Sabah and Sarawak. Just a two-hour flight from Kuala Lumpur is Sabah's capital, Kota Kinabalu, as well as Sarawak's capital, Kuching.
There's a reason you're not acquainted with these places top-of-mind: They're smallish, as world capitals go, and overshadowed, often literally, by the diversity of nature. Start your trip through Sarawak at Lambir Hills National Park, where you can test your leg strength and lung capacity with a hike to the summit of Bukit Lambir, the highest peak in the 17,000-acre park. But most people head to Sarawak for the Gunung Mulu National Park, a UNESCO World Heritage Site and home to the Mulu Caves. The Sarawak Chamber within the caves is the world's largest underground cave (like, "capable of holding 40 Boeing 747s" humongous). Nearby Deer Cave is the world's biggest cave passage (it can hold five structures the size of London's St. Paul's Cathedral). Above ground in Sabah, cruise down the Kinabatangan River, which is known for its wildlife safaris. Spot crocs, orangutans, elephants, and proboscis monkeys, which live exclusively on Borneo. -- Meagan Drillinger
Vis, Croatia
Avoid the crowds on Hvar and head to this Adriatic stunner instead
Though Croatia has been increasingly overrun by vitamin D-deprived jet-setters during the last decade, Vis, just 20 miles off the mainland, has remained an idyll, one of Europe's best islands that somehow escapes the tourist gaze. It's tiny, with fewer than 4,000 residents but the community is warm and welcoming, and there's not a tourist trap in sight.
Fly into Split, where a two-hour ferry ride from the city's port will drop you in Vis' spellbinding seaside downtown, which dates back 2,400 years. (You can book a private charter that will pick you up across the street from the airport if you're feeling especially glam.) There are beautiful beaches galore and you should absolutely splurge and charter a boat for the day, but the interior of the island is something out of a Mediterranean postcard, all ancient taverns and olive groves and vineyards growing some of the country's exceptional white wine varietals. -- Ted Brown
MORE: Croatia's beaches are low-key some of Europe's absolute best
Dominica
The Caribbean's (mostly) untamed paradise
Braided with more than 300 rivers, Dominica is home to gurgling hot springs, black sand beaches, absurdly cool hikes, and pristine reefs delivering arguably the best scuba diving in the Caribbean. It's also, for now, the Caribbean's most underdeveloped islands.
With big luxury hotels vying for a piece of Dominica's spectacular beauty, this is a secret that's bound to get out. Get here while it's still a bit wilder. This tiny but mighty island — one of our 20 best places for a big trip — lies between Guadeloupe and Martinique in the Eastern Caribbean, but you won't find crowded beaches or overpriced fruity cocktails here. Dominica is all about total immersion into raw, rugged nature. Its tropical rainforest terrain features an absurd number of waterfalls, and just as many opportunities to lose yourself (in a good way) in its unspoiled beauty. -- Terry Ward
Cape Verde
Located 350 miles off the coast of Senegal, Cape Verde is a one-of-a-kind island nation comprised of some of the most gorgeous tropical islands in the world. Cape Verde has all the usual trappings of a tropical beach getaway: sparkling beaches, historic colonial towns, green mountaintop vistas, shipwrecks to explore, and whales to spot. But it goes so, so much deeper, with Portuguese, Brazilian, Ghanan, and French influences coalescing into a unique culture full of great food, incredible wine, and party-loving spirit spiked with rich and complex history.
Cape Verde has weathered deep struggles to forge a truly modern culture across 10 stunning islands, each with its own character. But no matter wearer you go, music will guide you -- listen closely to the mournful, beautiful tones of morna, Cape Verde's national musical style, and you'll hear joy, sorrow, struggle, and celebration all bubbling at once. It's everywhere, from the oceanfront eateries to perhaps the greatest annual Carnival celebration on the planet. -- Becki Iverson
Sign up here for our daily Thrillist email and subscribe here for our YouTube channel to get your fix of the best in food/drink/fun.